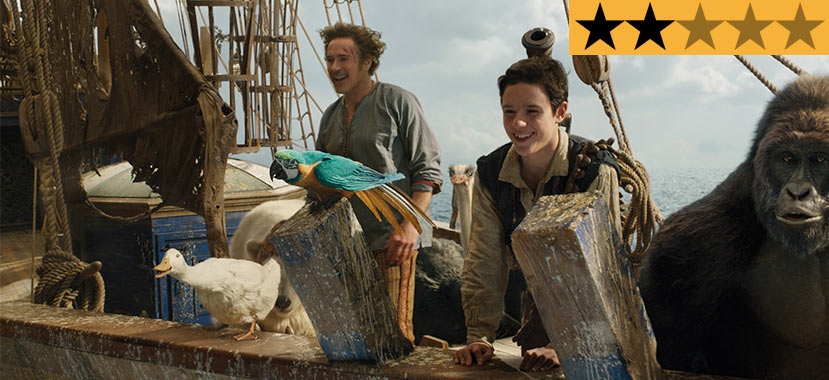 16 Jan

REVIEW – 'Dolittle' kicks off the year in disastrous fashion

Between The Lion King and Cats, 2019 was not exactly a great year for films featuring talking CGI animals. Sadly, 2020 isn't looking much better, as we begin the year with another disappointing CGI creature fest in the form of Dolittle; Universal's big-budget calamity that's been unceremoniously dumped in January after two previous release date changes. Looks like we're kicking off the year in disastrous fashion.

With a cast that inexplicably features five (!) Academy Award winners and three Oscar nominees, a screenplay from an Academy Award-winning screenwriter, a score from a four-time Oscar nominee, a brand-new song from songwriting goddess Sia, and cinematography and costume design from Oscar-winning artists, the pedigree of this cast and crew is genuinely stunning. Throw in a baffling production budget of $175 million and it's unfathomable this has all fallen apart so horribly.

Set in the 1800s, Dolittle begins with a charming "hand-drawn" animated prologue (frankly, it may have been more interesting to continue the entire film in such fashion) where we learn the origins of our titular character. Blessed with the ability to talk to animals, the eccentric Dr. John Dolittle (Robert Downey Jr.) and his beloved wife Lily (Kasia Smutniak) spend their days travelling the globe and rescuing exotic animals in need.

The pair provide refuge for their menagerie of animals and veterinary services for the local creatures back in England at their expansive Dolittle Manor; a sprawling sanctuary gifted to Dolittle by Queen Victoria (a shamefully underused Jessie Buckley) herself. When Lily tragically dies at sea, Dolittle locks the doors of the manor, hiding himself away from the world and quickly becoming a scruffy hermit, with only his animal friends to keep him company.

Seven years later, curious "odd boy" Tommy Stubbins (Harry Collett) sneaks beyond the walls with an injured squirrel named Kevin (Craig Robinson) and a mysterious young girl Rose (Carmel Laniado), they find the doctor is far from interested in human interaction anymore. We soon learn Rose is actually one of Queen Victoria's young handmaidens who has arrived bearing news the Queen is gravely ill and has requested the services of Dolittle to help solve her mystery disease.

Still adamant to remain a recluse, Dolittle is initially uninterested in the Queen's desperate request, but soon realises her potential death will mean the end of Dolittle Manor. After loading up his horse and carriage with his gang of animal pals, Dolittle heads for Buckingham Palace, where he quickly realises the Queen has been mysteriously poisoned by deadly nightshade. The only known cure is fruit from the Eden tree; a mythical plant found on a hidden island, meaning it's time for the doctor to take to sea once again on a daring voyage to save the Queen.

Along for the adventure are Dolittle's ragtag bunch of misfit animals; Polynesia (Emma Thompson), a wise macaw who is Dolittle's most trusted ally, Plimpton (Kumail Nanjiani), a timid ostrich who'd much rather remain behind, Chee-Chee (Rami Malek), a cowardly gorilla who's deathly afraid of pretty much everything, Yoshi (John Cena), a fearsome polar bear, and Dab-Dab (Octavia Spencer), a maniacal duck with one wooden foot.

There's also Jip (Tom Holland), a scruffy dog with a keen sense of smell, Betsy (Selena Gomez), a cheerful giraffe, and Tutu (Marion Cotillard), a cunningly brave fox, who are all inexplicably forced to remain behind because the $175 million budget evidently didn't allow for the expense of Holland, Gomez, and Cotillard in a recording studio for more than a few day's work.

It's easy to see how Dolittle reached that unbelievably staggering budget cost. The CGI work here is relatively impressive, although there are more than a few clunky shots because Hollywood still can't seem to master the art of a human riding a CGI animal without it appearing painfully artificial. The extravagant period production design work of Dominic Watkins and the costuming of Jenny Beavan are both gorgeous to behold, further complemented by Guillermo Navarro's sweeping cinematography. It's just a mighty shame the visual wonders are ultimately masking a rather woeful film.

We saw how The Lion King fatally suffered from its cavalcade of animals being devoid of any shred of emotion on their faces, and Dolittle is beset by the same problem. It's not quite so tragic here, given the animals only make up the supporting cast, but it's heartbreaking to see such gifted performers like Thompson and Nanjiani deliver spirited voiceover performance work that's befouled by the creatures speaking their words. A parrot and an ostrich simply cannot convey emotions with words alone.

The closest we get to any semblance of emotional expression is Malek's Chee-Chee (honestly, who named these characters?!), given gorillas can indeed offer a wide range of facial expressions. But Chee-Chee does little more than scream wildly and faint, so he hardly offers much in the way of emotional resonance. Holland is typically endearing as a lovable pooch who's shamefully left behind. Spencer tries her best with a wacky duck and Cena brings his typical tough-guy schtick to a polar bear wearing a fuzzy beanie. But you can't help but wonder if their wasted efforts would have been served better in an entirely animated film, instead of this live-action silliness.

But the truest disaster of Dolittle surprisingly proves to be Downey Jr. himself, with an incomprehensible performance that foolishly attempts to echo Jack Sparrow but without the charm and wit to capture the magic of Johnny Depp. It's clear Downey Jr. is desperate to break free of his Tony Stark shackles with something wildly different. But the result here is so bafflingly awful, it's hard to know what he was aiming for.

Dolittle constantly speaks in mumbles and a whimpered tone, which is obviously a result of his years of self-enforced solitude and his aching grief over the death of his wife that surely his daring adventure will break. But no. This is Downey Jr.'s take on John Dolittle, and he carries it throughout the entire film. In a film desperately aching to portray a mood of joy and fun, Downey Jr.'s performance simply never truly fits. It almost feels like a performance from a completely different film altogether.

And then there's his consistently changing accent. Now, one must accept this is another curious decision on Downey Jr.'s part, in an attempt to show Dolittle as a world traveller who has adopted the accents of the numerous places he's visited around the globe. It's part Welsh, part British, with a dash of Scottish and a sprinkle of American. It's somewhat like the lovechild of Mrs. Doubtfire and Madonna. It's a performance choice, that's for sure. But it's one that's terribly off-putting and ultimately rather annoying.

After reports of poor test screenings and several release delays, it's painfully clear Dolittle has been chopped and reworked in numerous places to deliver a film that runs for barely an hour and a half. The pacing is an absolute mess with several large set-pieces feeling decidedly fractured and disconnected. Narrative elements are touched upon and then tossed aside. Perilous problems on Dolittle's journey are solved incredulously quickly. Nothing ever flows quite evenly here. It's as if this film just wants to get to the finish line as quickly as possible so the audience can carry on with their day.

There are a few bright spots in the supporting cast, namely our two villains in the form of Michael Sheen as the sneering Dr. Blair Müdfly, who's been crushingly jealous of Dolittle since their days at university, and newly-minted Oscar nominee Antonio Banderas, who chews the scenery in a fabulously camp performance as Rassouli, king of the pirates. And who wouldn't want to hear Ralph Fiennes voice a ferocious tiger named Barry (yes, Barry) who is secretly debilitated by mummy issues?

Look, it's probably best to not take Dolittle too seriously and you could very well have a jolly old time. There's a wonderful film hiding here somewhere, but its flat and predictable screenplay and confounding lead performance make it difficult to truly enjoy. Any film that includes a rectal exam of a dragon is always going to be a tough sell. Yes, that actually happens. And, yes, it's truly painful to watch. You have been warned.





Distributor: Universal Pictures
Cast: Robert Downey Jr., Antonio Banderas, Michael Sheen, Jim Broadbent, Emma Thompson, Rami Malek, John Cena, Kumail Nanjiani, Octavia Spencer, Tom Holland, Craig Robinson, Ralph Fiennes, Selena Gomez, Marion Cotillard
Director: Stephen Gaghan
Producers: Joe Roth, Jeff Kirschenbaum, Susan Downey
Screenplay: Stephen Gaghan, Dan Gregor, Doug Mand
Cinematography: Guillermo Navarro
Production Design: Dominic Watkins
Costume Design: Jenny Beavan
Music: Danny Elfman
Editing: Craig Alpert, Nick Moore
Running Time: 106 minutes
Release Date: 16th January 2020 (Australia)