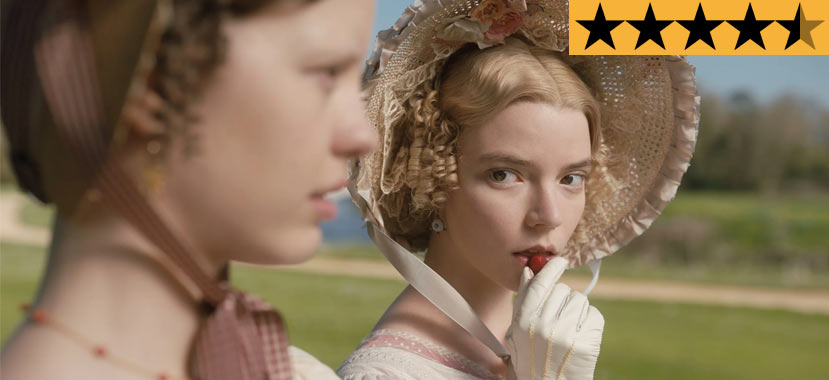 05 Feb

REVIEW – 'Emma.' is bursting with sharp wit, giddy humour, and charming romance

Just one month after Greta Gerwig proved the absolute necessity of yet another film adaptation of Little Women, photographer-turned-director Autumn de Wilde makes her impressive feature film debut with the equally-daunting task of adapting Jane Austen's beloved classic Emma, which has also seen its fair share of film and television adaptations over the years.

It may only feel like yesterday for many of us, but it was almost 25 years ago (!) Gwyneth Paltrow tackled the role of self-assured but misguided matchmaker Emma Woodhouse. And it was way back in 1995 that Amy Heckerling brilliantly reworked Austen's novel into a modern Beverly Hills setting in Clueless. The time is ripe for Ms. Woodhouse to return to the big screen and de Wilde has deftly demonstrated there's still life in this well-worn tale.

While de Wilde and screenwriter Eleanor Catton don't seek to reinvent the source material quite like what Gerwig offered, Emma. (yes, there's a period in the title, and, no, I have no idea why) proves a faithful adaptation can still sparkle with as much life as a total reinvention. A blissful delight that's bursting with sharp wit, giddy humour, and charming romance, Emma. is elevated by an impeccable ensemble cast and gorgeous production values. How are we this lucky to have such a beautiful film in February?

Set in early-19th-century England, "handsome, clever, and rich" Emma Woodhouse (the ever-reliable Anya Taylor-Joy) is busy preparing for the wedding of her governess, proudly crowing over creating the union through her apparent matchmaking skills. Living in an opulent country manor with her neurotic hypochondriac father (Bill Nighy) who's constantly on the hunt for non-existent house draughts, Emma has little interest in finding love for herself, even going so far as to reassure her father she'll never leave him.

With far too much time on her hands, Emma sets her sights on finding a match for her passive new friend Harriet Smith (a captivating Mia Doth), a doe-eyed, lower-class orphan who absolutely idolises Emma, hanging on her every word so obsessively, she rejects a marriage proposal from a humble farmer Emma disapproves of. Instead, Emma naively believes foppish vicar Mr. Elton (a delightfully camp Josh O'Connor) is the best man for Harriet, promptly setting about bringing the two together however she can.

When Emma isn't spending her time playing cupid, she's usually flirtatiously sparring with Mr. Knightley (Johnny Flynn), her sarcastic in-law who's inexplicably never far from her side. Despite her anti-love protestations, Emma can't help but court the attention of the dashing Frank Churchill (Callum Turner), a chivalrous heir visiting from London who seems to also have eyes for Emma's fierce rival Jane Fairfax (Amber Anderson), the cultured niece of local unwed spinster Miss Bates (a terrific Miranda Hart).

From here, we're thrown into a tangled, entertaining calamity of love triangles, misunderstandings, and more than a few broken hearts, as Emma's well-intentioned plans somehow always end up falling in a heap. It's all decidedly quaint and old-fashioned but in the greatest possible way. Surprisingly, de Wilde resists the urge to contemporise Austen's text, which, frankly, is a wise choice, given Heckerling did such a marvellous job 25 years ago.

If you head into Emma. anticipating a revolutionary reimagining of the Austen novel, you will be sorely disappointed. This is as loyal as adaptations come and there's absolutely nothing wrong with that. When the source material is so wonderfully brilliant, it's easy to understand a filmmaker's choice to remain faithful. de Wilde clearly has a fond affection for the foundations Austen set down, choosing to stick closely to the author's intentions for this tale, particularly its romantic comedy elements, which have ultimately become the blueprint for many a modern rom-com classic.

What truly sets Emma. apart from other incarnations is its pitch-perfect casting, with de Wilde blessed with a superb ensemble cast that's already amongst the year's absolute finest. In yet another impressive performance, Taylor-Joy proves the ideal choice for our titular heroine, portraying Emma as far more intelligent and wilful than Paltrow's lighter take. Her greatest success here is finding the warmth in Emma that's continually masked by her immature vanity and snobbery; attributes which, much like Little Women's Amy March, have often mischaracterised the protagonist as unlikeable.

Make no mistake, there are many elements to Emma that are rather confounding, but Taylor-Joy has the innate understanding this is merely born from Emma's lack of life experience and the undeniable fact her often selfish behaviour and false sense of class superiority has continuously gone unpunished. Taylor-Joy finds the pathos in her character, offering a far more empathetic performance than those seen elsewhere, particularly as her character evolves and begins to realise the error of her ways.

As the lovable Mr. Knightley, Flynn proves to be a real find, playing Emma's comrade with a hefty dose of brash confidence without ever edging into arrogance. It would be easy to portray Mr. Knightley as somewhat of a chauvinist who seeks to control Emma's behaviour, but Flynn perfectly tip-toes the line between playful friend and fierce tutor, especially when Emma truly needs to be put in her place. Taylor-Joy and Flynn have fantastic chemistry together, crafting a burgeoning love story that's a delight to behold.

Our lead performances are further elevated by a terrific supporting cast who consistently steal focus every chance they get. Nighy is the perfect choice for the eccentric old father whose glowing love for his daughter is only matched by his desire for a warm room to nap in. O'Connor is sublime as the bumbling vicar whose true intentions lead to a childish eruption of emotion. Turner isn't given all that much to do, but Frank Churchill has never been the deepest of characters, so it's hardly the actor's fault.

But the real scene-stealers here are Hart and Goth, who both have the skilled ability to capture your heart and then completely break it. As the strangely endearing Miss Bates who babbling demeanour is a constant annoyance for those around her, Hart is typically hilarious and delightfully entertaining. But there's a sadness hiding behind Bates' absurdity, and when it's finally revealed, Hart's performance quickly becomes terribly heartbreaking, particularly after one caustic slip of the tongue from our protagonist.

After snatching focus in Luca Guadagnino's Suspiria and Claire Denis' High Life, Goth continues her impressive run of captivating performances, offering a sympathetic and touching turn as the painfully insecure Harriet. There's an innocence to Harriet that's deeply affecting, even if her unrelenting devotion to Emma can be occasionally frustrating. Harriet is a character desperately longing for love and acceptance, with Goth's big wide eyes constantly expressing that yearning in practically every scene. It's a breathtaking performance that will likely leave you tears, both of joy and tragedy.

On a production level, Emma. is an extravagant piece of cinema, with luscious period production design from Kave Quinn and exquisite costuming from Alexandra Byrne that switches considerably as the film moves through four seasonal changes. Although, it's hard not to think of The Handmaid's Tale when we see a group of schoolgirls in white bonnets and red capes. It's a shame the original score by Isobel Waller-Bridge (older sister of Fleabag's Phoebe) and David Schweitzer can feel somewhat intrusive at times. Their work competes with existing traditional classical and folk pieces, so perhaps they felt the need to offer something rambunctious to rise above such noted works.

In her directorial debut, de Wilde shows great skill in crafting such a confident piece of cinema. As a filmmaker, she clearly understands the power of her source material and presents Emma. as a loving tribute to an enduring piece of fiction. There's a charm here that's genuinely infectious and terribly heartwarming, gifting an audience with a blissfully enjoyable film that's both beautiful and moving. It's far from revolutionary, but not every adaptation needs to be.





Distributor: Universal Pictures
Cast: Anya Taylor-Joy, Johnny Flynn, Bill Nighy, Mia Goth, Miranda Hart, Josh O'Connor, Callum Turner, Rupert Graves, Amber Anderson
Director: Autumn de Wilde
Producers: Tim Bevan, Eric Fellner, Graham Broadbent, Pete Czernin
Screenplay: Eleanor Catton
Cinematography: Christopher Blauvelt
Production Design: Kave Quinn
Costume Design: Alexandra Byrne
Music: Isobel Waller-Bridge, David Schweitzer
Editing: Nick Emerson
Running Time: 124 minutes
Release Date: 13th February 2020 (Australia)