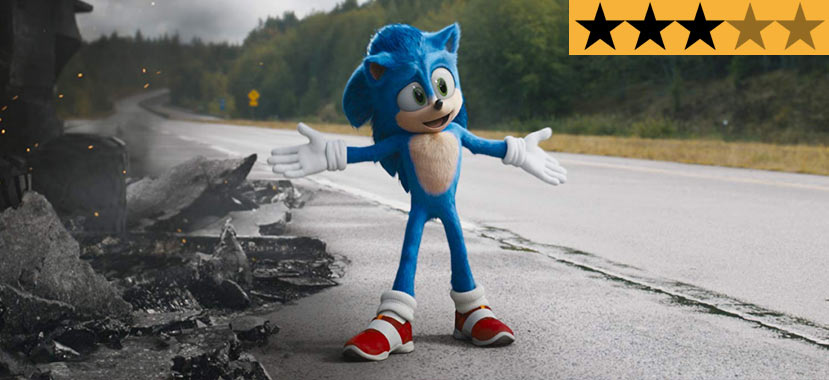 13 Feb

REVIEW – 'Sonic the Hedgehog' isn't quite the disaster you may be expecting

April 30, 2019. The day the internet savaged the first trailer of Sonic the Hedgehog so viciously, the video was quickly pulled from YouTube and the film's release date was pushed back to allow for the title character to be completely (and rightly) redesigned. Now the day has arrived when we see if this unprecedented move has paid off. Given this calamitous backstory, it's a miracle the final product isn't quite the disaster you may be expecting.

While it's far from a truly great film and serves up barely anything remotely original, there's enough silly fun within Sonic the Hedgehog to keep your kids entertained for an hour and a half and plenty of nostalgic video game vibes (just the sound of those clinging rings takes me back) for those of us who grew up with SEGA in our lives. If you keep your expectations low (and after that first trailer, they're likely already in the gutter), there's just enough here to prove the necessity of this video game adaptation.

Beginning with a brief prologue, we meet Sonic (impeccably voiced by Ben Schwartz), a blue anthropomorphic hedgehog, on his lush island home, full of race tracks and loop-de-loops for the little guy to enjoy. Blessed at birth with the power of supersonic speed, Sonic soon comes under the attack of a gang of evil creatures who seek to harness his power.

Under the guidance of his wise owl tutor Longclaw, Sonic deploys a magical ring to teleport to a safer dimension, with the blunt instruction to "stay safe, stay hidden, and never stop running." That safer world proves to be our own, with Sonic landing in Green Hills, Montana; a sleepy little town where life is terribly dull, particularly for local sheriff Tom Wachowski (James Marsden).

Sonic initially follows Longclaw's advice, living in an underground cave on the outskirts of town and keeping out of sight of the Green Hills locals. Quietly observing the lives of several residents, particularly Tom, Sonic begins to feel the pangs of loneliness. After his frustration erupts in an unexpected burst of electricity that wipes out power for miles, Sonic attracts the attention of the Pentagon, who enlist the services of Dr. Ivo Robotnik (Jim Carrey), an unpredictable scientist who sets about capturing the elusive creature responsible.

From here, Sonic the Hedgehog diverts into a buddy cop road trip film, as Sonic and Tom join forces and head off to San Francisco to track down Sonic's misplaced bag of magic rings, naturally with Dr. Robotnik in hot pursuit. Sadly, everything on this adventure is painfully expected, with screenwriters Pat Casey and Josh Miller offering little more than a retread of practically every road trip film in history. Hell, even Marsden himself has been down this path before with the woeful Easter romp Hop. Replace the rabbit with a hedgehog, and it's practically the same film.

There's the initial quarrel phase, as Sonic gets on Tom's nerves at every turn and our everyman character even considers abandoning his irritating passenger. Then we stop by a rough-and-tumble small-town tavern where our precocious titular character inevitably causes a huge brawl. And, of course, we finally reach the point where our mismatched duo become the best of friends before a big bombastic set-piece finale where our hero faces off against the maniacal villain. If you're looking for originality, Sonic the Hedgehog is not the place to find it.

It's a film that chooses to hit all the beats an audience is expecting, which is entirely fine, if not a touch disappointing. You get what you pay for here, and that's more than we could say after seeing that initial trailer. For those who remember the horrific initial depiction of the titular star, the redesign of Sonic himself proves to be the right move, with the character now feeling like an authentic evolution from his video game form.

That being said, there are occasional times when the visuals of Sonic look less than finished, which is likely a byproduct of completely reworking every CGI shot in just eight months. Regardless, it's a wonderfully crafted CGI character whose wildly expressive face perfectly matches his chaotic personality. When the action ramps up, Sonic the Hedgehog knows how to deliver lively set-pieces that blend just enough CGI work with physical filmmaking to craft a perfectly entertaining blockbuster that ironically moves at a cracking pace.

What really sells Sonic as a protagonist you can't help but adore is the voiceover work of Schwartz, whose casting brings the perfect blend of energy and pathos to a character with far more depth than you may be expecting. With enough balance between lovable and annoying, Schwartz will delight younger audiences and still entertain older viewers. There's a sweet innocence to Sonic that's rather irresistible and his character arc is surprisingly touching, particularly his yearning desire to "make one real friend." Schwartz's "chemistry" with Marsden is rather charming, even if Marsden isn't given all that much to do.

But it should come as no surprise to learn the real star here is Carrey, whose scenery-chewing performance as the deranged Dr. Robotnik is the most rambunctious and turbulent turn the actor has offered in years. With echoes of Ace Ventura and Batman Forever's Edward Nygma, Carrey returns to the goofy comedic stylings that made him a huge star over 25 years ago. It's a delight to see him dust off the comedy shoes and deliver a performance that only Carrey could pull off. He appears to be having the time of his life with such an outlandish character, inviting his audience to let go and be swept away by good old-fashioned zany fun.

It's best to just go along with Sonic the Hedgehog and let it win you over. There's nothing here you haven't seen before and plenty of eye-rolling product placement (the focus on Olive Garden is particularly bizarre) to make you groan. But, as far as video game adaptations go, it's one of the better ones, even if the bar is so painfully low with that particular genre. For lovers of the original game, there's a treasure trove of references and Easter eggs to elicit plenty of nostalgia. And make sure you remain for the post-credits scene, which is a genuine sequel-bait kicker.

Thankfully, Schwartz and Carrey do just enough to save this film from itself. Their energy is infectious and it's entirely entertaining to watch Sonic and Dr. Robotnik face off in the real world at last. Ultimately, Sonic the Hedgehog is harmless fun, even if it's the kind of narrative you've seen elsewhere before. At only 99 minutes long, it never lags, which is more than we can say for numerous films these days. We all expected the worse and that's far from what we're ultimately given.





Distributor: Paramount Pictures
Cast: James Marsden, Ben Schwartz, Tika Sumpter, Jim Carrey, Lee Majdoub, Adam Pally, Neal McDonough
Director: Jeff Fowler
Producers: Neal H. Moritz, Toby Ascher, Toru Nakahara, Takeshi Ito
Screenplay: Pat Casey, Josh Miller
Cinematography: Stephen F. Windon
Production Design:
Costume Design:
Music: Tom Holkenborg
Editing: Stacey Schroeder, Debra Neil-Fisher
Running Time: 99 minutes
Release Date: 13th February 2020 (Australia)