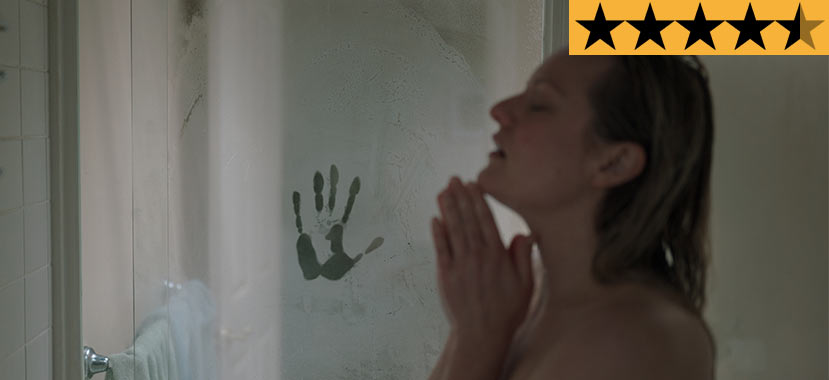 25 Feb

REVIEW – 'The Invisible Man' is as thrilling and terrifying as it is shrewdly relevant

In an era of remakes that do little more than slap a new coat of paint on a well-known story, you approach something like a reimagining of The Invisible Man with immense trepidation. Thankfully, this is one remodel that deftly proves its necessity. By flipping the narrative focus away from its titular character, writer/director Leigh Whannell offers a fresh take on H. G. Wells' 1897 novel that's as thrilling and terrifying as it is shrewdly relevant.

With yet another impressive performance by Elisabeth Moss at its helm, The Invisible Man paints a devastating portrait of a woman in the crippling grasp of an abusive relationship that becomes even more damaging when she can no longer see her abuser. It's a socially-aware piece of cinema that has a message to deliver, but smart enough to conceal it amongst a hefty helping of thrilling entertainment.

With all the hallmarks of the thrillers that once dominated box office receipts, The Invisible Man harkens back to a style of cinema the 21st century has seemingly forgotten. Part classic monster horror movie, part psychological thriller, Whannell has crafted a visceral experience that's tense, horrifying, and emotionally affecting. It's everything a remake should be, and then some. Colour me surprised, but this is already one of the best things you will see this year.

In the middle of the night, Cecilia Kass (a spectacular Moss) awakens next to her partner Adrian Griffin (Oliver Jackson-Cohen), a groundbreaking optics expert whose consistent mental and physical abuse of Cecilia has finally left her with no choice but to escape. After earlier drugging Adrian, Cecilia flees their lavish modern Stinson Beach manor and is eventually rescued by her terrified sister, Alice (Harriet Dyer).

Safe in the San Francisco home of her childhood friend and local cop James Lanier (Aldis Hodge) and his teenage daughter, Sydney (Storm Reid), Cecilia reveals Adrian's sociopathic behaviour that controlled her every move. Suffering crippling PTSD-induced paranoia, Cecilia refuses to even take a few steps outside James' house for fear Adrian will discover her whereabouts.

After enduring two weeks of seclusion, Cecilia's torment appears to finally be over when Alice reveals Adrian has taken his own life. When a letter arrives requiring Cecilia's attendance at the reading of Adrian's will, his brother Tom (Michael Dorman) informs a shocked Cecilia she is the sole benefactor of his estate, meaning $5 million is all hers to do with as she pleases, provided she doesn't commit any crimes and nullify the settlement.

While Cecilia initially celebrates her apparent good fortune, a series of unsettling events soon begin to occur, leading her to believe Adrian's death was an elaborate hoax and he's somehow found a way to continue torturing her. With his background in optics, Cecilia is convinced Adrian has invented a method of invisibility, which, naturally, sounds insane to all those around her. As her sanity begins to crumble, she desperately battles to prove she is being hunted by an invisible man.

What truly sets Whannell's impressive adaptation apart from previous incarnations is his deft choice to focus the narrative away from the titular character, offering a fresh female perspective on this well-worn tale. It will likely be dismissed by those easily triggered by female-led films as "woke," but presenting a completely different angle on an existing IP is entirely what all remakes should seek to do. In an age of pointless shot-for-shot reimaginings, it's decidedly refreshing to find a filmmaker refusing to fall into this tired trope.

We've seen the perspective of the experiences of a man turning invisible numerous times over the years. It would be completely redundant to see it here again. By placing Cecilia at the forefront of this narrative, we are gifted with a deeply pertinent portrait of domestic violence and the crippling results of sociopathy that will feel painfully relevant to anyone with experience with an abusive relationship. Despite its obvious sci-fi themes, this is a story that could almost be ripped from the headlines.

At a time when violence against women is shamefully at an all-time high, The Invisible Man shines a blinding light on a topic that demands to be discussed. Adrian is a man so wretchedly insecure, he seeks to control and victimise his girlfriend from "beyond the grave," enacting his diabolic plan in a pathetic attempt to cope with the fact Cecilia has finally found to strength to leave him.

We so often hear of unstable men continuing to victimise their estranged partners long after the relationship has ended. While somewhat exaggerated by virtue of the invisibility plot-point, Adrian's actions stand as a relevant example of the lengths some men would go to in order to seek their pitiful revenge on women who dare defy their control.

An architect with a lively personality that's been kept subdued for far too long, Cecilia is clearly an intelligent woman who many may assume would know better than to succumb to the will of a weak man. It's a choice Whannell uses to highlight how emotional manipulation can affect even the strongest of minds. When Cecilia finally decides to fight back, we bear witness to a woman finally reclaiming her strength, which is truly one of the most exhilarating character arcs you will see this year.

The ever-reliable Moss is gifted with yet another opportunity to portray a deeply complex female character whose initial weakness metamorphosizes into something completely unexpected. Much like her work on The Handmaid's Tale, Moss is required to deliver the pain and agony of a woman tortured by her circumstances, which she handles effortlessly. The terror Cecilia consistently feels is etched on Moss' face with expert precision, offering another dazzling portrayal of a broken woman on the edge of snapping back to life.

Much of The Invisible Man rests solely on Moss' shoulders with the actor required to carry this entire film almost entirely on her own. As expected, she completely owns this movie. It's a captivating and empathetic performance that's easily her best mainstream cinematic effort to date. From the opening moments, the audience is entirely with Cecilia through her every move, thanks to Moss' impeccable skill with crafting characters you cannot help but cheer for. What she offers here is nothing short of breathtaking.

But what ultimately makes The Invisible Man such a roaring success is how Whannell's socially-conscious screenplay is cleverly wrapped up in one of the most tightly-crafted thrillers of recent times. The debate will rage over whether to call this a horror movie. There are undoubtedly plenty of truly horrific, blood-soaked moments here, particularly one jaw-dropping shock that is still lingering in my mind. You'll know it when you see it. And my hat goes off to Whannell for eliciting the loudest gasp I've heard from an entire audience since Captain America grasped hold of Mjolnir in Avengers: Endgame.

However, at its true core, The Invisible Man is a supremely tense psychological thriller that's a wholly visceral experience best enjoyed on the biggest screen possible. Moments of pure tension are elevated by a booming string-heavy score by Benjamin Wallfisch that echoes back to his masterful collaboration with Hans Zimmer on Blade Runner 2049. There is the occasional obligatory jump scare with crashing sound design to launch audience members from their seats, but, thankfully, they're kept rather minimal. Sequences entirely devoid of sound ultimately prove to be far tenser than those with booming sound effects.

Much like the greatest Hitchcock works of the past, The Invisible Man creates a gripping atmosphere of tension from its opening sequence that barely lets up for the entire film. It's a cliché to call this edge-of-your-seat cinema, but there really is no better term to use here. The ways Whannell consistently plays with empty spaces to keep an audience guessing over whether Adrian is present or not is genuinely masterful. He takes deft delight in subverting your expectation and you're never quite sure where each sequence is heading.

The ingenious camerawork of cinematographer Stefan Duscio becomes a character all in itself with the use of slow panning sweeps to keep us on our toes as to what may be occurring in the spaces we can't see. With every agonising pan, we never quite know what will be exposed, particularly as Adrian's behaviour becomes far more audacious. At times, the camera even moves to his POV, creating an anxiety-inducing voyeuristic quality to certain moments that put us right in the driver's seat of Adrian's relentless stalking.

If there are any minor quibbles to be made of The Invisible Man, there are several unfortunate plot holes in the narrative that confound the authenticity of several minor moments. There's nothing fatal to the overall film, but plenty of head-scratching choices that defy logic a little too far. When we finally unveil the secrets behind Adrian's invisibility, the special effects work can look somewhat hokey. However, for a movie that only cost $7 million, it's easy to overlook such disappointments in what is mostly a wonderfully slick production.

With a few cheeky nods to James Whale's 1933 Universal horror classic, The Invisible Man is a remake that pays homage to its predecessor while blazing its own wildly original path. What Whannell has ultimately crafted is a spectacular masterclass in tension and already one of the year's best films.

Wildly thrilling and painfully relevant, it's a perfect blend of social commentary and terrifying horror. It's so genuinely exhilarating to see a reimagining offer a total tonal shift from other incarnations. Strap in and prepare yourselves for one of the most thrilling rollercoasters of 2020.





Distributor: Universal Pictures
Cast: Elisabeth Moss, Aldis Hodge, Storm Reid, Harriet Dyer, Michael Dorman, Oliver Jackson-Cohen
Director: Leigh Whannell
Producers: Jason Blum, Kylie du Fresne
Screenplay: Leigh Whannell
Cinematography: Stefan Duscio
Production Design: Alex Holmes
Costume Design: Emily Seresin
Music: Benjamin Wallfisch
Editing: Andy Canny
Running Time: 124 minutes
Release Date: 27th February 2020 (Australia)