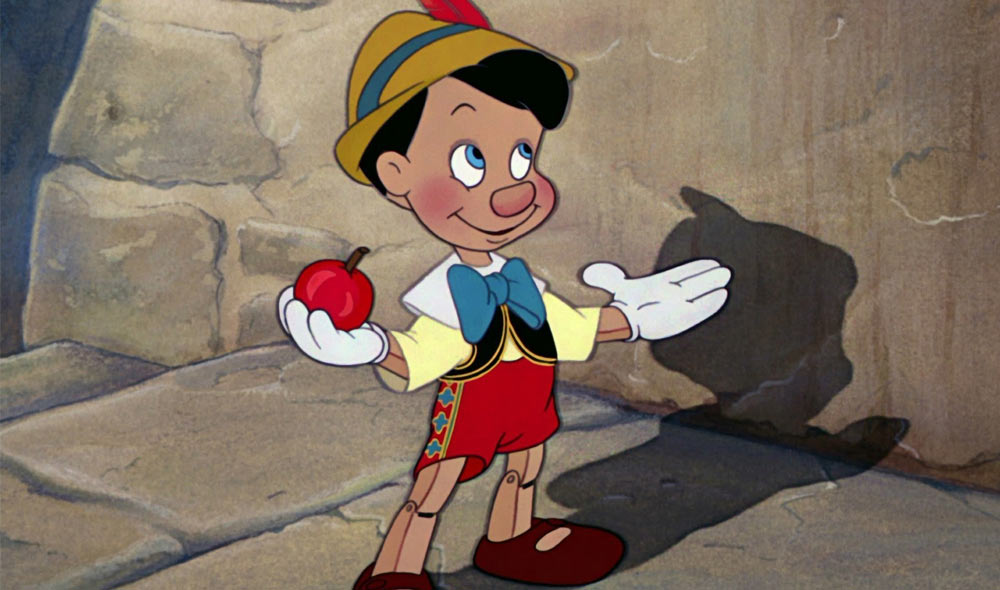 08 Apr

THE HOUSE OF MOUSE PROJECT – 'Pinocchio'

The one that taught us to wish upon a star.

How do you follow up a game-changing film which genuinely made history in more ways than one? After the unprecedented success of Snow White and the Seven Dwarfs, this was the daunting task now facing Walt Disney. To say there was an enormous weight of expectation on Walt Disney Productions' sophomore animated feature film would be an understatement. Thankfully, it appears this was the very environment Walt thrived within.

Walt knew his team had to take the lessons they had learnt during the production of Snow White and the Seven Dwarfs and deliver a film that broke new ground in the animated feature genre Disney had created. With seemingly endless cash in the bank, the team behind Pinocchio were able to truly push the limits of animation and craft something technically spectacular that still stands as one of the studio's most dazzling achievements.

In a curious twist of fate, Pinocchio wasn't initially planned to be Disney's follow up to Snow White and the Seven Dwarfs. That slot was originally held for Bambi, which Walt had purchased the films rights to in April 1937. But the production team were struggling with adapting Felix Salten's original novel and the animation department were finding the task of realistically animating the film's animal cast more daunting than first anticipated.

As such, Bambi was postponed and Pinocchio was pushed to the front of the queue. Even so, the production of Pinocchio was still a gargantuan task, requiring over two years of animation work during which time the narrative and its characters were reworked several times. The issues mainly stemmed from Carlo Collodi's 1883 Italian children's novel The Adventures of Pinocchio on which Disney's film would be based.

A decidedly darker little tale, Collodi's work was drastically different from the family-friendly vision Walt had in mind. In the original novel, Pinocchio is an unsympathetic, petulant, rude, and ungrateful protagonist who makes Geppetto's life a living hell from the second he's brought to life. When Geppetto finishes carving Pinocchio's feet, he proceeds to begin kicking him before running off into town and lying to the police about Geppetto mistreating him, leading to his "father" being locked up in prison. Yep. That happens.

When an unnamed talking cricket arrives to teach the little puppet a few life lessons, Pinocchio proceeds to kill it with a hammer. Yes, that also happens. Hardly the stuff of a loveable Disney hero. Walt encouraged his team of writers to keep Pinocchio's rambunctious spirit but evolve the character into a more innocent, naïve, and coy personality audiences would hopefully fall in love with. Good call, huh?

The initial character designs of Pinocchio by future Disney Legends Frank Thomas and Ollie Johnston resembled a wooden puppet far too closely. Walt feared audiences wouldn't connect and empathise with such a stiff-looking character. The solution wouldn't occur until young animator Milt Kahl showed Walt a test scene he had been working on. Kahl designed Pinocchio more in the style of an adorable little boy with wooden joints, making him far more relatable and palatable for audiences. From here, Walt instructed his team to follow Kahl's lead, and the rest is history.

But something was still lacking from the narrative. Walt realised Pinocchio was needing a truly great supporting character to help guide the wooden boy on his journey. Walt and his story team decided to keep Collodi's cricket character alive and evolve him into Pinocchio's "conscience" and fierce protector. Walt dubbed the cricket Jiminy, whose initial designs were that of a realistic cricket. Again, Walt challenged his animators to craft something more endearing, with Walt Kimball reworking the design to barely resemble a cricket at all, rather a little man with an egg-shaped head and no ears. As such, one of Disney's most enduring and adored characters was born.

From here, the story team filled Pinocchio with a supporting cast of characters, each with their own unique personalities. On paper, it's a rather bizarre mix of regular humans (Geppetto, Lampwick, Stromboli, and the Coachman), anthropomorphic animals (Honest John and his mute sidekick Gideon), and non-speaking animals (Figaro, Cleo, and Monstro the Terrible Whale) that really shouldn't work but somehow does. It's a world where some animals walk, talk, and dress like humans, while others are relegated to being domesticated pets.

It's the genius work of the animators that truly make this odd mixture of characters seem entirely authentic. Both by design and voiceover work, the characters are each given such distinct personalities, each with their own motivations and narrative purpose. Even a character as innocuous as Geppetto's adorable little cat Figaro is blessed with emotions through his wildly expressive face that offers a completely rounded performance without a word of dialogue.

While it's commonplace nowadays, the idea of big-name celebrities voicing cartoon characters was unheard of in the late 1930s. But Walt saw the potential in casting known performers in his animated films, typified by his decision to cast popular singer/actor Cliff Edwards in the role of Jiminy. The animators were so inspired by Edwards' physical presence while he sang and acted his lines, they incorporated his unique mannerisms into the final animation of Jiminy.

The animators also used actors Christian Rub and Evelyn Venable to inspire the visual creations for their characters of Geppetto and the Blue Fairy respectively. We may not know these names now, but they were well-known to the audience of the day, providing a bigger drawcard for people to flock to the cinema. Fun fact – Venable was the original model of Columbia in the famous Columbia Pictures logo. Not so fun fact- the Austrian-born Rub was a Nazi sympathiser and caused all sorts of problems on set with his constant glorification of Adolf Hitler.

After breaking new ground with the soundtrack release of Snow White and the Seven Dwarfs, Walt knew music was integral to the success of his future films. He enlisted Snow White composer Leigh Harline with lyrist Ned Washington to create another cavalcade of original songs, with Harline also composing the film's score with Paul J. Smith. Harline and Washington would go on to create one of the most enduring Disney songs ever written with "When You Wish Upon A Star," which became a hit song in its own right, recorded by everyone from Louis Armstrong to Glenn Miller.

The now-iconic track would go on to become Disney's theme song from the 1950s and firmly established songs from Disney films as properties capable of expanding out from the film and capturing the cultural zeitgeist in ways we still see to this day. When the Oscars rolled around, Pinocchio won both Best Original Score and Best Original Song, marking the first time an animated film had won a competitive Academy Award. It was also the first film in history to win both music categories; a feat not repeated again until Mary Poppins in 1964.

But the crowning achievement of Pinocchio was undoubtedly its spectacular animation, which, even today, is an impressive sight to behold. One could legitimately write an entire thesis on the animation work found within this film. The progression of animation from Snow White and the Seven Dwarfs to Pinocchio is staggering. By some accounts, the animators were somewhat embarrassed to look back on their first feature film by virtue of comparison with what they were able to create for their sophomore effort.

From the incredibly detailed background designs to the awe-inspiring and benchmark-setting water effects found in the climactic ocean sequence, Pinocchio is bursting with hand-drawn animation work that still has the power to take your breath away 80 years later. It's one of the films animators would use as the template for their work for decades to come. Even the makers of 1989's The Little Mermaid examined Pinocchio to inspire their own water effects. That's how definitive this work became.

After utilising Disney's multiplane camera to great effect in Snow White and the Seven Dwarfs, the team behind Pinocchio took the production technique to new heights with practically every frame of the film utilising the multiplane technique. The most impressive use is witnessed in the 45-second pan over Geppetto's village where we truly feel as if we are travelling through this quaint little town. The camera moves both horizontally and vertically, echoing a live-action overhead crane shot to craft something few thought possible from animation. It still stands as one of the most visually dazzling animation sequences ever created.

Despite creating an impressive achievement of animation, story, and music, Pinocchio was a commercial failure at the box office, namely due to the outbreak of World War II in Europe and Asia. With a final production budget of $2.5 million, the film ultimately cost Disney almost $1 million in losses. Walt took the failure particularly hard, as he struggled to keep his beloved company afloat during war times. But the film would go on to recoup its losses through several re-issues over the next few decades and quickly became one of their most beloved properties.

While Disney were still to produce numerous wonderful films in its Golden Age heyday, they set a benchmark with Pinocchio that was difficult to match. Beneath its dazzling animated surface lies a timely tale of the importance of listening to your conscience and the follies of dishonesty that every child should take note of. Its iconic lead song has become synonymous with Disney itself and still has the power to bring a tear to your eye.

Even 80 years later, the animation within Pinocchio is just as breathtaking as it was in 1940. It's hard to even verbalise the intricate work of Walt's loyal animators, who would go on to craft his animated features for several decades. While Snow White and the Seven Dwarfs may have established the animated feature film genre, Pinocchio took everything to another level and remains one of Disney's finest achievements.

Is Pinocchio a Disney Classic? While it may have failed at the time, Pinocchio has rightfully earned its status as a definitive Disney Classic all others are measured against.