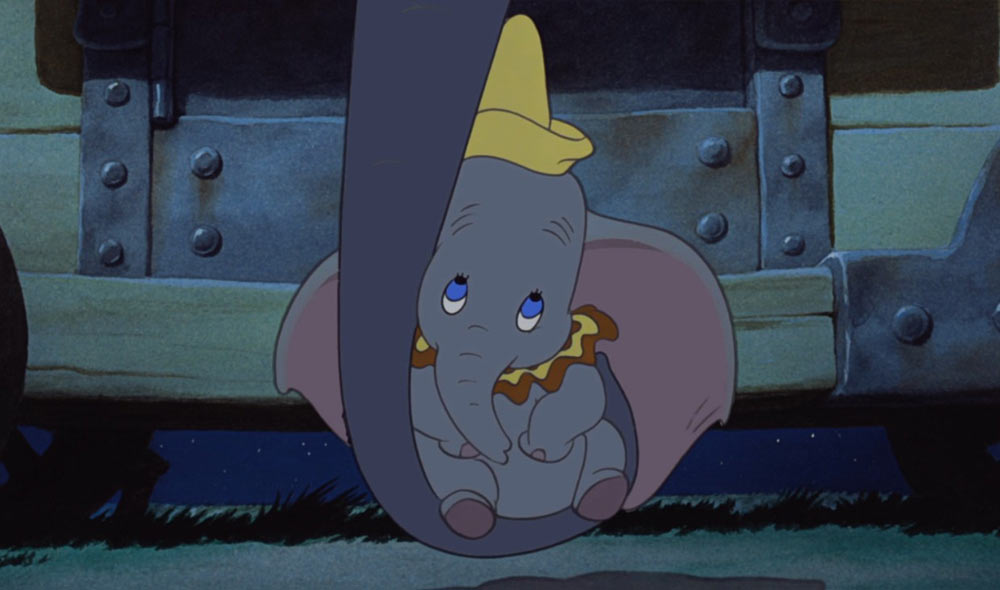 10 Apr

THE HOUSE OF MOUSE PROJECT – 'Dumbo'

The one that made hearts soar.

By the early 1940s, the situation at Walt Disney Productions was beginning to look somewhat dire. Despite huge critical acclaim and several Academy Awards for their first three animated feature films, the heavy losses occurred from the box office failures of Pinocchio and Fantasia were taking their toll on the company and Walt Disney himself.

With World War II continuing to eliminate the possibility of Disney capturing the lucrative European box office dollars, Walt keenly understood the studio's only hope was to produce their fourth animated feature at a drastically reduced cost and hope for better domestic box office returns to keep his company afloat. After purchasing the film rights to Helen Aberson-Mayer and Harold Pearl's children's book Dumbo the Flying Elephant in late 1939, Walt chose Dumbo as his next feature film.

Unlike Disney's previous films, which were blessed with more than two years of production time, Dumbo was to be crafted in a matter of mere months. In early 1941, Walt instructed his production team to make Dumbo as cheaply and quickly as possible with the plan to have the film in cinemas by October. Walt felt the film wouldn't require the lavish special effects seen in his earlier films and bluntly instructed his animation team to keep the production simple.

Under the guidance of supervising director Ben Sharpsteen, the animators used watercolour paints to render the background layouts, which offered far less detail than the background animation seen in Pinocchio and Fantasia. After Snow White and the Seven Dwarfs, Dumbo would stand as only the second Disney film to feature the use of watercolours and would not be seen again until Lilo & Stitch in 2002.

The character designs were also simplified with less detail used to speed up the production process, resulting in a final film whose characters feature a more cartoonish look than those found in Walt's previous films. Even still, the animators brought live elephants and other circus animals into the studio to assist with their creations of realistic movements and actions. All this information was likely lost on the audience, as Dumbo still became a beautifully animated film, simply minus the rich details Disney's previous work was becoming known for.

But the production hit a snag on May 29, 1941, when the majority of Disney's animation team went on strike and all work on Dumbo came to an immediate halt. In Disney's initial days of booming success, 20% of the profits from animated shorts and feature films went towards employee bonuses. Walt created a strong family environment within his company, with employees enjoying some of the best pay and working conditions in the industry. This resulted in staff resisting the urge to join the Screen Cartoonist's Guild.

After the failures of Pinocchio and Fantasia, Walt was forced to make numerous layoffs and the bonus structure system was abandoned. At this point in time, Disney's pay structure was a mess, with some animators earning as much as $300 a week while others made as little as $12. Numerous employees grew dissatisfied with the disorganization and joined the SCG including Art Babbitt, the man responsible for creating several iconic Disney characters including Goofy, the Wicked Queen, and Geppetto.

When Babbitt became a union leader, Walt took is as a personal betrayal and immediately fired the animator with 16 other employees who were all members of the SCG. The very next day, more than 200 Disney staff members went on strike, along with animators from other studios. When Walt entered the studio lot, Babbitt heckled him through a megaphone, Walt exited his car and the two almost came to blows before the intervention of other picketers.

The strike lasted for nine weeks, taking a terrible toll on Walt who truly felt as if his own family has disowned him. Crossing the picket lines every day, Walt desperately attempted to keep the studio running, including the production of Dumbo, which was now working with a skeleton crew of those employees not on strike. The strike was finally resolved on September 21 when the National Labor Relations Board asked Disney to sign a union contract and he begrudgingly agreed.

But the mood at the studio was never quite the same. The familial spirit was no more. A defeated Walt came out of the strike bitter and exhausted, which ultimately led to a near-nervous breakdown years later. Walt was also forced to re-hire Babbitt, but by that point, the two men genuinely hated each other, with Babbitt eventually resigning in the early 1950s. The atmosphere within Disney's walls was so damaged, numerous animators walked away from the studio, never to return.

Despite the nine-week strike, Dumbo was still able to be completed for its October 23 premiere. At only 64-minutes long, Dumbo would stand as the shortest Disney feature film thus far; a record it still holds. RKO Radio Pictures demanded Walt add an extra 10 minutes to the running time, fearing audiences would feel unsatisfied by a feature film which barely ran an hour long. But Walt steadfastly refused, given it would add at least another half a million dollars to its production cost.

With a final production budget of only $950,000, Dumbo would be the least expensive Disney production to date; another record it also still holds. This was half the cost of Snow White and the Seven Dwarfs, a third of the cost of Pinocchio, and two-fifths the cost of Fantasia. Walt's plan to produce a cost-effective feature film had succeeded and the box office result genuinely saved the company.

After receiving rave reviews from film critics, Dumbo opened on October 31, 1941, with the film going on to gross more than $1.3 million in its original release, returning a profit of $850,000. With its short running time, Dumbo was able to screen more times than other Disney releases, which only helped its box office returns. Its joyful and uplifting themes were the perfect antidote for audiences growing anxious over the escalation of World War II.

The public response to Dumbo was so rapturous, Time magazine originally scheduled to feature the little elephant on its December 8, 1941 cover with the headline "Mammal of the Year;" a play on its famous "Man of the Year" covers.  However, the devastating attack on Pearl Harbor on December 7 naturally changed their plans and the Dumbo cover was scrapped in favour of a new issue covering the major news event.

At the 14th Academy Awards, Dumbo won for Best Original Score, which was awarded to music directors Frank Churchill and Oliver Wallace. Churchill and lyricist Ned Washington were also nominated for Best Original Song for "Baby Mine," but lost to "The Last Time I Saw Paris" from the MGM musical Lady Be Good. Surprisingly, Dumbo would stand as the last Disney animated film to win Best Original Score until The Little Mermaid in 1989.

In the annals of Disney history, Dumbo never quite receives the kudos it deserves. While its animation is nowhere near the quality of other films of the Golden Age, it's a film that genuinely saved Walt Disney Productions from financial ruin. Without the success of Dumbo, who knows where the company would be today. It was the joyful film the world needed in 1941. A blissful piece of escapism to lift the spirits of a nation on the precipice of war. It landed at just the right time.

Even though they were utilised to save costs, the watercolour backgrounds are typically gorgeous and perfectly complement the film's quaint nature. The character design of Dumbo himself is a work of art, with his wildly expressive face, big blue eyes, and, of course, those ginormous ears capturing your heart the second Dumbo arrives on screen. Without uttering a single word of dialogue, Dumbo's character arc from timid baby to the superstar of the circus is a joy to watch.

Once again, Disney were able to craft a supporting character to completely steal the show. Much in the same vein as Jiminy, Timothy Q. Mouse continued the Disney tradition of a faithful animal sidekick who fiercely protects and guides our protagonist. He befriends Dumbo in his time of need, quickly becoming his pseudo parent when his mother is cruelly locked in a cage. It's his wise words of wisdom that teach Dumbo to embrace his hidden strength with the immortal line, "The very things that held you down are gonna carry you up and up and up!"

That's the hidden strength of Dumbo that often gets overlooked. Its message is one of the most powerful of any Disney film ever made. Dumbo is an outsider, callously cast aside for being "different." He's mocked, ridiculed, and quite literally turned into a clown, all because of the way he was born. Whether intentional or not, this could very easily stand as an allegory for anyone who's ever experienced something similar, be it due to their race, gender, or sexuality.

While Dumbo's oversized ears first prove to be a terrible burden on his life, Timothy encourages the little pachyderm to embrace that what makes him different and use it to his advantage. His greatest weakness soon becomes his biggest strength. It's an empowering message we should all take stock of. For anyone who has ever felt their differences are a curse, Dumbo stands as a powerful reminder to embody our own unique traits and take pride in who we truly are.

Once again, an elephant in the room (no pun intended) needs to be addressed. In more recent times, the depiction of the five black crows who assist Dumbo in learning to fly has become somewhat problematic, with some considering their characterisations to be borderline racial stereotypes. On Disney+, Dumbo now includes the disclaimer, "May contain outdated cultural depictions." As a white film critic, it's really not my place to comment on these depictions and the personal reactions they may elicit.

For what it's worth, one could argue the outcasted black crows are representative of an equally ostracised group who take empathy on Dumbo and understand his plight enormously well. This may be a modern interpretation the writers of 1941 did not have in mind, but the crows are one of the few characters in Dumbo not to continue his victimisation, rather helping him put those ears to good use. In essence, the crows are the true heroes of the film. After all, they are the ones who teach Dumbo how to fly.

With a heart as big as those ears, Dumbo is a supremely emotional film, filled with enormous highs and crushing lows. The "Baby Mine" sequence stands as one of the most devastating moments in Disney history and one that's still capable of leaving audiences in a puddle of tears. Just try not to weep at the sight of little lonely Dumbo being nursed by his mother's trunk. It's an iconic moment and an indelible image you won't soon forget. The fact this song didn't win the Academy Award is an absolute travesty.

In these equally troubling times, Dumbo once again stands as the perfect piece of escapist cinema we could all use right now. Even at only 64 minutes long, it's still one of Disney's finest films. It may not be a triumph of animation itself, but its emotional core is hard to beat. For anyone who's ever felt a little different, Dumbo is a Disney icon we can truly identify with and be inspired by. There's so much more hiding beneath the surface of this unassuming masterpiece, so take another look and see the magic within.

Is Dumbo a Disney Classic? Dumbo saved Disney from financial ruin. If that doesn't make something a Disney Classic, nothing does.