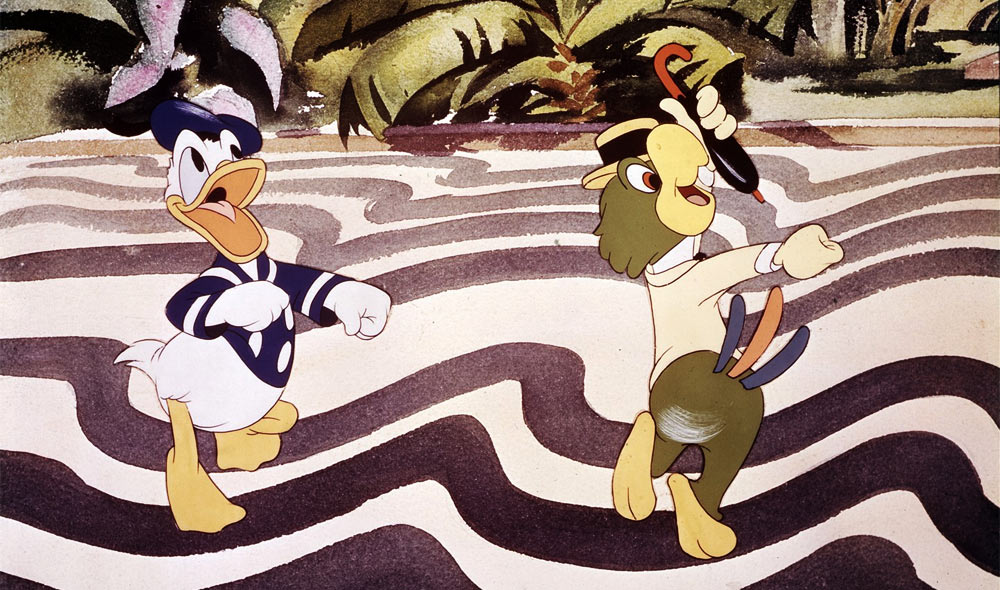 12 Apr

THE HOUSE OF MOUSE PROJECT – 'Saludos Amigos'

The one that headed south of the border.

The 1940s were a difficult time for Walt Disney Productions. Despite the financial success of Dumbo in 1941, the box office failures of Pinocchio, Fantasia, and Bambi took a heavy toll on the studio. With America now finally joining the war efforts in Europe and most of the international cinema market non-existent, the financiers at Bank of America refused to loan Walt Disney any further capital unless he agreed to only produce short films.

Walt was already in the initial planning stages of several future feature-length animated films including Peter Pan, Lady and the Tramp, and Alice in Wonderland. But with no incoming capital for feature films, Walt had no choice but to temporarily suspend production on all animated films until after the war. Adding to his woes was the bitter animator's strike of 1941, which Walt was desperate to escape from.

While a mediator from the National Labor Relations Board negotiated with both sides of the strike, Walt accepted an offer from the Office of the Coordinator of Inter-American Affairs for a government-commissioned goodwill trip to South America. The United States Department of State hoped the tour would result in a film to showcase several Latin American nations to North American audiences, in line with President Franklin Roosevelt's Good Neighbor Policy.

Mickey Mouse was hugely popular in Latin America and the continent welcomed Walt with open arms. The trip took Walt and a group of 20 of Disney's artists, composers, and technicians to Mexico, Brazil, Argentina, Chile, and Peru. Upon their return, it was decided Disney would produce a live-action/animated package feature (soon known as a "package film") titled Saludos Amigos, featuring documentary footage shot during the tour mixed amongst four animated shorts, showcasing various locations throughout South America.

In the first animated segment, we join beloved Disney icon Donald Duck as he visits Peru's Lake Titicaca and interacts with several locals, namely a mischievous and rather ill-tempered llama. We then venture to Chile where we meet Pedro, a young anthropomorphic aeroplane, stationed at an airport in Santiago. With his parents out of action, it's left to Pedro to take a treacherous path to retrieve airmail from Mendoza. Fun fact – Chilean cartoonist René Ríos Boettiger found the portrayal of Pedro to be slight against Chile and thus created his own comic book Condrorito, which became one of the most iconic cartoon characters in Latin America.

In the third segment, we find the iconic Goofy dressed as an American cowboy in the wild west. In a fantasy sequence, Goofy is whisked away to the Argentinian pampas where he learns the ways of the native gaucho, who were Argentina's skilled horsemen of the late 19th century. Another fun fact – this sequence features Goofy smoking a cigarette, which was removed for the VHS and DVD release in 2000. The segment has since been restored to its original form for Disney+, now containing a disclaimer regarding the use of tobacco.

In the final and most well-known segment, Aquarela do Brasil, Donald Duck heads to Rio de Janeiro, Brazil where he meets José Carioca, a brand-new Disney character in the form of an anthropomorphic parrot, voiced by Brazilian musician José do Patrocínio Oliveira. José introduces Donald to cachaça, a distilled spirit made from fermented sugarcane juice, and teaches the duck how to samba. José would become the breakout star of Saludos Amigos, going on to appear in several Disney films, shorts, and merchandise for decades to come.

In a major departure for the Disney studio, the four shorts found within Saludos Amigos appear far more concerned with educating audiences on Latin American culture than telling a definitive narrative story. When viewed with a modern eye, Saludos Amigos does appear rather strange, playing more like a tourism advertisement for South America than a feature film. However, for audiences of the time, the film was genuinely eye-opening.

By incorporating live-action documentary footage shot on location in South America, Saludos Amigos introduced American audiences to modern-day Latin America, particularly its booming skyscrapers and fashionably dressed residents. Audiences had simply never seen this side of South America and Saludos Amigos would make an invaluable contribution to the changing attitudes towards Latin America. Film historian Alfred Charles Richard Jr. has even commented that the film "did more to cement a community of interest between peoples of the Americas in a few months than the State Department had in fifty years."

The film also allowed Disney's animators to continue honing their craft while the studio was essentially in a holding pattern period until feature-film production commenced again. Naturally, Walt couldn't afford to produce anything but inexpensive shorts, and Saludos Amigos provided the perfect outlet for animators with little else to do. By all accounts, the animators who joined Walt on the Good Neighbor trip were deeply inspired by the culture of South America, particularly the use of bold colours in the local fashion and art. The tour of Latin America would continue to influence their work in future Disney films for years to come.

Saludos Amigos held its world premiere in Rio de Janeiro on August 24, 1942, and opened simultaneously in five different theatres across the city. It would then premiere in Buenos Aires, Argentina on October 6, 1942. Both premieres were sponsored and attended by the wives of the presidents of each respective country. While there are no official box office numbers, the film was reportedly a sensation in South America, selling out across the continent for the next six months.

The film finally held its American premiere in Boston on February 6, 1943, before a wide release on February 19. Again, there are no official box office figures of this period, but the film was equally popular in America, capturing the public's keen interest to escape the bleak state of the world and take the cinematic equivalent of a vacation to South America. At the 16th Academy Awards in 1944, Saludos Amigos nabbed three unsuccessful nominations for Best Sound Recording, Best Scoring of a Musical Picture, and Best Original Song for its title track.

When compared to the previous five Disney films, Saludos Amigos simply cannot compete in terms of quality, substance, and style. It suffers from its bizarre structure that truly feels like several shorts cobbled together with live documentary footage and trotted out as a feature film. It's undoubtedly a product of its desperate times and highlights just how dire a situation Disney had found itself in.

Regardless, Saludos Amigos stands as a testament to Walt's steadfast determination to carry on as best as the studio possibly could. Without the funds to produce feature-length animated films, the idea of an inexpensive "package film" was rather ingenious and allowed the studio to continue to somewhat function for the next decade. The film existed solely to improve America's view of Latin America. Therefore, in that regard alone, it was a roaring success.

Is Saludos Amigos a Disney Classic? Without the sophistication of its predecessors, there's very little here to consider Saludos Amigos a Disney Classic. It served its purpose in 1943 but doesn't reach the heights of a true Disney Classic.