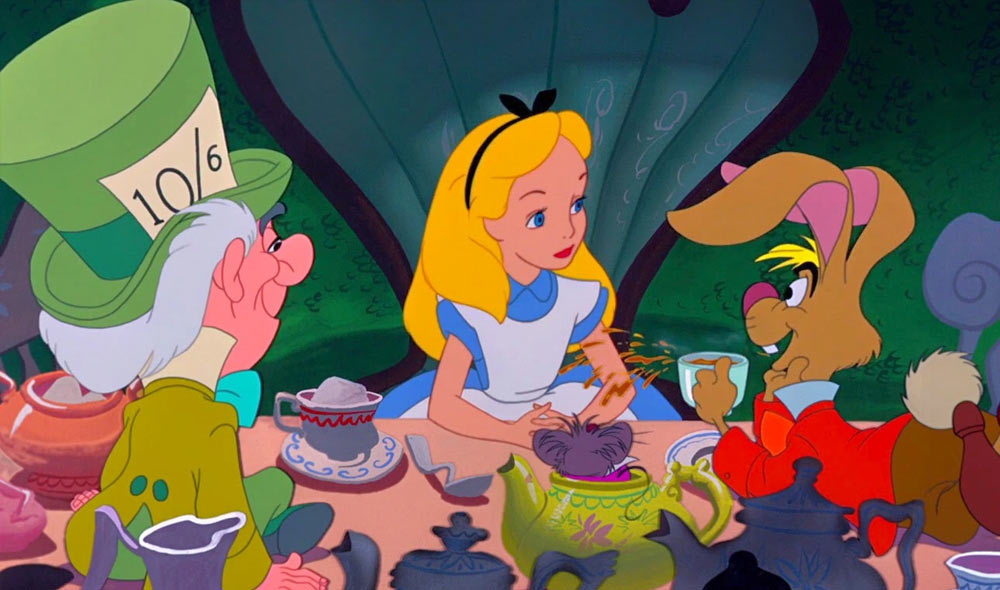 19 Apr

THE HOUSE OF MOUSE PROJECT – 'Alice in Wonderland'

The one that ventured down the rabbit hole.

After the staggering critical and commercial success of Cinderella, Walt Disney Productions was once again the toast of Hollywood. The box office returns from Cinderella provided much-needed cash back into Walt Disney's pocket, allowing the studio head to revitalise his animated feature film division and continue production on several projects which had been in limbo including an adaptation of Lewis Carroll's beloved children's novel Alice's Adventures in Wonderland.

Walt had been an avid reader of Carroll's books as a schoolboy and would use the Alice books as inspiration for a series of shorts he produced in the 1920s with his brother Roy O. Disney. Later known as the Alice Comedies, the 57 short films featured a live-action young girl named Alice, played by Virginia Davis, interacting with an animated world in an early example of Walt's groundbreaking work in combining live-action action footage with animation.

The initial idea for adapting Alice's Adventures in Wonderland first came to Walt's mind in 1933 when he began brainstorming ideas as to what property would become Disney's debut feature-length animated film. However, in December 1933, Paramount released their live-action adaptation entitled Alice in Wonderland, starring Charlotte Henry, W. C. Fields, Cary Grant, and Gary Cooper. Walt quickly scrapped his plans for an animated Alice adaptation and instead focused on Snow White and the Seven Dwarfs.

After the success of Snow White and the Seven Dwarfs, Walt revisited the Alice project in 1938 by purchasing the film rights to Sir John Tenniel's iconic illustrations of Carroll's novel. He also officially registered the title Alice in Wonderland with the Motion Picture Association of America with plans to release the film in the early 1940s. However, after viewing an early story reel featuring animation closely resembling Tenniel's intricate and complicated drawings, Walt felt the project would be too demanding and costly and immediately shelved the production.

Once World War II came to an end in 1945 and it began to appear Disney was heading towards a revival of its animated feature films, Walt resurrected Alice in Wonderland with initial plans to craft a film featuring both live-action and animation, echoing back to his earlier Alice Comedies. He commissioned legendary background artist Mary Blair to create concept artwork that adapted Tenniel's illustrations into a visual aesthetic more aligned with Disney's distinctive cartoon style.

Blair's use of bold, striking colours inspired Walt to instruct his story team to rewrite the script to focus more heavily on the comical and playful elements of the narrative, as opposed to Carroll's original tale and Tenniel's drawings which were darker and more twisted. After Disney's era of disappointing package animated films, Walt realised it was best for the studio to focus on revitalising their feature-length animation department. As such, he abandoned his plans to blend live-action footage into Alice in Wonderland and leave it to stand as a fully animated film.

Alice in Wonderland began production in mid-1946 at the same time as Cinderella, with plans to release whichever film was finished first in a tentative release date spot in 1950. By early 1948, it was Cinderella that was well ahead in the two-horse race, leaving Alice in Wonderland to be pushed to back to 1951.

To save on production costs, Walt enlisted his "Nine Old Men" animators to work on both Cinderella and Alice in Wonderland at the same time, with the team expanding on Blair's concept art and moving further away from Tenniel's original illustrations. To assist with the animation process, Walt enlisted Kathryn Beaumont, the young actress hired to voice Alice, to perform sequences from the film on a sound stage at the Disney studio to provide a reference for the animators.

In a departure for the studio, Walt commissioned numerous songwriters outside of the Disney studio to compose songs for the film's soundtrack with over 30 potential tracks being written. While not all the tracks made it into the final film, some were used for brief moments. In a technical sense, Alice in Wonderland contains the most number of songs of any Disney film. After completing work on the music for Cinderella, songwriters Mack David, Al Hoffman, and Jerry Livingston also composed numerous tracks for Alice in Wonderland. However, only "The Unbirthday Song" was used in the film. The bulk of the film's final soundtrack was written by Broadway composers Sammy Fain and Bob Hilliard.

During the process of adapting Carroll's work, the writers were struck with one inescapable problem; Alice's Adventures in Wonderland is a story without an inherent plot. In the novel, Alice mostly wanders around aimlessly from scene to scene without any real purpose to her journey, making it a decidedly different narrative from the linear storylines Disney were known for. While the final film also suffered from the same problem, the writers expanded on Carroll's novel by changing story elements and combining appearances of characters from both Alice's Adventures in Wonderland and its sequel Through the Looking Glass.

Alice in Wonderland would be the first film in Disney's history to be promoted via the new medium of television. Created almost a year before the film's release, Walt commissioned the program One Hour in Wonderland, which aired on NBC on December 25, 1950. The program featured Walt as host, with appearances by several Disney stars including Kathryn Beaumont, Bobby Driscoll, and Edgar Bergen. Dressed as Alice, Beaumont introduced a segment featuring a finished scene from the film. Walt also produced a ten-minute featurette about the making of the film, Operation: Wonderland, which was screened on television stations ahead of the film's release.

Alice in Wonderland premiered in London on July 26, 1951, before a wide release in the U.S. on September 14. The reaction from critics was decidedly mixed. Variety felt the film was devoid of "any real heart or warmth," while the Chicago Tribune found it to be "utterly lacking in enchantment." The response from the public was equally muted with the film finishing with a disappointing box office result of $2.4 million in U.S. domestic rentals. With a production cost of more than $3 million, Alice in Wonderland was ultimately written off at a loss of over $1 million.

Given its standing in popular culture today, it's curious (and curiouser) to learn Alice in Wonderland was such a dismal failure in 1951. There are numerous trains of thoughts and theories as to why it didn't connect with audiences at the time. In the UK and Europe, Carroll's novel and Tenniel's illustrations were cherished creations and many felt Disney had "Americanised" the original work to the point of bastardisation. It's also possible some found the film to spin the original story in whimsical directions at odds with the tone and style of Carroll's work.

The film arrived six years after the end of World War II and the resulting baby boom, meaning it arrived in theatres at a time when many families had children of the right age to attend the cinema for the first time. After such a turbulent period in history, parents were seeking films for their children with cohesive plots and a strong moral core, something Alice in Wonderland did not have.

In the annals of Disney history, Alice stands relatively alone as a rare Disney protagonist without a genuine character arch. In essence, Alice nods off, wanders around a bizarre dreamscape, and wakes up. She doesn't learn any wise lessons. She doesn't defeat a menacing villain. She doesn't evolve in any remarkable way. She has a wacky dream. That's the entire crux of her narrative journey. Disney had become known for creating grand character adventures where our heroes must overcome great adversity to achieve their ultimate goal and their latest film simply didn't follow this same path.

Bambi overcomes the death of his mother to become the prince of the forest and find the love of his life. Dumbo uses his biggest flaw to become a worldwide star and rescue his trapped mother in the process. Snow White and Cinderella survive the cruel attempts of their stepmothers to find their true love and become the princesses they were always destined to be. Meanwhile, Alice is little more than a girl who falls asleep. It's hardly surprising audiences essentially rejected such a relatively shallow film.

In the years that followed the box office failure of Alice in Wonderland, Disney essentially pretended the film never happened. It was the only film made during Walt's lifetime that did not receive a re-release prior to his death, although the Mad Tea Party, a spinning teacup ride inspired by the film, was one of the opening day attractions at Disneyland in 1955. The film was instead shown on television in 1954, which was seen as more of an attempt to promote the upcoming opening of Disneyland than anything else.

It would not be until the 1970s that Alice in Wonderland would find the popularity it had long deserved. In 1971, the film was re-released as part of a college campus program where it became the most rented film in many U.S. cities. After realising the film had become popular for its, ah, psychedelic themes, Disney gave the film a full theatrical re-release in 1974, even using Jefferson Airplane's "White Rabbit" in the radio commercials promoting the release. Yes, Alice in Wonderland had become a hit with the acid-dropping youth of the 70s; a fact Disney has never fully admitted but seemingly courted regardless.

It's a shame Alice in Wonderland was such a disappointing flop in its initial release, as it truly stands as one of Disney's most beautifully animated films. A decidedly psychedelic trip of a film, the sequences within Wonderland are some of the most iconic and dazzling creations The Nine Old Men ever crafted. It's a treasure trove of marvellous character designs and locations, made all the more entertaining by the film's lively score and soundtrack. While it may not have the narrative substance found elsewhere, it's a supremely fun and wonderfully enjoyable spectacle of dizzying animation and colourful characters that eventually found its long-overdue iconic status.

Is Alice in Wonderland a Disney Classic? While Alice in Wonderland was one of Disney's earliest critical and commercial flops, its failure had nothing to do with its quality. It's one of the most re-watchable films of this era, making it an absolute Disney Classic.