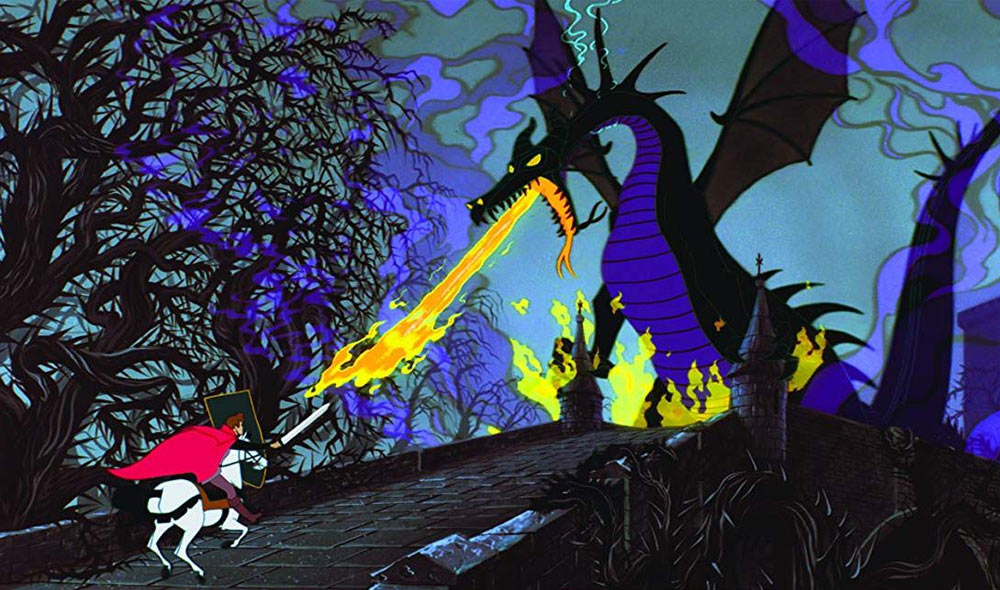 22 Apr

THE HOUSE OF MOUSE PROJECT – 'Sleeping Beauty'

The one that ended an era.

By the mid-1950s, Walt Disney was feeling decidedly exhausted. Since Pinocchio in 1940, Walt Disney Productions had released a new feature-length animated film every single year, bar one gap in 1952. The construction of Disneyland was now taking up the bulk of Walt's time, particularly as its July 1955 opening day grew closer on the horizon. Despite Lady and the Tramp standing as Disney's biggest box office success in almost 20 years, it was time for the animation studio to take a break.

That is, take a break from releasing animated feature films. The animation department itself was still a flurry of activity with several animated films in pre-production during the mid-late 50s. After the huge critical and commercial success of Cinderella, Walt had expressed a desire for the studio to return to its roots and deliver another princess fairy tale to capture the original magic of Snow White and the Seven Dwarfs. Walt set his sights on one of the most beloved fairy tales in literary history.

Way back in 1951, the Disney team began crafting an animated feature adaptation of Charles Perrault's classic 14th-century fairy tale Sleeping Beauty. The fable centres on a young princess who is cursed to sleep for 100 years by an evil fairy, with the only cure being a kiss from the son of a king. As beloved as the fairy tale may have been, there was just one small problem; the story barely ran more than four or five paragraphs and its heroine slept for almost the entire narrative.

In what would stand as one of Disney's loosest adaptations, Sleeping Beauty would retain the bare bones of Perrault's fairy tale, while expanding on the narrative of its central character Princess Aurora to give her more to do than just take a long nap. In Disney's incarnation, baby Aurora still receives the curse of eternal sleep, placed on the child at her christening by an evil fairy. However, instead of remaining in the kingdom with her parents as in Perrault's tale, Aurora would be sent away to live in seclusion for 16 years with three good fairies, Flora, Fauna, and Merryweather, who protect Aurora from the curse coming to fruition before her 16th birthday.

In Perrault's tale, the evil fairy has no name and never appears again after placing the curse on Aurora. In the tradition of Snow White and the Seven Dwarfs and Cinderella, the Disney story developers recognised the need for a central female villain to continue creating chaos throughout the entire film. As such, the evil fairy was named Maleficent, who now continued to hunt Aurora for 16 years to see her curse executed.

The writers also felt the original story lacked a cinematic ending and any true romance, with Perrault's tale ending with an unnamed prince stumbling upon sleeping Aurora and bringing her back to life without any real complications in his way. It was determined Aurora and the newly-named Prince Phillip would actually meet before she falls into a slumber and he would fight an epic battle against Maleficent to save his beloved princess. And, in their most ingenious move, Maleficent would now have the ability to transform into a gargantuan fire-breathing dragon, creating a climactic showdown to end the film on a tremendous high.

Perrault's fairy tale also includes an unsettling prologue after the famous kiss involving the prince's ogress mother who demands her personal chef murder and cook Aurora's two children so she may eat them. When the prince uncovers his mother's true nature, she hurls herself into a tub filled with snakes and is eaten alive. Yikes. Naturally, Disney determined this subplot was far too dark and disturbing for a family-friendly animated film, thus deciding to conclude their film with the prince and princess living happily ever after.

While it was typical for Disney to take several years to develop the scripts of its animated features, the final screenplay for Sleeping Beauty was essentially finalised in 1952 and Walt tentatively scheduled the film to be released in 1955. By mid-1953, director Wilfred Jackson had assembled a story reel and completed preliminary animation work but Walt was unhappy with the direction the film was taking. When Jackson suffered a heart attack in December that year, Eric Larson took over as director and the film's release was delayed until February 1957. It wouldn't be the last release date change.

Given Sleeping Beauty shared common narrative elements with its other Disney princess counterparts, Walt wanted the film's design aesthetic to be completely unique to anything the studio had previously crafted. After art director John Hench observed the famed 16th-century unicorn tapestries at the Metropolitan Museum of Art in New York City, he brought reproductions back to Walt. Walt was so taken by the tapestries, he instructed his team to use the artwork as the inspiration for Sleeping Beauty, decreeing he wanted the film to look like a "moving tapestry."

After deciding to film Sleeping Beauty on 70mm, a high-res format which provided greater resolution and clarity when screened, Walt knew Sleeping Beauty would require an immense level of detailing in both its background and character designs. In a first for the studio, Walt determined the background artist would also be the artistic director of the entire project. That immense task fell to Eyvind Earle, a background painter who had only been with the studio for three years.

With a combination of both Medieval art and Art Deco design, Earle was inspired by French Renaissance painters, while still injecting his own personal flair into the work. Earle's intricate designs still stand as some of the most detailed creations in all of Disney's history. Working almost exclusively solo, Earle personally hand-drew ornate tapestries and banners, individual rocks and bricks, and dozens upon dozens of trees and plants over the course of five years.

Given Walt demanded Sleeping Beauty be the "ultimate in animation," he genuinely had no concern for how long this process would take. He had seen the follies of rushing production of his package films in the 1940s and refused to see Sleeping Beauty suffer the same fate. As such, the film was postponed three more times; first to December 1957, then December 1958, before finally settling on its January 1959 release date, allowing the animators more time to meet Walt's high standards. It didn't help his character animators were at loggerheads with Earle.

Walt instructed his animators to design characters to match the Medieval style of Earle's background animation to create a more cohesive aesthetic. This resulted in several heated discussions between Earle and the animators over the final designs of characters like Aurora, Phillip, and the three good fairies, with the animation team feeling the designs were too cold for a romantic fairy tale. They simply weren't accustomed to a background artist having such heavy involvement in their final work.

To the animators' disappointment, Walt consistently sided with Earle, pushing his team to adjust to this new style of production. This resulted in character designs which still retained the Disney animation style but were generally constructed from sharp lines and angled features. There were notable exceptions, namely the three good fairies, whose round, cherubic faces added some much-needed warmth to their endearing characters. But a character like Maleficent ultimately became so menacing due to her sharp design aesthetic and stark colours, highlighting how Earle was actually entirely correct.

Maleficent truly stands as one of Disney's most iconic and stunning creations who has long stood as the queen of all Disney villains. Created by Disney Legend Marc Davis, Maleficent's lavender and black drapery were purposely designed to draw your attention up to her face, which, despite its green hue, is actually rather beautiful. Initially, Davis coloured the accents of Maleficent's costume in fiery red to resemble flames, but Earle felt it was too distracting. Her collar is partly inspired by the wings of a bat and her horned headdress is obviously evocative of her devilish nature.

She is a character who commands every single frame she's a part of, both by her striking design and the magnificent voice work of Eleanor Audley, who had also provided the voice of Cinderella villain Lady Tremaine. Audley's performance fluctuates between calm candour and furious anger, crafting a villain who's somehow just as terrifying in her human-like fairy form as she is when she transforms into a dragon. While her wicked motivation may not be the deepest (in essence, she curses Aurora purely because she wasn't invited to a party), Maleficent is a villain whose intelligence and cunning is always acutely on display, even in moments of quiet contemplation.

This all leads to the infamous climactic confrontation between Phillip, the three good fairies, and Maleficent in a sequence that is genuinely one of the most stunningly animated moments in Disney history. It's as terrifying as it is entertaining, with eye-popping colours and thrilling action to conclude the film in magnificent fashion. It's the ingenious work of the animators to instil the dragon's designs with features of Maleficent herself, crafting one of the most organic transformations cinema had ever seen.

Sleeping Beauty is also renowned for standing as another example of Walt infusing animation with an existing piece of classical music, much like the animated shorts found in Fantasia. Curiously, this was not always Walt's intention. During the film's early production, he commissioned Jack Lawrence and Sammy Fain to compose an original score and several original songs.

In 1953, Walt changed track and decided the film's entire score should be adapted from Peter Tchaikovsky's Sleeping Beauty Ballet, which now rendered all of Lawrence and Fain's work unusable. However, Walt was impressed with their song "Once Upon a Dream," with the lyrics being repurposed to fit Tchaikovsky's melody found in "The Garland Waltz." It would become the film's iconic main theme and the love duet of Aurora and Phillip.

Sleeping Beauty finally arrived in theatres on January 29, 1959, almost four years after its originally planned release. The film was shown in both standard 35mm and 70mm prints, with the 70mm prints being equipped with six-track stereophonic sound. Despite a rather mixed reaction from critics (Time magazine had the audacity to call the animation "crude"), the film grossed approximately $5.3 million in theatre rentals, making it the second-highest-grossing film of 1959 behind Ben-Hur.

Despite this box office success, Sleeping Beauty was ultimately an initial failure for Walt Disney Productions. Its production cost soared beyond $6 million, making it the most expensive Disney film to date and twice that of films like Alice in Wonderland and Peter Pan. Due to the underperformance of the film, coupled with a disappointing year for the rest of Disney's release slate, the company posted its first annual loss in over a decade, resulting in lay-offs throughout the animation department and a total change in tactics for animated feature films going forward.

As such, Sleeping Beauty truly represents the end of an era for Disney animation. They would not return to the princess fairy tale genre for another three decades. Animated features would no longer be produced for gargantuan budgets. Production times were shortened, with animators encouraged to produce their work as quickly and cheaply as possible. And Walt's years of habitual smoking were beginning to affect his health. Nothing was ever the same after Sleeping Beauty.

It wouldn't be until decades later that Sleeping Beauty would finally be recognised as one of the great Disney animated films of all time. The film was re-released in cinemas several times which finally saw it turn a profit. Despite the castle bearing little resemblance to its animated counterpart, Walt christened the castle at Disneyland as Sleeping Beauty Castle, featuring a walk-through attraction where guests could view diorama moments from the film. The castle has since gone on to become an icon of the studio itself, utilised in their logo for several decades.

The stunning animation has since been hailed as some of the most detailed and intricate work of any Disney film. What Earle managed to achieve is nothing short of miraculous, particularly given it was all crafted by hand. You can truly pause this film at any moment and it's instantly a work of art. Walt's vision of creating a "moving tapestry" was ultimately achieved, with Sleeping Beauty standing as one of the most artistically spectacular animated films ever seen.

Nothing Disney had previously crafted comes close to the level of detail in Sleeping Beauty. It is unquestionably a masterpiece that showcased the deft talents of Disney's marvellous animators. It's naturally bittersweet to consider the film as the end of Disney's devotion to crafting unique and striking animation art. While the studio would continue to deliver entertaining animated films, they would not reach the pinnacle of animation seen here for several decades to come, which just makes Sleeping Beauty even more magical in retrospect.

Is Sleeping Beauty a Disney Classic? Stunning animation. A terrifying villain. A sweeping score. And a beautiful love story. Sleeping Beauty has all the hallmarks of a Disney Classic and is surely one of the most deserving films to take this title.