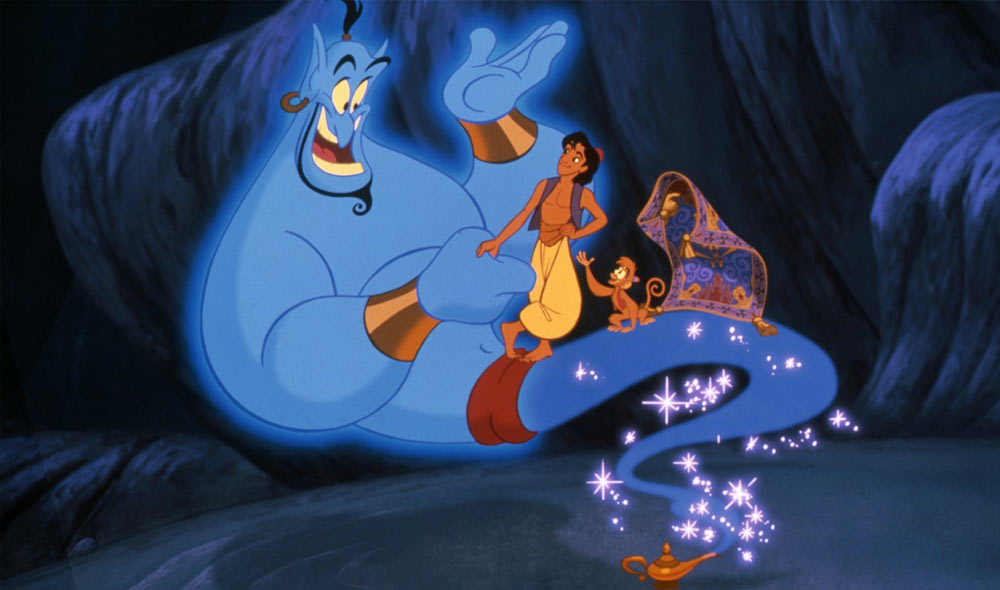 07 May

THE HOUSE OF MOUSE PROJECT – 'Aladdin'

The one that took us to a whole new world.

After the roaring success of The Little Mermaid and the growing buzz surrounding the production of Beauty and the Beast, confidence within the Disney animation studio was the highest it had been in decades. Many assumed the plan set by Disney executive Jeffrey Katzenberg to release a brand new animated feature every single year was doomed to fail. While The Rescuers Down Under was an unfortunate bump in the road, Katzenberg seemed assured the animation department was finally on the right track and his annual release roadmap was a stroke of genius.

Riding high after their acclaimed work on The Little Mermaid, directors John Musker and Ron Clements were offered three choices for their next animated feature film; an adaptation of Tchaikovsky's ballet Swan Lake, a strange pet project of Katzenberg's entitled King of the Jungle that centred on a lion cub poised to rule as king one day, and an adaptation of the Middle Eastern folk tale Aladdin. The duo chose the third option, namely due to its connection to the men behind the music of The Little Mermaid.

The adaptation of Aladdin had actually initially started life as a passion project of lyricist Howard Ashman. Back in 1988, Ashman had pitched the idea to Katzenberg with a 40-page film treatment he had written and six songs he had composed with collaborator Alan Menken, including a big-band number entitled "Friend Like Me." In Ashman's adaptation, he envisioned the film as a campy 1930s-style musical with a larger-than-life Genie, based on jazz musicians Fats Waller and Cab Calloway.

Much to Ashman's disappointment, Katzenberg dismissed the pitch, and Ashman and Menken were soon tasked with saving the beleaguered production of Beauty and the Beast instead. After re-evaluating Ashman's pitch in 1990, Katzenberg warmed to the project and assigned Beauty and the Beast screenwriter Linda Woolverton to flesh out Ashman's treatment into a draft script. Woolverton used elements inspired by the 1940 film The Thief of Bagdad including an antagonist named Jaf'far and an elderly sidekick named Abu.

Musker and Clements made their contributions to Woolverton's script and the animators crafted a story reel to present to Katzenberg in April 1991. In a day which became known by the animators as "Black Friday," Katzenberg demanded the team essentially start over from scratch and scrap everything they had worked on, while also refusing to reschedule the film's November 1992 release date. This left the production team less than 18 months before the film's debut.

Musker and Clements enlisted the help of screenwriting team Ted Elliott and Terry Rossio to rework the story, which included eliminating the role of Aladdin's mother and his three best friends to rework the titular hero as more of a crafty, streetwise loner whose only friend was now a monkey named Abu. Genie could now only grant three wishes that came with certain restrictions, which reworked the ending to play on Aladdin's cunning strengths, as opposed to Genie saving the day. Jafar's trusty parrot sidekick Iago was reworked from an uptight British butler archetype into a more sarcastic comedic role. And Princess Jasmine was strengthened into a fiercely independent woman who refused to fall in line with her royal obligations of marrying whomever her father deemed suitable.

By October 1991, Katzenberg was satisfied with the fresh direction of the project and approved the new script. However, with so many changes, many of Ashman and Menken's songs no longer fit within the reworked narrative, namely Aladdin's "I Want" song entitled "Proud of Your Boy," which was to be an impassioned declaration of his desire to make his mother proud, two lively numbers performed by Aladdin with his three best friends entitled "Babkak, Omar, Aladdin, Kassim" and "High Adventure," and a climactic villain song for Jafar called "Humiliate the Boy."

After Ashman's tragic death from AIDS-related complications in March 1991, Katzenberg was left with no choice but to eliminate several numbers and enlist another lyricist to collaborate with Menken on new songs for the project. He turned to Tony Award-winning composer Tim Rice, who was then mostly known for his work with Andrew Lloyd Webber on mega-successful musical hits Evita and Jesus Christ Superstar. The pair crafted four new tracks for the film to blend with the three surviving Ashman tracks including a love duet for Aladdin and Jasmine entitled "A Whole New World."

For the key role of Genie, Katzenberg encouraged Musker and Clements to cast an A-list comedian to bring the character to life, suggesting big names including Steve Martin, Eddie Murphy, and John Candy. While it's commonplace nowadays, the idea of major celebrities voicing animated characters hadn't been the norm for decades, namely due to the low budgets of animated projects being unable to accommodate the outrageous salaries of major stars. Despite Katzenberg's suggestions, there was only one performer Musker and Clements had in mind.

In the early 1990s, comedian Robin Williams was beginning to transition into more dramatic turns in films like Awakenings and Dead Poets Society. Williams was enormously grateful to Disney-owned Touchstone Pictures for the release of Good Morning, Vietnam, which had elicited Williams his first Academy Award nomination. As such, when Katzenberg approached Williams for the role of Genie, he agreed to forgo his usual $8 million fee and voice the character for SAG scale pay (around $75,000) under two strict conditions; his name and/or image would not be used in the film's marketing and Genie would not take more than 25% of space on all advertising material.

At the time, Katzenberg agreed to Williams' demands and the actor soon began voice recording sessions during breaks in the shooting of the two films he was currently starring in at the time, Hook and Toys. Working with Musker, Clements, and Genie's animator Eric Goldberg, Williams was encouraged to ad-lib dialogue however he saw fit, with the actor often given basic topic or dialogue suggestions and allowed to expand and elaborate. In total, Williams improvised over 50 different characters and impersonations throughout over 30 hours of recorded material.

For the character designs and architectural features, the animators were inspired by the work of caricaturist Al Hirschfeld, whose style featured similarities to the swooping lines found in Arabic calligraphy. The only character not to echo Hirschfeld was Jafar, who animator Andreas Deja designed with dark colours and sharp features, while also incorporating the facial expressions and gestures of voice actor Jonathan Freeman. For the movements of both Abu and Iago, animators studied monkeys and parrots at the San Francisco Zoo. Gilbert Gottfried's semi-closed eyes and prominent teeth were incorporated in the design of his character Iago.

As was typical with Disney animation at the time, each character was animated separately, with animators closely consulting to make the characters cohesively interact within scenes. In a curious move, Aladdin's animator Glen Keane was stationed in the California office, while Jasmine's animator Mark Henn was situated in Florida, meaning the two were constantly faxing or mailing each other their design work.

Originally, Keane had been instructed to design Aladdin to resemble a young Michael J. Fox. However, Katzenberg felt the design was far too boyish and immature, instructing Keane to redesign Aladdin with elements derived from Tom Cruise and Calvin Klein models to create a more dashing, appealing hero. Best known for his role on television's Full House, teen heartthrob Scott Weinger was cast to bring the role to life, despite the fact he couldn't sing. To accommodate for this, Broadway performer Brad Kane was enlisted to provide Aladdin's singing voice.

In the original script treatment, Jasmine was conceived as a spoiled, materialistic princess who learns the errors of her ways through her interactions with "street rat" Aladdin. After Katzenberg's force rewrite, Jasmine became a much stronger and empowered heroine in the same vein as fellow Disney princesses Ariel and Belle. Animator Mark Henn partly based Jasmine's design on his sister and actress Jennifer Connolly. After an extensive search, television actress Linda Larkin was cast in the role nine months after her first audition.

During production, Larkin was almost fired by Katzenberg, who felt her high-pitched voice was too similar to Jodi Benson's Ariel and didn't fit the role. With Clements and Musker's assistance, Larkin was able to adjust and lower her voice and retain the role. However, her singing voice still wasn't strong enough, and casting director Albert Tavares enlisted Broadway star Lea Salonga to provide Jasmine's singing voice, marking the first time the speaking and singing voices of a Disney princess were provided by two different people.

For the background designs of the fictional setting of Agrabah, animators referenced 19th-century paintings, drawings, and photographs of the Arab world, particularly Saudi Arabia, Morroco, and Egypt. These designs were mostly crafted in muted yellow tones to allow the bright colours of the character designs to stand out. The animators again employed the use of the Computer Animated Production System (CAPS) to create dazzling computer-generated sequences including Aladdin's dizzying escape from the lava-filled Cave of Wonders and a swooping flight around the world on a magic carpet.

Much to Williams' frustration, the marketing of Aladdin heavily used Genie's image and Williams' voice, which went against the promises made by Katzenberg while securing the actor for the role. Genie was also prominently featured in the tie-in merchandise line including toys featuring Williams' dialogue from the film, allowing Disney to profit from Williams' performance without increasing his paltry salary. Williams was so incensed with Katzenberg's backflip, he refused to reprise his role as Genie for the straight-to-DVD sequel The Return of Jafar and declared he'd never work for Disney again.

Aladdin was released on November 25, 1992, to generally positive reviews from critics, particularly Williams' performance. The New York Times noted children "needn't know precisely what Mr. Williams is evoking to understand how funny he is," while Roger Ebert declared Williams and animation "were born for one another." However, Ebert criticised the fact most of the Arab characters had "exaggerated features," while Aladdin and Jasmine "look like white American teenagers."

Thanks to a heavy marketing campaign and the rising popularity of Disney animation, Aladdin was another unprecedented box office smash, taking in $217 million in the U.S. and a further $286 million for a staggering worldwide gross of $504 million. Aladdin became the highest-grossing film of 1992 and broke the record set by Beauty and the Beast as the most successful animated film of all time. It was also the first animated feature film to gross more than $200 million in the U.S. box office.

At the 65th Academy Awards, Aladdin received five Oscar nominations including Best Sound, Best Sound Editing, Best Original Score, and two nominations for Best Original Song for the eventual winner "A Whole New World" and a posthumous nomination for Ashman's "Friend Like Me." When Menken won for Best Original Score, it marked the third successive time a Disney animated film had won both categories. At the 50th Golden Globe Awards, Williams was presented a Special Achievement Award for his performance as Genie.

When compared to the mastery of Beauty and the Beast, it's inescapable how Aladdin didn't quite reach the same heights. For all his charm, Aladdin is a rather dull protagonist whose character arc really only comes to life when Genie enters the picture. Likewise with Jasmine, who longs to be like her fellow Disney compatriots Belle and Ariel, but she's stuck in a supporting role that never truly allows her to shine. It's ultimately the bombastic supporting characters who steal your focus, namely a terrifically crafted villain in Jafar, and, of course, the splendrous creation that is Genie.

From the moment Genie literally bursts onto the screen, we bear witness to the finest piece of voiceover work in animation history. In Williams deft hands, Genie is not only wildly hilarious but also incredibly heartwarming and endlessly lovable. Like practically everything Williams did, he steals every single scene he's in. His endless energy knew no bounds. When he's allowed to let loose in pieces which are essentially stand-up routines, his performance reaches a new level. Genie is one of the greatest and most beloved Disney icons of all time, thanks entirely to Williams' sublime performance.

Ashman, Menken, and Rice's music again tapped into the magic formula of Disney animation's fusion with musical sensibilities, offering another remarkable soundtrack of tracks which led the narrative of the film. Whether it's the lavish and visually spectacular performance of "Friend Like Me," the frenetic chaos of the Agrabah marketplace in "One Jump Ahead," or the sweeping romance of "A Whole New World," Aladdin proved once again Disney was the home of original musicals.

But there is one unavoidable elephant in the room, as we're once again confronted with another piece of Disney animation history with rather unfortunate cultural depictions. While the film is set in a fictitious land, its Arabian setting feels decidedly whitewashed, particularly the baffling choice to cast white voice actors in Middle Eastern roles. The American-Arab Anti-Discrimination Committee criticised the film for the "Anglicised" features and American accents of both Aladdin and Jasmine, while taking exception with the lyric, "Where they cut off your ear if they don't like your face" in the film's opening number, "Arabian Nights."

To combat these concerns, Disney changed the lyrics in subsequent VHS, DVD, and streaming releases of Aladdin to, "Where it's flat and immense and the heat is intense," although the original lyric remains in the film's original soundtrack release. But changing one lyric cannot undo the uncomfortable realisation the movie you adored as a child is borderline racially objectionable. While the designs and setting echo the Middle Eastern world, the people who populate this land look more like cast members of a theme park than an accurate representation of the Middle East.

Cringeworthy cultural depictions aside, Aladdin is wonderfully entertaining and another dazzling visual masterpiece from the wizards of Disney. Williams' performance was truly one for the ages, and, after his tragic passing in 2014, came to stand as one of his greatest legacies. Daring adventures and sweeping romance combined in a way Disney was fast becoming known for. They had struck gold with this formula, but their next effort was about to blow everything else away.

Is Aladdin a Disney Classic? Look, there are some cultural issues with Aladdin that are impossible to overlook. But that soundtrack and Williams' performance coupled with eye-popping animation and thrilling sequences make Aladdin another Disney Classic of the booming 90s period.