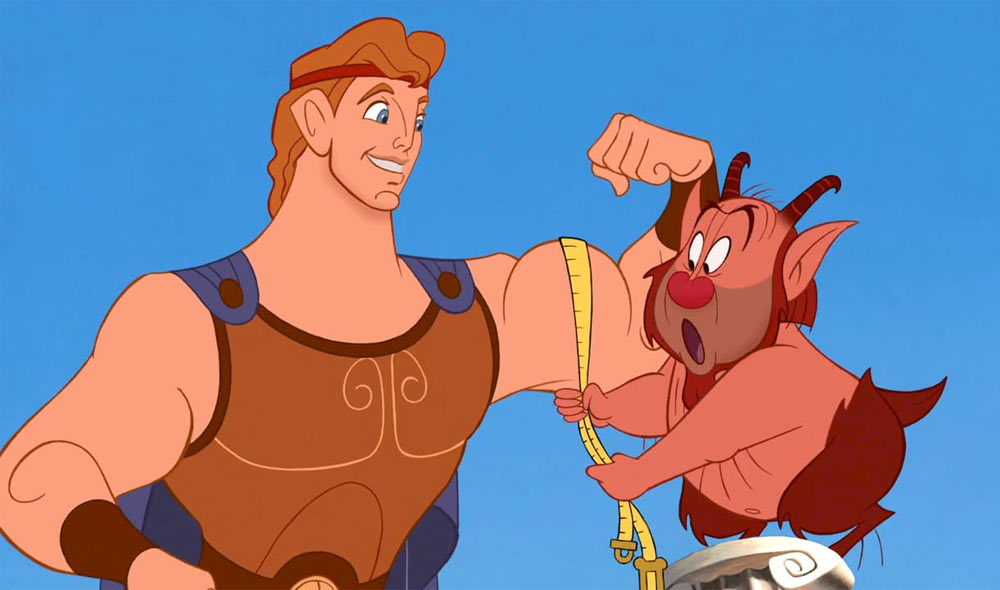 11 May

THE HOUSE OF MOUSE PROJECT – 'Hercules'

The one that put the glad in gladiator.

After tackling some heavy topics in Pocahontas and The Hunchback of Notre Dame with animation that reached for the prospect of high art and Academy Awards glory, Disney seemingly abandoned both concepts with the next animated feature in their pipeline. A concept that had been floating around the studio for years, Hercules was seen as the next great commercial hope, with its comedy-heavy screenplay and merchandise-friendly characters. In the end, the film would continue Disney's decline at the box office and ultimately move their progress in the opposite direction.

The idea for an animated adaptation of Greek mythology hero Hercules began in early 1992 when animator Joe Haidar suggested the project at the annual "Gong Show" pitch meeting. Haidar's pitch focused on the Trojan War, with Hercules, the illegitimate child of the Greek god Zeus and mortal Alcmene, forced to choose sides in the ensuing battle and ultimately learn humility through the consequences of his actions. Studio chairman Jeffrey Katzenberg approved the project, with Haidar crafting a page-and-a-half outline before handing the project over to a story development team.

At the time, The Little Mermaid and Aladdin directors John Musker and Ron Clements were riding high after delivering two of the most successful animated films of all time. For years, the pair had been desperately attempting to seek approval from Katzenberg to produce a space-themed animated adaptation of Robert Louis Stevenson's adventure novel Treasure Island. After continually rejecting the idea, Katzenberg promised the pair they could work on the project after they delivered another commercial hit for the studio.

After being presented with pitch proposals for animated adaptations of Miguel de Cervantes's Spanish novel Don Quixote, Homer's Greek saga The Odyssey, and Jules Verne's adventure epic Around the World in Eighty Days, the pair learned of Haidar's Hercules concept and somewhat begrudgingly agreed this would be their next project. With their Treasure Island project riding on the success of Hercules, Musker and Clements took on the task of writing the screenplay personally, with the pair determined to craft the most commercially viable project as possible.

As such, the pair abandoned Haidar's Trojan War setting and reworked Hercules as a naive half-God/half-mortal caught between both worlds, with a determination to prove himself worthy of joining his fellow Gods on Mount Olympus. The directors felt the project worked better as a bubbly comedy that echoed their work on Aladdin and sought inspiration from classic Frank Capra screwball comedies of the past. This was bolstered by their addition of a gruff sidekick to train Hercules and a sarcastic, wise-cracking villain to balance Hercules' endless idealism with a hefty dose of cynicism.

As Musker and Clements conducted extensive research into the history of Hercules and Greek mythology, they concluded an accurate interpretation of the hero wouldn't exactly fit the Disney mould, especially the illegitimacy of his birth. In mythology, Hercules was the result of a scandalous affair between his father Zeus and a mortal named Alcmene, with Hercules immediately drawing the hatred of Zeus' wife, Hera. In numerous Greek stories, Hera conspired against Hercules as revenge for her husband's infidelities, including sending two serpents to kill Hercules while he was still a baby.

Musker and Clements felt the idea of adultery and a vengeful stepmother didn't sit well with the comedic angle they were taking with the project. Instead, the pair cast Zeus' jealous brother and lord of the underworld Hades as the film's main villain, with Hercules now being the legitimate child of Zeus and Hera. In this incarnation, Hercules' half-God/half-mortal status would occur after Hades unsuccessfully attempts to poison the young child with a potion that will turn him into a mortal.

The directors also partly based their characterisation of Hercules on the concept of sports athletes becoming major celebrities, namely Michael Jordan, who was at the peak of his popularity in the mid-1990s. In essence, Hercules was the Michael Jordan of his era, standing as a beloved icon celebrated in stories and his face appearing on pottery discovered in the ruins of ancient Greece. In Musker and Clements' film, as Hercules' fame rises, it manifests into a line of merchandise, public appearances, giddy fangirls, and an endless amount of cash, echoing the life of the modern-day celebrities.

After nine months of production meetings and story conferences with key figures in the Disney animation studio, Musker and Clements completed their first draft script, but soon realised it was lacking the humour it needed to truly mirror the comedic highlights of Aladdin. Comedy writers Donald McEnery, Bob Shaw, and Irene Mecchi were enlisted to bring additional humour to the script and rework the key comedic characters of Hades and Hercules' beleaguered trainer Philoctetes.

With the script completed, the team turned their attention to casting the film's characters. After initially considering singer Donny Osmond for the title role, it was Tate Donovan who won the role after an extensive audition process. For the role of Hercules' love interest Megara, the production team auditioned dozens of performers, including Broadway performer Susan Egan, who had auditioned for every lead female Disney character since Beauty and the Beast. In a twist of fate, Egan had just been cast as Belle in the Broadway adaptation of the film, but still actively pursued the role of Megara. The team were initially hesitant to allow Egan to audition, seeing Megara as the complete antithesis to Belle. After eventually relenting, Egan blew the team away with her audition and landed the role.

While Musker and Clements were creating the script, they had always envisioned Danny DeVito in the role of  Philoctetes and purposely wrote the character with the actor in mind. However, DeVito refused to audition, leaving the team to test several other veteran actors including Ed Asner, Red Buttons, and Ernest Borgnine. After Buttons' audition, he remarked, "I know what you're gonna do. You're gonna give this part to Danny DeVito, right?" He was correct, with DeVito soon signing on to the role after being offered the part without the need for an audition.

But casting the role of Hades would ultimately create all sorts of headaches for the production team. In a discussion with DeVito regarding the project, the actor asked who they had cast for the villain role. When Musker and Clements relayed they were yet to cast the role, he replied, "Why don't you ask Jack?" As you can likely deduce, DeVito was referring to Jack Nicholson, whose recent career included notable villains in films like Batman, The Witches of Eastwick, and Hoffa, which DeVito had directed.

The directors met with Nicholson and offered the actor $500,000 for the role, which was nowhere near Nicholson's usual $10-15 million salary. To commit to the project, Nicholson demanded a paycheck more in line with his usual fee plus a 50% share of any merchandise featuring Hades. At the time, Disney would never commit to sharing the profits of their merchandise, and instead counter-offered with a higher salary but rejected Nicholson's demands for a share of merchandise sales. Nicholson bluntly declined and passed on the project.

In their bid to find a replacement, Musker and Clements auditioned or met with dozens of actors including James Coburn, Kevin Spacey, Phil Hartman, Rob Steiger, Terrence Mann, Jerry Lewis, and Martin Landau before finally selecting John Lithgow for the role. After nine months of recording sessions, the directors were unhappy with Lithgow's portrayal of Hades, ultimately finding his performance lacked the energy and comedy it truly needed. In August 1995, Lithgow was released from his contract, and the hunt began all over again.

In October 1995, the directors invited James Woods to read for the role, and were immediately stunned by his menacing yet comical interpretation of the character. Woods was keenly adept at ad-libbing dialogue and based his performance on that of Hollywood agent meets used car salesman. It was this blend of inspirations that allowed Woods' performance to float between ultra suave and blinding rage, which was exactly how Musker and Clements had envisioned the character. Woods was immediately hired.

For the film's animation style, Musker and Clements were particularly taken by a Time magazine cover of The Beatles, illustrated by English cartoonist Gerald Scarfe. Scarfe was widely known for his work with Pink Floyd on the album artwork for their 1979 album The Wall and its 1982 experimental film adaptation. Musker and Clements invited Scarfe to tour the Disney studios where they mentioned a direct correlation between Scarfe's style and Greek vase paintings and how his work would be a perfect fit for their production of Hercules.

Scarfe was soon hired as the production designer for the film and created over 700 drawings to be used as inspiration for the film's distinctive design aesthetic. In July 1995, Scarfe worked closed with a team of 15 animators and designs to develop complete prototypes for each of the film's key characters. His work ultimately proved to be so fluid and chaotic, production stylist Sue Nichols created reference charts for the animators to use, which contained elements of Scarfe's initial work blended into a style more akin to Disney animation.

In total, a team of nearly 700 artists, animators, and technicians would work on Hercules in both the Burbank, California studio and a satellite office in France. For Hercules' brutal battle with the serpentine water monster Hydra, the team crafted the creature as a clay model which was digitised into the Computer Animation Production System as a wire-frame model that could then be animated.

In traditional mythology, Hydra is a three-headed beast with the ability to regenerate heads lost after decapitation. But the filmmakers wanted to craft a spectacular sequence with the creature beginning with one head before ultimately multiplying to 30 heads during the course of the battle. Through the use of digital technology, the team were able to create one master head which could easily be multiplied and individually animated. The four-minute sequence took more than a year-and-a-half to create, with 13 animators working tirelessly to bring it all together.

For the film's music, Musker and Clements turned to their The Little Mermaid and Aladdin composer Alan Menken to craft another feast of musical numbers. Menken was left without a lyricist, as his The Lion King collaborator Tim Rice was busy working on the film adaptation of Evita and his Pocahontas songwriting partner Stephen Schwartz had jumped ship to work on Dreamworks' production of The Prince of Egypt. Instead, Menken joined forces with his close friend Tony Award-winning lyricist David Zippel to create six tracks for the film's soundtrack.

The idea to infuse the music of Hercules with a gospel sound originally came from Musker, who felt gospel was the perfect style of storytelling music to match with the film's narrative. Musker and Clements had created the roles of the five Muses, aka the goddesses of the arts, to serve as a the film's Greek chorus who provide exposition and praise the heroic actions of the titular character. The Muses were purposely designed as five women of colour to match the gospel and RnB stylings of their lively musical numbers.

As was now becoming traditional of Disney animated musicals, the protagonist needed an "I Want" song to easily relay to an audience his yearning desire to become a celebrated hero. Menken and Zippel wrote "Go the Distance" to fit this very requirement, with the song detailing Hercules' heartfelt desire and determination to find his place in life. The instrumental elements of the track formed a key part of Menken's overall score, with the song becoming the film's unofficial anthem and a subsequent hit for Michael Bolton, who recorded a pop version for the film's end credits and tie-in soundtrack.

On June 14, 1997, Hercules held its world premiere in New York City, accompanied by a mammoth performance of Disneyland's Main Street Electrical Parade in Times Square, which was broadcast live on the Disney Channel. The parade featured over 30 electrified floats which travelled from 42nd Street to Fifth Avenue and 66th Street, requiring the closure of several roads, much to the chagrin of Manhattan locals. New York City mayor Rudy Giuliani faced strong backlash from residents for essentially allowing Disney to shut down a busy portion of the city and from local businesses who were asked to either dim their lights or shut down as the parade passed by.

Hercules was released on June 13, 1997, to generally positive reviews from critics, particularly for Woods' outlandish performance as Hades. Robert Ebert compared Woods' performance to the "same verbal inventiveness that Robin Williams brought to Aladdin," while Entertainment Weekly called his work an "inspired piece of deadpan vaudeville." But several critics took exception with the film's quirky animation style, with The Washington Post calling it "some of the worst I've ever cringed through" and that "no self-respecting immortal would be seen dead in this simplistic rendition of Mount Olympus." Ouch.

Despite a massive marketing campaign and expansive tie-in merchandise line, the final box office performance of the film was well below studio expectations, standing as the third successive Disney animated feature to underperform. Hercules grossed just $99 million in the U.S. and a further $153 million internationally for a worldwide total of $252 million, which made the film the lowest-grossing Disney animated feature since The Rescuers Down Under.

At the 70th Academy Awards, Hercules became the first Disney animated feature of the Renaissance era to fail to receive a nomination for Best Original Musical or Comedy Score. However, Menken and Zippel did receive a nomination for Best Original Song for "Go the Distance," which ultimately lost to a little song called "My Heart Will Go On" from a tiny film called Titanic.

While I will be the first to freely admit my unrelenting adoration of the endless joy and fun of Hercules, it's inescapable how the film was ultimately a terrible backwards step for Disney animation. It's clear the animation team were attempting something completely different with the visual aesthetic of Hercules. Unfortunately, it's genuinely quite disappointing by comparison to other works of this era. Much of this film's bizarre visual approach looks terribly hurried or even unfinished, including the character designs, which are mostly rather garish.

After delivering genuine works of art with the animation style of Pocahontas and The Hunchback of Notre Dame, it's a jarring experience to view something so decidedly cartoonish as Hercules. That being said, it's obvious Hercules was a departure from the serious themes of the films which preceded it, and its aesthetic ultimately matches the overall mood and tone of the piece. It's bright and striking and bound to grab the attention of younger viewers. There's nothing wrong with that, but it's far from the artistic achievements of Disney's earlier works.

What ultimately saves Hercules is the spectacular gospel soundtrack, which is undoubtedly one of my favourite musical creations in all of Disney's history. From the instantly-iconic "Zero to Hero" to the soaring "Go the Distance," it's another cavalcade of musical delights that never quite received the adulation they deserved. It was a stroke of true genius to cast a group of five Muses as the animated equivalent of The Dreams of Dreamgirls. The spirited performances of Lillias White, Cheryl Freeman, LaChanze, Roz Ryan and Vanéese Y. Thomas remains one of the most deliciously enjoyable musical creations from a Disney animated feature. They own this film from start to finish.

As a protagonist, Hercules can be somewhat of a wet mop, which is a problem when that mop is leading your film. But the supporting cast are thankfully always on hand to completely steal focus and offer plenty of supreme entertainment, especially Woods' performance as Hades, who is easily one of the greatest Disney villains of all time. While it's hard to forget Woods has since become a right-wing, conspiracy theorist loon, his maniacal and energetic performance has stood the test of time, even if his public persona hasn't.

As a solid piece of fluffy entertainment, it's hard to beat something like Hercules. It may not have the substance or style of many of its Disney animated compatriots, but it provides ridiculously enjoyable fun that's endlessly rewatchable. Sometimes that's all you're looking for in an animated film. Not everything has to be a groundbreaking masterpiece. Thankfully, we still have a few of those calling out on the horizon.

Is Hercules a Disney Classic? Is it fun? Absolutely. Is it entertaining? Of course. Is that enough to call something a Disney Classic? No.