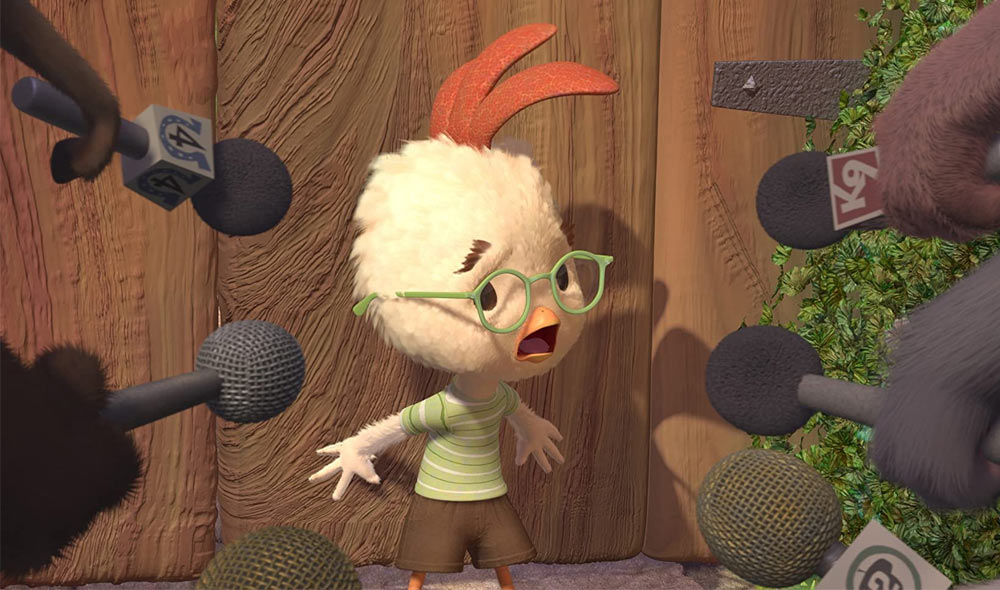 22 May

THE HOUSE OF MOUSE PROJECT – 'Chicken Little'

The one that fumbled the launch of a new era.

When production on Disney's last traditional animated film Home on the Range finished in 2002, then-CEO Michael Eisner laid off most of the employees at the Feature Animation studio in Burbank, downsizing the department to a single unit. The Paris studio closed in 2003. Walt Disney Animation Florida followed suit in 2004. And, with that, Disney was officially out of the business of producing traditional animated feature films.

With the company now solely focused on producing computer animation productions, morale in the studio plunged to a level not seen since the mid-1980s, especially when Eisner began literally selling off Disney's traditional animation equipment, some of which had been at the studio for decades. But Eisner was unperturbed by the growing dissent over his decisions, particularly given he had now filled the executive ranks of the studio with loyal subjects who wouldn't dare question his leadership.

But there was still one vocal opponent to Eisner's authority in the form of then-chairman Roy E. Disney, who was deeply concerned over the direction and style of Eisner's management and the studio's sharp exit from the art form his uncle had defined six decades earlier. In the midst of Disney beginning to craft his campaign to remove Eisner from power, the studio began production on its first fully computer-animated feature film, Chicken Little.

The idea for Chicken Little first began in September 2001 when The Emperor's New Groove director Mark Dindal commenced development on the project. Initially, Dindal envisioned the title character as an overly-anxious, pessimistic female chicken (to be voiced by Holly Hunter), who is sent to a summer camp called Camp Yes-We-Can by her concerned father to help build her confidence and save their relationship. While at the camp, she would uncover a dastardly plot by her camp counsellor (to be voiced by magician Penn Jillette) to destroy her hometown.

After working on the project for eight months, including preliminary recording sessions with both Hunter and Jillette, Dindal was called into Eisner's office and bluntly informed Eisner didn't think audiences would accept a female chicken as an action hero, nor would they warm to the plight of a young girl attempting to repair her relationship with her father. Eisner also felt a male-centric film was more likely to be a box office hit, with his theory that young girls will see films about boys but young boys won't watch movies about girls. As such, he demanded the Dindal rework the project with a male chicken protagonist in the lead. Michael Eisner, ladies and gentlemen.

Despite Hunter's recording sessions progressing enormously well, the actor was let go from the project (and subsequently snapped up by Pixar for the female action lead in The Incredibles), as Dindal set about adapting the project to Eisner's tastes. While Dindal had originally pitched the project as a traditional animated feature, Eisner's announcement in 2002 of the cessation of the art form spun the development on its head and suddenly Chicken Little was greenlit as the studio's first fully computer-animated film.

In early 2003, there was a change of leadership at Walt Disney Feature Animation, with then-president Thomas Schumacher leaving the studio to run Disney Theatrical Group and then-president of Walt Disney Television Animation David Stainton appointed as his replacement. Stainton immediately asked for a progress report from Dindal on Chicken Little. What he was shown did not impress the new president.

Stainton felt the summer camp setting ultimately lacked charm and was unlikely to work in territories outside America. He knew this film needed to succeed on a global scale and prove Disney could compete with the likes of Pixar and DreamWorks. As such, he allowed Dindal three months to revise the script and create an entirely new narrative around the titular male chicken protagonist.

While Dindal set to work on rehashing Chicken Little, Stainton was dealing with an even larger problem; an animator revolt. By April 2003, the Disney animation department had settled into two opposing groups; those with skills in computer animation and those who refused to adapt to the new technology. On April 4, veteran Disney animator Glen Keane organised a meeting of 50 of his colleagues to discuss the future of animation, which soon became a heated debate between the two groups, with some arguing computers should not replace hand-drawn animation, while others express their fears they would be forced to draw by hand.

After the meeting, Stainton called Keane into his office in an attempt to solve the brewing war. Keane had been with the studio since 1974 and Stainton knew the strength of having such an influential animator on his side. Keane used the meeting to pitch an adaptation of the Brothers Grimm fairy tale Rapunzel, which the animator had been sitting on since 1996. Stainton offered a solution; rally the animators to adopt computer animation and the studio would greenlight the Rapunzel project.

With Keane on board, the revolt slowly fizzled and those animators who survived Eisner's layoffs were put through a rigorous 18-month training program to learn computer animation technology. Meanwhile, Dindal had been furiously rewriting Chicken Little with Steve Bencich, Ron Anderson, and Mark Kennedy, who reworked the narrative to centre on a trouble-prone young male chicken who uncovers an alien invasion and must save his town from certain doom, which Stainton and Eisner subsequently approved.

Dindal then set about finding the right voice to bring the titular chicken to life, with over 40 actors auditioning for the directing including Michael J. Fox, Matthew Broderick, and David Spade. But the director was impressed by television star Zach Braff's audition, with the actor able to elevate the pitch of his voice to sound like a junior high schooler. Braff also brought the right balance of energy and awkwardness to the character that perfectly fit how Dindal saw the protagonist, and the actor was offered the role.

For the role of Chicken Little's best friend, Ugly Duckling, Dindal originally considered casting Will & Grace star Sean Hayes in the role. However, the character was soon re-written as a female love interest known as Abby Mallard, with Dindal initially considering numerous actors for the role including Jamie Lee Curtis, Sarah Jessica Parker, Geena Davis, and even Madonna, for some bizarre reason. But the director wanted the character to be more inherently comedic and offered the role to Joan Cusack for her innate ability with natural comedy.

After completing their training, the animation team in Burbank, California set about the mammoth task of animating their first feature-length computer-animated film, which would utilise a 3D animation software called Maya. Within the software, the team used the "Shelf Control" program which provided an outline of each character that controlled their specific individualised autonomy. The animators drew rough digital character sketches on electronic tablets to map out movements, which could then be rendered onto the 3D characters.

From here, the animators utilised the software program imaginatively titled "Chicken Wire," which allowed the designers to manipulate basic geometric shapes to create facial features and movements to match the recorded dialogue. The animators studied the recording sessions of Braff, Cusack, and other cast members to incorporate their expressions and movements into the final character designs. To texturise hair, clothing, feathers, leaves, and other natural materials, the software development team created a groundbreaking software program called XGen, which continues to be used to this day.

For the film's visual aesthetic, the background design team took inspiration from the work of legendary Disney designer Mary Blair, who worked on the background animation of films including Peter Pan, Alice in Wonderland, and Cinderella. To create the film's background designs, the layout artists used digital matte paintings in conjunction with naturalistic elements crafted by Gen, with virtual "natural" lighting effects crafted with the use of the "Lumiere" software program. The software allowed the team to create natural shading and character shadows through various stages of the day in each scene.

In keeping with Disney's continual avoidance of musical animated films in the new millennium, Chicken Little would not feature musical numbers, but rather utilise existing songs in key scenes, with one original track "One Little Slip" composed for the film by Barenaked Ladies to be used during the film's opening sequence. However, the characters do occasionally break into song, with Chicken Little performing Queen's "We Are the Champions" after his baseball victory and Abby and Runt of the Litter singing a karaoke cover of the Spice Girls' hit "Wannabe."

As Chicken Little was preparing for its release in 2005, the co-production deal between Disney and Pixar was due to expire, with Eisner and Pixar CEO Steve Jobs locked in tense negotiations over the future of the computer animation studio. Jobs wanted Pixar to remain independent and only allow Disney to distribute their films, while Eisner sought to acquire the studio outright. As negotiations stalled, the box office result of Chicken Little was viewed as the potential determining factor to settle the deal.

If Chicken Little was a resounding success, it would give Disney leverage in negotiations for a new contract to either own or distribute Pixar's films. If the film failed, it would prove to Pixar that Disney was incapable of producing computer-generated animated films without them, thus giving Jobs the upper hand in future discussions. Chicken Little quickly became one of the most scrutinised films of its kind, with Disney investing an estimated $150 million to promote the release including a huge run of merchandise and a lavish premiere at the El Capitan Theatre in Hollywood.

Chicken Little was released on November 4, 2005, to generally negative reviews from critics. On their television show Ebert & Roeper, Roger Ebert stated "the movie did make me smile. It didn't make me laugh, and it didn't involve my emotions, or the higher regions of my intellect, for that matter," while his co-host Richard Roeper proclaimed, "I don't care whether the film is 2D, 3D, CGI, or hand-drawn, it all goes back to the story." The New York Times called the film "a hectic, uninspired pastiche of catchphrases and clichés, with very little wit, inspiration or originality to bring its frantically moving images to genuine life," while Entertainment Weekly deemed it "another in a new breed of mass-market comedy that substitutes self-reference for original wit and pop songs for emotional content."

Despite the muted response from critics, Chicken Little proved to be a decent success at the box office, aided by the film standing as the first Disney animated production to be released in the Disney Digital 3D, which attracted a higher ticket price. In its opening weekend, Chicken Little grossed $40 million at the U.S. box office to debut at #1, which was the first time a Disney animated film had opened at #1 since Dinosaur in 2000. This also tied Chicken Little with The Lion King as the biggest opening weekend for a Disney animated film.

By the end of its theatrical run, Chicken Little earned $135 million in the U.S. and a further $179 million internationally for a respectable worldwide gross of $314 million. Its success was attributed to audiences' interest with Disney's first foray into computer animation and the fact 2005 was one of the few years without an animated release from either Pixar or DreamWorks. Despite its surprise success, Chicken Little failed to receive a nomination at the 78th Academy Awards for Best Animated Feature, which was won by Wallace & Gromit: The Curse of the Were-Rabbit.

While Chicken Little may have reversed the disastrous box office slump of Disney animated features, it's widely considered to be one of the worst Disney animated films of all time. Its unexpected box office success is generally regarded as little more than morbid curiosity with Disney's inaugural attempt at computer animation or the fact audiences weren't distracted by Pixar's latest shiny new offering. In the 15 years since its release, Chicken Little has mostly faded into obscurity.

Personally, I can somewhat understand the white-hot vitriol this film receives. Most of its characters are fairly divisive creations, in that you'll either completely adore them or utterly despise them. The film is littered with confounding character decisions and enormous plot holes, namely surrounding the alien technology. The animation is horribly amateur and unpolished, with several garish character designs proving to be rather offputting. It's painfully obvious the Disney animation team were completely out of their depths with Chicken Little and still bumbling their way through the new technology.

However, as far as first attempts go, Chicken Little is hardly the total disaster many deem it to be. While the film is essentially devoid of any semblance of a cohesive storyline and the endless pop culture references quickly become tiresome, there is something terribly sweet and endearing about the tale of a young boy desperate to make his father proud. That's the true heart of this film, even if it gets lost amongst a whole barrel of silliness.

Those of us who were awkward kids will empathise with Chicken Little's plight, as he fumbles his way through life and tries to be the hero son he thinks his father has always wanted. Braff's performance is rather gorgeous, as the actor perfectly captures Chicken Little's adorably awkward nature. And how can you complain about a film that manages to utilise the voiceover talents of Patrick Stewart, Wallace Shawn, Harry Shearer, Catherine O'Hara, and the late, greats Garry Marshall, Adam West, and Fred Willard?

While Chicken Little did stop the sky from falling with Disney's box office results, it ultimately highlighted the unavoidable fact the studio still had a long and difficult journey ahead in capturing the narrative brilliance and stunning animation style of its Pixar counterparts. It stood as Disney's first tentative steps into a new era of animation, but the film proved they were no match for the animation studio who had been perfecting this new art form for over a decade.

Is Chicken Little a Disney Classic? While it may have been an admirable first attempt at computer animation, Chicken Little began a new era of Disney films in relatively disappointing fashion. The film opened the door to the possibilities of Disney's next phase, but it would still be some time yet before the studio would craft a computer-animated Disney Classic.