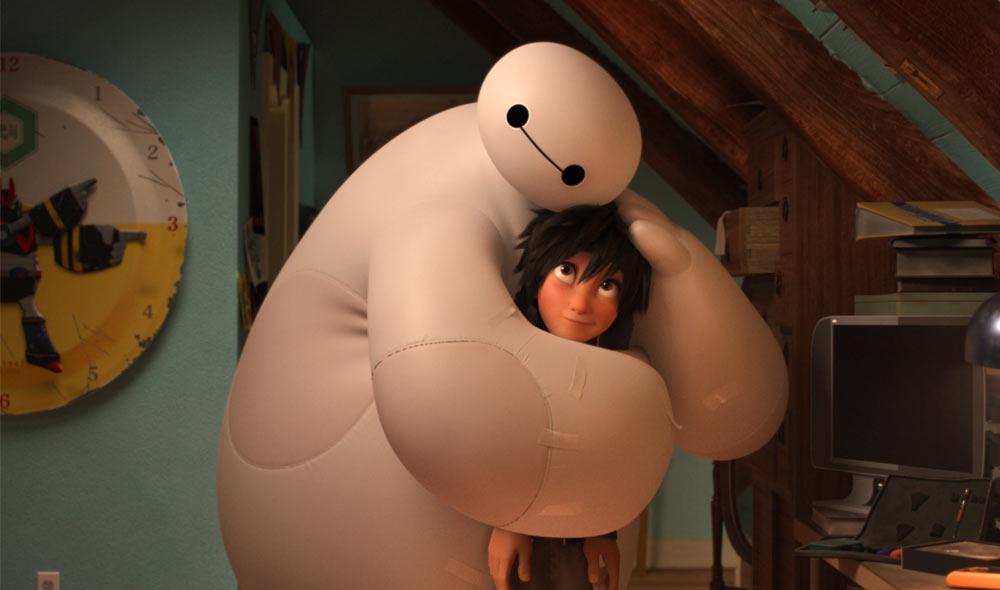 30 May

THE HOUSE OF MOUSE PROJECT – 'Big Hero 6'

The one that fused Marvel Comics with Disney animation.

In 2008, the release of Iron Man launched the Marvel Cinematic Universe in spectacular fashion. After years of DC Comics heroes like Batman and Superman dominating the cinematic landscape, Marvel was suddenly everywhere you looked and The Walt Disney Company wanted a piece of the action. In late 2009, CEO Bob Iger purchased Marvel Entertainment for a staggering $4 billion and the studio subsequently acquired the distribution rights for future Marvel Studios films.

After the acquisition, Iger encouraged the entire company to explore Marvel's properties for adaptation concepts, particularly more obscure characters unfamiliar to mainstream audiences. While the live-action department began looking at lesser-known properties like Ant-Man, Doctor Strange, and Guardians of the Galaxy, animation director Don Hall stumbled across Big Hero 6, a late-90s Marvel comic created by Steven Seagle and Duncan Rouleau that centred on a young Japanese superhero team.

In late 2011, Hall pitched the concept to Disney's Chief Creative Officer John Lasseter, who loved the idea of combining Disney animation with a Marvel Comics property, especially one that could be marketed towards a younger audience. In June 2012, Walt Disney Animations officially announced it was adapting Big Hero 6 into an animated feature, with Hall enlisted to co-direct with Bolt director Chris Williams. Lasseter felt Williams was perfect for the project, given Bolt was inherently rooted in the superhero genre.

While the film would ultimately keep key characters and elements from the original comic series, Hall and Williams wanted their adaptation to feel entirely fresh and unique. As such, they instructed head of story Paul Briggs to only read a few issues of the comic to get a feel for the overall scope of Seagle and Rouleau's comics before creating his own original narrative and concept. By the end of the screenplay's creation, screenwriter Robert Baird would actually admit to never having read a single Big Hero 6 comic.

Despite Disney making continual inroads with building the interconnected Marvel Cinematic Universe, Hall and Williams decided early in production to essentially ignore the broader Marvel world and allow Big Hero 6 to exist as a stand-alone film without any reference or connection to any other Marvel films or characters. To further this film's distance from its fellow Marvel films, which were generally set in real-life locations like New York or California, Big Hero 6 would be set in the fictional city of San Fransokyo, a futuristic mashup of San Fransisco and Tokyo.

The setting of San Fransokyo allowed the animation team to blend Eastern and Western cultures in a style that paid tribute to both traditional Disney animation and the Marvel comics' Japanese origins. While it was not specifically mentioned in the film, the filmmakers' created an alternate history for the birth of San Fransokyo, in which the city of San Francisco was largely rebuilt by Japanese immigrants after the devastating 1906 earthquake, with the architecture evolving over time to something more akin to the neon-drenched streets of Tokyo.

For the film's narrative, screenwriters Baird, Jordan Roberts, and Dan Gerson kept the protagonist Hiro from the original comics, but reworked the character into a half-White, half-East Asian 14-year-old robotics prodigy orphan, who struggles with the death of his beloved older brother, Tadashi. In a bid to avenge his brother's death, Hiro teams up with several of his friends to form a team of high-tech heroes known as Big Hero 6. The group is aided by Baymax, an inflatable robot built by Tadashi as a medical assistant with the ability to be reprogrammed into a battle-ready crimefighter.

Joining Hiro on his mission for vengeance would be Go Go, an athletic Asian-American who specialises in electromagnetics, Wasabi, a slightly neurotic African-American expert in lasers, Honey Lemon, a Latin-American chemistry whizz, and Fred, a comic-book nerd with a wealthy father whose expansive mansion provides the secret base for the team. While these characters all appeared in the original comics, the writing team reworked the ethnicities of Wasabi and Honey Lemon to create a more diverse cast of characters.

During workshopping of the script, it soon became apparent Baymax would be the film's breakout star and emotional core. Originally, the endearing robot character wasn't introduced until late in the film, but story artist John Ripa suggested Baymax should meet Hiro early in the piece as a parting gift from Tadashi. When the filmmakers agreed, the entire structure of the film was reworked to focus more heavily on the burgeoning relationship between Hiro and Baymax, with the robot forming a key role in Hiro's complicated path through grief.

Unlike many of their fellow Marvel superheroes, the members of Big Hero 6 weren't blessed with superpowers, but rather used their skills in science and technology to create high-tech super suits, which allowed each member to perform incredible feats like flying, shooting fire, and, of course, fight. It grounded the film with a sense of technological reality that required the design team to familiarise themselves with robotics technology through numerous research trips to Carnegie Mellon University's Robotics Institute, where experts in robotics provided key information for the film.

For the film's complicated visual creations, the filmmakers employed the use of Hyperion, a brand-new rendering software program created at Disney Research in Zurich, Germany. The program offered boundless new lighting capabilities, particularly in calculating exactly how light moves through objects and the subsequent shading needed for the final colouring of sequences. The software also allowed lighting effects from multiple sources in each frame and allowed accurate calculations in how light would either bounce off certain objects or be absorbed.

Hyperion ultimately required Disney to assemble a new super-computing cluster just to handle the program's immense processing demands, which consisted of 2,300 workstations distributed across four data centres in Los Angeles and San Francisco. The team even enlisted three-time Academy Award-winning cinematographer Robert Richardson as a visual consultant to assist with the creation of authentic lighting. The results were some of the most realistically created objects and backgrounds seen in animation and the Hyperion system was hailed as the biggest development in Disney animation since the introduction of the Computer Animation Production System (CAPS) in the late 1980s.

For the detailed creation of San Fransokyo, the filmmakers purchased the full assessor data for the entire city of San Francisco to allow the animation team to create their own expansive digital city. For wide shots that showcased the entirety of San Fransokyo, the animators built over 83,000 buildings, 100,000 vehicles and 250,000 trees to bring the city to life. In several scenes involving crowds, the team employed the use of the software program Denizen, which created over 700 unique and distinctive characters.

Unlike most animated films of the 21st century, Hall and Williams had little interest in casting A-list celebrities to voice the characters. The process of finding the right actor to voice Hiro was complicated, due to the character often displaying typical snarky and jaded emotions of a teenage boy, which an audience could easily find unlikable. After auditioning dozens of young actors, Hall and Williams found their Hiro in Ryan Potter, who was able to take the edge off the character in a way that made him authentically petulant but somehow still appealing.

Given the total lack of emotional expressions of Baymax, it was key to find the right actor to make an audience feel the robot's emotions through nothing more than his voice. After television actor Scott Adsit auditioned for the role, Hall and Williams knew he was the perfect choice for the character, with Adsit able to create an endearing voice that still sounded robotic and mechanical. Absit also brought more humour to the role than originally intended, with the actor ad-libbing through numerous recording sessions, gifting the filmmakers with numerous choices for the final dialogue.

While the film mostly rejected any connection to the Marvel Cinematic Universe, it would still feature the traditional Stan Lee cameo, with the legendary comic book creator appearing in the film as Fred's father in a portrait hanging on the wall of the family mansion. However, after Hall attended a screening of Guardians of the Galaxy and noticed how the majority of the audience hadn't moved from their seats in anticipation of Marvel's infamous post-credits scene, he realised audiences would be disappointed if Big Hero 6 didn't also follow this tradition. In August 2014, just three months before the film's release, the team hastily organised a post-credits scene of their own, which more prominently featured Lee, who happily agreed to voice the cameo role.

Big Hero 6 was released on November 7, 2014, to overwhelmingly positive reviews from film critics. The Hollywood Reporter called the film "the funny and heartwarming story about the bond between a teen tech geek and a gentle robot represents another can't-miss proposition by Walt Disney Animation Studios," Richard Roeper deemed the film "a big, gorgeous, consistently funny and touching animated adventure," while The New York Times heralded the film as "a bright, visually sumptuous 3-D computer-animated feature that gives you a bit of an emotional workout."

While Big Hero 6 couldn't quite repeat the unprecedented success of its predecessor Frozen, the film was another smash success for Walt Disney Animation Studios. Big Hero 6 grossed $220.5 million in the U.S. and a further $435.3 million internationally for a massive worldwide total of $657.8 million, making Big Hero 6 the fourth-highest-grossing Disney animated film of all time. At the 87th Academy Awards, Big Hero 6 became the second consecutive Disney animated film to win Best Animated Feature, which was seen as somewhat of an upset, with most Oscar pundits wrongly predicting How to Train Your Dragon 2 to win the award.

With its fusion of Marvel's comic book action, Disney's burgeoning computer animation technology, and an emotional core straight out of a Pixar masterpiece, Big Hero 6 is a wildly unique entry in the canon of Disney animation. By blazing their own individual path, Hall and Williams tapped into the supremely entertaining elements of a Marvel production, while still infusing the film with a beating heart that was impossible to resist.

While there are numerous impressive aspects of Big Hero 6, the key to his film lies with Baymax, who is easily one of the most endlessly lovable Disney characters of all time. He is the film's true heart, which is some form of cinematic miracle, given he could easily have been nothing more than a comical robot. Sure, he is genuinely hilarious in several moments of this film, particularly the ingenious sequence where Baymax is running low on battery, but it's his connection to Hiro and his boundless compassion for his faithful companion that will truly touch your soul.

Baymax's blunt outlook on life is entirely the wake-up call this troubled teenager needs to navigate his way through tremendous pain. As a robot, Baymax calls life as he sees it, which may not be what Hiro wants to hear, but it's absolutely what he needs to hear. Hiro is already struggling with his transition from boy to young man, which is only further complicated by the loss of the man he idolises. The answer lies not in isolation, but a connection to others. Big Hero 6 perfectly captures the complex emotions of a teenager in freefall, while highlighting the power that comes from friendship.

On a technical level, the visual delights of Big Hero 6 are another remarkable leap forward for Walt Disney Animation Studios. Given Disney's early attempts at computer animation with visually disappointing films like Chicken Little and Meet the Robinsons, it's staggering how far the studio had managed to come in less than a decade. From the dazzling character designs to the immensely detailed background animation of San Fransokyo, Big Hero 6 is perhaps Disney's finest visual computer-generated creation to date.

With an ending that's likely to leave you in a puddle of tears ("I'm satisfied with my care.") and a briskly-paced narrative that rarely lags, Big Hero 6 is a terrifically entertaining and emotionally effective piece of cinema. The film celebrates science and technology in such magnificent fashion, which can only be a great thing for young minds. And it gave us a new Disney icon in the form of Baymax, who deservedly took his place as one of the best sidekicks a hero could ever ask for. It may not technically be a chapter in the Marvel Cinematic Universe, but it's still one of the greatest Marvel films ever produced.

Is Big Hero 6 a Disney Classic? In the six years since its release, the popularity of Big Hero 6 has barely diminished. Baymax merchandise is still a regular feature of Disney theme parks and toy stores. The film was given a hugely popular spin-off animated series. And many fans have been clamouring for a necessary sequel, which surely must be on the horizon. However, it's probably a little too early to call this one a Disney Classic just yet.