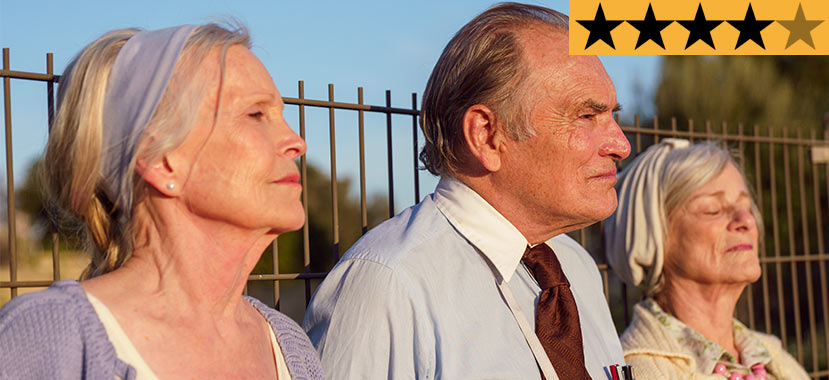 03 Aug

REVIEW – 'Senior Love Triangle' is a surprising little gem that will ultimately break your heart

Over the decades of cinema, we've seen countless adaptations of novels, plays, television shows, and comic books, but rarely has a series of photos formed the inspiration for a film. It's the unenviable task facing first-time feature film director Kelly Blatz, who stamps his claim as a filmmaker to watch with his remarkable directorial debut Senior Love Triangle. A surprising little gem that will ultimately break your heart, it's an unexpected love story that packs a hefty punch.

Inspired by co-writer Isadora Kosofsky's award-winning photo essay series of the same name, Senior Love Triangle captures the complicated relationship between three elderly Los Angeles characters desperate to escape the drudgery of retirement home isolation. William (Tom Bower) is a crotchety, self-important, 80-something with an eye for the ladies. A Navy veteran who often boasts of his former social status, William is attempting to finalise a lucrative deal with an unseen phone voice known as "John" who will apparently provide the vet with a lavish mansion, if he just keeps up his monthly wire transfers to an offshore account (you can probably guess where that's going).

Shacking up with his adoring girlfriend Adina (Anne Gee Byrd) in her plush retirement home apartment, William cruises around town in his vintage Mercedes with his beloved before conveniently stopping by an ATM so she can provide her lover with the funds needed to secure their future home. But when Adina's son gets wind of the man squatting in his mother's room, William is abruptly booted out on the street.

With nowhere else to go, William is forced to take residence at Gramercy Towers, a "subpar" aged care facility run by the saccharinely charming Mormon manager Spencer (Travis Van Winkle). As William bemoans his new accommodation, he soon meets the flirtatious Jeanie (Marlyn Mason), a former USO entertainer in the early stages of dementia. While William still plans to whisk Adina away from the "Nazis" running her building, his growing connection with Jeanie soon creates the complex titular love triangle.

Senior Love Triangle is obviously not the first film to feature such a tangled polyamorous love story, nor will it be the last, but it's decidedly refreshing to see a slice of polyculture take form with elderly characters in the forefront. The film is a tragic portrait of the debilitating loneliness rife throughout aged care facilities, yet it also stands as a charming ode to the idea love can still blossom in our twilight years. It's also a film that wisely refuses to shy away from the fact sex is still an important aspect of the lives of the elderly, with both Adina and Jeanie presented as strong women still very much in control of their own sexuality and their appeal to someone like William.

When Adina and Jeanie first meet, Blatz and Kosofsky's screenplay naturally places the two characters at odds with each other, crafting several scenes loaded with deliciously biting jealousy between the waring females vying for William's affection. Byrd and Mason play off each other tremendously well in these moments, as they expertly portray the initial suspicion and fear over losing William's roving eye. But as the film progresses, their relationship takes an unexpected turn as they find an almost sisterly strength with each other and begin to realise their love for William is something to be shared.

Blatz is a filmmaker keenly attuned to the vulnerability of his characters and presents all three in tremendously rich detail to elicit deep empathy and an emotional connection from his audience. In a cinematic environment that rarely offers starring roles to actors of a certain age, Senior Love Triangle is a bountiful gift to Bower, Byrd, and Mason. All three are veteran performers of both film and television, yet have never been offered leading roles such as these. They all take the opportunity to shine, with each delivering a knockout and breathtaking performance in wildly different ways.

As the "man of God" who refuses to kowtow to anyone, Bower is a genuine powerhouse with a character who's both terribly charismatic and infuriatingly frustrating. Crippled by PTSD, William is a complex role full of deep-seated pain and quiet yearning that's slowly metamorphosing into unsettling delusion, making him the perfect target for an unscrupulous con artist offering a quick fix to the veteran's problems. Bower holds tight to his character's destructive spiral into iniquity, allowing his deeply layered performance to carefully unveil organically. As William continues to accept his mental instability, Bower's work transforms into something tragically heartbreaking.

But the real heartbreakers are Byrd and Mason, as the two unfortunate women pulled into William's chaotic world where life just becomes more complicated with every passing day. Mason steals the film with an intimate portrayal of the terrifying condition that is dementia, offering long lapses of pure clarity painfully juxtaposed by "senior moments" of minor forgetfulness and outright confusion. Jeanie often flashes back to her past in New York City where she confuses William with her late husband and the fact she now resides in Los Angeles. Every etch of Jeanie's disorientation is echoed in Mason's wildly expressive eyes, with the actor delivering a haunting performance that hits hard for anyone familiar with dementia.

Byrd provides some levity to the film as the initially uppity and affluent Adina, who is so seemingly smitten with William that she'll gladly hand over wads of cash upon command. As a published poet and a "lover of fine cuisine," there's an air of sophistication to Adina that's continually damaged by her unrelenting devotion to someone clearly losing their grip on reality. But her desperation for any form of companionship is entirely understandable, particularly as Adina begins to accept it's better to share William with Jeanie than risk losing him from her side entirely. Byrd is magnetic to watch, delivering a stoic performance as a lonely woman who knows everything isn't all it seems but would rather live in William's delusion than face isolation alone.

With his directorial debut, Blatz delivers a confident work well beyond his years. By taking Kosofsky's images and fleshing her photography into a narrative that captures the soaring highs and crushing lows of elderly life, Blatz (who also co-edited the film with Seth Clark) offers a harrowing glimpse into the lives of those rarely seen on screen. At times, Kosofsky's captivating still photos (which are shrewdly shown during the credits) are recreated entirely, working seamlessly into the narrative with impressive ease. Blatz has taken something stationary and given it a visual and narrative life all of its own, which has to be warmly commended.

While the supporting characters are left rather thinly-drawn and completely dominated by the film's leads, Senior Love Triangle soars courtesy of the sublime performances of three veteran actors who prove age has done nothing to affect their talent. It's an abnormal love story that teeters on absurdity but Blatz is in such deft command to never allow it to. Overflowing with charming warmth, it's a beautiful portrait of love in the unlikeliest of forms. But the real strength of this film lies in its unflinching look at the follies of old age and the perils of what occurs when your mind becomes your biggest enemy.





Distributor: Gravitas Ventures
Cast: Tom Bower, Anne G. Byrd, Marlyn Mason, Travis Van Winkle
Director: Kelly Blatz
Producers: Jenna Cavelle, Drew Diamond, Matthew Smaglik
Screenplay: Kelly Blatz, Isadora Kosofsky
Cinematography: Jon Keng
Production Design: Anya Kolesnikoff
Costume Design: Luca Kingston
Music: Nami Melumad
Editing: Kelly Blatz, Seth Clark
Running Time: 92 minutes
Release Date: 4th August 2020 (U.S.)