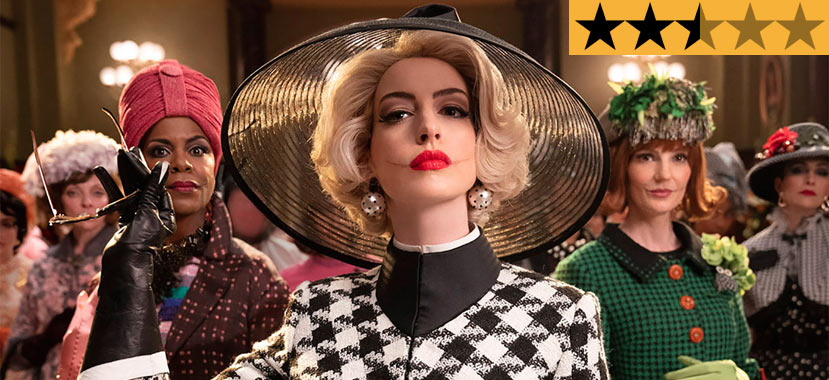 23 Oct

REVIEW – 'The Witches' is a tepid jumble of unsightly CGI creations and flat set pieces

Children's films occasionally have a knack for delivering nightmare-inducing scenes that haunt you for a lifetime. The boat ride in Willy Wonka and the Chocolate Factory. The "Pink Elephants on Parade" musical number in Dumbo. The flying monkeys of The Wizard of Oz. But the one that has always stuck with this film critic is the traumatising moment in 1990's The Witches when Anjelica Huston's Grand High Witch literally peels back her face to reveal the horrifying demon lurking underneath. It's an iconic sequence that likely had parents questioning the decision to allow their children to view this film.

The inevitable reimagining of Roald Dahl's twisted 1983 novel has finally arrived with a pedigree that suggests this adaptation could be something truly special. At the helm is Academy Award-winning director Robert Zemeckis. In the producers' chairs are Oscar winners Guillermo del Toro (who also co-wrote the screenplay) and Alfonso Cuarón. And Academy Award winners Anne Hathaway and Octavia Spencer lead a cast that features Stanley Tucci, Kristin Chenoweth, and narration by Chris Rock.

Even with all that staggering talent on board, the disappointing end result is the cinematic equivalent of the word "meh." Zemeckis' take on The Witches isn't an inherently bad film, nor is it a good one either. It's just all very underwhelming and forgettable. After viewing this messy film, it's genuinely difficult to ascertain what target audience this was made for, but it's unlikely to be a hit with either young or old.

Set in late 1960s Alabama, The Witches introduces us to an unnamed (he's technically credited as "Hero Boy") young orphan (Jahzir Bruno), who is sent to live with his doting grandmother (a charming Spencer) after a car accident tragically kills both his parents. Crippled by grief and struggling to understand the pain he's feeling, the young boy is eventually brought out of his shell by Grandma, who fills their home with music and delicious homebaked goods.

While shopping at the local grocery store, the boy encounters a mysterious woman (Josette Simon), who attempts to offer the child an ominous-looking lolly. When Grandma hears of her grandson's rendezvous with danger, she fills him in on the existence of witches, who wear gloves to hide their claws, wigs and hats to cover their completely bald scalps, and find the smell of children utterly repulsive. As fate would have it, Grandma encountered a witch in her youth and has long-feared the thought she's still lurking out there somewhere.

In an effort to avoid the potential presence of witches in her town, Grandma calls in a favour from her cousin and whisks her grandson off to the swanky seaside Grand Orleans Imperial Island Hotel on the Gulf of Mexico. Grandma rationalises witches only target poor children who won't be missed, making the ritzy resort the perfect hiding place to escape the clutches of potential doom.

Little does Grandma realise the hotel is hosting the annual convention of the International Society for the Prevention of Cruelty to Children. The conference is actually a sinister front for a large gathering of menacing witches, presided over by the Grand High Witch (Hathaway, chewing every piece of scenery possible), who plans to use poison-laced candy bars to turn children into mice and eradicate them for good.

You likely came to The Witches to see what Hathaway has to offer, especially if you're a fan of Huston's sublimely terrifying performance in the 1990 adaptation. From the moment she swans into this film in a perfectly tailored black and white checkered suit, Hathaway owns this film entirely. It's one of the campiest performances of the year, with Hathaway clearly having the time of her life hamming it up every chance she gets.

This is Hathaway's Death Becomes Her moment and she's seizing it with everything she's got. Spouting a thick Scandavianian accent (at least that's what I think it is) and dressed in an array of spectacular outfits and wigs, Hathaway is terrifically silly and occasionally downright terrifying. Much like her underrated turn in Ocean's 8, Hathaway knows precisely the film she's found herself in and vamps it up to the maximum, crafting a wickedly entertaining take on the iconic character.

The ever-reliable Spencer is perfectly cast as the kindhearted grandmother, who is surprisingly courageous in the face of inhuman evil. She's gorgeously warm and fiercely protective of her grandson, creating a storybook depiction of the perfect grandparent that's the film's true heart. Newcomer Bruno is charming and adorable, while his earnest chemistry with Spencer is lovely. But Tucci is tragically underused in a thankless role as the hotel's beleaguered manager, whose only purpose is to serve as a punching bag for the Grand High Witch's constant demands.

It's just a shame that's essentially where the joys of this film end. Zemeckis' overreliance on CGI wizardry presents The Witches as little more than a cheap-looking video game with a series of exhaustingly long set pieces that often drag on far too long. While the effects work on the Grand High Witch's extended Pennywise-like smile is fabulous, the terrible CGI animals (including the Witch's pet cat, which easily could have been played by an actual feline) look like something from the early days of CGI and never once resemble anything remotely authentic.

By the time the film's dark nature is unfurled in an extended sequence revealing the witches' true ghastly appearance, you can't help but wonder who this film is actually intended for. It's genuinely too scary for younger viewers, but older viewers will be left tired by its penchant for childish humour. Kids will be too terrified at the sight of Hathaway's gargantuan mouth filled with razor-sharp teeth, but older audiences will be half asleep by the second act.

Zemeckis can't seem to determine if he's crafting a tongue-in-cheek horror movie for adult audiences who remember being terrified by the 1990 version or a silly kids film injected with numerous grotesque moments that will have them cowering in their seat. The darker elements ultimately work against the lighter moments, creating a tonally baffling mess that can't decide what it's trying to be. It's genuinely difficult to tell if this film wants you to laugh or scream. As an adult, you're unlikely to do either. As for your children, they'll likely be begging to watch anything else instead.

I truly wanted to adore The Witches, but it's an unnecessary remake that's hard to either truly love or hate. Few films this year have left me feeling so terribly indifferent to everything thrown at me. Sure, Hathaway's nutty performance livens up this tepid jumble of unsightly CGI creations and flat set pieces, but it's not enough to safe this film from itself. Despite the lashings of colourful characters, costumes, and production design, it's a surprisingly beige film that leaves you yearning for more.





Distributor: HBO Max
Cast: Anne Hathaway, Octavia Spencer, Stanley Tucci, Jahzir Bruno, Codie-Lei Eastick, Chris Rock, Kristin Chenoweth, Josette Simon, Orla O'Rourke, Charles Edwards, Morgana Robinson
Director: Robert Zemeckis
Producers: Robert Zemeckis, Jack Rapke, Guillermo del Toro, Alfonso Cuarón, Luke Kelly
Screenplay: Robert Zemeckis, Kenya Barris, Guillermo del Toro
Cinematography: Don Burgess
Production Design: Gary Freeman
Costume Design: Joanna Johnston
Music: Alan Silvestri
Editing: Jeremiah O'Driscoll, Ryan Chan
Running Time: 104 minutes
Release Date: 22nd October 2020 (U.S.), 10th December 2020 (Australia)