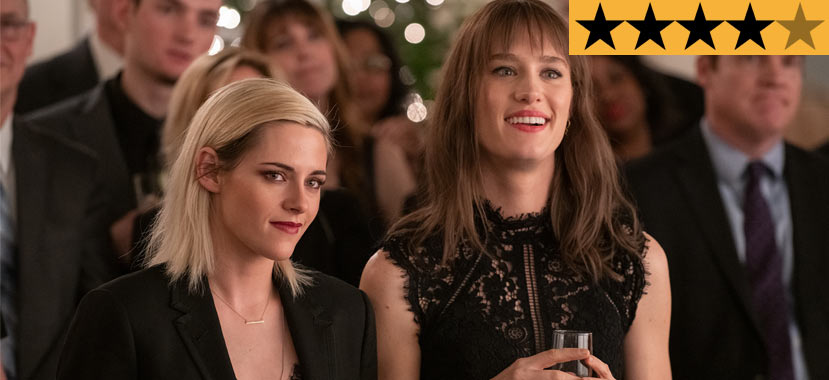 21 Nov

REVIEW – 'Happiest Season' makes the yuletide extra gay this year

Deck the halls and string up the lights, it's the festive time once again. Yet, with lockdowns and social distancing restrictions, this is likely to be a Christmas like no other. As depressing as that thought is, we can always count on the film industry to pump out a new Christmas-themed piece of escapist cinema just in time for the silly season. As fate would have it, 2020 is blessing us with a holiday movie that feels all sorts of revolutionary.

An early Christmas present to enjoy at home or, for some countries like Australia, in the cinema, the endlessly lovable Happiest Season makes the yuletide extra gay this year with a gorgeous queer love story to brighten up the dumpster fire that was 2020. Blessed with a sublime ensemble cast and lovingly co-written and directed by Clea DuVall, this charming romantic comedy is purposely cheesy, wonderfully tender, and enormously fun. A new queer Christmas classic is born.

Abby (a terrific Kristen Stewart) is not a Christmas person. It's not that she's a bah-humbug Grinch, rather she associates the holiday season with parents tragically passing away when she was 19. Despite her aversion to the Christmas spirit, Abby is so madly in love with her girlfriend, Harper (Mackenzie Davis), she happily accepts Harper's invitation to spend the holidays with Harper's family outside Pittsburgh and meet her parents for the very first time.

With the help of her best friend, John (a typically scene-stealing Daniel Levy), Abby had been preparing to propose to Harper but now plans to take the traditional path in asking Harper's father for his blessing before popping the question on Christmas Day. But there's just one slight problem: Harper still hasn't come out to her conservative family and begs Abby to pretend to be her straight roommate.

Feeling completely cornered, Abby hesitantly agrees, especially when Harper promises she'll find the right moment on their trip to tell her family the truth. Upon their arrival, Abby meets Harper's sisters, Jane (Mary Holland) and Sloane (Alison Brie), and her waspy parents, Ted (Victor Garber) and Tipper (the ever-reliable Mary Steenburgen), with the latter spending the rest of the film hilariously referring to Abby as "Harper's orphan friend."

While Harper's family look like the perfect American dream from the outside, it soon becomes apparent to Abby they're anything but. Ted is in the midst of running for mayor on a platform of traditional family values, with Tipper hell-bent on beaming out a wholesome image out to the world via Instagram. Sloane is wildly jealous of Harper being her father's favourite daughter, while Jane is the oddball black sheep of the family whose artistic flair is essentially ignored.

Throw in the re-emergence of Harper's ex-boyfriend, Connor (Jake McDorman), who Tipper is pushing back into her daughter's life, Harper's secret ex-girlfriend, Riley (the always fabulous Aubrey Plaza), who becomes an unexpected ally to Abby, and a lavish Christmas Eve party to be attended by Ted's key potential campaign benefactor, Zelia (Ana Gasteyer), and you've got a recipe for a disaster that could only occur during the holiday season.

DuVall has assembled a superb ensemble cast to bring Happiest Season to life. As an actor herself, it's hardly surprising DuVall is able to elicit such earnest, organic performances from her cast. Stewart genuinely lights up the screen with this charming performance. She may prefer to work in the indie space these days, but Stewart deftly proves she can easily slip back into mainstream movie star mode with the right projects. As the loveable Abby, she constantly blurs the line between comedy and drama (she aces both, just quietly), offering a rare soft and vulnerable performance from this chameleon of a performer.

Davis is saddled with the trickier task of playing the conflicted daughter who inadvertently becomes the neglectful girlfriend. While Davis effectively captures the debilitating conflict Harper feels at being torn between supporting Abby and keeping her distance to maintain the deception they're just friends, Harper is occasionally unlikeable through confoundingly cruel character choices. But she's on the difficult journey of finding the strength to come out, and her actions merely echo how complicated that course is. The chemistry between Stewart and Davis is effortless and their burgeoning romance is a pure delight.

Surrounding Stewart and Davis is a terrific crowd of oddball supporting characters, with DuVall wisely giving each their own moment to shine. Garber and Steenburgen are perfectly cast as the well-intentioned parents so blindly obsessed with their own ambitions, they inadvertently ignore the problems of their three daughters. While it's a slightly one-note performance, Brie is adept at playing the uptight, insecure older daughter with a chip on her shoulder. And the gloriously hysterical Levy gets the lion's share of the film's funniest lines, yet is also blessed with a touching introspection on how every queer person's coming out story is unique.

But it's Holland and Plaza who threaten to steal the entire movie, and you get the impression that's entire how DuVall wants it. Holland co-wrote the screenplay with DuVall and has shrewdly given herself the character who leaves a lasting impression. Holland delivers the tragic, forgotten sister routine tremendously well, with the empathetic Jane constantly pailing in comparison to her two successful siblings. Jane's desperately chipper attitude is clearly hiding deep-seated pain, and when it finally comes to the surface, Holland is magnificent.

In a lesser movie, Plaza's Riley would be inserted to provide conflict as a scheming ex-girlfriend looking to break up the happy couple. There's naturally a touch of jealousy from Harper when she realises Abby is spending time with her ex, but Riley is ultimately there to provide sharply astute observations on the dynamics of Harper's family and help Abby navigate the chaos she's unwittingly found herself within. With her typical deadpan delivery slightly downplayed, Plaza steals focus with her sarcastic, intelligent performance.

A Christmas film featuring the exploits of a wildly dysfunctional family is far from the most original concept, but DuVall cleverly leans heavily into conventions of both romantic comedies and holiday movies. By working within the well-worn rom-com structure but recasting the romantic leads as two women, Happiest Season feels entirely fresh and soars by virtue of tackling the personal journey that is coming out to your family. DuVall and Holland have spun a familiar narrative into something entirely modern, and it's unfathomable it's taken this long for such a film to come along.

Duvall has crafted a film that's clearly deeply personal to the filmmaker and will ring true with queer folk who know this story all too well. But with lashings of wonderful humour, relatable familial drama, and captivating warmth, Happiest Season is a piece of LGBTQ cinema that's accessible for all audiences. It's so endlessly rewatchable that it's sure to become a permanent fixture each festive season. After a year of such darkness, this joyous celebration of romance and claiming one's identity is precisely what we need this Christmas.





Distributor: Hulu/Sony Pictures
Cast: Kristen Stewart, Mackenzie Davis, Alison Brie, Aubrey Plaza, Daniel Levy, Victor Garber, Mary Steenburgen, Mary Holland, Ana Gasteyer, Burl Moseley, Jake McDorman, Sarayu Blue, Asiyih N'Dobe, Anis N'Dobe
Director: Clea DuVall
Producers: Isaac Klausner, Marty Bowen
Screenplay: Clea DuVall, Mary Holland
Cinematography: John Guleserian
Production Design: Theresa Guleserian
Costume Design: Kathleen Felix-Hager
Editor: Melissa Bretherton
Music: Amie Doherty
Running Time: 102 minutes
Release Date: 25th November (U.S.), 26th November (Australia)