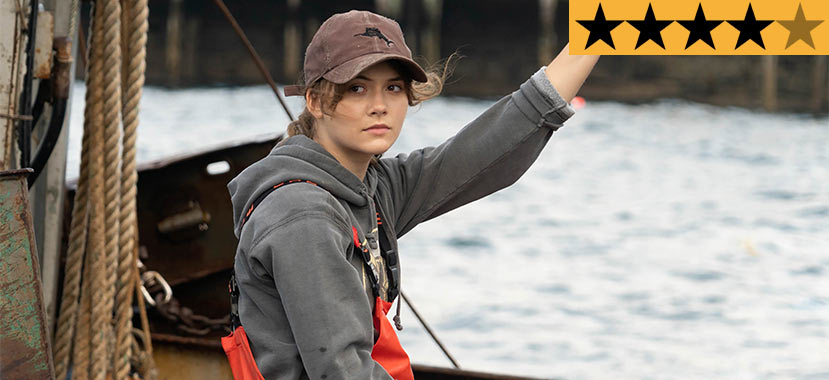 08 Feb

SUNDANCE REVIEW – 'CODA' is a charming heartwarmer that's good for the soul

As we've now learnt, Apple Studios has set a new Sundance record by purchasing Sian Heder's gorgeous delight Coda for $25 million. While that is a staggering sum of cash for an independent film, CODA is worth every damn penny and will prove a huge coup for Apple as a drawcard for its struggling streaming service, Apple TV+. A rousing crowd-pleaser that will surely find an adoring audience later this year, CODA leans heavily into its well-worn formula to deliver a charming heartwarmer that's good for the soul.

Led by a terrific ensemble cast and an endearingly sweet screenplay, CODA (the acronym for Child of Deaf Adults) elicits equal helpings of laughter and tears in one of the most enjoyable treats you will experience this year. Sure, there's plenty in this coming-of-age tale that feels familiar, but it's all crafted with such wonderful love and care by Heder and tells a unique tale by virtue of capturing the experiences of both the deaf and the hearing.

A remake of the 2014 French-language film La Famille Bélier, CODA focuses on shy teenager Ruby (a star-making turn from Emilia Jones), who is struggling through her final year of high school before college potentially beckons. Awakening before dawn each morning, Ruby assists her father, Frank (Troy Kotsur) and big brother, Leo (Daniel Durant) on the family fishing trawler before heading off to school, often reeking of seafood. This naturally makes her an easy target of the mean girls at school, who also prey on Ruby for being the only hearing member of her otherwise deaf family.

Torn between her desire for her own life and her obligatory role as the interpreter for the entire family, Ruby feels a yearning to protect Frank, Leo, and her mother, Jackie (Marlee Matlin) from the world around them. With a secret passion for singing (Jones opens the film with a superb cover of Etta James' "Something's Got a Hold on Me"), Ruby signs up to join the school choir, which also puts her close to her unrequited crush Miles (Ferdia Walsh-Peelo).

Under the tutorship of eccentric, commanding conductor Mr. V (a charming Eugenio Derbez), Ruby's singing flourishes and her teacher pushes her to apply to Boston's prestigious Berklee College of Music. With a long-standing expectation Ruby will join the family business at the completion of school, she finds herself facing an impossible decision between chasing her passion or remaining steadfast to her duty towards her family.

On its surface, CODA covers many typical tropes of any coming-of-age high school drama. The nasty girls who bully our protagonist. The awkward interactions between our heroine and her dashingly handsome potential beau. The one teacher who takes the time to pay attention to a student others have underestimated. Angsty teenagers and their hormones flying all over the place. In this regard, Heder isn't seeking the break the mould, but rather plays to the strengths of a genre and narrative that feels recognisable to an audience, particularly those who didn't quite fit in during their high school days.

Where CODA breaks new ground is its inclusive cast and its depiction of deaf people as nothing more than regular people trying to live their daily lives like everyone else. Their deafness doesn't define them, nor is it something they are embarrassed by nor ashamed of. Their family dynamic is no different from yours. They bicker and argue like everyone else, but you can tell their disagreements consistently flow from a place of love. How wildly refreshing it is to see a film refuse to exploit people with disabilities for melodrama or misery and instead simply celebrate who they are.

At the centre of CODA lies the terrific performance from Jones, who deftly proves she's an emerging talent to keep one eye on. As a teenager juggling far too many balls and drowning under the weight of her numerous responsibilities, Ruby is an adolescent who's essentially been forced into adulthood well before her time. She's facing an impossible decision where she either abandons her dreams and a chance at her own life or breaks her family's heart and potentially leaves them languishing without her assistance. It's a choice no child should have to make and the growing conflict offers Jones the chance to shine in a character full of nuance and depth.

In a breakout performance that will surely set the young actor on a path to bigger things, Jones is a revelation. She has that natural star quality akin to Brie Larson and Saoirse Ronan. With plenty of the tempestuous teenage angst we expect of such a character, Ruby could easily have been little more than a brat an audience would turn again. But Jones is so infectiously loveable and effortlessly captures Ruby's complicated character arc that's so deeply empathetic and understandable. We feel the crippling conflict between Ruby's deep devotion to her family and her desire to chart her own course in life. And Jones' singing voice is simply heavenly.

Kotsur and Matlin are wonderful as Ruby's adoring (and occasionally embarrassing) parents. Their chemistry is divine and they both bring so much humour and heart to the film. Heder's screenplay offers frank and open discussions about their sex life. Naturally, that's entirely mortifying for poor Ruby, but it's a delight to see two characters of a certain age still passionately in love with each other. Durant is equally impressive, largely thanks to a simmering sibling rivalry between Ruby and Leo we know will boil over at any moment.

Their family dynamic is so wonderfully earnest where the four actors feel like they've been living together for a lifetime. Heder's decision to choose music as Ruby's passion naturally creates tension in the family, as it's an art form her deaf parents and brother have no connection with or appreciate in any capacity. Jackie almost takes it personally her daughter would choose something she feels excluded from, typified by an emotional exchange where she asks, "If I were blind, would you want to paint?"

It's a clever conceit that will feel familiar to anyone who's ever chased a dream their family couldn't quite understand. While we follow Ruby's struggle between her head and her heart, we also feel the conflict brewing inside her parents' minds. The last thing they want is to stand in the way of their daughter's path in life. Yet, they are both so clearly terrified of life without their translator, forcing both to acknowledge the pressure they've placed on her young shoulders for far too long.

By choosing to cement her narrative in the world of the hearing impaired, Heder paints a supremely genuine portrait of the deaf experience we rarely see on screen. Her decision to cast three deaf actors only elevates the authenticity of CODA. Both Hader and Jones learnt ASL for the film, which clearly gave them both an appreciation for the life of the characters within this beautiful gem of a film. I laughed. I cried. I cheered. And I smiled like a damn fool throughout. What more could you ask for from a movie? Do not miss this one, folks. After the rotten year that was 2020, this is precisely what we need.





Production Companies: Vendome Pictures, Pathé Films, Picture Perfect Federation
Cast: Emilia Jones, Troy Kotsur, Marlee Matlin, Daniel Durant, Eugenio Derbez, Ferdia Walsh-Peelo, Amy Forsyth
Director: Sian Heder
Producers: Philippe Rousselet, Fabrice Gianfermi, Patrick Wachsberger
Screenplay: Sian Heder
Cinematography: Paula Huidobro
Production Design: Diane Lederman
Costume Design: Brenda Abbandandolo
Editor: Geraud Brisson
Music: Marius De Vries
Running Time: 111 minutes