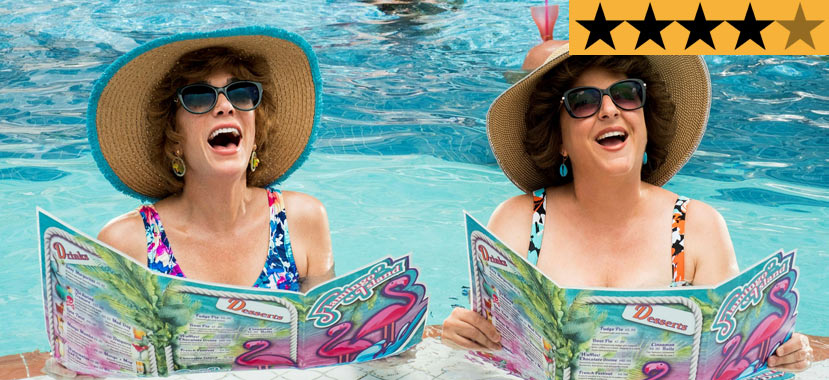 22 Feb

REVIEW – 'Barb & Star Go to Vista Del Mar' is an unapologetically camp delight that's acutely aware of its own absurdity

Another cinematic casualty of the disastrous year that was 2020, the vacation romp Barb & Star Go to Vista Del Mar was originally planned as a giddy piece of summer season fun. But, as we'd all like to forget, summer was all but cancelled last year, and, thus, it's now been dropped at a time when blissful holidays are still a distant dream for most of the world. Maybe now is the perfect moment for such a glorious piece of escapist cinema. Lord knows we could all use a dose of the fictional sunny shores of Vista Del Mar, even if we're merely viewing them from our lounge room.

In all honesty, Barb & Star Go to Vista Del Mar is one of the silliest and most ridiculous films I've seen in some time…and I loved every damn moment of it. Maybe it's the months of lockdown talking, but this film might just be exactly what the world needs right now. An unapologetically camp delight that's acutely aware of its own absurdity, it's a screwball comedy served with an infectious energy and outlandish spirit that's rather impossible to resist.

Barb (Annie Mumolo) and Star (Kristen Wiig) are lifelong friends who rarely spend a moment apart, especially after Star's husband left her for a younger woman and Barb's beloved husband died prematurely. The pair work together at Jennifer's Convertibles, the "coolest" furniture store in Soft Rock, Nebraska where they generally spend more time chatting on a couch than actually serving customers. When the store abruptly announces its closure, Barb and Star find themselves in a terrible rut.

After learning of the Floridian hotspot Vista Del Mar from their uber-glamourous galpal Mickey (Wendi McLendon-Covey), the two friends make the rash decision to take a much-needed getaway to the titular resort. At the same time, nefarious villainess Sharon Gordon Fisherman (also played by Wiig) is plotting to unleash a swarm of deadly mosquitoes on Vista Del Mar in a bid to enact revenge on the town where she was bullied as a child.

Hellbent on destroying the upcoming Seafood Jam festival, where she was humiliated and literally shot out of a cannon in her youth, Sharon dispatches her trusted henchman and semi-boyfriend, Edgar (a surprisingly hilarious Jamie Dornan) to Vista Del Mar to see her plan come to fruition. When the hunky, lovelorn Edgar crosses paths with Barb and Star, he throws a wrench in their friendship and tests their previously unbreakable bond.

As you've likely surmised, this premise lends itself to all manner of madcap mayhem and surreal nonsense, but therein lies the terrific fun of a film that knows precisely it is. Co-written by Wiig and Mumolo, who stunningly (and deservedly) nabbed a Best Original Screenplay Oscar nomination in 2011 for box-office dynamo Bridesmaids, the endlessly irreverent Barb & Star Go to Vista Del Mar is part Golden Girls, part Austin Powers, and a dash of Romy and Michele's High School Reunion. If any of those titles are your jam, this film is undoubtedly for you.

The film plays like one extended Saturday Night Live sketch where its titular duo finds themselves in outlandish situations, musical numbers, and action set pieces that become more outrageous as Wiig and Mumolo's screenplay barrels along. Put it this way; at one point, Star sits down for a deep-and-meaningful chat with a deeply depressed sand crab named Morgan Freemond (voiced by impeccable vocal impressionist Josh Robert Thompson). That's the kind of movie this is. It's absolutely crackers and it's best to just go along with the nonsense.

An absurdist comedy like this simply won't work unless its ensemble cast are all completely committed to the silliness, and every single actor is clearly having the time of their lives letting loose here. Wiig and Mumolo bounce off each other with the earnest chemistry born from their real-life friendship. We briefly saw that connection during that infamous aeroplane scene in Bridesmaids ("I had a dream last night that we went down. You were in it.") so it's a genuine delight to watch them play off each other for an entire film.

While Barb and Star may initially appear as little more than one-note SNL characters, they are both incredibly lovable and charming, making it a true pleasure for an audience to tag along on their chaotic vacation. Both performers throw out an endless series of one-liners that mostly land big laughs. By the time you've realised something hasn't quite worked, they've already moved on to the next attempt. Their razor-sharp comedic timing is spot on, whether they're excitedly discussing an exotic menu ("I'm gonna do the veal-stuffed manatee!") or spending an entire flight chatting about a fictional woman named Trish ("Trish? At Christmas? Forget it! She gets everyone a gift!").

But the real surprise package of Barb & Star Go to Vista Del Mar proves to be Dornan, who breaks off the shackles of his stuffy Fifty Shades of Grey persona with a committed comedic performance that suggests the actor could have a bright future in this genre. As the lovesick puppy of a heartless villainess, Edgar is a wonderfully empathetic soul, elevated by the dichotomy that someone this good looking could be so terribly insecure. Dornan throws himself into this silly role with such unashamed abandonment, particularly when he rips off his shirt on the beach and belts out the power love ballad "Seagulls in the Sand." It's such a thrill to see Dornan have some fun at last. Please cast him in more comedies.

The glossy production design of Steve Saklad is drenched in neons and pastels and the titular resort is a cavalcade of garish furniture and gaudy ornaments, complete with a crass piano player in the lobby named Richard Cheese (yep) who sings selections from "I Love Boobies." It all perfectly echoes the dazzlingly tacky aesthetic of Floridian vacation spots and director Josh Greenbaum keeps proceedings moving at such a cracking pace to ensure this comedy rarely lags.

Look, there are deeper, sharper, and wittier comedies out there. Wiig and Mumolo even wrote one of them ten years ago. But not every comedy has to be anything but a good time. And this film is the best time you could hope to have at home right now. Barb & Star Go to Del Mar is terrifically stupid, but it knows it. It's wonderful to view a film that refuses to apologise for what it is. Endlessly rewatchable and a potential cult-classic in the making, this is already one of the most enjoyable films of the year. I had a total blast with Wiig and Mumolo's ridiculous creation and one can only hope audiences won't have to wait another decade to see what they do next.





Distributor: Lionsgate
Cast:  Kristen Wiig, Annie Mumolo, Jamie Dornan, Damon Wayans Jr., Vanessa Bayer, Fortune Feimster, Phyllis Smith, Ian Gomez, Michael Hitchcock, Wendi McLendon-Covey
Director: Josh Greenbaum
Producers: Will Ferrell, Adam McKay, Kristen Wiig, Annie Mumolo, Jessica Elbaum, Margot Hand
Screenplay: Annie Mumolo, Kristen Wiig
Cinematography: Toby Oliver
Production Design: Steve Saklad
Costume Design: Trayce Gigi Field
Editor: Steve Welch
Music: Christopher Lennertz, Dara Taylor
Running Time: 107 minutes
Release Date: 12th February 2021 (U.S.), 15th July 2021 (Australia)