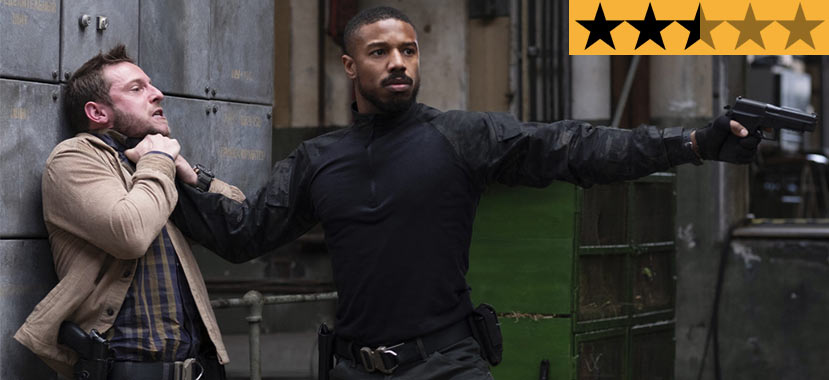 29 Apr

REVIEW – 'Without Remorse' feels like something we left behind in the 90s

With over 100 million book sales and half a dozen film adaptations, Tom Clancy has been a dominant force in the spy thriller game for the better part of three decades. The trio of Jack Ryan films (including two starring Harrison Ford) were huge successes in the 1990s, but flat reboots starring Ben Affleck and Chris Pine failed to fire. While that particular protagonist has found new life on television, Hollywood is now turning its attention to another of Clancy's heroes.

A big-screen adaptation that has been languishing in development hell since 1995, Without Remorse focuses on another of Clancy's popular characters that could be the beginning of a new franchise. While there is enough fodder leftover for potential future films, this origin story is terribly derivative and suffers from a lack of a genuine spark. It's left to Michael B. Jordan to work his hardest to save this film from itself, but even someone of his talent can't rescue this one.

Jordan plays John Clark, the leader of an elite team of US Navy Seals currently stationed in Aleppo, Syria on a mission to rescue a CIA operative taken hostage by Syrian forces. When it's soon discovered the enemy is actually a gang of Russian arms dealers and his squadron barely makes it out alive, a furious Clark is suspicious as to why he wasn't properly briefed by CIA officer Robert Ritter (Jamie Bell) before the mission.

Upon their return to Washington, D.C., Clark and members of his team are individually ambushed by a gang of Russian assassins who ruthlessly attack Clark at the home he shares with his pregnant wife, Pam (Lauren London). While Clark survives, his wife and unborn child aren't so lucky (before you bemoan spoilers, her murder is shown in the trailers), spurring the grieving Navy SEAL to seek justice by any means necessary.

When Clark is informed by his SEAL team member Lt. Commander Karen Greer (Jodie Turner-Smith) the government is dropping the investigation into the hit, he takes matters into his own hands in a bid to uncover those responsible. But when news of Russia's bloody attack on American soil leaks to the press, Clark stumbles upon a sinister plot between the U.S. and Russian governments that makes it impossible to know who to trust.

Loosely (and, according to fans of the book, this adaptation is barely recognisable) based on Clancy's 1993 novel of the same name, the trailer for Without Remorse would have you believing this is a furious revenge thriller in the same vein as something like John Wick or Taken. While there are echoes of those giddily-enjoyable titles in the initial stages, the film soon becomes little more than a generic conspiracy-heavy action flick we've seen dozens of times before.

It's a predictable thriller that feels like something we left behind in the 90s, which may be part of the problem when adapting a book from this era and failing to freshen the plot, themes, and characters into something more modern. It's quite staggering the screenplay was co-written by Taylor Sheridan, whose Oscar-nominated script for 2016's Hell or High Water featured a well-crafted, thrilling plot and compelling, full-dimensional characters. The same cannot be said of Without Remorse.

With a plot that fluctuates between genuinely dull and disappointingly stale, Without Remorse has little interest in offering any shrewd commentary on what's occurring around Clark. Sheridan and co-writer Will Staples are far too busy throwing out tired twists and turns at audiences they'll see coming from a mile away. It's trying so hard to be an espionage thriller that it forgets to offer any semblance of suspense or intrigue to achieve its goal.

While the tired plot drags Without Remorse down, the film is saved by its enigmatic leading man, once again proving any project is elevated by Jordan's magnetic charm. With his imposing physique (yes, he whips off his shirt more than a few times) and commanding screen presence, Jordan is a natural action star. The script doesn't do Jordan any favours with its occasionally stilted dialogue and lack of character depth, but he does the best he can with what he's given. You root for Clark and long to see him gain vengeance, but that has more to do with Jordan's endless likability than anything found in the screenplay.

The supporting players mostly exist to assist with pushing the narrative from point A to B and spout of expository dialogue to further the plot. Bell is underused as a sketchy CIA agent whose character arc mostly goes nowhere. Guy Pearce is handed the thankless role of Secretary of Defense Thomas Clay and you can likely assume what part he has to play in proceedings. But the screenplay has no idea how to craft a great female character, leaving Turner-Smith to suffer through a one-note role that fails to take advantage of her deft talent. Director Stefano Sollima is handed a terrific ensemble cast (recent Indie Spirit Award nominee Colman Domingo even pops in for one scene), but he sadly has no clue what to do with them.

Sollima's skills are clearly better favoured for the film's action sequences, which thankfully liven up the film when you're on the verge of calling it quits. Several well-crafted set pieces are dotted throughout with the most impressive standing as a gripping sequence involving Kelly and company under assault by a sniper. Jordan effortlessly handles the film's brutal fight scenes, which Sollima often crafts through long-takes that make full use of the actor's physicality.

It's probably for the best Paramount sold Without Remorse to Amazon Studios, as the film works better as a breezy weekend streaming title than a full-scale theatrical release. A serviceable action flick you'll likely forget fairly quickly, there's a hefty helping of sequel bait here (including a mid-credits scene setting up the future of Clark's character) that may or may not come to fruition. Jordan deserves better than such a generically formulaic production. One can only hope if there is a follow-up, it's crafted by filmmakers who offer the megastar more to work with.





Distributor: Amazon Studios
Cast: Michael B. Jordan, Jamie Bell, Jodie Turner-Smith, Luke Mitchell, Jack Kesy, Brett Gelman, Colman Domingo, Guy Pearce
Director: Stefano Sollima
Producers: Akiva Goldsman, Michael B. Jordan, Josh Appelbaum, Andre Nemec
Screenplay: Taylor Sheridan, Will Staples
Cinematography: Philippe Rousselot
Production Design: Kevin Kavanaugh
Costume Design: Tiffany Hasbourne
Editor: Matthew Newman
Music: Jónsi
Running Time: 110 minutes
Release Date: 30th April 2021 (Worldwide)