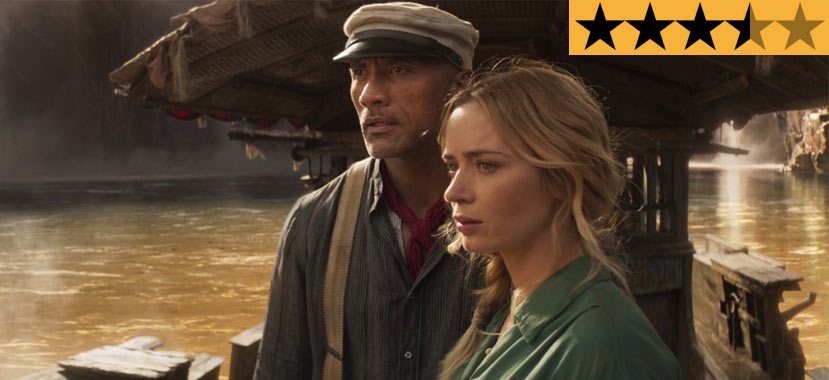 28 Jul

REVIEW – 'Jungle Cruise' is a swashbuckling throwback adventure we don't often see these days

Back in 2003, the world initially scoffed at the idea of a film based on a Disneyland ride. Admit it. You thought Disney had lost their mind. There were few who expected Pirates of the Caribbean: The Curse of the Black Pearl to be particularly good, let alone score Johnny Depp his first Oscar nomination and launch a wildly successful franchise that would ultimately net more than $4.5 billion at the worldwide box office. Given that franchise has fizzled in recent times (a reboot appears to be on the way), Disney is now turning its eye to another beloved attraction as the inspiration behind their latest $200 million blockbuster.

With influences from Pirates of the Caribbean and The Mummy to Raiders of the Lost Ark and The African Queen, the terrifically entertaining Jungle Cruise is a swashbuckling throwback adventure we don't often see these days. While its overreliance on bombastic (and occasionally ghastly) CGI teeters on excessive, the sparkling chemistry of its two leads and a wonderfully exciting narrative make this one of the best thrill rides this season.

Based on the Disneyland ride of the same name that's existed in the park since its 1955 opening, Jungle Cruise begins with a fast-paced prologue centred on the ancient Amazonian legend of the "Tears of the Moon," a mythical tree said to cure all sicknesses. Flashing forward to 1916 London, we meet eccentric scientist Dr. Lily Houghton (a typically marvellous Emily Blunt) and her younger brother, McGregor (a scene-stealing Jack Whitehall), who are desperately attempting to convince the Royal Anthropological Society to commission an expedition to uncover the magical tree.

When the group of stuffy old male professors scoff at Lily's plans, she knicks an ancient arrowhead said to help uncover the location of the tree's whereabouts and takes off to the Amazon with McGregor in tow. Hot on their trail is the maniacal Prince Joachim (a scenery-chewing Jesse Plemons), a ruthless German aristocrat who planned to use the arrowhead for his own mission to discover the tree. Upon arriving in Brazil, Lily stumbles upon Frank Wolff (Dwayne Johnson), a wise-talking steamboat captain who spends his days giving pun-filled riverboat cruises to nauseated tourists.

After Frank negotiates a price to take Lily and McGregor on their quest to find the Tears of the Moon, the trio are soon mercilessly hunted by Joachim in a large German U-boat. Complicating matters further, Joachim has joined forces with a group of undead Spanish conquistadors, led by the vicious mercenary Aguirre (Édgar Ramírez) who fell victim to the curse of the jungle centuries ago.

A brother and sister duo team up with a brash adventurer in a foreign land to find a mythological object while being chased by an unholy creature. If you're thinking this plot sounds achingly similar to 1999's The Mummy, you're not wrong. While it may not be the most original of plots, Jungle Cruise leans heavily into the pulpy, campy sensibilities that made Stephen Sommers' unexpected hit so wonderfully enjoyable. Director Jaume Collet-Serra is clearly heavily inspired by the rollicking adventures films of yesteryear and it's best to just allow him to deliver the style of good old fashioned entertainment that seems to be a rarity in cinema these days.

The exciting set pieces are expectedly bombastic and the mythology behind the Tears of the Moon is dreadfully silly, but the film knows it and never shies away from the absurdity of sentient trees, zombies made of snakes and bees, and the absolute nonsense that a full-size German U-boat could somehow navigate a relatively shallow river. Practically every scene is drowning in a menagerie of CGI creations and it's never far from your mind that the cast are sitting in front of a green screen and not floating down the Amazon. It's baffling a film could cost $200 million and still deliver a computer-generated jaguar that looks more like a cartoon character than a photorealistic animal, especially from the same studio that produced something as dazzling as the Oscar-winning visual effects of 2016's The Jungle Book.

But one can overlook such foibles when the adventure is just so damn fun. Thrills and spills abound on this wild ride and it's blissfully easy to be swept away by everything this film is throwing at you. It's a harmless dose of schlocky madness and therein lies its charm. For a film seemingly targeted at families, it's surprising (yet pleasing) to see Collet-Serra's horror roots occasionally peek through in some decidedly darker moments. I'm not suggesting they'll have your children running from the cinema, but the creature designs are quite unsettling and there are more than a handful of jump scares you won't see coming. Collet-Serra even manages to sneak in an instrumental cover of Metallica's "Nothing Else Matters" in an extended flashback sequence. On paper, that may sound utterly ridiculous but it works surprisingly well.

At the core of Jungle Cruise is the magnetic, whimsical chemistry between Johnson and Blunt, who prove their pairing is a stroke of casting genius. Watching these two play off each other is an absolute joy. As the headstrong, self-assured Lily, Blunt mixes her previous Mary Poppins persona with a dash of Indiana Jones to craft a confident, intelligent female heroine who refuses to kneel to the will of the men around her. Blunt owns this film like only she can. Her comedic timing never falters and Lily's gutsy determination to prove her worth is truly terrific. While Johnson is inherently playing the same cocky, brash character he's delivered numerous times before, he makes it all look so effortless and oozes charm and charisma at every turn.

In a role tailormade to take advantage of his dry British wit and camp humour, Whitehall is simply sensational as Lily's posh, gay brother who'd much rather be sipping a martini on the shore than barreling down a wild river. Whitehall is blessed with the film's best jokes and smoothly steals focus in every single scene as a character who could easily be annoyingly grating. In Whitehall's capable hands, McGregor is gorgeously charming and wildly endearing. Quite frankly, he almost steals this entire film, particularly in a quieter, poignant moment early in the film.

There will be much made of McGregor's queer status and how the film handles his "coming out" scene in a private conversation with Frank. As McGregor ambiguously talks of breaking off three engagements to women because his "interests happily lay elsewhere," there may be some frustration from viewers by the film appearing to shy away from explicitly stating what's blindly apparent. Personally, this felt rather authentic to how a gay man in 1916 would discuss his private life with a relative stranger and I found the whole scene entirely touching.

McGregor clearly has no idea how Frank will take such a revelation and is wisely treading carefully. Could this merely be Disney's sly way of avoiding overt queer representation in one of their major films? Perhaps, but that's a rather cynical view to take on such a moment. We soon also learn Lily is the only person in his life who has stood by him because of "who he loved," allowing us to realise their relationship runs incredibly deep and why he's so willing to follow her to the ends of the earth on such a dangerous mission.

Fans of Disney numerous theme parks will adore the film's numerous references (the backside of water, Dr. Albert Falls, and Trader Sam all get a mention) to the famous titular ride, particularly our introduction to Frank, which is essentially a recreation of the infamous puns and quips skippers on the river cruise throw at guests on a daily basis. Jungle Cruise skippers are infamous for their dad jokes and witticisms, and Frank is the very embodiment of every cast member who has captained one of Disneyland's vessels. Walt Disney was spurred to create the original ride by his love of 1951's The African Queen, so it's somewhat of a full circle moment there's now a film based on that ride that's also clearly influenced by the film that initially inspired the theme park attraction.

In 2020, we were robbed of the usual summer season of grandiose blockbusters that wisely don't take themselves too seriously, so it's such a delight to have something so outrageously silly and giddily enjoyable when we need it most. After the failures of potential tentpole films like John Carter, Tomorrowland, and Prince of Persia, Disney has been desperately attempting to find its next live-action franchise outside the Marvel and Star Wars universes. While we'll have to wait and see what the box office numbers say, that potential franchise could easily be Jungle Cruise.

Johnson and Blunt are spectacular together, so there will be few unwilling to take another ride with this dynamic duo. Jungle Cruise is an unashamed piece of blissful movie escapism and lord knows we still need that right now. Throw in a soaring John Williams-like score from James Newtown Howard, terrific period production design by Jean-Vincent Puzos and costuming by Paco Delgado, and a typically menacing villain performance from Plemons (whose German accent is a hoot and a half), and you have one of the most outrageously fun films of the year.





Distributor: Disney
Cast: Dwayne Johnson, Emily Blunt, Édgar Ramírez, Jack Whitehall, Jesse Plemons, Paul Giamatti, Veronica Falcón
Director: Jaume Collet-Serra
Producers: John Davis, John Fox, Beau Flynn, Dwayne Johnson, Dany Garcia, Hiram Garcia
Screenplay: Michael Green, Glenn Ficarra, John Requa
Cinematography: Flavio Labiano
Production Design: Jean-Vincent Puzos
Costume Design: Paco Delgado
Editor: Joel Negron
Music: James Newton Howard
Running Time: 127 minutes
Release Date: 29th July 2021 (Australia), 30th July 2021 (Disney+ Premier Access)