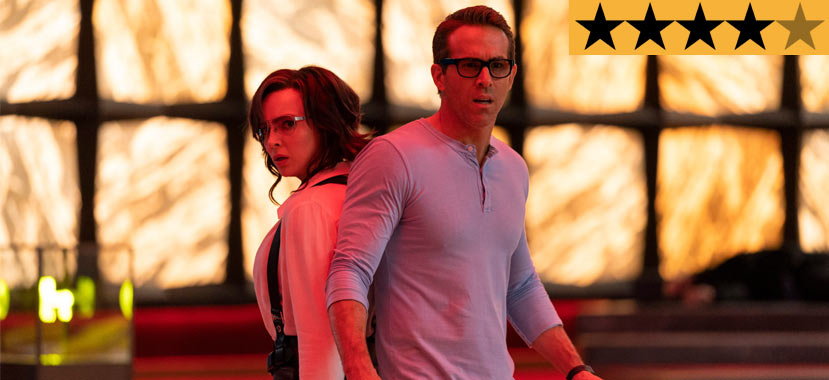 06 Aug

REVIEW – 'Free Guy' is the biggest surprise package of the season

A refreshing change from the tentpole sequels, remakes, and adaptations that litter the U.S. summer box office season, Free Guy arrives in cinemas (and only in cinemas) unburdened by the heavy weight of hype. Sure, its release date has been postponed three times in the last 18 months, which naturally increases anticipation, but it's unlikely most audiences are expecting all that much from this film. Admittedly, I was one of them. But this superbly entertaining blast proves to be the biggest surprise package of the season and perhaps even the year.

Pure, infectious fun with an unexpected dose of heart, Free Guy takes full advantage of Ryan Reynolds' boundless likability and self-deprecating humour to deliver something completely unexpected. A surprisingly upbeat, wholesome blockbuster with a few important lessons to share, it's a delightful summer crowd-pleaser and one of the funniest films of the year. Colour me shocked, but this film genuinely rocks.

Reynolds plays syrupy-sweet bank teller Guy, a blissfully ignorant non-player character (or NPC, as the gamers would say) in the bombastic and wildly popular open-world game Free City. Amidst explosions, gunfire, and regular violent robberies at his workplace, Guy robotically repeats the same tasks each day with his best pal, Buddy (Lil Rel Howery) while the "sunglasses people" (i.e. the actual players) run amok in his neighbourhood. After a chance encounter with bad-ass player MolotovGirl (Jodie Comer), Guy begins to act rather strangely.

He's changing his coffee order, picking out a different blue shirt to wear, and refusing to lie down when those bank robbers come knocking. After snatching his own pair of sunglasses from a hapless player, Guy soon becomes self-aware everything around him is actually a video game. When Guy turns to MolotovGirl for guidance, she refuses to help until he reaches at least a 100-level ranking, leaving him no choice but to start performing good deeds to increase his score.

As Guy becomes increasingly famous as "Blue Shirt Guy" with players around the globe, MolotovGirl has plans of her own. In the real world, MolotovGirl is a programmer named Millie whose video game After Life was stolen by Soonami Studios and its nefarious boss, Antwan (Taika Waititi), who unscrupulously rebranded it as Free City. On the hunt for her original code within the game, Millie joins forces with Guy to save the increasingly self-aware NPCs of Free City before Antwan shuts it down for good.

While the film is naturally inspired by a whole host of video games and its plot tiptoes into The Truman Show and Wreck-It Ralph territory, this is a fully original beast and lord knows we don't see those all that often during this time of the year. On its surface, Free Guy may appear as a film targeted at gamers. In many ways, it absolutely is. With references, language, and a stack of cameos from viral game streamers like Jacksepticeye and DanTDM, there's bountiful content for gaming fans to sink their teeth into. Given it's not specifically based on an existing IP, the film may not inherently fall into the "video game movie" genre, but this should serve as a framework for all future game adaptations.

That's largely thanks to its impressive characterisations and a committed ensemble cast to bring it all to life. In his most endearing role in years, Reynolds shines as the endlessly loveable Guy, who is equal parts Emmet from The Lego Movie and Jason Sudeikis' Ted Lasso. Guy's sweet naivete, unwavering optimism, and penchant for zippy one-liners make him a charming hero you cannot help but cheer for. Reynolds infuses Guy with such genuine sincerity and decency as only he can. It's his best role since Deadpool and you can tell Reynolds is having an absolute ball playing in the sandbox director Shawn Levy has created.

In her first major movie role since her breakout, Emmy Award-winning performance in Killing Eve, Comer feels completely at home in a film that effortlessly balances between action blockbuster and a romantic comedy. Comer handles the action elements with ease, but it's Millie's burgeoning connection with Guy where the film really soars. The chemistry between Comer and Reynolds is electric, which is a major problem when Matt Lieberman and Zak Penn's screenplay attempts a love triangle with Millie's former programming partner Keys (Joe Keery). While Comer and Keery are great together, their subplot just isn't as strong as everything happening within Free City.

While Buddy falls victim to the "Black best friend" trope, which could be ingenious satire or just lazy writing, Howery offers his usual charming sidekick schtick that plays incredibly well against everything Reynolds is laying down. Keery is impressive as a beleagured programmer who fell victim to commercialism and is desperately attempting to claw his way back to the organic gaming world he and Millie created. Utkarsh Ambudkar feels underused as Keery's morally conflicted co-worker, but the two riff off each other well. If there's one jarring element, it's surprisingly Waititi. Antwan is intentionally irritating and Waititi is completely unhinged and occasionally hilarious. But his jokes often fall flat and this one-note villain lacks the depth of practically everyone around him.

But what's truly surprising about Free Guy is its willingness to explore complex notions of existentialism in a narrative centred on a man experiencing an existential crisis and ultimately thriving from it. A film like this has no right being this deep, but Levy boldly offers an interesting take on the notion of free will and the power of refusing to stick with the cards one is dealt. Sure, it's not as percipient as something like The Truman Show or Westworld, but just the fact a summer blockbuster is even trying to be is remarkable.

While it's hard to ignore the irony of a film released under the Disney banner daring to tackle virtues of art over profit, creative freedom, and the follies of cash-grab sequels, it's this terrific satire that makes this film so shockingly subversive. And that Disney ownership allows for some delicious pop culture references including one cameo that will undoubtedly lead audiences to break into rapturous applause. Not to oversell it, but it may be one of the greatest of all time.

With an array of dazzling special effects and outlandish set pieces, Free Guy is supremely entertaining fare that will play extremely well on the big screen. Unlike most mindless blockbusters, it wisely never loses sight of its beating heart and its charming characters to deliver one of the most unexpectedly heartfelt films of the year. Reynolds proves he's worth of his superstar status with a role tailor-made for his irresistible charisma. A joyful, exuberant summer blockbuster that delivers both rollicking fun, well-earned laughs, and engaging warmth. What a notion, huh? Don't miss it.





Distributor: Disney/20th Century Studios
Cast: Ryan Reynolds, Jodie Comer, Lil Rel Howery, Utkarsh Ambudkar, Joe Keery, Taika Waititi
Director: Shawn Levy
Producers: Ryan Reynolds, Shawn Levy, Sarah Schechter, Greg Berlanti, Adam Kolbrenner
Screenplay: Matt Lieberman, Zak Penn
Cinematography: George Richmond
Production Design: Ethan Tobman
Costume Design: Marlene Stewart
Editor: Dean Zimmerman
Music: Christophe Beck
Running Time: 115 minutes
Release Date: 12th August 2021 (Australia)