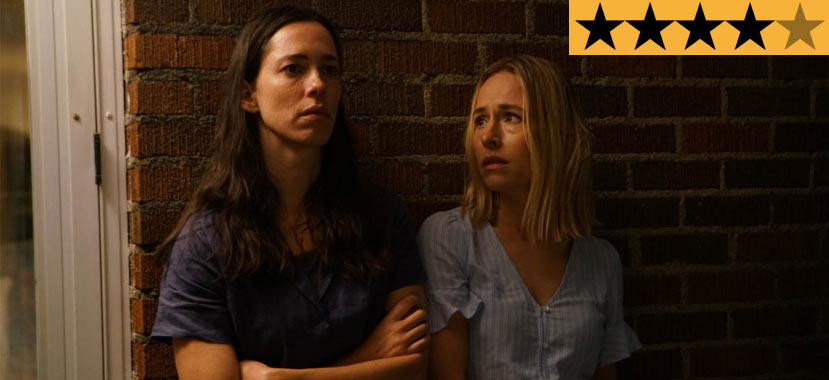 18 Aug

REVIEW – 'The Night House' is both an atmospheric psychological thriller and a gripping exploration of grief

One of the most pleasing recent Hollywood trends has been female-led horror/thrillers that deliver the chill factor but also wisely offer affecting emotional narratives and dare to tackle pertinent themes. Think films like Hereditary, Midsommar, and The Invisible Man. In 2021, a great example of this emerging sub-genre of horror stands as The Night House, the impressive sophomore effort from director David Bruckner and led by a sublime performance from the eternally underrated Rebecca Hall.

Both a haunting atmospheric psychological thriller and a gripping exploration of grief, The Night House offers plenty of horrors but reaches deeper with its narrative centred on the debilitation of trauma. The bone-rattling sound design and menacing production design will have you leaping from your seat but it's Hall's marvellous performance that will linger long in your mind after Bruckner is finished playing with expectation.

Hall plays Beth, a high school teacher grappling with the wildly unexpected suicide of her seemingly happy husband, Owen (Evan Jonigkeit). With nothing but a cryptic suicide note that makes little sense, Beth is left to wallow (and drink) alone in the couple's expansive home in upstate New York on the edge of a remote lake. While best gal pal, Claire (Sarah Goldberg) worries for her friend's wellbeing, Beth attempts to pack up Owen's belongings and move on with her life.

But in the dark of night, Beth begins to feel as if Owen is possibly calling out to her from beyond the grave after a series of unexplained occurrences and strange dreams that feel achingly real. Desperate for answers, Beth obsessively searches through Owen's notebooks, laptop, and phone where she uncovers hidden secrets that suggest her husband may not have been the man she thought he was.

The terrors of The Night House ultimately work on two fascinating levels. On the one hand, you have a fragile grieving woman seemingly haunted by the spectre of something otherworldly, allowing Bruckner to craft a series of genuinely unsettling moments including one terrifying sequence that's a series of horrifying scares after another. Even the safety of daylight doesn't allow Beth a respite from whoever (or whatever) is stalking her. Bruckner knows how to keep his audience on his toes, which is always part of the fun of a film of this nature.

While the concept of jump scares is often criticised, Bruckner deftly elevates his terrors to something entirely fresh, especially his use of remarkable sound design that will strike you right in your soul. On its surface, it all seems like the typical spooky house tropes. The unexplained noises and creepy shadows are there, but the combined efforts of Bruckner, production designer Kathrin Eder, and cinematographer Elisha Christian create ingenious visuals that play with objects and shapes to craft something completely unexpected and genuinely unnerving.

But it's the willingness of Ben Collins and Luke Piotrowski's screenplay to explore the notion of grief, loneliness, and even survivor's guilt where The Night House really sets itself apart from standard horror movie fare. This is an affecting portrait of a woman not only suffering a tremendous loss but also spiralling down a rabbit hole filled with shocking revelations and potentially supernatural terrors. Bruckner paints an emotionally resonant view of the aftermath of suicide on those left behind and the chaos that occurs when trust is shattered.

As a woman on the verge of total breakdown, Hall shines in a deeply layered performance rich with nuance and introspection. Beth is a complicated, fractured character who could be rather grating in the hands of a lesser actor. She's naturally emotionally distraught, leading to occasional fits of rage and floundering misery. But Beth can also be quite callous and biting in her heightened state, particularly to those who are merely attempting to help her. Hall finds the empathetic pathos in Beth, allowing an audience to easily do the same.

Hall brilliantly captures the wildly varying stages of grieving as she effortlessly evolves Beth from a passive victim into a woman with fierce determination to uncover the truth. Such a performance requires total confidence, and Hall never falters, particularly in moments where she's alone on screen and invites her audience to feel every raw emotion she's radiating with or without dialogue. Bruckner tasks Hall with essentially carrying this entire film on her shoulders, and, unsurprisingly, she's completely up to the task.

For all the brilliance of the first two acts, it's a tragedy The Night House can't quite stick the landing in its final act. While it's impressive Bruckner avoids the temptation for a nauseatingly sweet finale, there are moments in the conclusion that border on illogical where the answers Beth uncovers don't quite make sense and the film's carefully crafted mythology beings to crumble. It's a divisive climax and a massive swing of the bat by Bruckner, which has to be applauded. While not fatal to the overall film, it mildly damages its final impact.

It's only Bruckner's second feature film, so it's hardly surprising he's still finding his feet as a filmmaker. The Night House flirts with bold allegories and imagery that border on arthouse cinema, but something within Bruckner seems to force him to fall back into convention when you lust for the film to truly break free. In its worst moments, it's formulaic and expected, but it soars with so much ambition that will hopefully be explored in Bruckner's future work.

Regardless, The Night House is a terrific little film that still holds the power to completely knock you off your feet. Bruckner strikes gold with Hall at the helm in one of the year's best performances. It's a dark, unsettling tale loaded with terrifying shocks at every turn and emotionally effective moments that expertly capture the crippling chaos of grief. While it may lose its way in the closing moments, the film never lags and Bruckner conclusively demonstrates his remarkable gift for crafting sinister frights.





Distributor: Disney/Searchlight Pictures
Cast: Rebecca Hall, Sarah Goldberg, Vondie Curtis Hall, Evan Jonigkeit, Stacy Martin, David Abeles, Christina Jackson
Director: David Bruckner
Producers: David Goyer, Keith Levine, John Zois
Screenplay: Ben Collins, Luke Piotrowski
Cinematography: Elisha Christian
Production Design: Kathrin Eder
Costume Design: Samantha Hawkins
Editor: David Marks
Music: Ben Lovett
Running Time: 110 minutes
Release Date: 19th August 2021 (Australia)