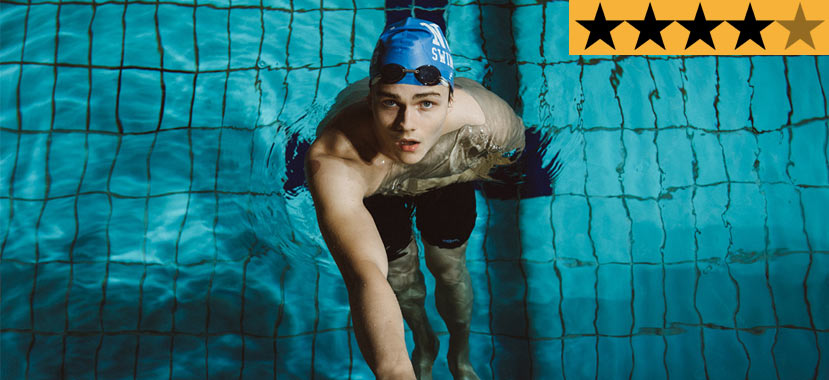 27 Aug

REVIEW – 'Streamline' is one of the best Australian films of the year

Swimming is intrinsically linked to everyday life in Australia. Most Aussie kids learn to swim from the moment they can walk, so it's surprising swimming is a rare setting for Australian cinema. But writer/director Tyson Wade Johnston's Streamline isn't a celebration of swim culture. It's an unflinching portrait of the brutal nature of professional sport and the toxic masculinity that saturates it.

A supremely impressive directorial debut from Johnston, Streamline is a powerful, pertinent work that refuses to pull any punches. Led by a breakthrough performance from Levi Miller and fueled by Johnston's sensational screenplay and assured direction, this is undoubtedly one of the best Australian films of the year and one you won't easily forget.

Miller stars as 15-year-old Benjamin Lane, a gifted young swimmer on the brink of the biggest swim meet of his life that could see him qualify for the Olympics. Pushed by his ruthless coach, Glenn (Robert Morgan) and his adoring but misguided mother, Kim (a terrific Laura Gordon), it's unclear if Ben actually wants the life he's seemingly being forced to chase.

Ben's life is turned upside down when his estranged, abusive father, Rob (the ever-reliable Jason Isaacs) is released from prison and attempts to repair their fractured relationship. Struggling under the pressure to succeed in the pool and the psychological effects of his father's reemergence, Ben spirals into depression and escapes to the home of his rough, no-hoper half-brothers, Dave (a brilliant Jake Ryan) and Nick (Sam Parsonson).

Streamline is a coming-of-age drama, but thankfully devoid of the usual melodramatic tropes that often beset this genre of cinema. Johnston delivers a compelling and, at times, unsettling portrait of a teenager being pushed to his limits while grappling with deep-seated familial trauma and unsurprisingly buckling under the weight of it all. While the film is a tale of a young man discovering who he is and what he wants, it's also a scathing indictment of the toxicity of masculinity that highlights the damage such an environment has on a teenage mind.

Johnston has the confidence (and perhaps even the experience) to showcase how domestic violence can affect children living in the midst of such abuse. While Ben was too young to fully comprehend Rob's shameful treatment of his mother, his half-brothers weren't so lucky. The troubled lives of Dave and Nick are the result of living in their violent father's shadow. Dave has inherited his father's pathetic need to dominate anyone around him, yet his fragility occasionally breaks through and we see the hurt little boy still hiding inside. Nick can sense Ben is following in Dave's footsteps and quietly attempts to stop his half-brother from equally wasting his life.

This is the story of a young man at a crossroads in his life. Mistakes will be made, but Johnston wisely understands that's part of growing up. It makes for fascinating viewing to watch his complicated journey between choosing the easy path that will ultimately prove unfulfilling or confront his demons and push towards a life that will take advantage of his boundless gifts. This is not an easy decision to make and Johnston is careful to never demonise his protagonist's failures and weaknesses.

At the centre of Johnston's narrative is Miller in an exceptional performance that cements the staggeringly talented actor as one to watch. After starring roles in family films like Pan, Red Dog: True Blue, and Jasper Jones, it's tremendously pleasing to see Miller effortlessly transition from child actor into an impressive leading man. His natural screen evolution from boy to young man evokes memories of child actors who followed a similar path like Leonardo DiCaprio, Christian Bale, and Jamie Bell. It's a star-making turn and one that suggests Miller could be our next great Australian actor.

In the hands of a lesser performer, Ben could easily be nothing more than a grating, melancholic teen character. Ben can be tempestuous and cruel with a bad attitude, but Miller finds the pathos amongst the teenage angst to bring necessary empathy to the role. That simmering anger is born from the pain of his absent father, the exhaustion from the pressure to succeed, and the dehumanisation he feels from his coach who constantly refers to him as "boy." Ben's unpredictable behaviour feels entirely earnest and it's little wonder he finally snaps.

Surrounding Miller is a wonderful ensemble supporting cast portraying richly layered characters that each make a mighty impact. A scene-stealing Ryan brings an equal measure of intensity and frailty to Dave that's as terrifying as it is tragic. Veteran character actor Morgan is perfectly cast as the domineering coach whose ambiguous motivations fluctuate between that of a caring trainer and that of a success-hungry egomaniac.

As Ben's damaged mother whose guilt spurns her desire for a better life for her son, Gordon is entirely heartbreaking. Exhausted from the gruelling schedule Ben has to undertake to succeed, Kim is soon forced to watch idly as Ben begins to throw it all away. Gordon is mesmerising as a woman grappling with the pain of her son that she feels responsible for and the utter helplessness of seeing him let that trauma destroy his life.

While Isaacs only appears sparingly (all while delivering a pitch-perfect Australian accent), Rob's damaging presence hovers over the entire film. He emerges from prison a shell of a man, desperate to make amends for the misery he's caused, and Isaacs finds light and shade in a character who's haunted by the mistakes of his past.

Elevated by the evocative, pensive cinematography of Michael Latham and a poignant score by Angela Little, the technical achievements of Streamline are just as effective as Johnston's direction. Without veering into spoiler territory, the final act is where the film is mildly damaged with a conclusion that falls into convenient clichés. For a film willing to take such bold risks, it's slightly disappointing to see it close in such a stereotypical manner. It's nowhere near fatal to the overall impact and it's likely an ending that will satisfy audiences who clamour for such definitive resolutions.

With his debut feature film, Johnston has firmly staked his claim as a filmmaker to keep an eye on. His contemplative work is necessarily dark and uncomfortably raw, but this is the style of cinema Australia does best. Johnston masterfully tackles heavy themes with the kind of confidence we rarely see from a first-time director. Both a riveting character study and a powerful introspection of trauma, Streamline is a bloody wonderful piece of cinema.





Distributor: Umbrella Entertainment
Cast: Levi Miller, Laura Gordon, Tasia Zalar, Jake Ryan, Sam Parsonson, Robert Morgan, Hunter Page-Lochard, Isaac Drandic, Jason Isaacs
Director: Tyson Wade Johnston
Producers: Jay Douglas, Blake Northfield, Nathan Walker
Screenplay: Tyson Wade Johnston
Cinematography: Michael Latham
Production Design: Matthew Putland
Costume Design: Vanessa Loh
Editor: Craig Beckett
Music: Angela Little
Running Time: 86 minutes
Release Date: 2nd September 2021 (Australia), 16th September 2021 (Stan Australia)