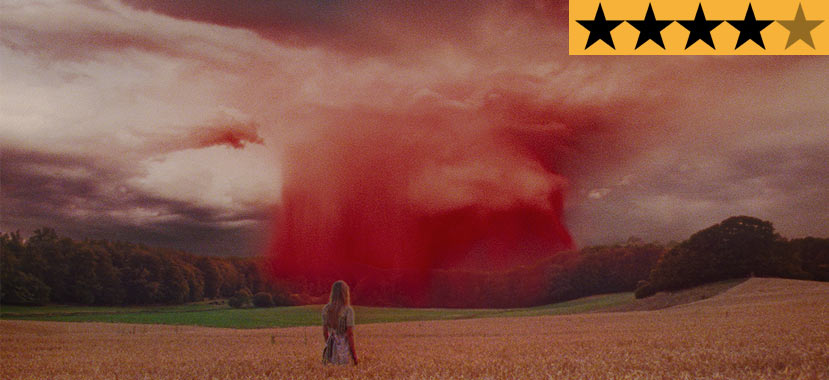 10 Sep

TIFF REVIEW – 'As in Heaven' is compelling, haunting, and hard to shake from your mind

Inspired by Danish author Maria Bregendahl's breakthrough macabre 1914 novel A Night of Death (En dødsnat), writer-director Tea Lindeburg delivers a quietly intoxicating debut feature with As in Heaven (Du som er i himlen). A tragic portrait of female oppression and the potential perils of religious beliefs, it's compelling, haunting, and hard to shake from your mind.

The film centres on Lise (a terrific Flora Ofelia Hofmann Lindahl), the eldest daughter of a farming family in rural Denmark who is preparing to leave the farm to attend school. While her heavily pregnant mother, Anna (Ida Cæcilie Rasmussen) has encouraged schooling for her daughter, Lise's traditional father, Anders (Thure Lindhardt) feels it's a waste of time.

When Anna goes into an extremely difficult labour, she refuses to allow her family to summon the local doctor out of fear spurned by religious-laced dreams that have led her to believe putting her faith in medicine will lead to the death of her unborn son. With Anna's fate in the hands of Old Sine (Kirsten Olesen), the family's fiercely devout housekeeper, her health begins to rapidly deteriorate and Lisa's dreams of escaping the farm for a better life grow less and less likely by the hour.

As in Heaven takes a while to really get going, but once it does, there's really no turning back. Led by a commanding performance from Lindahl and dotted with grotesque imagery that will linger in your thoughts for days, Lindeburg has crafted an auspicious debut that signals she's an international director to keep an eye on. The film opens with the visually stunning sight of Lisa in an open field of flowers before crimson clouds splash drops of blood on her face. It's just one of several memorable images Lindeburg creates over 88 minutes as she blurs the lines between realism and spirituality.

But the true crux of Lindeburg's screenplay is a surprisingly pertinent introspection of the dangers of putting blind faith in religion over science. At a time when coronavirus conspiracy theories are creating resistance to medicine and fueling religious dogma, it's ironic to find a film set in the 19th-century could still have such relevance today. Anna's beliefs are that strong she's willing to put her life in danger to follow her superstitions, which not only risk dire consequences for herself but for her daughter as well.

Lindahl leads this film with experience well beyond her years. It's heartbreaking to watch Lise's transformation from a lively free spirit teenager to a traumatised young woman forced to grow up far too quickly. It's almost as if you can watch the light behind her eyes being snuffed out as her dreams of a bright future vanish in the distance. Rasmussen is tasked with delivering several demanding scenes (including one of the most gut-wrenching labour sequences you'll ever see), but she handles them with astute aplomb.

As in Heaven is often unsettling, but that's precisely how Lindeburg wants it. She takes inspiration from Bregendahl's penchant for the grotesque and weaves startling images into her painfully familiar narrative that feels fresh despite being set more than a century ago. There's beauty in Lindeburg's imagery and the gorgeous cinematography of Marcel Zyskind, but beneath that gloss lies a cautionary tale that packs a hefty punch.





Cast: Flora Ofelia Hofmann Lindahl, Ida Cæcilie Rasmussen, Palma Lindeburg Leth, Anna-Olivia Øster Coakley, Flora Augusta
Director: Tea Lindeburg
Producers: Lise Orheim Stender, Jesper Morthorst
Screenplay: Tea Lindeburg
Cinematography: Marcel Zyskind
Production Design: Jesper Clausen
Editing: Åsa Mossberg
Music: Kristian Leth
Running Time: 88 minutes