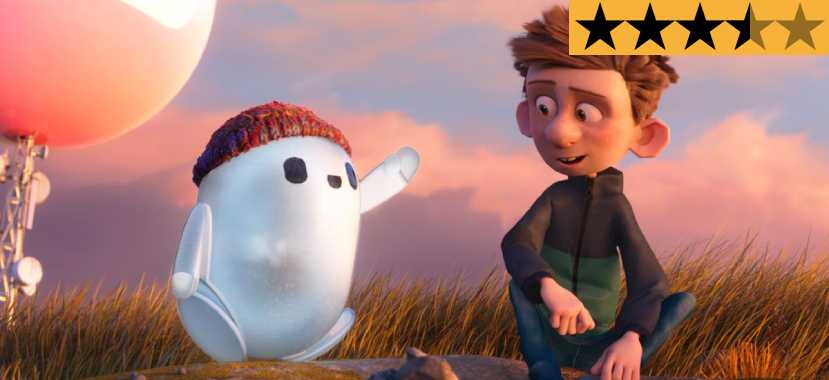 25 Oct

REVIEW – 'Ron's Gone Wrong' is heartfelt, pure, and entirely charming

For the last 18 months, we've been more reliant on technology than ever before. Smartphones, social media, and video calls were essentially the only tools keeping the world's population from total social isolation. Whether we'll remember this dark time and begin to cherish real-life connections remains to be seen. That's why it's pertinent timing for an animated film like Ron's Gone Wrong; a breezy family flick with a few messages to deliver.

Amidst a goofy dose of slapstick humour and a tremendous amount of heart, Ron's Gone Wrong seeks to shine a light on the dangers of technology, especially the fickle nature of social media that amplifies feelings of loneliness and self-doubt amongst youngsters (and maybe even us older folk too). Rather confusingly, it's also a film that praises telecommunication and its ability to bring people together.

It's this strange conflict of themes that stops Ron's Gone Wrong from entering the pantheon of animated masterpieces. You can't sharply critique something while also essentially celebrating it. Regardless, this is still an incredibly sweet and completely adorable charmer of a film. It may not quite have the depth of other animated films, but its familiar themes still hit the mark and its silliness will delight young audiences.

The film centres on shy middle schooler Barney Pudowski (Jack Dylan Grazer), a geology-loving loner who lives with his struggling salesman father, Graham (Ed Helms) and his looney Bulgarian grandmother, Donka (Olivia Colman). Coming from a poor family, Barney is the only kid at school without an uber-expensive B-Bot, the latest fad creation from tech giant Bubble that acts as a personalised robot pal who can share photos, videos, and connect to other B-Bots through its own social network. B-Bots can even customise their skins to suit the user's tastes, which is really just a sneaky path for distributor Disney to add some of its existing Star Wars and Marvel IP into the film.

Sensing Barney's feelings of inadequacy, Graham and Donka nab a defective second-hand B-Bot from the back of a truck. When Barney activates the little guy (a perfectly cast Zach Galifianakis), he quickly realises R0NB1NT5CAT5CO (or Ron, for short) isn't like the other B-Bots. Ron can't connect to the Bubble network, leaving him unable to perform the tasks that would allow Barney to impress his friends and without the usual safety controls that would keep his behaviour in check.

At first, Barney wants nothing to do with this chaos (and embarrassment) causing android. But as the two begin to bond courtesy of Ron's undying loyalty to his new owner, this quirky outsider robot might just be precisely what Barney needs in his life. It's hardly the most original premise in the world and borrows heavily from films like Big Hero 6, Short Circuit, and E.T.: The Extra-Terrestrial. But its gorgeous heart is certainly in the right place, even as it covers ground seen elsewhere.

With the sweet naivete of Baymax and the rambunctious conduct of ET, Ron makes for a charming robotic creation. He can't help but create chaos wherever he roams, but it's all so delightfully well-intentioned that it's hard not to fall in love with this adorable machine. Galifianakis instils so much warmth into this character while having a blast playing with the manic persona of a malfunctioning system that's wildly unpredictable. Much like his work in this year's Luca, Grazer is the perfect choice to voice a lonely young soul who's just longing for friendship. And Colman all but steals the film with the kind of dotty-but-doting grandmother we'd all secretly love to have.

While its warning of the detrimental effects of technology and social media may get somewhat lost in its conclusion, Ron's Gone Wrong still highlights how the quest for likes, comments, and followers can be rather damaging to the young psyche and why real-world connections should never replace digital replications. But for all its intentions of critiquing our over-reliance on technology, it can't help but ultimately herald the praises of the very thing it tries to criticise. It's hard to discuss how the film ultimately fails to fulfil this mission without spoiling the ending. Suffice to say the conclusion feels almost at odds with its initial anti-technology message and ultimately leaves on a confusing note rather than a resounding one.

But where Ron's Gone Wrong ultimately shines is its empowering message of embracing the attributes that make you different in a similar vein to something like Dumbo. While Barney is initially horrified by Ron's bizarre personality and wacky outlook on life, it's precisely what he needs to understand what makes you unique is what makes you great. Much like every kid, Barney believes he's the only one with insecurities and doubts, but he eventually realises even the most popular kids aren't as cool and confident as they appear.

There's a hefty helping of slapstick physical humour and absurd comedy set pieces that will make young viewers giggle with glee. It understands its target audience, but is wise enough to occasionally subtly inject some edgier adult comedy into the mix for the parents in the room. While the narrative is set in a fictional American town, the humour is often very British and reminiscent of the work of Aardman, given the film is created by new UK studio Locksmith Animation, which was founded by two former Aardman execs. It's a tantalising taste of things to come from this new name in animation.

A blissfully entertaining little gem, Ron's Gone Wrong may get its deeper messages rather muddled, but it still holds poignancy and pertinency in a world dominated by technological advances meant to connect us that often do the total opposite. Its heartfelt, pure, and entirely charming with a terrific voice cast and plenty of entertaining moments to delight audiences young and old. Cinema works as the perfect vessel for heartwarming odes to the power of friendship and Ron's Gone Wrong gets that aspect oh so right. Now, where can I buy my own B-Bot?





Distributor: 20th Century Studios
Cast: Zach Galifianakis, Jack Dylan Grazer, Olivia Colman, Ed Helms, Justice Smith, Rob Delaney, Kylie Cantrall, Ricardo Hurtado, Marcus Scribner, Thomas Barbusca
Directors: Sarah Smith, Jean-Philippe Vine
Co-Director: Octavio Rodriguez
Producers: Julie Lockhart, Lara Breay
Screenplay: Peter Baynham, Sarah Smith
Cinematography: David Peers, Hailey White
Production Design: Nathan Crowley, Aurélien Predal
Music: Henry Jackman
Editor: David Burrows
Running Time: 106 minutes
Release Date: 28th October 2021 (Australia)