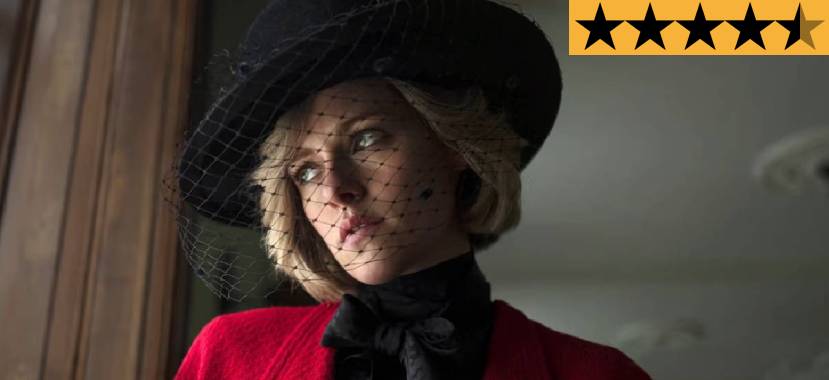 06 Nov

REVIEW – 'Spencer' is a harrowing portrait of a tragic princess

Attempting to capture a figure's entire life in one film is a task doomed to fail. It's an issue we saw just a few months ago with the earnest but conventionally shallow Respect. The best historical biopics understand this and instead choose to limit the focus to one key period of time. It's just one of the elements that make Pablo Larraín's harrowing portrait of a tragic princess such a spectacular success. Another is an actor at the absolute top of their game in one of the finest performances you will see this year.

In a revelatory performance destined for many stages this awards season, Kristen Stewart delivers an astonishing turn as Diana, Princess of Wales that never feels like a caricature. In essence, Spencer is a haunting psychological thriller masquerading as a biopic. Read into that what you will, but it's entirely something we should expect from a bold filmmaker like Larraín. Intimately capturing the agony of a woman trapped in an opulent prison, it's a film you won't soon shake.

As the opening text informs, Spencer is "a fable from a true tragedy." A fictionalised account that feels achingly real, the film is centred on the Royal Family's three-day Christmas festivities of 1991 at Sandringham Estate, the lavish country home of Queen Elizabeth II (Stella Gonet). While the staff of the estate hurriedly prepare for the arrival of the royals, Diana (Stewart) is hopelessly lost on the back roads and dreading the misery she's about to suffer through.

Rumours are swirling of her potential divorce from Princes Charles (Jack Farthing), attracting the attention of the ravenous paparazzi who are apparently stalking the estate. Diana is already ostracised from the family with her only pillars of support coming from her faithful dresser Maggie (Sally Hawkins) and sympathetic head chef Darren (Sean Harris). The ray of light in her life is naturally her two young sons, William (Jack Nielen) and Harry (Freddie Spry). As tensions continue to rise, Diana pushes towards a decision to save herself in the hopes of reclaiming the identity she gave up years ago.

The choice to cast Stewart as one of the most iconic figures in modern British history certainly drew mixed reactions. There are those still foolishly clinging to the Twilight handle Stewart has spent years distancing herself from. If you haven't been paying attention to her career of recent years, sure, her casting may seem odd. But it takes mere moments before Stewart deftly proves Diana is the role she was born to play. From the second she appears on screen, she completely inhabits Diana. From the cadence of her voice and her precise posture to the demure head tilt and the prim accent, Stewart encapsulates everything we knew of Diana without falling into lazy impersonation.

It may be a tired cliché we critics throw out too often, but this really is a transformative performance where Stewart genuinely disappears into her character. It's a textbook example of what acting should look like. As someone who has experienced her own issues with fame, Stewart clearly connects with Diana on an intimate level. Diana is a deeply complex person and Stewart delves into her layers to unfurl the inner turmoil of a woman who appeared to have it all. On the outside, Diana glows with gorgeous glamour and elegance, but Stewart taps into the tightly wound anxiety and agitation bubbling beneath the princess' beautiful facade.

Larraín and screenwriter Steven Knight choose to lay their scene at a time when that mask is beginning to slip. Suffocated by a lifestyle of traditions and rules that dictate her every move, Diana is constantly programmed, followed, and criticised. She's completely lost sight of who she once was and it's creating havoc on her fractured psyche. Stewart's performance is almost overwhelming to watch because we feel every intense emotion through her wildly expressive eyes that continually appear to be genuinely screaming for help.

But Larraín wisely refuses to shy away from Diana's flaws. As someone being unfairly treated by a family who don't understand a woman with a mind of her own, a contradictory Diana has a tendency to treat her staff in an equally unjust manner. With a penchant for petulant behaviour and moments where she forgets who she is, Diana puts her servants in impossible positions that test their loyalty to the crown and make their tasks unnecessarily difficult. While it may not be inherently cruel or purposeful, your sympathy flows to Diana's underlings as much as to the princess herself.

Being forced to spend three days trapped within the walls of Sandringham only adds to Diana's growing distress. Larraín portrays the sumptuous manor as something more akin to the Overlook Hotel from The Shining where the walls truly feel like they're closing in on Diana. Even with its maze of countless corridors and chambers, there's no escaping the gaze of the staff, particularly the all-seeing Major Gregory (Timothy Spall) who appears to be stalking Diana's every move. It's in these moments that Spencer feels more like a ghost story or a horror movie drowning in the gloom and darkness we know hides beneath the surface of the perfect image the Royals are constantly attempting to project.

Claire Mathon's uncomfortably claustrophobic cinematography only adds to the rising sense of dread, as does Jonny Greenwood's masterful score that heightens the emotion of every aching moment with its turbulent mix of booming orchestral sounds and chaotic free-flowing jazz. Diana's style was as famous as the woman herself, and Jacqueline Durran's immaculate costume designs are a true work of art. That stunning dress that features on the much-talked-about poster takes on a life of its own in the context of the scenes it features in.

Perhaps it's entirely intentional to match the preposterousness of the proceedings, but Knight's screenplay has a tendency for mawkish, stilted dialogue that can feel inauthentic at times. Stewart is talented enough to rise above it, but it does leave the supporting cast with very little to do. But Spencer is sharply focused on exploring the very soul of a woman who's been the subject of endless investigations for more than four decades. Nothing has ever come this close to truly capturing the very essence of such a complicated character, and that's entirely a credit to Stewart's outstanding performance and Larraín's confident direction.

Much like Netflix's The Crown, Spencer offers a horrifying glimpse behind the gilded curtain of the Royal Family. It pulls few punches and rightly criticises an institution that appeared to escape scrutiny until one woman dared to challenge centuries of tradition. It's also a dazzling showcase for Stewart to finally shatter that idiotic Twilight tag once and for all. It's an opportunity she relishes in a performance for the ages. What Stewart delivers here is nothing short of remarkable and it's hard to see anyone stopping her from rightfully snatching an Oscar for Best Actress in March.





Distributor: Neon/Roadshow
Cast: Kristen Stewart, Sally Hawkins, Timothy Spall, Sean Harris, Jack Farthing, Jack Nielen, Freddie Spry, Stella Gonet, Richard Sammel, Elizabeth Berrington
Director: Pablo Larraín
Producers: Juan de Dios Larraín, Jonas Dornbach, Paul Webster, Janine Jackowski, Maren Ade, Pablo Larraín
Screenplay: Steven Knight
Cinematography: Claire Mathon
Production Design: Guy Hendrix Dyas
Costume Design: Jacqueline Durran
Music: Jonny Greenwood
Editor: Sebastián Sepúlveda
Running Time: 111 minutes
Release Date: 5th November 2021 (U.S.), 26th January 2022 (Australia)