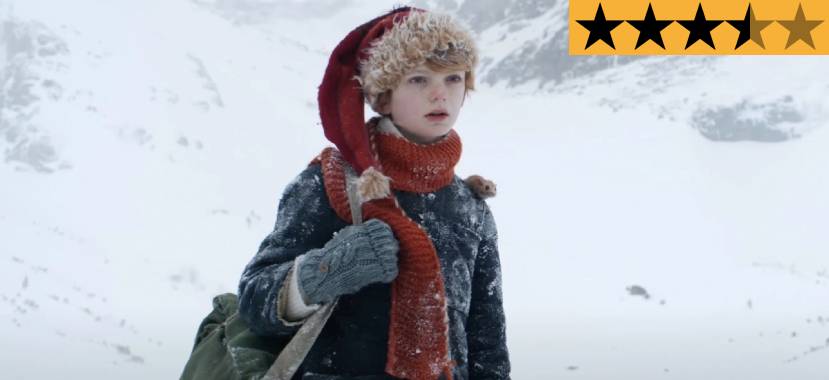 10 Nov

REVIEW – 'A Boy Called Christmas' starts the holiday season in lush style

Jingle those bells and wake Mariah Carey from her hibernation slumber. The festive season is upon us once again. As with every year, there's a new Christmas film on its way for the whole family to enjoy. This year's entry just so happens to feature an impressive ensemble cast of big-name British actors that would make Harry Potter blush and a hefty dose of merry warmth that will wash away the bleak memories of another year tarnished by that pesky global pandemic.

A curiously clever reimagining of the origin story of Santa Claus, A Boy Called Christmas doesn't exactly seek to reinvent the wheel of the Christmas movie genre, but when the end result is this genuinely lovely, it's hard to care. Elevated by gorgeous productions values and a sweet narrative with a few important lessons for younger viewers, it's a charming gem that starts the holiday season in lush style.

On a cold Christmas Eve in London's Primrose Hill, a recently-widowed father (Joel Fry) has called on his cantankerous Aunt Ruth (Maggie Smith) to look after his three young children (Isabella O'Sullivan, Eden Lawrence, and Ayomide Garrick) for the evening. Having recently lost their mother, the grieving youngsters have no interest in celebrating the holidays this year, leading Aunt Ruth to narrate a bedtime story centred on the origin of Father Christmas in an effort to prove there's still joy in the world.

So we're off to once upon a time in Finland where we meet young Nikolas (Henry Lawfull), a sweet 12-year-old boy living in the woods with his widowed lumberjack father, Joel (Michiel Huisman). As the brutal winter approaches and spirits are dreadfully low, the King (Jim Broadbent) has summoned the villagers to his castle to offer a bountiful reward to anyone who can restore hope to the land.

In a desperate attempt to ensnare the reward, Joel leaves Nikolas in the care of his crotchety Aunt Carlotta (Kristen Wiig) and joins a group of men on a quest to the Far North to find Elfhelm, the fabled village of mythical elves. When Nikolas grows concerned his father won't find Elfhelm without his help, the young boy sets off on his own adventure where he'll meet his true destiny in life.

Based on Matt Haig's 2015 novel of the same name, The Boy Called Christmas puts an interesting spin on the birth of everything we know of Christmas from magical reindeer and giving presents to the flying sleigh and, of course, Saint Nick himself. It's a far cry from the traditional narrative that will surely delight young audiences who've heard the same old Santa Claus story time and time again. For all its quirky twists on the classic story, every change feels entirely organic to the world co-writer/director Gil Kenan is crafting.

Given the number of Christmas films, songs, and children's books that travel the same well-worn path in relation to Santa's roots, it's rather refreshing to have a revisionist origin tale that travels its own unique path through a story that's existed for generations. Sure, it does play very predictably and we all know where the narrative is ultimately heading, but it's a jolly journey getting there and one that's even dotted with the sporadic splash of darkness.

Kenan's background in horror filmmaking breaks through on occasion, particularly once Nikolas reaches Elfhelm and catches the eye of the nefarious Mother Something (Sally Hawkins, playing completely against type), who sees the human as a threat to her dastardly mission to cease any connection between the two worlds. By using Aunt Ruth's storytelling narration as a framing device, Kenan is able to cut back to the modern-day setting to avoid losing young viewers when the action gets dark and the tension rises. For older audiences, this naturally causes the pacing to halt, but it seems necessary for its intended market.

These darker moments are brief and the action mostly centres on Nikolas' epic adventure where he's joined by his loyal and loquacious talking pet mouse Miika (deliciously voiced by Stephen Merchant) and headstrong reindeer companion Blitzen. Along the journey, the trio crosses paths with Father Topo (Toby Jones), a gutsy elf leading a resistance against Mother Something, and the Truth Pixie (Zoe Margaret Colletti), a precocious imp who cannot tell a lie and may hold the key to saving the day.

Hidden amongst all the vibrant fun is a core message of coping with grief and loss. In the aftermath of the death of their mother, it's obvious why Aunt Ruth has decided to tell the children a story featuring a fellow orphan. Nikolas is traversing a similar emotional path to these youngsters. Yet, even in the bleakest of times, he never stops looking for the light of hope at the end of the dark tunnel. That's inherently the value of something like Christmas, which arrives each year to bring joy and love into our lives.

As Aunt Ruth states, grief is the price we pay for love, and it's wonderful to see a family film with the confidence to refuse to shy away from the inescapable fact that tragedy will always be a part of our lives. It's that balance of light and shade that makes A Boy Called Christmas a surprisingly rounded film. Heck, there's even a sly subtext related to xenophobia and the perils of cutting yourself off from those who are different to you out of fear. Co-written with Ol Parker, Kenan's screenplay doesn't explore these themes too deeply, but it's pleasing to see them touched upon.

You also can't go wrong with a film narrated by a Dame, and Smith is the perfect choice for the initially curmudgeonly Aunt Ruth whose wisdom and guile are precisely what these young children need right now. Young newcomer Lawfull is a joy to watch as an empathetic protagonist with a heart as big as the oversized stocking cap adorning his head. Hawkins is a hoot as the menacing "holder of the staff" whose villainous motivations are bred from a fear of the unknown. Broadbent is sparingly used, but his penchant for dry humour is a delight. Merchant steals the show as the wise-cracking cowardly mouse who takes his place in the great tradition of loveable animal sidekicks. And Wiig has a ball chewing the scenery as the wicked aunt who bemoans the task of babysitting.

The film truly shines in its sumptuous production elements that thankfully rely on physical filmmaking for the most part. Production designer Gary Williamson crafts an array of dazzling Nordic-inspired sets that gift the actors a genuine wonderland to play within while wearing Ruth Myers' beautiful period costume designs. Dario Marianelli offers a rousing festive score that perfectly compliments the gorgeous visuals of Zac Nicholson's cinematography that captures the expansive snowy landscapes of Finland and Slovakia. The visual effects team at Framestore also have to be commended for their impressive CGI animal creations, particularly Miika who's been infused with the specific facial movements, mannerisms, and personality of Merchant in the recording booth, and Blitzen whose photo-realistic fur is wonderfully authentic.

Time will tell if A Boy Called Christmas joins the long list of holiday classics that live on for decades, but it makes a solid case to become regular viewing each festive season. It's a warm, heartfelt adventure that's hard to resist this time of year. Visually lavish with a terrific ensemble cast and a creative twist on a well-known story, Kenan has delivered an inviting, family-friendly gem that will get that Christmas spirit soaring.





Distributor: StudioCanal
Cast: Henry Lawfull, Toby Jones, Sally Hawkins, Kristen Wiig, Michiel Huisman, Zoe Margaret Colletti, Stephen Merchant, Jim Broadbent, Maggie Smith
Director: Gil Kenan
Producers: Graham Broadbent, Pete Czernin
Screenplay: Ol Parker, Gil Kenan
Cinematography: Zac Nicholson
Production Design: Gary Williamson
Costume Design: Ruth Myers
Music: Dario Marianelli
Editors: Peter Lambert, Richard Ketteridge
Running Time: 106 minutes
Release Date: 25th November 2021 (Australia)