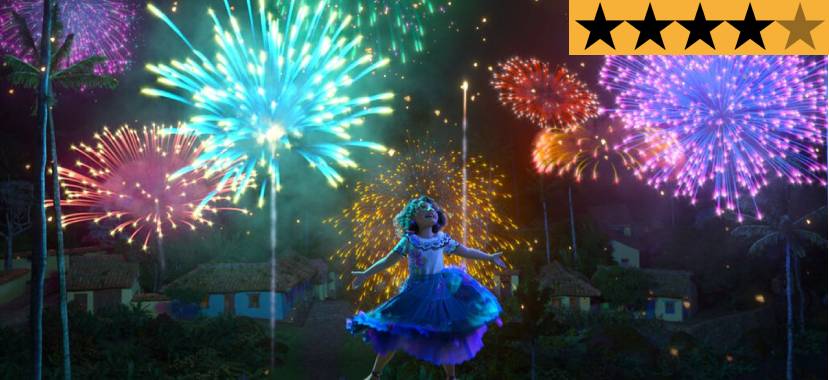 01 Dec

REVIEW – 'Encanto' is a lively celebration of Colombian culture that truly bursts off the screen

It's been quite a year for the lyrical genius that is Lin- Manuel Miranda. Does this man ever sleep? From a big-screen adaptation of his Tony Award-winning musical In The Heights in June to his directorial debut with the stellar triumph Tick, Tick… Boom! in November (plus an Emmy win in September for the Disney+ live recording of Hamilton), Miranda wraps up 2021 by collaborating with Walt Disney Animation Studios and the Oscar-winning directorial duo behind Zootopia.

Considering the mighty pedigree behind Encanto, expectations are naturally rather high for Disney's canonical 60th animated feature film. The fusion of Colombian culture with the beautiful visual magic of Disney animation proves to be a real winner. One of the best family films of the year, Encanto is gorgeously animated and fueled by a story with so much heart. Its narrative may be familiar, but its heartwarming message is timeless and its characters are magical in more ways than one.

Set in a secluded valley in the mountains of Colombia, Encanto tells the story of the magical Madrigal family who were blessed with a sentient "casita" many years ago after a terrible tragedy. Powered by an enchanted candle protected by the family matriarch Abuela Alma (María Cecilia Botero), the house imbues each member of the Madrigals with special powers and abilities including Alma's children, Julieta (Angie Cepeda), who can heal any ailment with her cooking; Bruno (John Leguizamo), who receives visions of the future; and Pepa (Carolina Gaitan), whose emotions can control the weather.

When the next generation of Madrigals each turned five, the casita would present a new door that reveals their blessed gift. Dolores (Adassa) was gifted with superhuman hearing. Camilo (Rhenzy Feliz) is able to shape-shift. Antonio (Ravi-Cabot Conyers) can talk to animals. Luisa (Jessica Darrow) received super strength. Isabela (Diane Guerro) can make beautiful flowers blossom wherever she pleases. And then there's Mirabel (Stephanie Beatriz), who stunned her entire family when she was gifted with…gulp…absolutely nothing.

As the only member of the family without a magical gift, Mirabel has always felt like an outsider and a disappointment, particularly to her stern Abuela. When Mirabel begins to notice literal cracks forming in the casita, she realises the magic that's blessed her family may be beginning to wither. Terrified at the prospect of her fellow Madrigals losing their gifts, Mirabel is determined to save both her family and their home. But is Mirabel the answer to this problem or could she be the cause?

In many ways, Encanto is unlike your typical animated fare. It's a refreshing low stakes affair centred on a familial drama rather than a daring adventure. It's more concerned with exploring these characters than plonking them in bombastic set-pieces. There's no dastardly villain to be found here. Nor a gooey love story for our protagonist. As with most animated heroines of late, the decidedly "ordinary" Mirabel does not fit the archetypical Disney mould of yesteryear. She's awkward, insecure, and feels wildly inadequate compared to her "golden child" sister, Isabela. A few decades ago, it's highly likely Mirabel's gorgeous sibling would have been at the forefront of this narrative. Thankfully, times have changed.

But what am I saying? A few decades ago, an animated film set somewhere "exotic" like Colombia wouldn't even feature the local citizens as the leaders of the narrative. They'd be relegated to the background. And the voice cast would likely be comprised almost exclusively of white people. Again, times have changed. This is Disney continuing to push for diverse representation in animation by crafting an authentic depiction of the country, culture, and people of its setting. And, much like Raya and the Last Dragon earlier this year, it's another landmark moment for a studio with a chequered history it's long since atoned for.

Naturally, it will be for writers of Colombian and Latinx origin (please seek out their reviews) to determine the true authenticity of what directors Jared Bush and Byron Howard and co-director Charise Castro Smith have created. From where I'm standing, they seem to have heavily invested in getting this right. From the music and the food to the costumes and the decor, Encanto is a lively celebration of Colombian culture that truly bursts off the screen. The animators have also ensured the characters represent the full range of Colombian skin tones, which just shows how committed they are to presenting an accurate depiction of the country they're presenting to the world.

It also helps Disney hasn't sought out big-name celebrities to voice the characters (can we please make this a regular thing?) and have instead chosen the right actors for the right roles. What a concept, huh? Pleasingly, they're all of Latin American descent with many even coming from Colombian heritage. As our plucky, inspiring new Disney protagonist, Beatriz is perfectly cast. She brings so much warmth and charm to Mirabel but is also adept at capturing her insecurities and vulnerable side. She's the true heart and soul of this picture and that's entirely thanks to Beatriz's spectacular work.

While this level of cultural representation may be new for Disney, the familiar narrative follows their tried-and-true formula a touch too closely. A wide-eyed outcast longing to be a part of another world isn't exactly the freshest concept. But its core message of finding one's identity is an ageless theme that will always strike a chord with those black sheep who feel a little different to the rest of their family. In a world of extraordinary beings, Mirabel has to find her own special gift and her journey of self-discovery is as aspirational as it is inspirational.

As for the animation itself, it's another cavalcade of stunning visual creations elevated by one of the most vibrant colour palettes of the year. The characters designs of the Madrigal family are unique and individualised while the spirited casita is a playful character all of its own who interacts with the family members in quirky ways. The attention to detail on the minutia of this world is typically masterful. From fireworks to florals, it's a sumptuous feast for the eyes.

And then there are Miranda's eight original songs that highlight his penchant for zippy wordplay. There's not an immediate earworm of a song, but they fit the typical roadmap that comes from the melding of Broadway sensibilities and Disney animation we've come to expect since the days of Howard Ashman. The toe-tapping opening number "The Family Madrigal" introduces us to the entire clan and their unique abilities. Mirabel is given the staple "I Want" number in the form of "Waiting On A Miracle." And everything wraps up with a lavish celebratory ensemble number in "All Of You."

Much like his work on Hamilton, the songs are somewhat exposition-heavy, meaning younger viewers may struggle to keep up with the large amount of information being conveyed through Miranda's lyrics. It's never to the point of total confusion, but the musical numbers often move quickly, so it's best to keep up with this film's swift beat so you don't get left behind. Even if your little ones can't follow the lyrics, they'll still be totally dazzled by the sensational choreography and extravagant staging of each performance, especially those involving the magic emitted by the Madrigal family.

84 years and 59 films since Walt Disney Animation Studios first changed the very landscape of cinema with Snow White and the Seven Dwarfs, the studio deftly proves the magic is still alive and well in the house that Mickey built. An enchanting wonder with a big beating heart and sublime visuals, Encanto is a beautiful creation. A glorious ode to the power of family and the spirit of Colombian culture, it's a knockout.





Distributor: Disney
Cast: Stephanie Beatriz, María Cecilia Botero, Angie Cepeda, Wilmer Valderrama, Diane Guererro, Jessica Darrow, Carolina Gaitán, Mauro Castillo, Adassa, Rhenzy Feliz, Ravi Cabot-Conyers, John Leguizamo, Maluma, Alan Tudyk
Director: Jared Bush, Byron Howard
Co-Director: Charise Castro Smith
Producers: Yvett Merino, Clark Spencer
Screenplay: Charise Castro Smith, Jared Bush
Cinematography: Nathan Detroit Warner, Alessandro Jacomini
Production Design: Ian Gooding
Music: Germaine Franco
Original Songs: Lin-Manuel Miranda
Editor: Jeremy Milton
Running Time: 99 minutes
Release Date: 2nd December 2021 (Australia)