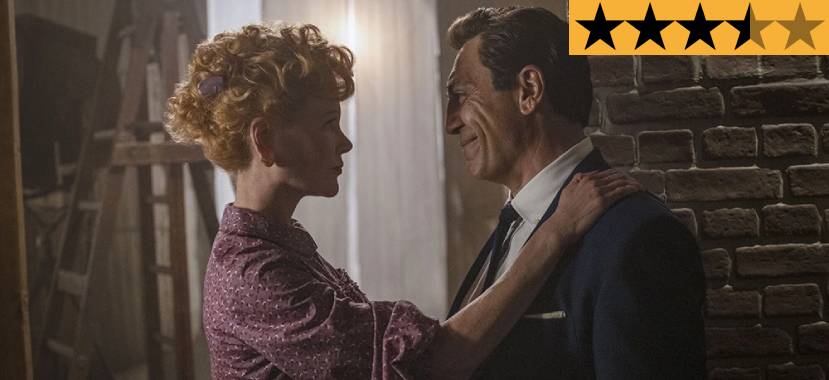 10 Dec

REVIEW – 'Being the Ricardos' is a perfect lazy Sunday afternoon watch

The days of millions of Americans tuning in to watch the same episode of television at the same time are long gone. But, once upon a time in the 1950s, one woman had the ability to draw a television crowd like no one else in the business. After a languid movie career where she became known as "Queen of the Bs" for her affinity for B-movie roles, Lucille Ball finally found her footing in TV as the star of her own wildly successful sitcom, I Love Lucy. It's rather staggering it's taken this long for Ball to receive a biopic.

When Nicole Kidman was announced to star as Ball in writer-director Aaron Sorkin's Being the Ricardos, the internet reacted in typically pearl-clutching fashion. Breathe easy, Lucy fans. In one of the best performances of the year, Kidman is actually the greatest damn thing about this entertaining but messy crowd-pleaser. While Sorkin's screenplay is typically sharp and zippy, his direction is hammy and undermines the potential power of this good-but-coulda-been-great film.

Set over the course of one particularly turbulent period in the lives of Ball (Kidman) and her husband and co-star, Desi Arnaz (Javier Bardem), Being the Ricardos takes a backstage look at the most popular show on television and the woman behind it. With filming of the latest episode of I Love Lucy taking place in a few days, Lucy is fastidiously attempting to focus on spinning TV gold. But that just ain't happening this week.

For starters, Lucy and Desi's marriage is already on tenterhooks before she learns he currently features on the cover of Confidential magazine with another woman, accompanied by the headline "Does Desi Really Love Lucy?" Then syndicated radio gossip columnist Walter Winchell falsely accuses Lucy of being a member of the Communist Party. And if that wasn't enough, Lucy has a bun in the oven and needs to tell the studio execs she wants to incorporate the pregnancy into the show – something wildly unheard of in the 1950s, but something that would eventually become one of the most-watched episodes of television in history.

As Lucy and Desi's co-stars, William Frawley (J.K. Simmons) and Vivian Vance (Nina Arianda) endeavour to navigate these landmines during rehearsals, Lucy is desperately trying to save both her career and her marriage. Meanwhile, Desi is fighting with the network over the direction the show is heading while smooth-talking his way out of yet another claim of infidelity. With time running out until showtime, it's anyone's guess if Lucy and Desi can pull it together before the cameras start rolling.

There's no denying Sorkin is a master of dialogue. His penchant for quippy one-liners and fast-paced conversational scenes is again on display in Being the Ricardos. But the bloated screenplay chases so many themes and narrative strands that nothing ever feels entirely fleshed out. Is this a portrait of a marriage on the rocks? Or a glowing depiction of a working relationship where each party accepts each other's flaws from a basis of genuine love? Is it an indictment of the way Hollywood treated its female stars in the 1950s? Or a nostalgic throwback to the golden age of television and its biggest star? The answer to all of these questions is yes and therein lies the problem.

It's a film that can't quite decide if it's celebrating this period in Hollywood history or critiquing it. It wants to have its cake and eat it too. And the end result is ultimately rather muddled. It also doesn't help Sorkin plonks a wildly unnecessary narrative device at random moments throughout the film in the form of bizarre documentary-style interviews with older versions (John Rubenstein, Linda Lavin, Ronny Cox) of members of the I Love Lucy creative team (Tony Hale, Alia Shawkat, Jake Lacy). As they reflect back on that chaotic week in the show's history, these piece to camera vox pops have more of a mockumentary tone to them, so they feel completely at odds with everything else surrounding them.

Sorkin also dots the narrative with flashbacks portraying how Lucy and Desi met and the origins of their wildly successful television partnership. While wonderfully crafted in a technical sense, these vignettes feel rather unnecessary, even for those unfamiliar with the couple's origin story. They take focus away from the main narrative and most of the information Sorkin feeds his audience can already be ascertained from the central plot. And there's a hefty dose of ghastly de-aging special effects deployed to make Kidman and Bardem look younger, which is horribly distracting, to say the least.

While Sorkin's movie-of-the-week direction plays havoc with the film's structure and tone, the luminous Kidman rises above to deliver one of her best performances to date. Kidman may not resemble Lucy (and, thankfully, Sorkin hasn't tried to force that with prosthetics and make-up), but she deftly captures her dry wit, savvy comedic timing, and ballsy attitude. Kidman is wise enough to understand Lucille and "Lucy" were two very different women. Her goofy, loud-mouth on-screen persona was not who she was backstage. Unsurprisingly, Kidman is able to nail the dichotomy between the two. She captures Lucy's vulnerability as effortlessly as she portrays her strength that made her such a force of nature in the television industry.

There was naturally some controversy around casting Spanish-born Bardem as an icon of Cuban-American pop culture and there's no comfort in viewing a narrative that amplifies Desi's heritage at every possible moment. Still, Bardem is typically solid and effectively charming as the lothario with an eye for the ladies but with one of those eyes always firmly planted on his partner in life and on-screen. His chemistry with Kidman is gorgeous, even when Lucy and Desi are tearing into each other like any old married couple.

Simmons and Arianda are sparingly used, but the latter is handed one particularly poignant moment that highlights the debilitating insecurities of women in the spotlight in the 50s. The real scene-stealer proves to be Shawkat as pioneering female comedy writer Madelyn Pugh. Shawkat is blessed with Sorkin's greatest lines and her comedic timing is exceptional. Maybe it's expected these supporting roles take a backseat to Lucy and Desi, but you can't help but long for more depth and screentime for these fascinating characters.

On a technical level, Being the Ricardos is a gorgeous looking film. From Susan Lyall's glamourous period costume designs and Jon Hutman's impressive recreations of the I Love Lucy sets to Jeff Cronenweth's lush cinematography and Daniel Pemberton's charming score, Sorkin and his creative team have crafted a film that perfectly captures the look and feel of 1950s Hollywood. Everything clocks in at just over two hours, so there's barely a lagging moment in what will no doubt prove to be a perfect lazy Sunday afternoon watch. Whether that's a compliment or a criticism will depend on your sensibilities for such fare.

For fans of I Love Lucy and its iconic star, Being the Ricardos pulls back the curtain on the fantasy millions saw on television. It's still an entirely entertaining little film, but if there was more focus from the director's chair, it might have been something even better. For my money, Sorkin still has a long way to go in matching his direction to his screenwriting. He's a masterful wordsmith, but his direction can't avoid a tendency for sentimentality and maudlin qualities that get in the way of what his actors are laying down. Sorkin is just lucky he's got someone as gifted as Kidman at the helm to guide this story straight to your heart.





Distributor: Amazon Studios
Cast: Nicole Kidman, Javier Bardem, J.K. Simmons, Nina Arianda, Tony Hale, Alia Shawkat, Jake Lacy, Robert Pine, Clark Gregg, Linda Lavin, Ronny Cox, John Rubinstein, Christopher Denham
Director: Aaron Sorkin
Producers: Todd Black, Jason Blumenthal, Steve Tisch
Screenplay: Aaron Sorkin
Cinematography: Jeff Cronenweth
Production Design: Jon Hutman
Costume Design: Susan Lyall
Music: Daniel Pemberton
Editor: Alan Baumgarten
Running Time: 125 minutes
Release Date: 21st December 2021 (Amazon Prime)