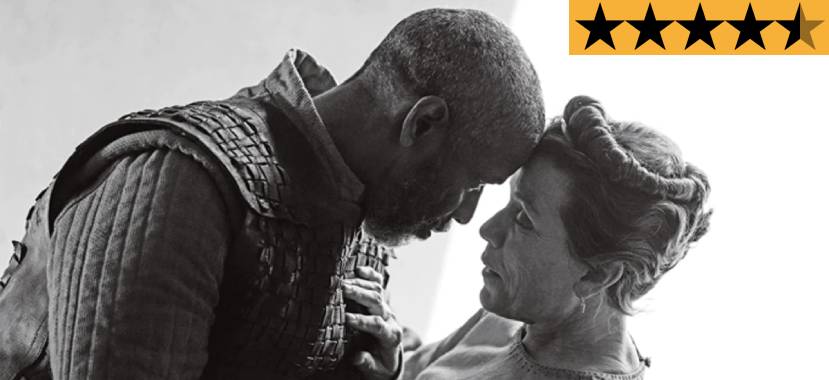 27 Dec

REVIEW – 'The Tragedy of Macbeth' is a triumph

Absolute power corrupts absolutely and there are few texts in literary history that finer exemplify this statement than William Shakespeare's Macbeth. From Orson Welles and Roman Polanski to Geoffrey Wright and Justin Kurzel, Shakespeare's epic tale of ambition, fate, and witchcraft has seen its fair share of cinematic adaptations over the years. In 2021, we are gifted perhaps the finest interpretation yet.

In his solo directorial debut, writer-director Joel Coen strips back Shakespeare's "Scottish play" to focus on the text's darker elements to create one of the most breathtaking films of the year. A visually striking monochrome adaptation with stellar performances from its two Academy Award-winning leads, The Tragedy of Macbeth is a triumph.

After quashing a rebellion against Scotland's beloved King Duncan (Brendan Gleeson), Lord Macbeth (a typically commanding Denzel Washington) is crowned a hero and promoted to the title of Thane of Cawdor. As Macbeth and his loyal friend Banquo (Bertie Carvel) return home, they encounter a trio of witches (all brilliantly played by Kathryn Hunter) who prophesise Macbeth will one day be King.

When the king's son, Malcolm (Harry Melling) is named Prince of Cumberland, placing him as next in line for the crown, Macbeth becomes consumed by his lust for power and seizing it by any means necessary. Spurned by his scheming wife, Lady Macbeth (a deliciously sinister Frances McDormand), Macbeth puts his deadly plan into motion.

But obtaining the throne only amplifies extreme paranoia in the guilt-ridden Macbeth, leading to more brutal bloodshed while he desperately attempts to cling to the crown. As an uprising against Macbeth brews in England from the exiled Lord Macduff (Corey Hawkins), his tyrannical reign may soon be over as quickly as it began.

Working without his brother Ethan for the first time, Coen crafts The Tragedy of Macbeth with a deliberately stagey aesthetic that perfectly complements Shakespeare's play. Production designer Stefan Dechant's austere theatrical sets feel like something straight out of German expressionism, but it works staggeringly well here. It offers Coen dark corners and claustrophobic hallways for his players to skulk in, which only elevates this film's nightmarish tone.

But it's Bruno Delbonnel's stark and stunning black-and-white cinematography that will truly take your breath away. The ways in which Delbonnel plays with light and shadow is staggering. At times, he frames the lighting simply on the actors' mouths, obscuring the rest of their faces in darkness to intimately focus on the power of Shakespeare's words. Delbonnel's work is some of the most unique photography you will see this year and surely demands attention from the Academy in a few months.

It will likely come as no surprise to hear Washington and McDormand are both excellent in these iconic Shakespearean roles. They're both older than Shakespeare originally intended for these parts, but that just puts a refreshing spin on the pair's motivations. It adds a level of desperation for this impatient duo to make something of their lives before it's too late, particularly given their lack of children to carry on the family name and legacy.

Washington has dabbled with Shakespeare over the years on both stage and screen and he's so effortlessly comfortable with the numerous lengthy soliloquies and Macbeth's bellowing declarations. He brings his trademark swagger to the character, but it's damaged by the weight of his actions and the inevitability of his tragic fate. Washington is in total control of every word and the result is marvellous to watch.

In the role she was born to play, McDormand perfectly captures Lady Macbeth's unrelenting ruthlessness and conniving ambition as she manipulates her husband to fulfil her selfish quest of regicide. She knows how to push Macbeth's buttons and McDormand inhabits the infamously nefarious character like a second skin. But as Lady Macbeth slips into madness by guilt over her crimes, McDormand finds the crushing fragility in this once-mighty woman.

Given Coen's editing of Shakespeare's play, the supporting players aren't given a whole lot to do as in previous incarnations. This is the Washington and McDormand show, but the truly terrifying Hunter manages to steal focus whenever the wicked witches pop into the narrative. It's a curious move to cast one actor to play the trio of necromancers, but the revelatory Hunter contorts her body and voice to deliver something so disturbingly dark that you won't be able to shake her performance from your mind.

My high school English teacher, Mr. Small considered Macbeth to be Shakespeare's finest work. With The Tragedy of Macbeth, Coen does everything possible to confirm that statement. Stark yet entirely gripping, this compelling noir-esque adaptation is powerful cinema. With some of the year's most exceptional visuals and two powerhouse performances, Coen proves he can be just as impressive as a solo act.





Distributor: A24
Cast: Denzel Washington, Frances McDormand, Alex Hassell, Bertie Carvel, Brendan Gleeson, Corey Hawkins, Harry Melling, Miles Anderson, Matt Helm, Moses Ingram, Kathryn Hunter
Director: Joel Coen
Producers: Joel Coen, Frances McDormand, Robert Graf
Screenplay: Joel Coen
Cinematography: Bruno Delbonnel
Production Design: Stefan Dechant
Costume Design: Mary Zophres
Music: Carter Burwell
Editor: Lucian Johnston, Reginald Jaynes
Running Time: 105 minutes
Release Date: 26th December 2021 (Australia), 14th January 2022 (Apple TV+)