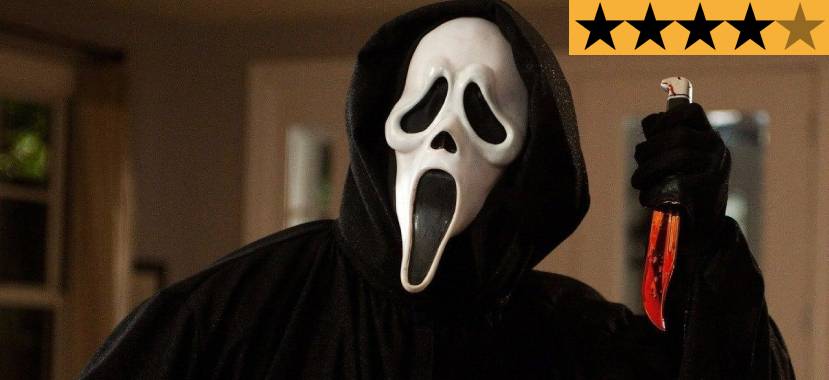 13 Jan

REVIEW – 'Scream' is the best film in this franchise since the original

The year was 1997 and a young pre-teen boy was sitting on the family couch, cowering under a blanket after witnessing the sight of Drew Barrymore's disembowelled body hanging from a tree. 25 years later and the opening of Wes Craven's Scream still has the power to completely take my breath away. You likely don't need me to explain how that unassuming masterpiece changed the very face of the horror genre. Calling it a gamechanger is an understatement. For better or worse, it revitalised the slasher subgenre and unwittingly unleashed a swarm of subpar knock-offs all attempted to capture the magic Craven and screenwriter Kevin Williamson had conjured up.

Craven certainly tried earnestly to do the same with the three inevitable Scream sequels that followed. Scream 2 and Scream 4 were pretty damn great. The less said about Scream 3 the better. But when Craven sadly left this world in 2015, many presumed the Scream franchise went with him. Who would dare have the guts to touch a franchise so intimately synonymous with one filmmaker? Why, two horror directors who were heavily influenced by the work of Craven, of course. And they've delivered the best Scream film since the original.

Brutally bloody, gloriously self-referential, and genuinely fun, Scream (the title seems odd until a film-minded character explains it so perfectly) pays deferential tribute to the past while still completely standing on its own two feet. With a level of meta-awareness that can only be successful with a shrewdly intelligent screenplay, it both follows and subverts the rulebook of this franchise to create something equally nostalgically familiar and refreshingly new. Wes would be mighty proud of this bloody valentine dedicated to everything he created.

As is tradition, Scream opens with an unsuspecting victim experiencing a violent run-in with a new serial killer donning the iconic Ghostface outfit. This time, it's young Tara Carpenter (Jenna Ortega), who's home alone when Ghostface (once again menacingly voiced by Roger L. Jackson) comes calling. When news of the brutal attack reaches Tara's estranged sister, Sam (Melissa Barrera), she returns home to Woodsboro for the first time in five years with her supportive boyfriend, Richie Kirsch (Jack Quaid) in tow.

Sam immediately suspects the one possibly responsible for her sister's assault could be someone from Tara's large friend group compiled of Wes Hicks (Dylan Minnette), Amber Freeman (Mikey Madison), Liv McKenzie (Sonia Ammar), and siblings Chad (Mason Gooding) and Cindy Meeks-Martin (Jasmin Savoy Brown), whose Uncle Randy fell victim to Ghostface back in 1997. In desperate need of help flushing out the one behind the mask, Sam turns to the one Woodsboro resident who's been through this many times before – Dewey Riley (David Arquette).

While Dewey reluctantly agrees to assist with Sam's investigation, he warns his old pal Sidney Prescott (Neve Campbell) and ex-wife Gale Weathers (Courtney Cox) to stay the hell away from Woodsboro for their own safety. But as the body count begins to rise and the victims all appear to have some connection to the original Woodsboro murders, Sidney and Gale soon become thrust into another battle to survive Ghostface's blade.

If you look closely at the Scream marketing, you will see Campbell, Cox, and Arquette are not credited first in the billing. They've been given that infamous "And" wording before their names that's generally used to denote a brief cameo or a megastar so big they demand their name be given special treatment. Part of me suspects directors Matt Bettinelli-Olpin and Tyler Gillett have such reverence for the trio, they believe they deserve superior billing. And they're not wrong. However, while Sidney, Gale, and Dewey are all integral to the plot, they are truly supporting players for the first in the history of this saga.

That may disappoint some fans, but, as Cindy explains, we're in "requel" territory where Scream isn't quite a true sequel, hence the title. This is a soft reboot that's blazing its own path, yet still requires a legacy connection to the past, which is where our original trio come into play. For my money, this is a welcome change. The fourth film flirted with this idea, but it was still inherently Sidney's film. In this fifth chapter, Ghostface has his sights squarely focused on the Carpenter sisters while still keeping one eye on the original three survivors. The past and present can then converge in the third act at a familiar location with an already blood-soaked history.

After four films, Campbell, Cox, and Arquette know these characters intimately and effortlessly slip back into their most famous film roles. Their chemistry is as strong as it's always been, particularly the latter two as they play another round of Dewey and Gale's doomed romance. Witnessing the trio together again will obviously hit fans with all the feels, especially if this is to be their farewell to the franchise. That's not a spoiler over their fate with Ghostface. This new film is rightfully making a concerted effort to push this franchise towards its new cast who may or may not start a trilogy of their own.

The complicated central relationship between Sam and Tara is the real heart of the film and Barrera and Ortega make for a great pair of new horror heroines to lead this reboot. Ortega is put through the absolute ringer and handles it terrifically well. Barrera shines in the film's emotional beats and it's easy to root for her to make it out alive and assume the mantle Sidney wants to leave behind. Brown is the real scene-stealer as the niece who's inherited her uncle's endless film knowledge. Mindy is our guide to the rules of "legacyquels" and has a ball explaining the tropes Bettinelli-Olpin and Gillett are gleefully ripping to shreds.

The deliciously satirical screenplay from James Vanderbilt and Guy Busick takes a white-hot poker to everything from the "elevated horror" genre and toxic fandoms that elicited heavy laughs from those in my audience who were in on the joke. It knows many are rolling their eyes at yet another horror reboot, but it's happy to mock the very notion along with its viewer. That kind of pop culture commentary is something the Scream franchise does so fabulously well. It's a satire that knows exactly what it is. It's a horror movie cast who know they're in a horror movie. That concept is something Craven and Williamson established 25 years ago and this requel continues to run with it in wonderfully sharp style.

That doesn't stop the characters from making plenty of ridiculous narrative choices that often lead to their demise, but that's how the horror genre has to roll. Blood is required, and Bettinelli-Olpin and Gillett serve it up with the most fabulously brutal sequences this franchise has ever seen. They're pulling no punches with a cavalcade of shockingly violent death scenes that truly push the boundaries of the film's R-rating. It's all entirely earned and never just there for shock value. Ghostface pops up in places you will not be expecting, which is so exhilaratingly refreshing and truly keeps an audience on its toes, particularly with the filmmakers' deft use of misdirections and fake-outs.

There are some minor quibbles over certain artistic elements like the literal manifestation of a secret from Tara's past that appears in a form that's sure to be divisive. The avenue the filmmakers have taken feels a little cheap and unnecessary. Much of Ghostface's success in achieving his/her/their (I'll use all possible pronouns to avoid spoilers) convoluted plan relies on too many elements falling into place that defies realistic logic. Then again, you could really say that of every Scream film. Or any slasher movie. There's some suspension of disbelief required here, but maybe a little too much this time.

Without Craven or Williamson, Scream could only succeed by the collaboration of filmmakers and screenwriters who understand what makes this franchise tick and how to faithfully honour that legacy while still pushing this reboot in new directions. As someone who holds the original in such high esteem, I didn't think it was possible to achieve that greatness again. But Scream comes closer than any other film in this series. Bloody and hilarious with shocks and horrors to make even the most ardent fan squeal with terror and delight, it's an absolute blast. And, yes, it's a scream, baby.





Distributor: Paramount Pictures
Cast: Melissa Barrera, Mason Gooding, Jenna Ortega, Jack Quaid, Marley Shelton, Dylan Minnette, Jasmin Savoy Brown, Sonia Ben Ammar, Mikey Madison, Courteney Cox, David Arquette Neve Campbell
Directors: Matt Bettinelli-Olpin, Tyler Gillett
Producers: William Sherak, James Vanderbilt, Paul Neinstein
Screenplay: James Vanderbilt, Guy Busick
Cinematography: Brett Jutkiewicz
Production Design: Chad Keith
Costume Design: Emily Gunshor
Music: Brian Tyler
Editor: Michel Aller
Running Time: 141 minutes
Release Date: 13th January 2022 (Australia)