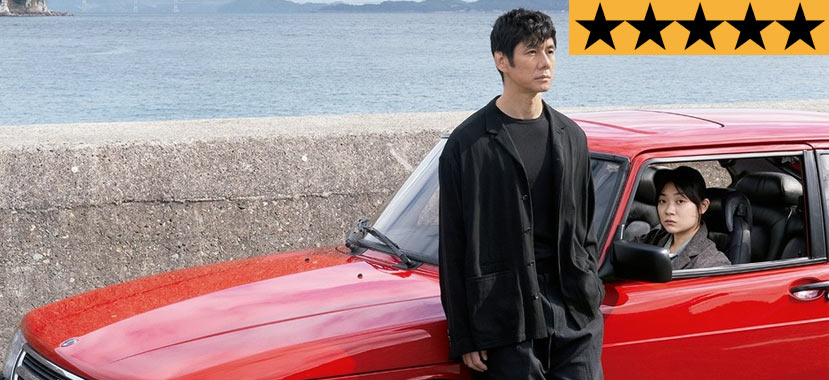 12 Feb

REVIEW – 'Drive My Car' is a perfectly paced and exquisitely crafted masterpiece

A film that runs for three hours can be a test of endurance, especially if it's doing little to validate the need for such an extensive running time. In most cases, it's a textbook example of a director failing to grasp the concept of editing. Less can sometimes be more. Then a filmmaker like Ryûsuke Hamaguchi comes along and somehow three hours float by without one even noticing. Such is the case with Hamaguchi's Drive My Car. A perfectly paced and exquisitely crafted masterpiece, this is an astonishing film. An intimate character study and a captivating contemplation of love, grief, and human connection, it's one of the finest films of the season. Or any season.

The film begins with a 40-minute pre-opening credits prologue centred on renowned stage director/actor Yûsuke Kafuku (a stellar Hidetoshi Nishijima) and his wife, Oto (Reika Kirishima), a TV writer and dramatist with a penchant (or, let's face it, a kink) for creating wildly erotic story ideas whilst in bed with her husband, including a potentially autobiographical tale about a teenage girl who breaks into the house of the boy she's madly in love with. Oto also secretly enjoys the company of other men; something Yûsuke painfully discovers upon returning home early one day.

After a crushing tragedy that's best left unspoiled, the narrative jumps forward two years to find a grief-stricken Yûsuke in the process of mounting a new multi-lingual production of Anton Chekhov's Uncle Vanya for a theatre festival in Hiroshima. Given Yûsuke has performed the titular role in the past to critical acclaim, it's widely expected he will take on that task once again. Instead, Yûsuke curiously casts young Kôji Takatsuki (Masaki Okada); an uber-famous womaniser who the director suspects may have been the man he spotted in bed with his wife.

Due to Yûsuke's mild glaucoma, the show's producers require the director to be chauffeured to and from the theatre during his two-month residency. Yûsuke initially objects to such demands, given his beloved bright-red Saab 900 is his private sanctuary of artistic inspiration where he continually listens to a recording of the play recited by his wife. He only relents after reserved 23-year-old driver Misaki Watari (Tôko Miura) impresses the director during a test drive and promises to remain silent during their journeys together.

If this were an American film, you'd expect to see this kind of narrative spin off into some sort of melodramatic soap opera where Yûsuke and Kôji clash over their mutual connection to Oto while the director and his young chauffeur slowly fall in love. Thankfully, Hamaguchi doesn't take the obvious route here. There's naturally tension constantly brewing between the two men and Yûsuke and Kôji do indeed ultimately form a unique (but completely platonic) bond. Yet, neither of these story threads evolve in the way you'd expect them to.

All three are melancholic characters with their own tragic backstories. They're all performing a foolish dance of avoiding introspection and confrontation, which is clearly the reason fate has brought Kôji and Misaki into Yûsuke's orbit. The red Saab serves as a pseudo confessional where each lonely soul can intimately reveal their trauma and find deep solace knowing they're not alone in their pain. That all comes to a head in a breathtaking scene where Yûsuke and Kôji share a deeply personal conversation in the back of the car while Misaki silently stares at them in the rear vision mirror. In this revealing and tense moment, Okada is tasked with a lengthy monologue that he delivers in utterly compelling style.

But the true heart of Drive My Car is the unexpected kinship between Yûsuke and Misaki. With such an extended running time, Hamaguchi rightfully takes his time to allow this friendship to blossom organically. Watching this mismatched pair find genuine comfort in each other is a true thing of beauty. Misaki respects her passenger and the art he's attempting to create, meaning the only sounds of their early journeys are the recorded tones of Oto's voice. It's only when Yûsuke begins to open up to his chauffer that she reciprocates and shares her own story of guilt and grief that instantly bonds the pair together.

The sublime Nishijima delivers a restrained performance that's a brilliant example of an actor in total control of their craft. It's not a showy turn, but one brimming with hidden emotion and internal turmoil. Yûsuke's resentment for Kôji constantly bubbles beneath the surface. You can constantly see it in Nishijima's eyes. But he never lets it surface and we're never quite sure of Yûsuke's intentions in keeping his enemy so close. When those volitions become more obvious, Nishijima's performance becomes something entirely heartbreaking. His masterful work proves an actor doesn't always have to be loud to ensure an audience cannot take their eyes off him.

Miura is equally impressive as the timid young driver carrying the guilt of a tragic childhood incident that continues to haunt her. It's a richly layered performance where Miura gradually reveals the inner workings of someone who is surprisingly on the same intellectual and maturity level as her older companion. At first, Misaki is nothing more than a silent sounding board for Yûsuke's occasional ramblings about his art. But as the story unfolds, it becomes clear she's far more than meets the eye. Miura's chemistry with Nishijima is so gorgeously genuine. They're naturally awkward and uncomfortable at first. Once they settle with each other, it's charming to watch their relationship grow.

In startling juxtaposition to both Nishijima and Miura is Okada's performance as a young hothead whose emotions are always overtly obvious. He's tempestuous and immature; the result of fame and fortune going to his head. Kôji's self-destructive behaviour and quick temper are alarming and you can feel disaster looming on the horizon. Beneath all that bravado is a sensitive, lonely soul who clearly thought he'd found a connection with Oto. Both men undoubtedly loved this mysterious woman. Yet, it's abundantly clear neither knew her as well as they thought. It's that mutual epiphany that ultimately binds Kôji and Yûsuke in their shared grief and confusion.

Co-written by Hamaguchi with Takamasa Oe, the astute screenplay is incredibly well-written. Their lyrical approach to discussions of everything from love and loss to grief and guilt is simply spellbinding. At its core, Drive My Car is a film about the neverending enigma of other people's lives. The secrets they keep. The pain they hide. The fateful choices they regret. The shame that privately consumes them. The trauma we run from. It's only when that information comes to light can we truly know and understand those around us, particularly those we never expected to form a connection with.

Like a car quietly zooming along a deserted highway, Hamaguchi delicately weaves his intoxicating and tragic tale with an intimacy that's entirely engrossing. Drive My Car is a deeply special film that offers no easy or sanitised answers. Frankly, that's what makes it so mercurially perfect. It's challenging in the best possible way. Its three-hour running time may seem daunting, but Hamaguchi earns every single one of those 179 minutes. This is a stunning film that will linger in your mind long after the end credits roll. What a genuine gift.





Distributor: Potential Films
Cast: Hidetoshi Nishijima, Masaki Okada, Tôko Miura, Reika Kirishima, Park Yurim , Jin Daeyeon
Director: Ryûsuke Hamaguchi
Producers: Tsuyoshi Gorô, Misaki Kawamura, Osamu Kubota, Sachio Matsushita, Yoshito Nakabe, Keiji Okumura, Jin Suzuki, Akihisa Yamamoto
Screenplay: Ryûsuke Hamaguchi, Takamasa Oe
Cinematography: Hidetoshi Shinomiya
Production Design: Hyeon-Seon Seo
Costume Design: Haruki Koketsu
Music: Eiko Ishibashi
Editor: Azusa Yamazaki
Running Time: 179 minutes
Release Date: 10th February 2022 (Australia)