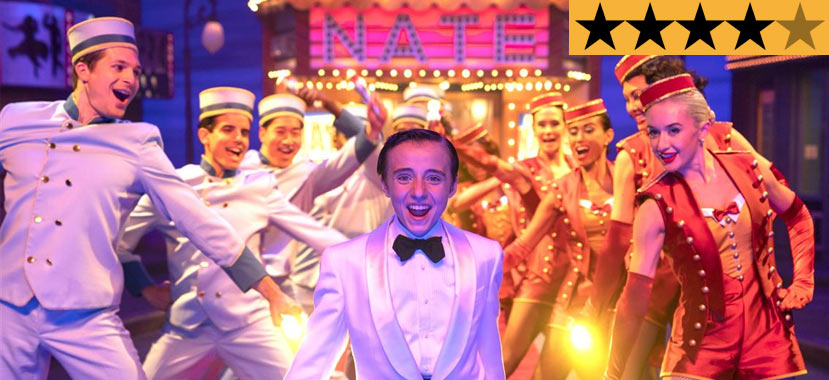 01 Apr

REVIEW – 'Better Nate Than Ever' is a gorgeous little gem that will speak to the soul of every theatre kid

In the late 1980s and 1990s, Disney infused Broadway sensibilities into their animated feature films to spectacular results (thank you, Howard Ashman). It seems only fitting Disney+ is the streaming platform to deliver a film that plays like a charming love letter to Broadway and the kids who dream of seeing their name in lights. A gorgeous little gem that will speak to the soul of every theatre kid, Better Nate Than Ever is a real winner.

Precocious 13-year-old Nate Foster (a phenomenal debut from Rueby Wood) is a major musical theatre lover. His bedroom walls are lined with posters of classic Broadway musicals. He knows his Sondheim from his Lloyd Webber. And, naturally, he dreams of taking the Great White Way by storm someday. While his older jock brother, Anthony (Joshua Bassett) begs Nate to tone down his theatrical sensibilities, his loyal best pal Libby (Aria Brooks) is his greatest supporter and wingwoman.

There's just one small hitch with Nate's goal; he's never landed a leading role in a musical. When Nate is cast as a tree in his middle school's latest production, he's on the verge of giving up on his vision for the future. In a bid to boost Nate's confidence, Libby suggests they head to New York City to attend an open casting call for a new Broadway musical based on the 2002 "cult classic" (their words, not mine) Lilo & Stitch.

When Nate's parents (Norbert Leo Butz and Michelle Federer) announce they're heading off for a weekend away and Anthony will be staying overnight at a track meet, Nate sees this as a serendipitous sign and hastily boards a bus from Pittsburgh to NYC with Libby in tow for moral support. However, their plan hits a snag when they realise minors cannot audition without a parent present. At that moment, Nate fatefully bumps into his estranged Aunt Heidi (Lisa Kudrow), a struggling actress who has barely been present in her nephew's life but keen to make his acting dreams come true.

If you're not a huge musical theatre lover yourself, Better Nate Than Ever might not be your cup of tea. It's not that it's exclusively designed for a theatre-loving audience. It's easily accessible for those who aren't likely to be the first in line for tickets to see Wicked at their local playhouse. But writer/director Tim Federle intrinsically understands his target audience and offers them an enchanting ode dedicated to everything they treasure about musical theatre.

It's a film that celebrates the power of the theatre as a place where performers can shine, but Federle also wisely doesn't sugarcoat the bitter journey faced by artists on their quest for a place in the industry. The chaotic cattle call auditions. The criticisms from those with power. The anxiety. The self-doubt. It's almost something like tick, tick… BOOM! with teenagers. Naturally, it's far more sugar-coated than the harshness of Jonathan Larson's beleaguered life, but it's pleasing to see Nate faces some semblance of difficulty on his journey to stardom.

At the centre of everything is the incredibly endearing Wood who knocks it out of the park in his debut film performance. Yes, Nate has that kind of inherent "theatre kid energy" that tiptoes close to that of the insufferable Rachel Berry of Glee. Thankfully, Wood's natural charisma and charm pull Nate back from becoming the grating character he could be in the wrong performer's hands. It's a delight to watch Wood sing and dance like a seasoned pro in several lavish musical numbers that highlight Federle's deft flair for the theatrics. Wood's smile genuinely lights up the screen and his delivery of the infamous "The night the lights went out in Georgia" monologue from Designing Women is possibly the most fabulously camp moment you will see on-screen this year. A young star is born.

Federle handles Nate's sexuality with a pleasingly gentle touch. There may be some who have an issue with the fact Nate never explicitly "comes out" or openly declares his homosexuality. Instead, it's hinted at in moments like stating "he's not like that" when a female character reveals they have a crush on him. One has to remember this is a 13-year-old we're talking about. Is anyone really comfortable using the G-word at that age? Nate is clearly confident in who he is, but he's not quite ready to announce it to the world just yet. And that's perfectly fine. This shrewd subtlety will be easily interpreted by queer kids, so seeing a character like Nate in a Disney movie is a landmark moment that has to be celebrated.

As the loyal best friend, Libby could have easily been nothing more than a paper-thin supporting player who exists to do nothing more than to cheer on our protagonist. But Federle's screenplay blesses Brooks with a fully-dimensional character with her own interesting arc full of doubts and insecurities about her future. Likewise with Kudrow, who obviously injects some ingenious levity (there are shades of Phoebe Buffay here) at just the right moments. Heidi isn't quite as fleshed out, but her desire to protect her nephew from making the same mistakes she did adds just the right dose of gooey heart to the narrative.

It's hard to demonise a film that seeks to offer some light in an industry filled with so much misery. It may be a touch too on the fairy tale side to truly grapple with the harsh reality of making it on Broadway, but I let it sweep me away and you should too. There will be thousands of teenagers who acutely see themselves in Nate. And maybe even a few adults as well. Better Late Than Ever is speaking directly to them. What a gift that is right now. I only wish we had films like this when I was a youngster.





Distributor: Disney
Cast: Rueby Wood, Joshua Bassett, Aria Brooks, Lisa Kudrow, Norbert Leo Butz
Director: Tim Federle
Producers: Marc Platt, Adam Siegel
Screenplay: Tim Federle
Cinematography: Declan Quinn
Production Design: Jane Musky
Costume Design: Joshua J. Marsh
Music: Gabriel Mann
Editor: Katie McQuerrey
Running Time: 91 minutes
Release Date: 1st April 2022 (Disney+)