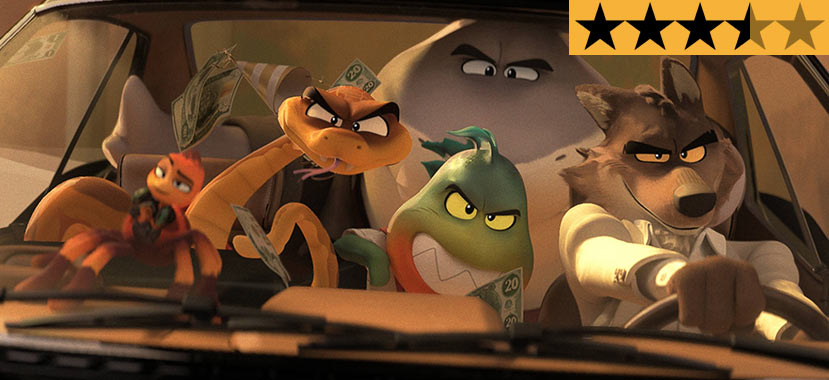 01 Apr

REVIEW – 'The Bad Guys' is predictable and derivative but still a whole lot of fun

If you don't have little ones in your life, you're possibly completely unaware of Aaron Blabey's enormously popular book series The Bad Guys which has spent more than 100 weeks on The New York Times Bestseller list. Blabey has a 15th (!) novel on the way, so an animated film adaptation was only inevitable. With plenty of chaotic hijinks to delight young viewers, The Bad Guys is a little bit Tarantino, a dash of Ocean's Eleven and Wreck-It Ralph, and a whole lot of fun. While its narrative lacks true originality, its wildly unique animation style is a marvellous delight.

Set in a world where humans and anthropomorphic animals co-exist, The Bad Guys follows the titular gang of criminals who may be bad, but they're so damn good at it. Led by the ultra-smooth pickpocket Mr. Wolf (a perfectly cast Sam Rockwell), the team has built a nefarious reputation for brazenly robbing banks in spectacular fashion. Striking terror anywhere they saunter are snarky safe-cracking expert Mr. Snake (Marc Maron), master of disguise Mr. Shark (Craig Robinson), superfast hacker Ms. Tarantula (Awkwafina), and short-fused firecracker Mr. Piranha (Anthony Ramos).

After being publicly labelled as lazy "has-beens" by Governor Diane Foxington (Zazie Beetz), the crew attempt a complicated heist at the lavish Good Samaritan Awards. When the plan goes awry, the group are offered a chance to avoid prison by do-gooder guinea pig philanthropist Professor Rubert Marmalade (Richard Ayoade) who believes he can reform the criminals and set them on the path to becoming good guys. While Mr. Wolf accepts Marmalade's deal, the gang has no intention of sticking to it. As they set out to fool the world they've been transformed, Mr. Wolf gets a taste of life as a hero and begins to question if it's possibly what he's always secretly longed for.

While the geniuses at Disney and Pixar have cornered the market on lush photorealistic animated splendours (though Pixar is finally beginning to play with new styles as seen in Luca and Turning Red), other major animation studios have boldly pushed the boundaries in more experimental ways. The critical and commercial response to 2018's sublimely unconventional Spider-Man: Into the Spider-Verse (the only non-Disney production to win the Oscar for Best Animated Feature in the last 10 years) clearly shook up the industry. And it appears DreamWorks Animation has taken notice.

There's no doubt it would have been tempting for director Pierre Perifel to create something visually similar to Zootopia with realistic animals and surroundings. Instead, he's pushed his animation team to craft something more stylised to that of a comic book or Saturday morning cartoon. It's a fascinating mix of 3D computer animation with a decidedly 2D aesthetic. Perifel and DreamWorks have to be commended for taking such bold creative decisions. The result is something genuinely visually special and unlike anything else in the market right now.

For all the film's distinctive visual flair, Etan Cohen can't quite match that uniqueness with his predictable and derivative screenplay. It's the kind of thing kids are unlikely to care too much about. But when an animated film takes such daring risks with its style, it's naturally disappointing its narrative feels far too safe and familiar. The idea of bad guys being bad because they're simply playing the card they've been dealt is something straight out of Wreck-It Ralph, as is the notion of a villain yearning to swap teams.

Regardless, it's a nice lesson for younger viewers not to judge a book by its cover and to challenge the path of expectation that might be unfairly set in front of them. It may not feature the depth and emotional resonance of a Pixar film, but there's a good dose of heart from this rag-tag group of pals whose loyalty and camaraderie are tested by the unexpected chance to change their ways. It's an ode to the power of friendship and how those closest to us can be an influence for the better.

The film is elevated by a terrific ensemble voice cast giving life to a squad of instantly loveable rascally (and morally ambiguous) characters. Rockwell oozes suave charisma as the endlessly cool Mr. Wolf. He's completely channelling George Clooney and does it so damn well. Awkwafina continues to prove she's one of the best voiceover actors in the business with the sharp-tongued and perpetually exacerbated tarantula.

Ramos is wisely given a moment to shine with a big song-and-dance number that takes full advantage of his Broadway background. Robinson is a hoot as the oafish shark whose ridiculous disguises provide great sight gags. Beetz is magnetic as a slinky femme fatale who gets under Mr. Wolf's skin. Ayoade is wonderfully smarmy as the pompous billionaire with a few secrets of his own. But it's Maron who really impresses with an empathetic performance as an old-timer criminal who struggles with the notion his best pal is changing before his very eyes.

The heist sequences are brimming with zippy energy and visual references that pay homage to everything from Reservoir Dogs to Bullitt. The finale is a rollicking good time involving a thrilling highway chase, a meteorite, and a swarm of zombified guinea pigs. Yes, you read that last part correctly. It's hard to resist a film that's so genuinely entertaining. While there may be little that's groundbreaking about its narrative, its gorgeously unusual animation style is a major departure for DreamWorks. If this is the striking direction they're heading, I can't wait to see what they offer next.





Distributor: Universal Pictures
Cast: Sam Rockwell, Marc Maron, Anthony Ramos, Craig Robinson, Awkwafina, Richard Ayoade, Zazie Beetz, Lilly Singh, Alex Borstein
Director: Pierre Perifel
Producers: Damon Ross, Rebecca Huntley
Screenplay: Etan Cohen
Music: Daniel Pemberton
Editor: John Venzon
Running Time: 100 minutes
Release Date: 31st March 2022 (Australia)