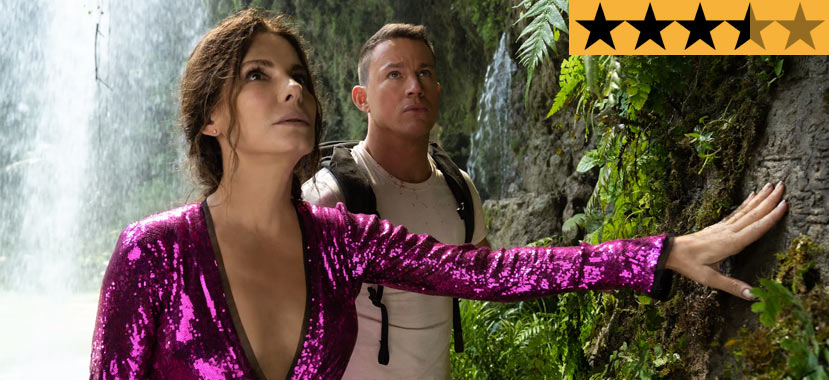 14 Apr

REVIEW – 'The Lost City' is a breezily enjoyable piece of fluffy throwback cinema

From Romancing the Stone and The Mummy to Six Days, Seven Nights and Jungle Cruise, Hollywood has always loved the age-old conceit of throwing two beautiful mismatched characters in an exotic setting and watching the action, adventure, and romance ensue. That's the case this year with The Lost City, a breezily enjoyable piece of fluffy throwback cinema that's tremendously elevated by the impeccable chemistry of Sandra Bullock and Channing Tatum and the humour of a spirited ensemble cast. This one doesn't exactly break the mould, but it's still a hell of a lot of fun.

Bullock plays romance novelist Loretta Sage, whose love of all things archaeology has inspired a series of wildly popular adventure novels centred on its fictional hero Dash McMahon, portrayed on each cover by dimwitted model Alan Caprison (Tatum). The untimely death of her archaeologist husband has left Loretta somewhat of a recluse and struggling to finish her latest novel, The Lost City of D. After hastily completing the final chapter, Loretta is begrudgingly forced to undertake a press tour with Alan by her pushy publicist Beth (a scene-stealing Da'Vine Joy Randolph).

Just as the tour is getting underway, Loretta is kidnapped by eccentric billionaire Abigail Fairfax (Daniel Radcliffe), who believes the writer's archaeological knowledge can lead him to the real Lost City and the location of the "Crown of Fire," a priceless mythological artefact believed to be hidden on a remote island in the Atlantic. When Alan realises Loretta has been abducted, he sees this as the moment to become the hero he's been pretending to be for years and maybe even win Loretta's heart in the process.

From here, the story practically writes itself. There's even the impending eruption of a tempestuous volcano to add a sense of urgency to a brisk running time that wisely comes in under the two-hour mark. Directors Adam Nee and Aaron Nee lean heavily into the mildly disappointing conventionality of the screenplay they co-wrote with Oren Uziel and Dana Fox. While everything plays rather predictably, there's an old-fashioned charm to such a ridiculous spectacle surrounding a simple romantic plot. We rarely see it these days (particular in cinemas and not dumped on streaming), so it's easy to enjoy what the Nees are throwing at you.

From a daring rescue featuring a delicious cameo from Brad Pitt as a rugged former Navy SEAL and current meditation guru to the chaotic finale where the volcano finally blows its top, the Nees know how to craft a thrilling action sequence, even if there's nothing particularly new to be found in these beats. These moments force Loretta and Alan to work together to survive and allows their romance to blossom. You know exactly where it's all heading, but it's still an enjoyable ride getting there.

It's ultimately Bullock and Tatum who subvert the generic nature of the plot and turn The Lost City into something rather special. After years of heavy dramas and genre pictures, it's wonderful to see Bullock return to the goofy comedy genre that made her a bonafide movie star. Her comedic timing is as sharp as ever, particularly when she's playing off Tatum's lovable blockhead. It's a role that fits Tatum like a glove. He imbues so much heart and charm into Alan while equally matching Bullock's comedy skills. Their chemistry is earnest and genuine, creating a charismatic love story that's easy to root for.

As the unpredictable, petulant rich kid with a point to prove to his family, Radcliffe has a ball playing against type. It's a scenery-chewing villainous performance that constantly threatens to get away from Radcliffe, but he's always in total control. It's the kind of perfect casting where you imagine the role was written specifically with the actor in mind. Likewise with Randolph, who is unfortunately saddled with the cliché Black best friend stereotype, but she shines above it with some of the film's best lines that almost steal the entire film.

While The Lost City doesn't reinvent the rom-com action-adventure formula, it's happy to sit within the conventions of this classic genre and serve precisely what you came for. You want to see two gorgeous, uber-famous actors create a love story in the middle of life-threatening chaos. And Bullock and Tatum are more than up to the task. Their effortless charisma, chemistry, and comedic timing make it all look easy, proving there's still a place for this kind of fare in a cinematic landscape often lacking such simple pleasures.





Distributor: Paramount Pictures
Cast: Sandra Bullock, Channing Tatum, Daniel Radcliffe, Da'Vine Joy Randolph, Oscar Nuñez, Patti Harrison, Bowen Yang
Directors: Adam Nee, Aaron Nee
Producers: Liza Chasin, Sandra Bullock, Seth Gordon
Screenplay: Oren Uziel, Dana Fox, Adam Nee, Aaron Nee
Cinematography: Jonathan Sela
Production Design: Jim Bissell
Costume Design: Marlene Stewart
Music: Pinar Toprak
Editor: Craig Alpert
Running Time: 112 minutes
Release Date: 14th April 2022 (Australia)