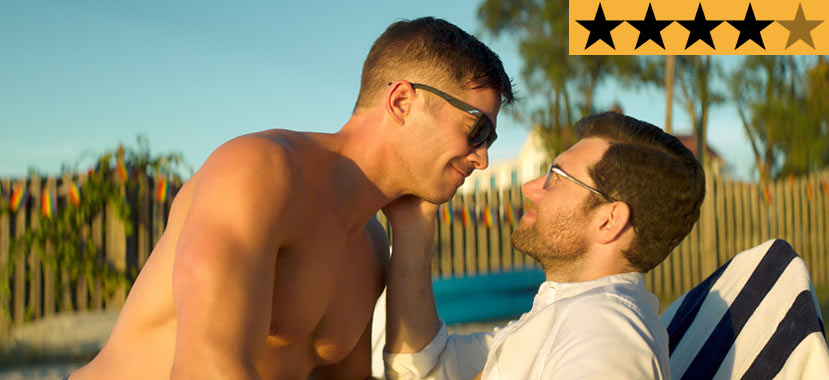 14 Sep

TIFF REVIEW – 'Bros' is the funniest film of the year

A story about a gay man with commitment issues is hardly groundbreaking narrative fodder. Still, it is a damn near revelation when it's at the forefront of a theatrical release from a major studio. That's the history-making background of Bros, the first gay romantic comedy from a mainstream distributor to feature an almost-exclusively LGBTQ+ cast and starring and co-written by an openly gay man. Yes, it's taken a bloody long time to arrive at this point. Too long, in fact. Thankfully, the film is an absolute triumph.

Hysterically amusing and tremendously entertaining, Bros is easily the funniest film of the year. It's been an age since I laughed this consistently hard at a movie with a packed auditorium who were all in on the joke. It's an experience you just don't get at home with streaming titles, which is sadly where most queer films are relegated to these days.

But Bros just doesn't rest on endless laughs to pass the often low bar of gay movies. Co-writer and star Billy Eichner serves up a good dose of heart and introspection in a sharp, insightful screenplay that tackles topics and situations that will ring immediately true to gay men, especially those who don't quite fit the dashingly beautiful and ridiculously buff stereotypical mould.

Eichner plays Bobby Leiber, a perpetually single 40-year-old New York podcaster who's seemingly content to shun the idea of finding Mr. Right and instead suffer the drudgery of random Grindr hookups for fleeting satisfaction.

A successful identity in the queer community (so much so that he's just been declared "Cis White Gay Man of the Year"), Bobby parlays his lack of a meaningful love life into his work, which now includes overseeing the opening of the very first LGBTQ+ History Museum in America.

While at a club celebrating the launch of a new gay dating app (I won't spoil the hilarious gag of who this one is particularly designed for), Bobby locks eyes with Aaron (an endlessly charming Luke Macfarlane), a muscly "masc" lawyer who initially seems like just another dull, boring jock.

The two flirt and seemingly connect over their mutual disinterest in commitment and disdain for the lack of intelligence permeating the gay male population. Yet, Bobby can't seem to read Aaron, who has a penchant for vanishing and showing a nonchalant attitude toward their potential physical union.

Much to Bobby's surprise, Aaron tracks down his number and the two begin texting and hanging out while constantly insisting they're not dating. But the two men challenge and fascinate each other in unexpected ways and could be heading toward the relationship they've both been running from for years.

After an eternity of playing scene-stealing supporting characters in shows like Parks and Recreation and going viral with the guerilla-style interviews of Billy on the Street, this is the breakout leading role that should finally cement Eichner as one of the great comedic talents of our time. It helps he's clearly playing a fictionalised version of himself, and his penchant for snark and quick wit is keenly on display as the frustrating but lovable Bobby.

He's unapologetically outspoken and confident, but it's clear Bobby is hiding a lot of scars and trauma from a life where he's never quite fit in amongst a community that consistently values brawn over brains. Bobby appreciates intelligence and ambition, yet has no choice but to alter himself to find fleeting gratification, as evidenced in a painfully familiar scene where he adopts a masculine voice to impress a random jock at the gym.

It's why meeting someone like Aaron fundamentally challenges Bobby. He presents as nothing more than a great body and a cute face, but once he starts revealing his fascinating hidden layers, Bobby can't get enough. Nor can he ever just relax and accept someone so seemingly "perfect" is giving him the time of day.

Macfarlane is perfectly cast as the "straight man" archetype and his chemistry with Eichner is off the charts. The potential union of these two anti-relationship gay men is fascinating to watch. Their apparent disinterest in each committing to each other is just part of their quirky mating ritual where neither wants to completely open themself up for fear of being disappointed, rejected, or, gasp, actually falling in love.

Surrounding Eichner and Macfarlane is a terrific ensemble supporting cast, particularly Miss Lawrence, TS Madison, Jim Rash, Eve Lindley, and Dot-Marie Jones, who sit on the board of Bobby's LGBTQ Museum and each get plenty of hilarious one-liners playing on their own unique perspective in their varying places in the queer community. And one particular genius cameo from an Emmy Award-winning TV star brought the damn house down.

Whether discussing the inner workings of a "throuple," lamenting the generational differences between gay men ("We had AIDS. They had Glee!"), or taking jabs at everything from Hallmark movies to Abraham Lincoln's sexuality, Eichner's screenplay (co-written with director Nicholas Stoller) is filled with jokes at every turn. They may not all work, but Eichner is too busy moving on to his next satirical observation to care. The ones that do land left my particular audience in constant bouts of raucous laughter and applause.

But Eichner is wise enough to fill his script with several key serious moments that explore the deep-seated pain so many gay men often carry with them, especially those who grew up in a time before the gay rights movement really made inroads in the world.

Bobby and Aaron bond over both having childhood dream jobs they rejected out of fear of it making them look "too gay." And while it feels somewhat plonked into the screenplay out of nowhere, an extended monologue centred on the discrimination Bobby has faced offers Eichner the chance to show off his dramatic chops.

For all its status as a groundbreaking piece of queer cinema, Bros still leans heavily into the familiar tropes of classic rom-coms of the past with nods of the cap to films like When Harry Met Sally and You've Got Mail (a comparison between Meg Ryan and Tom Hanks' anonymous courtship and the way gay men connect on Grindr is as astute as it is hilarious).

Eichner is seeking to challenge the idea that "love is love" and prove that queer relationships can't be boxed into the same category as straight ones. Gay men don't follow the same rules of courtship as their heterosexual counterparts, and there's a part of me that thinks Bros will actually be quite eye-opening to a straight crowd. And maybe even a little bit shocking. Perhaps that's entirely how Eichner wants it.

It will be fascinating to see how this film plays to a mainstream audience. Some of the humour is certainly very targeted and specific to the queer gaze, but the charm and entertainment factor of Bros is entirely universal. It's conventional when it needs to be but rule-breaking enough to be something rather special.

At the end of the day, Bros is a huge blast of fun and a big dose of heart with an unlikely "opposites attract" love story that will easily win you over. It's one of the sharpest romantic comedy scripts in years, and Eichner and Macfarlane are a match made in heaven. If there's any justice in this world, this will be the film that finally shatters that rainbow ceiling and opens the door to more mainstream queer cinema to come. As Lizzo would say, it's about damn time.





Distributor: Universal Pictures
Cast: Billy Eichner, Luke Macfarlane, Guy Branum, Ryan Faucett, Miss Lawrence, TS Madison, Dot-Marie Jones, Jim Rash, Eve Lindley, Monica Raymund, Guillermo Diaz
Director: Nicholas Stoller
Producers: Judd Apatow, Nicholas Stoller, Josh Church
Screenplay: Billy Eichner, Nicholas Stoller
Cinematography: Brandon Trost
Production Design: Lisa Myers
Costume Design: Tom Broecker
Music: Marc Shaiman
Editor: Daniel Gabbe
Running Time: 115 minutes
Release Date: 30th September 2022 (US), 27th October 2022 (Australia)