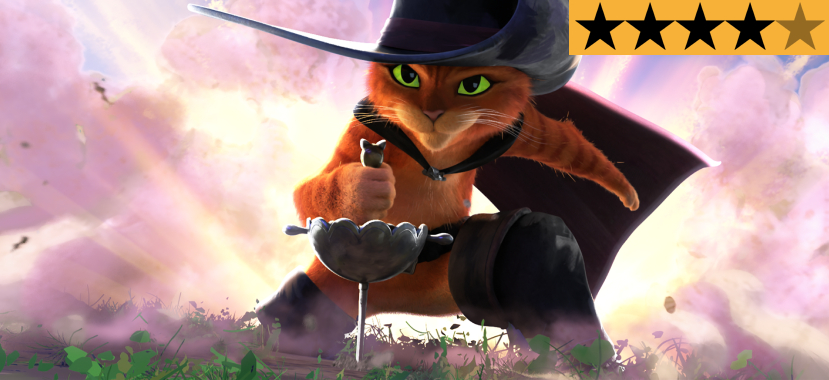 27 Nov

REVIEW – 'Puss in Boots: The Last Wish' is the biggest surprise of the season

Admit it. You thought the Shrek franchise was dead and buried. After the original film compltely changed the animation game in 2001 and Shrek 2 proved to be the rare sequel that lived up to its predecessor, the series limped to a disappointing third film in 2007 and a tepid conclusion in 2010 barely anyone remembers. The Puss in Boots spin-off in 2011 fared better with critics and audiences and even earned an Oscar nod for Best Animated Feature. Since then, however, this once mighty fairy tale universe has sat oddly silent.

Like a phoenix rising from the ashes, this seemingly dormant franchise roars back to life with one of the best animated films of the year. Stunningly animated and brought to life by a superb ensemble voice cast, Puss in Boots: The Last Wish is the biggest surprise of the season. Aided by a genuinely emotional narrative and an equal serving of heart and humour, this unassuming sequel manages to defy all expectations…and then some.

As we rejoin the Shrek world, we find Puss in Boots (a dynamic Antonio Banderas) is just as brash and confident as ever and still considered a wanted outlaw vigilante with a bounty on his head. While he's spent years literally laughing in the face of death, Puss is compelled to reckon with his mortality after dying during an epic battle and being informed by a doctor that he's just used up eight of his nine lives.

At first, Puss doesn't seem too concerned until he's confronted by the Big Bad Wolf (Wagner Moura), a menacing bounty hunter wielding two scythe blades who's never failed to capture whoever he makes his latest target. After fleeing from a potentially fatal battle and abandoning his identity to hide out at a cat rescue, Puss soon learns of the fable of the Wishing Star, a crashed shooting star hidden deep in the Dark Forest that will grant its owner one single wish i.e. the answer to regaining the lives he's lost along the way. There's just one small problem; he's not the only one seeking to find it.

Joining forces with his old flame Kitty Softpaws (Salma Hayek Pinault) and a doe-eyed unwanted wannabe therapy dog Perro (Harvey Guillén), Puss embarks on a quest to locate the fallen star before it can fall into the hands of magic-obsessed underworld kingpin Big Jack Horner (John Mulaney) or the crime family of Goldilocks (Florence Pugh) and the Three Bears (Ray Winstone, Olivia Colman, and Samson Kayo). But this journey is no easy task and the Dark Forest has plenty of tricks up its sleeve that will force every character to confront the reasons behind their true desire for one magic wish.

After more than a decade, Banderas effortlessly slips back into the role of the loveable, cocky, and surprisingly complex feline who is now a fascinating mix of bravado and fear. Banderas can capture Puss' brash persona with ease, but he digs deeper to reveal layers of endearing vulnerability hiding beneath his confident demeanour. On this adventure, Puss must reckon with his past and the follies of his cavalier attitude towards death and those around him, offering Banderas the chance to deliver something completely different to the previous incarnations of this utterly charming character.

Hayek Pinault is equally as effective as the sultry vixen harbouring her own trauma at her past interactions with the selfish hero who can't seem to realise she's the best thing that ever happened to him. The equally heartwarming and hilarious Guillén captures focus at every turn as the adorably naive pooch searching for companionship after years of being ignored and abandoned. Mulaney is a riot as a petulant brat with a large chip on his shoulder and a big bag of magic tricks with callbacks to numerous other enchanted tales. And Dreamworks Animation story supervisor Kevin McCann almost runs away with the entire film as a Jimmy Stewart-sounding insect character that's best left unspoiled.

But the real scene-stealers are Goldilocks and the Three Bears, with Pugh and Colman adopting Cockney accents to match those of Winstone and Kayo that's pure casting genius. This quartet work so damn well together, creating a family dynamic that's entirely magnetic. Screenwriters Paul Fisher and Tommy Swerdlow shrewdly twist Goldi's backstory to that of an orphan girl taken in by a trio of bears and raised as their daughter, allowing Pugh to create something wildly original and rather compelling. Her secret desire to find the Wishing Star is something wonderfully unexpected but handled with a soft touch by director Joel Crawford that may bring a tear to your eye.

And then there's Moura as one of the most genuinely unsettling animated villains in years. Visually, the Big Bag Wolf is a terrifying sight, with his twisting sickle blades, glaring red eyes, and towering size. A threatening whistle is utilised to announce his close proximity in a similar vein to John Williams' score in Jaws. This sound leaves the hairs standing up all over Puss' body and may cause a shiver to run down your spine. He is quite literally the personification of the mortality that's stalking Puss wherever he goes, like an ever-lingering reminder that his days are numbered. I'm a grown adult and even I was rather disturbed by this brilliantly crafted evil character, so consider yourself warned for your little ones.

There is a darker tone to a film with the confidence to explore rather heady themes including the meaning of life, the inevitability of death, and the journey to finding your true family. It's balanced by a hefty dose of slapstick humour, zippy one-liners, nostalgic cameos, and wild action that will delight young audiences. But there's a moral to this tale that will resonate with slightly older viewers and it's not afraid to challenge as much as it is to entertain. Naturally, there are numerous thrilling set pieces that burst off to the screening, making this one of the most fully-rounded pieces of animated cinema Dreamworks Animation has ever offered.

Where Puss in Boots: The Last Wish really shines is the stellar way Crawford and his design team have completely reworked the animation style of previous Shrek films into something rather breathtaking and completely fresh for this lagging franchise. It's a brilliant fusion of 3D CGI animation with 2D concepts in a beautiful storybook style reminiscent of films like Spider-Man: Into the Spider-Verse, Klaus, and The Bad Guys. There's a gorgeous painterly quality to every single with occasional influences from the world of Japanese anime in the movements and expressions of its characters. It's unlike anything you've seen from this studio and a necessary move to revitalise this saga into bold new ground.

A visual wonder with an emotional core that hards to beat, Puss in Boots: The Last Wish is a real winner. Its screenplay soars with a plot rich in depth and nuance. Its characters are fascinating and enchanting. Its action is exhilerating and perfectly crafted. Its style is unique and daring. And its ending leaves you yearning for more. This is precisely how you reboot an animated franchise. Colour me surprised, but this is an unexpected home run from Dreamworks Animation no one really saw coming.





Distributor: Universal Pictures
Cast: Antonio Banderas, Salma Hayek Pinault, Olivia Colman, Harvey Guillén, Samson Kayo, Anthony Mendez, Wagner Moura, John Mulaney, Florence Pugh, Da'Vine Roy Randolph, Ray Winstone
Director: Joel Crawford
Producer: Mark Swift
Screenplay: Paul Fisher, Tommy Swerdlow
Production Design: Nate Wragg
Music: Heitor Pereira
Editor: James Ryan
Running Time: 100 minutes
Release Date: 26th December 2022 (Australia)