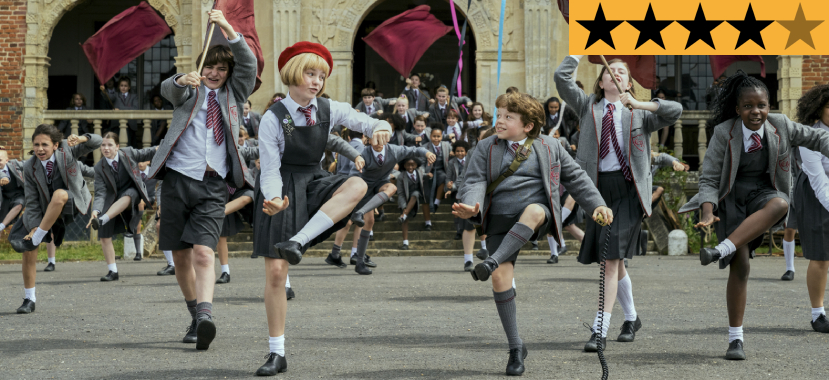 09 Dec

REVIEW – 'Roald Dahl's Matilda the Musical' is a rollicking good time at the cinema

If you're like me, you may be thinking the world does not need another cinematic version of Roald Dahl's beloved 1988 novel Matilda. Danny DeVito's 1996 film adaptation is an absolute gem and remains a cherished favourite amongst my fellow millennials. We've been down the path of Dahl remakes before. It never ends well (I'm looking at you, The Witches). Thankfully, Roald Dahl's Matilda the Musical breaks the trend of disappointing Dahl adaptations to deliver a rollicking good time at the cinema with lashings of heart and humour plus a little touch of magic.

With all the British charm and self-deprecating comedy of Dahl's original work and a stupendous and fully-committed ensemble cast, Matilda the Musical (it's best to shorten the title for brevity's sake) is an exuberant delight that bursts off the screen with sensational musical numbers and a sincere story of one extraordinary young girl who will truly charm her way into your heart.

Matilda Wormwood (a terrific debut from Alisha Weir) is an unappreciated child genius. Unwanted by her selfish, neglectful parents (Stephen Graham and Andrea Riseborough, both eating the scenery alive), Matilda has essentially self-educated herself, given Mum and Dad seemingly forgot to send her to school. With the aid of kindly local mobile librarian Mrs. Phelps (Sindhu Vee), Matilda has devoured everything from Dickens to Dostoyevsky as her escapism from her dreary home life.

Matilda's life is upended by a visit from a child welfare worker and local teacher Miss Honey (Lashana Lynch), who force Mr. and Mrs. Wormwood to enrol their daughter at Crunchem Hall and finally give her the education she so desperately desires. While Matilda is initially thrilled to head off to school, she's soon confronted with the reality of Miss. Trunchbull (a deliciously nasty Emma Thompson), the terrifyingly tyrannical headmistress of Crunchem Hall who rules the schoolyard with an iron fist.

At first, Matilda kowtows to Miss Trunchbull's numerous rules and regulations in a bit to avoid the dreaded chokey; a tiny hut filled with broken glass and nails the cruel principal uses as a torture device for kids who dare to step out of line. But it's not long before Matilda begins to embrace a long-brewing rebellious streak and her previously undiscovered telekinetic powers that could be the answer to ending Miss Trunchbull's reign of terror.

Weir shines in a dazzling debut performance as our titular heroine who's an empathetic mix of bravado and vulnerability. She brings a charming naivete and sweet sensitivity to Matilda that makes her such an instantly loveable protagonist you can't help but cheer for. Over the course of the film, Matilda finds her inner strength, allowing Weir to evolve her performance into something that pulses with anger and vengeance, but never loses sight of the character's heart. To see a young performer keep such a tight leash on a character who could easily spiral out of control is incredibly impressive.

After delivering one of the fiercest performances of the year in The Woman King, Lynch completely changes gears with a character who genuinely radiates warmth and compassion. We'd all love a school teacher like Miss Honey. This gorgeous role gives Lynch the chance to showcase her untapped softer side, which is just as captivating as her work in action blockbusters. Graham and Riseborough consistently (and hilariously) steal focus as Matilda's foul, gaudy parents. The latter is an absolute scream with a hammy performance that's the total juxtaposition to the roles we normally see Riseborough cast in. And there's a huge cast of fabulous young performers who all sing and dance up a storm, particularly Meesha Garbet as Hortensia, who's now rightly going viral on social for her wildly energetic performance in the film's roaring finale.

Unsurprisingly, it's Thompson who all but runs away with this film, courtesy of a delectably villainous turn as the maniacal school dictator from hell. She's having a ball playing bad; something she's becoming increasingly known for lately. There's a hefty helping of prosthetics and costuming to turn the gorgeous Thompson into the grotesque Trunchbull, but it's the actor's dark and menacing performance that really brings this oppressive brut to life. It's a textbook example of an actor completely understanding the assignment. Thompson goes big and bold to knock it completely out of the park.

While the narrative of a youngster finding their voice against a pack of oppressive adults is hardly the most original of plots, it's still an uplifting and inspiring tale of refusing to accept the rules when they've been completely bent out of fairness. As wonderful as DeVito's adaptation may have been, it was a decidedly American tale. Dennis Kelly's screenplay remains faithful to Dahl's original novel and brings all the Britishness back to Matilda and her world. From Christian Huband and David Hindle's stellar production design and Rob Howell's glorious costuming to the dry wit constantly flowing from the character's mouths, this feels more like the environment and humour Dahl had in mind.

However, a new subplot involving Matilda creating a love story featuring an acrobat and an escape artist struggles to fit organically into the fun happening back at Crunchem Hall. It grinds the pace to a halt anytime she starts waffling on about this seemingly pointless tale. There's eventually a revelation that connects Matilda's fable back to the main plot, but it doesn't quite land the intended impact and feels like little more than running time padding.

And then there's the music. Tim Minchin's Tony-nominated score and original songs transfer perfectly to the big screen, with director Matthew Warchus rightly retaining the joyous theatricality seen on stage. This is a movie musical in every sense of the word with lavish production values, fluid cinematography by Tat Radcliffe, and genuinely stunning choreography by Ellen Kane. The film culminates in the triumphant "Revolting Children," which is easily one of the best third-act musical numbers you'll ever see. The entire young ensemble bursts to life as they sing and dance throughout Crunchem Hall with this rallying anthem for youngsters to rise up and start their own revolution.

Tender and sweet yet hilarious and entertaining, Matilda the Musical is a wondrous treat. It's deliriously fun with a hint of darkness but a big beam of light. You'd be hard-pressed to find a more gorgeous family gem this holiday season, but please seek to see this at the cinema. This was designed to be seen and heard on the big screen. Rather than attempt to reinvent DeVito's adaptation, Warchus seeks to craft something that perfectly complements the 1996 film while remaining faithful to Dahl's original novel. Both incarnations are as fabulous as each other but for completely different reasons. Now we have two sensational cinematic versions of Matilda Wormwood, and that's a world I'm happy to live in.





Distributor: Netflix
Cast: Alisha Weir, Emma Thompson, Lashana Lynch, Stephen Graham, Andrea Riseborough, Sindhu Vee
Director: Matthew Warchus
Producers: Tim Bevan, Eric Fellner, Jon Finn, Luke Kelly
Screenplay: Dennis Kelly
Production Design: Christian Huband, David Hindle
Costume Design: Rob Howell
Cinematography: Tat Radcliffe
Music: Tim Minchin
Editor: Melanie Oliver
Running Time: 117 minutes
Release Date: 8th December 2022 (Australia), 25th December 2022 (Netflix)