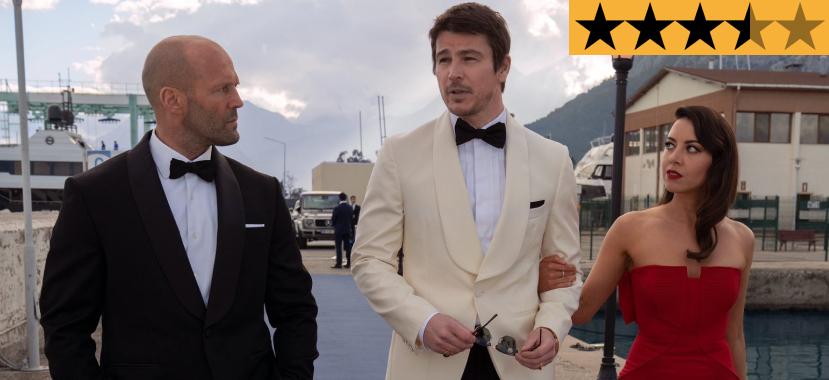 07 Jan

REVIEW – 'Operation Fortune: Ruse de Guerre' is a suave, stylish old-school action thriller

At this point in his career, it's rather pointless to criticise Jason Statham for essentially playing the same hardboiled, gruff role in every single one of his films. He's an action star following the same path as actors like Arnold Schwarzenegger, Sylvester Stallone, and Jean-Claude Van Damme. He knows his brand and what he brings to the table. He plays it well and his fans eat it up.

Statham delivers another serving of his dry charm in Guy Ritchie's Operation Fortune: Ruse de Guerre; a suave, stylish old-school action thriller that knows exactly what it is and offers everything its audience wants. While there's nothing particularly groundbreaking or original about this espionage caper, its committed ensemble cast rises above a generic screenplay to craft a fun, globe-trotting escapade that's undeniably entertaining and breezily enjoyable.

Statham plays Orson Fortune, a no-nonsense freelance spy whose consistently secretly tapped by the British government for operations they'd rather keep off the books. Under the direction of MI6 operative Nathan Jasmine (Cary Elwes), Fortune's latest task involves stopping a potentially dangerous piece of stolen tech known as "the handle" from falling into the wrong hands. Jasmine believes the handle is currently in the possession of nefarious black market arms dealer Greg Simmonds (Hugh Grant), who's looking to sell it to a Ukrainian terrorist organisation for a few billion dollars.

With his usual crew already on assignment elsewhere, Fortune is forced to pair with deadpan comms expert Sarah Fidel (Aubrey Plaza) and jack-of-all-trades J.J. (Bugzy Malone) on his mission to stop the sale and snatch back the handle. In a bid to infiltrate a lavish party Simmonds is throwing on his yacht in Cannes, Fortune recruits the world's biggest movie star Danny Francesco (Josh Hartnett) to reluctantly join their crew. Francesco just so happens to be Simmonds' favourite actor and might hold the key to distracting him long enough for Fortune to elicit enough intel to save the day.

There are a lot of pieces to set in place before Operation Fortune: Ruse de Guerre can really take off, leaving the first act to drown in a lot of heavy exposition that requires sharp focus from an audience. It's not so complicated to hurt your brain, but if you prefer your action movies to be vapidly simple, this one might not be for you. Regardless, it's admirable Ritchie wants to give some depth to his characters and plot before focusing on the deliciously silly chaos we all know is coming.

Once Ritchie has all his players in line, the fun really begins. It's really just a filmmaker on auto-pilot doing what he does best. Well-crafted bombastic action set pieces and terrifically choreographed fight sequences in a series of extravagant international locations, which seems to be where the bulk of the budget has gone. Ritchie zooms us off to France, Turkey, and Qatar and it's pleasing to see a director still understand the value of location photography.

The action isn't quite on the same scale as something you'd see in the latest chapter of the James Bond, Mission: Impossible, and Fast & Furious franchises, so don't head into this one expecting a true blockbuster. Ritchie prefers to focus on the zippy comedy of his screenplay (co-written with Ivan Atkinson and Marn Davies) and the talents of his impressive cast to compensate for what this film may lack in the high concept stakes. And a gloriously grand, 007-esque score from Christopher Benstead certainly makes this film feel more cultivated than it really is.

Statham does his Statham best as yet another grizzly, hot-tempered hero who barely breaks a sweat while despatching whoever gets in his way. Does he offer anything remotely new here? Well, no, but he's hired for this kind of role for a reason, so you get entirely what you're expecting. Plaza is perfectly cast as the snarky femme fatale with a penchant for sarcastic wit and punchy dialogue. It's probably the closest she'll get to playing a Bond girl and she has a blast with this opportunity.

Hartnett is also having a ball playing the insecure, petulant celebrity whose vanity is easily manipulated by anyone around him. But, unsurprisingly, it's Grant who runs away with this one with the kind of scenery-chewing, campy villain performance that's quickly becoming his forte. His starstruck (and love-struck) scenes with Harnett offer the film's best moments and it's always just a pleasure to watch Grant go big and land it every single time.

With Operation Fortune: Ruse de Guerre, you're getting exactly as the can is labelled. While lacking in originality, it's a solid good time at the cinema with lashings of over-the-top action, quippy comedy, and stylish locations and characters. It's the same Ritchie formula we've seen in his most recent films and it works best when you keep your expectations low. If nothing else, this tightly-crafted spy caper will keep you satisfied while we still mourn the loss of James Bond and await Ethan Hunt's latest Mission: Impossible adventure later this year.





Distributor: Roadshow
Cast: Jason Statham, Aubrey Plaza, Josh Hartnett, Cary Elwes, Bugzy Malone, Hugh Grant
Director: Guy Ritchie
Producers: Jason Statham, Ivan Atkinson, Bill Block
Screenplay: Ivan Atkinson, Marn Davies, Guy Ritchie
Cinematography: Alan Stewart
Production Design: 
Costume Design: 
Music: Christopher Benstead
Editor: James Herbert
Running Time: 114 minutes
Release Date: 12 January 2023 (Australia)