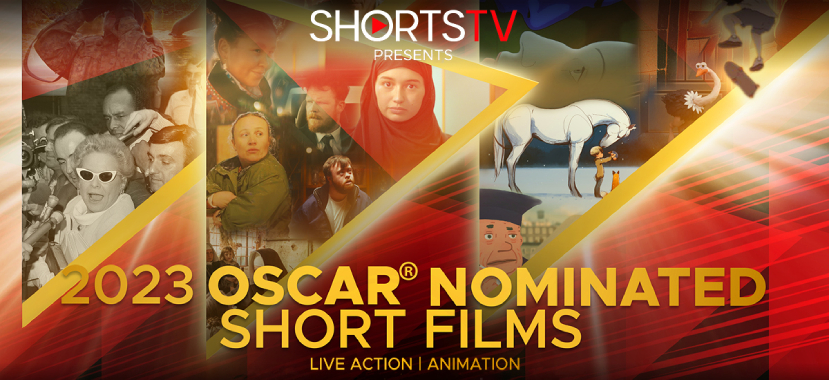 03 Mar

REVIEW – Oscar Nominees for Best Animated Short Film and Best Live Action Short Film

For the first time in Australia, you can catch this year's Academy Award nominees for Best Animated Short Film and Best Live Action Short Film on the big screen at select cinemas. For full location details and screening dates, click here. Here are my reviews of this year's brilliant contenders.

BEST ANIMATED SHORT FILM
The Boy, the Mole, the Fox and the Horse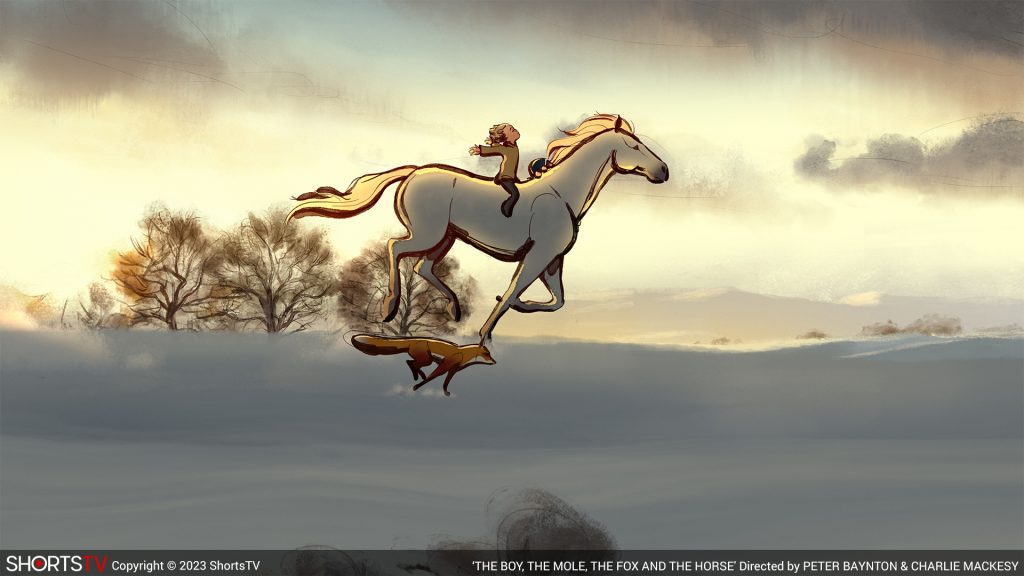 In a mere 32 minutes, The Boy, the Mole, the Fox and the Horse manages to achieve something often only found in feature-length animated films; it will make you sob like a damn baby. Multiple times. A deceptively simple short film that packs a mighty emotional punch, this instantly-quotable gem is exactly the kind of comfort food the world needs, especially for those facing mental health challenges. Gorgeously warm, beautifully crafted, and endlessly emotional, it's a new classic in the making.
Based on Charlie Mackesy's book of the same name, the charming parable tells the tale of a young boy (Jude Coward Nicoll) lost in the winter wildness and searching for the home he's never had before. In the woods, the boy stumbles upon a near-sighted Mole (Tom Hollander), who offers to help the young lad find his way. The pair soon rescue a lonely Fox (Idris Elba) from a trap, who begrudgingly agrees to join their expedition. The trio becomes a quartet when they meet a kindly Horse (Jude Law), who feels ostracised from the rest of his kind for reasons unknown.
There will be those who criticise this short as a maudlin Hallmark card come to life. And, sure, there's a saccharinely sweet quality to this film that may not be everyone's cup of tea. But therein lies its irresistible charm and immense power. On its surface, this would just appear to be the cute tale of four unlikely individuals becoming friends on an unexpected journey. Dig beneath the surface and you'll find a sharply written wonder that dares to tackle heady topics like self-doubt, depression, and anxiety with a gentle and deft touch and wise advice that could potentially change one's life. After the misery of the last few years, The Boy, the Mole, the Fox and the Horse arrives at just the right time. What a gift to the world.





The Flying Sailor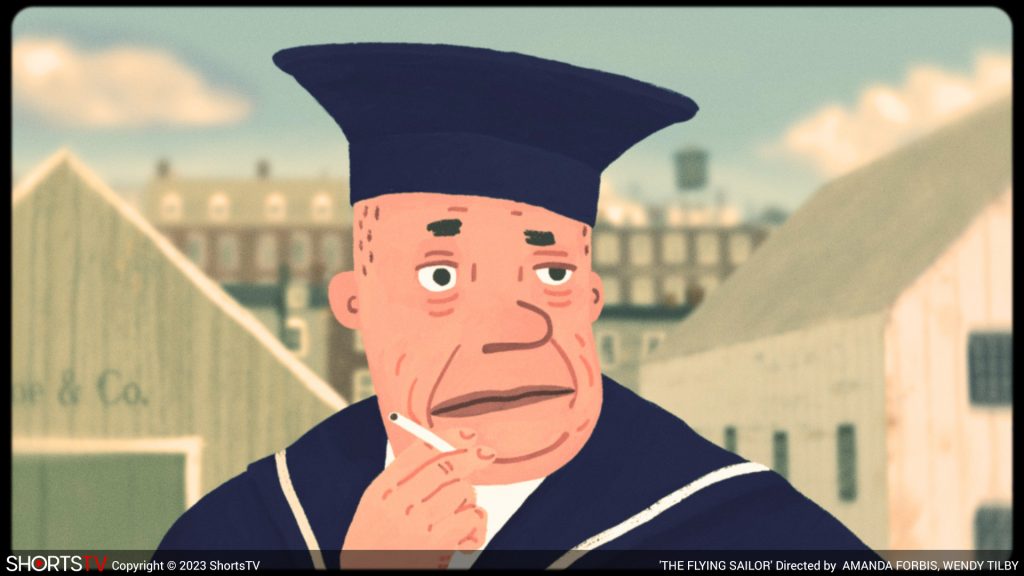 We've all heard the old adage of a moment in time when your life "flashes" before your eyes. The quirky and unique The Flying Sailor is the personification of this concept, inspired by the incredible true story of one man's miraculous survival after a cataclysmic event. With an eye-catching watercolour visual style all of its own and a jaunty score, it's a curiously fascinating short film.
Based on the devastating Halifax explosion of 1917 (the largest accidental non-nuclear explosion in history), The Flying Sailor begins with our titular protagonist out for a morning walk on the docks. Off in the distance, two ships (one carrying a huge load of dynamite) collide and the ensuing explosion sends our protagonist flying through the air. While soaring above the ground, the sailor relives snippets of his life throughout an unexpected existential voyage on his descent back to land.
Personally, I knew nothing of the Halifax disaster or the staggering real-life story of the man who flew 4km through the air and somehow lived to tell the tale, so this was all rather eye-opening. It's a profound setting for someone's contemplation on their life without the usual maudlin or cynical introspection. Cheekily humourous and beautifully animated, there's a dreamlike quality to this short that's hard to resist. Frankly, I was yearning to uncover more of this man's fascinating life, but I suppose you can only have a man fly through the sky for so long before it becomes rather rote.





Ice Merchants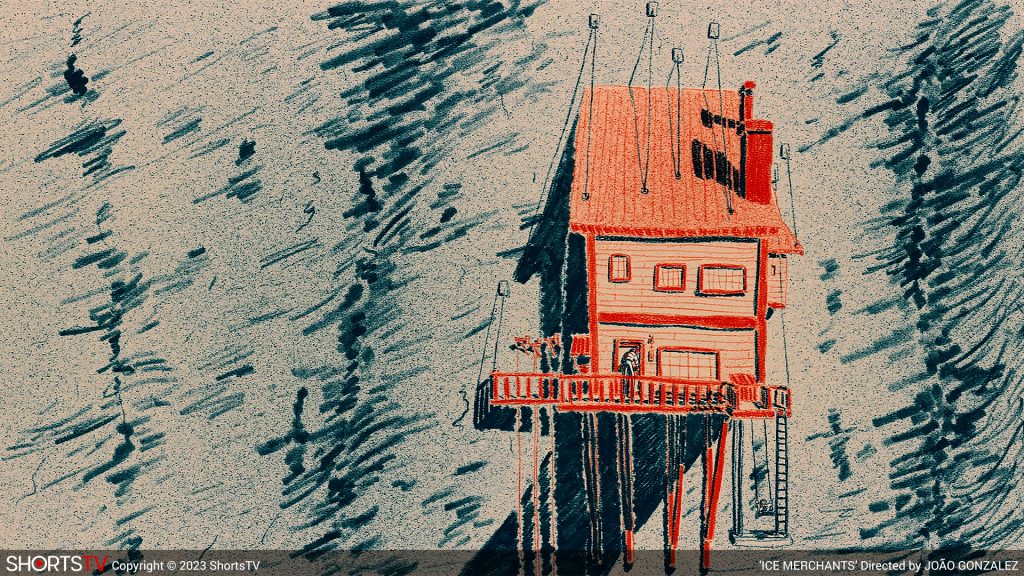 On paper, nothing about Ice Merchants should work. It features zero dialogue and only uses four colours to craft its surprisingly simple line drawings. And, yet, it's one of the most remarkable animated short films you are ever likely to witness. A beautiful familial portrait that, despite its frozen setting, radiates with endless warmth, it's the perfect mix of melancholy and sweetness that will ultimately touch your soul.
The short tells the story of a father and son who reside in a home precariously built on the side of a steep cliff, high above their local town. Every day, the duo parachute down to sell the ice they have collected. While falling, they habitually lose their matching beanies, with the father buying them a new pair whilst in town. But a thermometer positioned outside their little house is slowly rising and their very livelihood is about to be terrifyingly threatened.
It's the tight bond between father and son that cements this deeply moving tale of love, loss, and survival. By quietly observing the repetition of their lives, we quickly become deeply invested in these charming characters, particularly when disaster appears and their lives are put in perilous danger. It's a remarkable achievement to connect an audience to two characters without a single word of dialogue. The simplistic animation style is unexpectedly spellbinding and the narrative shrewdly draws you in to create a fully-rounded experience that's rather overwhelming.





My Year of Dicks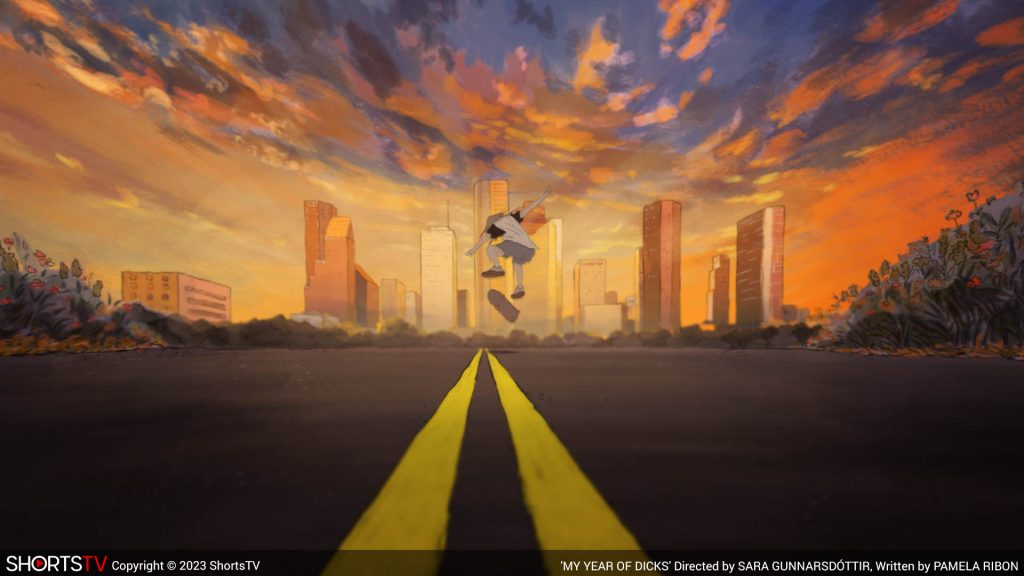 In a case of a short film completely living up to its title, the provocative and darkly humorous My Year of Dicks offers a cheeky and playful look at one young girl's attempts to lose her virginity. Feeling like something that fans of PEN15 and Eighth Grade will adore, its refreshing candour and unique animation style sets it apart from all other nominees this year. While it wasn't something I was able to truly fall for, you have to respect something with the confidence to portray the kind of subject matter cinema often ignores.
Beginning in 1991, we meet Pam, a stubborn 15-year-old girl living on the outskirts of Houston. Determined to finally "become a woman," Pam is intent on finding the right boy to lose her virginity with. As such, she sets off on a journey of self-discovery where disappointments, mistakes, and life lessons await in this comedic and personal voyage of sexual awakening.
The animation style is a mash of numerous genres where each vignette appears different to the one that preceded it. Personally, the aesthetic is a touch too crude and messy for my liking, but I appreciate an animated short with such imagination and vision. It's the writing where My Year of Dicks truly excels. Adapted by Pamela Ribon from her memoir Notes to Boys (And Other Things I Shouldn't Share in Public), it's undeniably funny, wildly intelligent, and deeply honest. She's refusing to pull any punches in this frank look at the young female experience. Our protagonist is lovable and earnest, suggesting there's a potential feature film hiding in this short film somewhere.





An Ostrich Told Me the World Is Fake and I Think I Believe It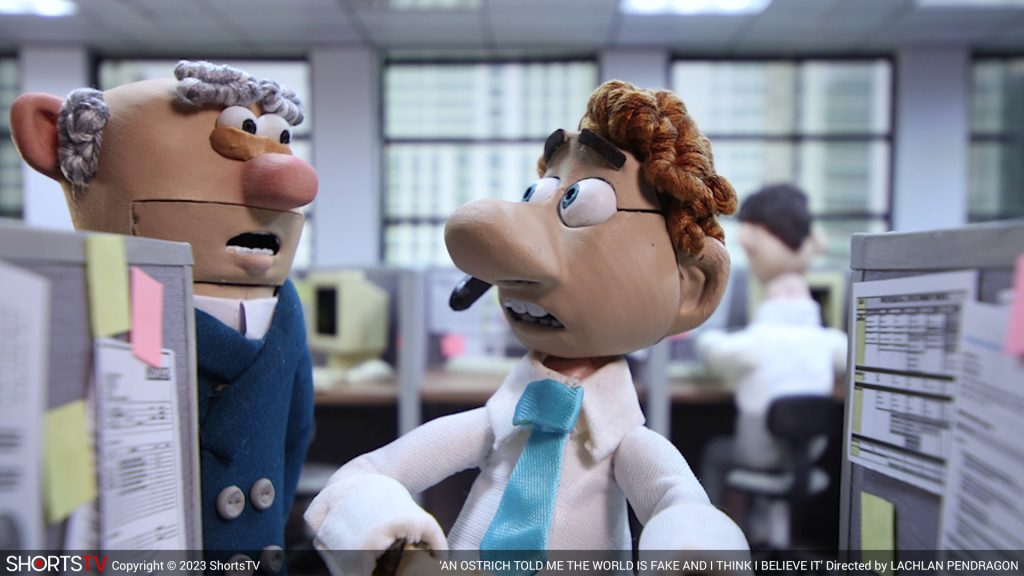 Once again, the little Australian animated short film that could has made its way to the Academy Awards. Following in the footsteps of 2003's Oscar-winning Harvie Krumpet, An Ostrich Told Me the World Is Fake and I Think I Believe It is another stop-motion gem from a young Aussie filmmaker at the top of his craft. Deliciously absurd and wonderfully entertaining, it's a clever concept that's just begging to be spun into a full-length feature.
Neil is a beleaguered telemarketer struggling to sell toasters from his office cubicle. Threatened with termination by the end of the day by his cranky boss, Neil gradually begins to notice something isn't quite right about the world around him. After falling asleep at his desk, he awakens to encounter a talking ostrich who informs him the world is nothing but a sham and he needs to begin paying closer attention to his surroundings. Whilst investigating an office closet, Neil realises he's actually nothing more than a character in a stop-motion animated world and the ostrich was right.
Like a quirky mash-up of The LEGO Movie and Office Space, this self-aware delight radiates with meta humour and Australian charm. We all know how much meticulous work goes into the creation of stop-motion animation and the way this ingenious short is cleverly constructed gives us a behind-the-scenes peek at just how difficult the process truly is. Framing much of the action from "in front" of the camera is simply something I've never seen in this medium before. Uproariously funny and deliciously existential, this is undeniably a dark horse to take home the prize.





BEST LIVE ACTION SHORT FILM
An Irish Goodbye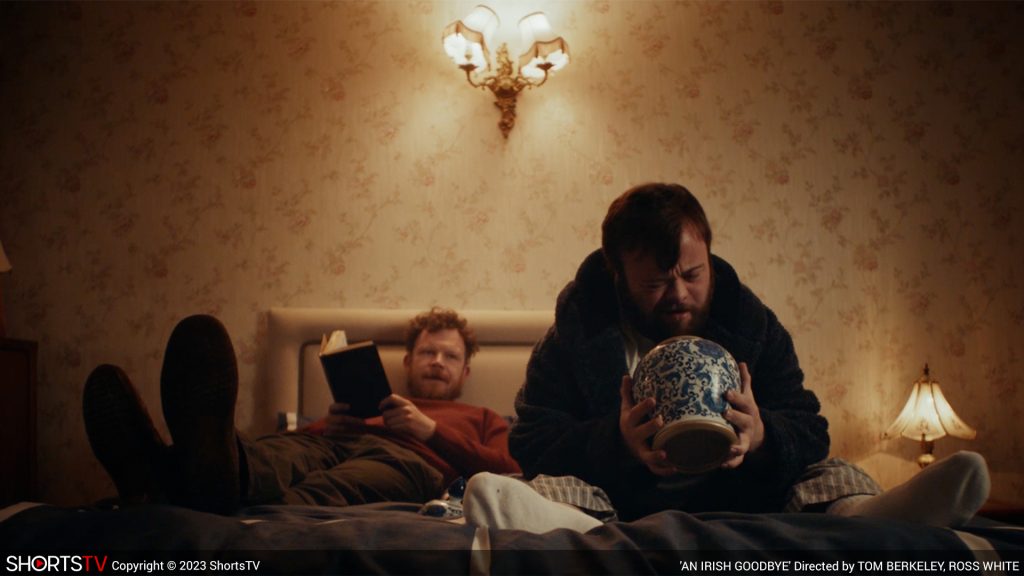 Irish cinema is having quite a moment at the Oscars this year. The Banshees of Inisherin is nominated across the board. The Quiet Girl deservedly snuck into the final five for Best International Feature. And the staggeringly gorgeous An Irish Goodbye should be our winner for Best Live Action Short Film. Beautifully warm, cheekily hilarious, and deceptively touching, it's just feckin' wonderful.
Set on a rural farm in Northern Island, An Irish Goodbye follows Turlough (Seamus O'Hara), who's returned home from London after his mother, Grainne, passes away to sell the family property and arrange for his estranged brother, Lorcan (James Martin) to live with their aunt. When Lorcan refuses to leave, Turlough discovers their mother left behind a "bucket list" of tasks she never got to achieve before her death, Turlough reluctantly agrees to Lorcan's request to fulfil their mother's wishes.
With a playful touch and deft sensitivity for Lorcan's Down Syndrome status, An Irish Goodbye will capture your heart and leave you chuckling numerous times throughout this charming tale of brotherly love. It's sentimental and sweet with a slightly black sense of humour that's typically Irish. The chemistry between O'Hara and Martin is earnest and authentic and their journey towards reconnecting is beautiful to watch. I laughed. I cried. I adored every damn moment. Give it the Oscar.





Ivalu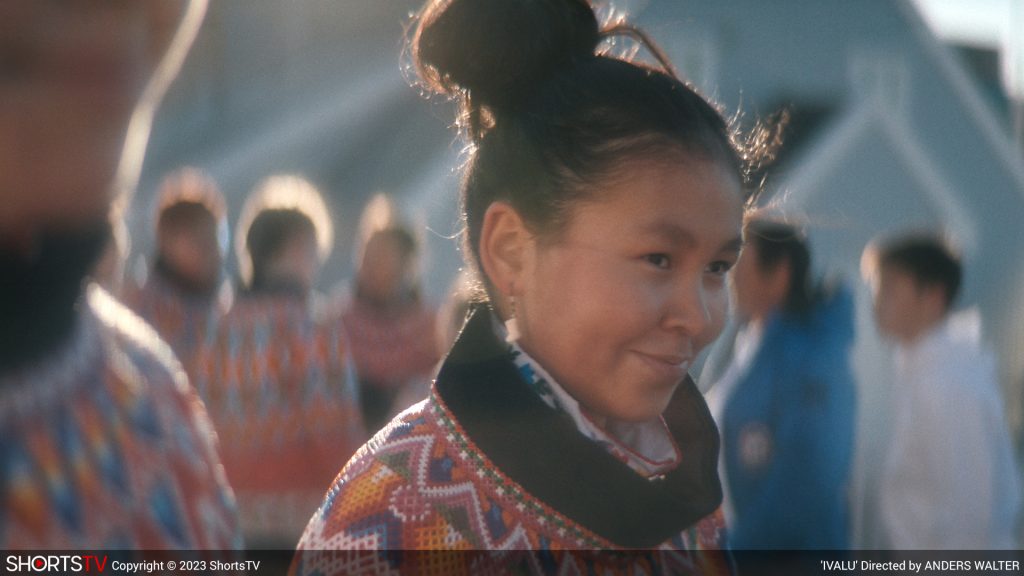 You'd be hard-pressed to find a more beautifully shot short film this year than Ivalu. It's just a shame it doesn't quite have the narrative backbone to match its gorgeous visuals. A pertinent tale told in a mute fashion, this story of familial secrets and sexual abuse is admirable but far too heavy-handed to work effectively.
Set in Greenland, Ivalu introduces us to young Pipaluk, who awakens to find her beloved older sister, Ivalu has gone missing and her father is suspiciously stating that she's simply run away. Desperate to locate her sister, Pipaluk begins to search all their favourite hangout spots while reminiscing on their past interactions. What begins as a hunt to discover her missing sibling soon turns into something far more sinister, as the truth behind Ivalu's vanishing begins to come to the forefront.
While it's clearly all been shot by the use of drones, it's hard not to be taken by the breathtaking cinematography of the beautiful landscapes of Greenland. The visuals are truly stunning and that's probably enough to validate its Oscar nom. But its overuse of narration doesn't help the story of Pipaluk and Ivalu come to life and damages the potential raw power of such a mournful story. There's a masterpiece hiding here somewhere, but it's not what we're offered in the end.





Le pupille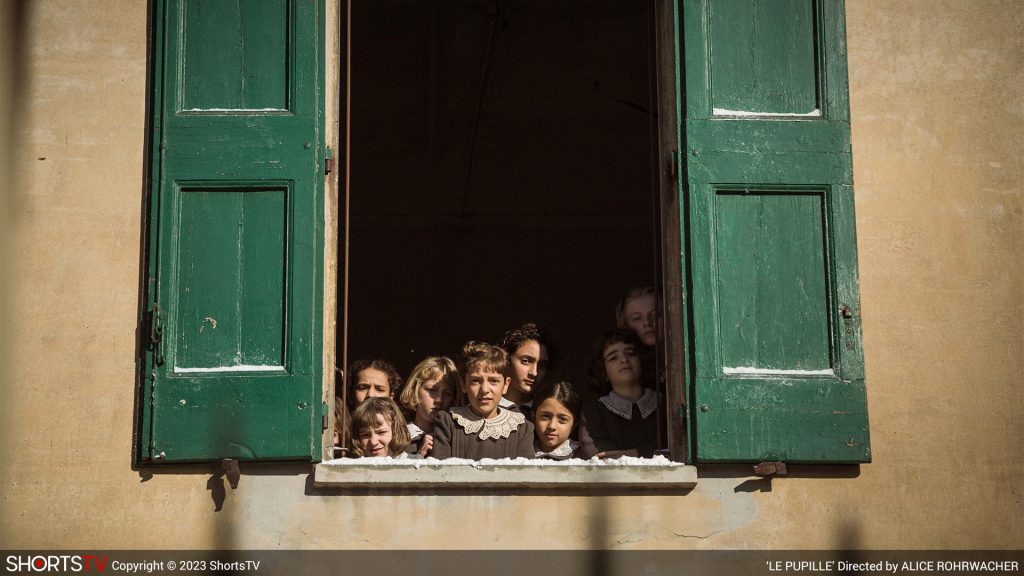 With the might of Oscar-winner Alfonso Cuarón behind the producer's chair and Disney+ coming on board as a streaming partner, there's every chance Le pupille will take home the prize this year. It's also the longest of the live-action nominees, which will either work for or against it. A playfully mischievous look at the lives of a group of young girls at a strict Italian Catholic boarding school during World War II, it's a sweet charmer that's not exactly groundbreaking but terribly adorable all the same.
Set during Christmas time, the short focuses on little Serafina (Melissa Falasconi), a precocious youngster who is shunned by the other girls in her class and treated unsympathetically by the nuns for her penchant for being "bad." As the film unfolds, we bear witness to the lives of these young girls as they prepare for Christmas Day and attempt to reject the temptations of the season and remain focused on the real spirit of the season.
Warmly shot on 16mm film, its aesthetic perfectly matches the tone and time period of this charming and surprisingly humourous tale of desires, freedom, and devotion. The wide-eyed Falasconi is a terrific find and leads this short with infectious sweetness and naivete. It plods along at a purposely slow pace, which makes you question its rather lengthy runtime. Once its true intentions are revealed, there's wicked fun to be had, but it relies a touch too heavily on the cuteness of Serafina to keep you hooked.





Night Ride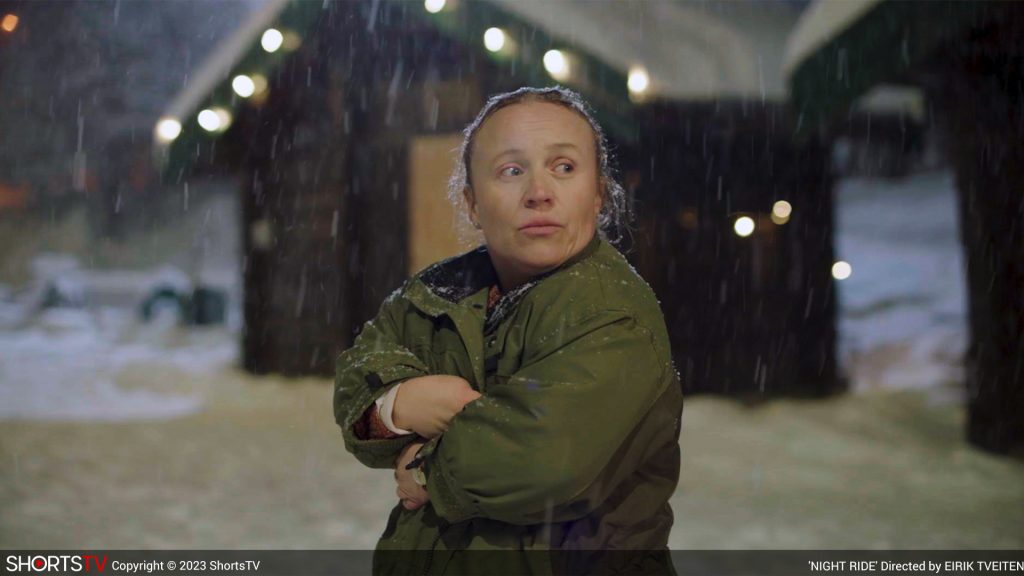 A curious and initially unassuming Norwegian piece, Night Ride could have been nothing more than the quirky, humourous tale of a woman experiencing an unintended evening of mild adventure. And, frankly, it may have been better to just leave it there. While it valiantly attempts something deeper by tackling the issue of transphobia and violence against trans women, it lacks the gravitas or acumen to truly make it work.
On a cold snowy evening, Ebba waits patiently for her tram to arrive. When the tram arrives, the dismissive conductor leaves to use the bathroom and refuses to let Ebba on board to wait for him out of the cold. Shivering and annoyed, Ebba takes matters into her own hands. After sneaking onboard, Ebba attempts to close the tram's doors but inadvertently sets it into motion. Fearful of reprisal from the furious conductor, Ebba makes the rash decision to carry on driving the tram all the way home. But when a group of passengers join her at the next stop, her evening is about to become much more complicated.
There comes a point in Night Ride where the entire tone and intent of the piece completely shifts. And, sadly, it all somewhat falls apart. It's honourable it's attempting to portray the very real and very scary reality of being a trans woman riding public transport at night, it's hard not to cringe at the "cisgender saviour" narrative that ensues. It all just feels rather reductive and trite when it's trying so hard to be powerful and pertinent.





The Red Suitcase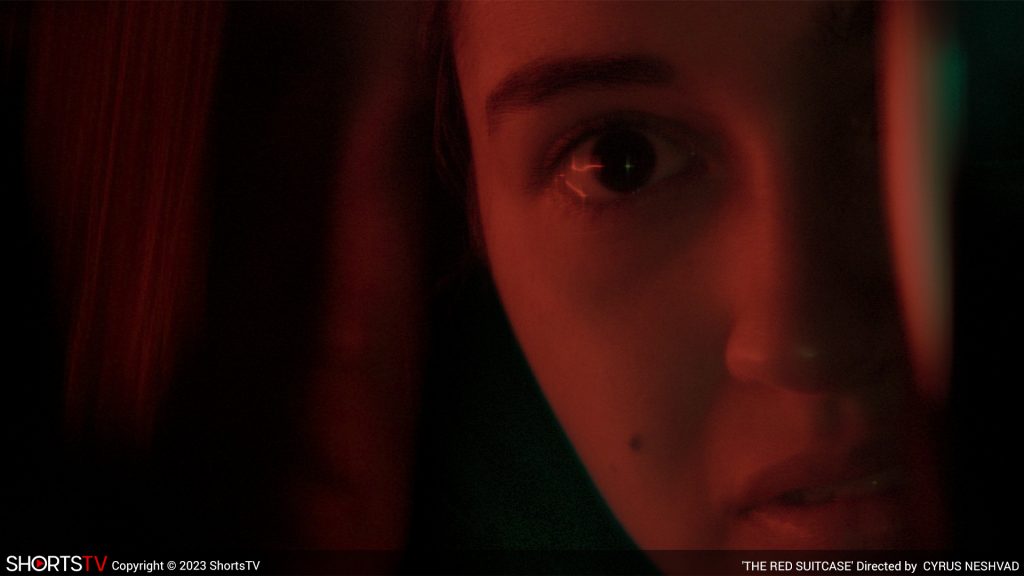 In less than 20 minutes, The Red Suitcase offers more tension than you will find in most subpar thrillers. It's a stunning achievement from such a simple short film, but this is nothing less than one of the most unexpectedly gripping experiences I've had in some time. Harrowing and painfully pertinent, it's ingeniously crafted, impressively constructed, and handles an important subject matter with a delicate yet powerful touch.
Ariane, a shy Muslim teenager with a love of painting, has arrived alone at Luxembourg airport from Iran but is seemingly terrified to leave the customs area. On the other side of the automatic doors waits a much older Middle Eastern man holding a bouquet of flowers. Terrified at the prospect of meeting the man Ariane's father has arranged to be her new husband, she removes her hijab in the customs bathroom in the hopes she can sneak by the man and make defy the life she clearly never wanted.
To call The Red Suitcase tense is almost an understatement. It's an old cliche but this is truly edge-of-your-seat cinema, as we witness Ariane's desperate attempts to evade being spotted by the man her father has essentially sold her to. The terror on her face. The fear in her eyes. The panic at every close encounter. The anguish of missed opportunity to escape. It's an anxiety-inducing piece that works so well because you immediately connect with Ariane from the moment we meet her. The power in watching her defiantly abandon her hijab out of sheer desperation is stunning stuff. And the final shot (I won't spoil it) is genuinely masterful.