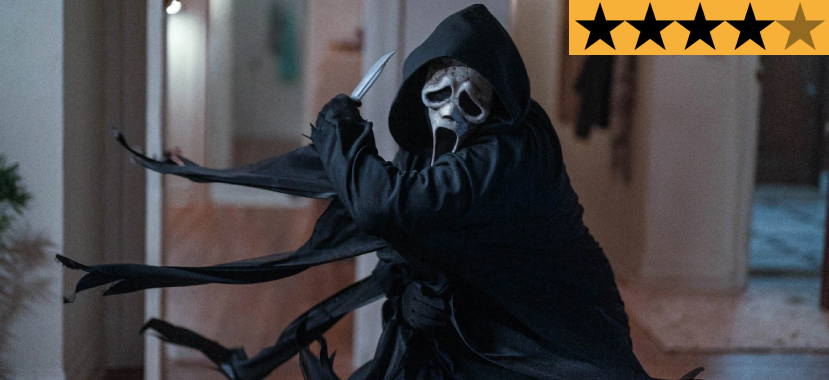 10 Mar

REVIEW – 'Scream VI' is an equally satisfying and tantalisingly terrifying sequel

Those Radio Silence boys have done it again. After breathing new life into the seemingly deceased corpse of Ghostface with 2022's surprisingly great "requel" Scream, directors Matt Bettinelli-Olpin and Tyler Gillet have delivered an equally satisfying and tantalisingly terrifying sequel. With a fresh new location, a bigger body count, immensely tense set pieces, and more brutal death scenes, Scream VI is deliriously entertaining stuff. You never expect the sixth film in a franchise to be one of its best. And, yet, here we are.

Picking up 12 months after siblings Sam (Melissa Barrera) and Tara Carpenter (Jenna Ortega) and Chad (Mason Gooding) and Mindy Meeks-Martin (Jasmin Savoy Brown) survived the latest Woodsboro massacre, we find our "Core Four" have wisely got the hell out of their home town and moved to the, uh, safety of New York City. The latter three have all enrolled at Blackmore University with the overprotective Sam tagging along to keep an eye on her lil' sis.

While Sam is still grappling with the lingering trauma from the events in Woodsboro and her paranoia over inheriting her father's killer tendencies, Tara, Chad, and Mindy seem as if they'd rather just forget what happened and enjoy their college experience with new pals Annika (Devyn Nekoda), Quinn (Liana Liberato), and Ethan (Jack Champion). Of course, Ghostface has other plans and a new murder spree soon begins, forcing the Core Four to seek help from NYPD Detective Bailey (Dermot Mulroney), perennial target Gale Weathers (Courtney Cox), and Woodsboro-survivor-turned-FBI-agent Kirby Reed (Hayden Panettiere).

Right from the twisted opening scene that's easily one of the best and most surprising of the series, you can tell Scream VI is bluntly determined to subvert all expectations and keep its audience on their toes. As Mindy later informs us, we're not in sequel or requel territory anymore. This is now a franchise and the rules have changed yet again. Legacy characters can die. The safety of the returning players is no longer guaranteed. The kills will be more elaborate. And the victim tally will undoubtedly be higher. That's precisely what Bettinelli-Olpin and Gillet gleefully serve up in this staggeringly enjoyable new chapter.

Let's just jump straight to the point of slasher films; the murder scenes. If you thought last year's deaths were brutal, you ain't seen nothing yet. This Ghostface is relentlessly viciousand savage, delivering visceral stabs that will have you wincing in your seat. There's some genuinely nasty violence here and the film is better for it. This incarnation of the killer is also far more brazen with some attacks taking place in public including a sublime sequence inside a busy convenience store that quickly becomes a gripping cat-and-mouse game to rival the recording studio chase in Scream 2.

Bettinelli-Olpin and Gillet are masters at creating a palpable sense of tension and suspense, particularly when scenes involve our beloved returning characters whose unknown fate will have you holding your breath and gripping your cinema chair. As they did in the previous film, they delight in toying with your emotions with slow-burn introductions to the violence that plays with your assumptions you know what's coming. Trust me when I say you have no idea what you're in for and there are a plethora of well-earned shocks and surprises to be found here.

And now for the elephant in the room; the lack of Sidney Prescott. Look, full credit to Neve Campbell for standing her ground and knowing her worth. Unfortunately (or maybe fortunately, if she really is done for good) for Campbell, Scream VI still thrives without our evergreen final girl. The film briefly acknowledges Sidney's absence early in the film (even if the reasoning is rather comical) and then wisely never mentions her again. The baton has been passed and the future of this franchise now belongs to the Carpenter sisters and the Meeks-Martin twins. Sorry, Sid.

The newly dubbed Core Four have become characters an audience actually gives a damn about, largely thanks to the earnest and genuine chemistry between Barrera, Ortega, Gooding, and Brown. Witnessing this quartet face potential death really cements how much you now genuinely care about them as heavily as you did Sidney, Gale, and Dewey. Throw in the added fear that you're never quite sure if they'll make it to the end credits and you realise this saga has completely roared back to life. They're all bloody great here, particularly Ortega who continues to prove why she's one of the brightest young talents in the industry.

As for the return of Cox for her sixth outing as our favourite intrepid investigative journalist, well, it's really more of an extended cameo this time around. But she owns every single moment including a particularly nerve-shredding encounter with Ghostface in her fancy New York apartment. The previous film featured a great moment where we learnt the long-presumed deceased Kirby had actually survived the events of Scream 4. Her return to the franchise as a determined and ballsy FBI agent is hugely welcome. As for our new additions to the cast, we all know why they're really here and that's all I'll say on the matter.

A core staple of the Scream franchise has been its ingenuous use of meta-commentary and that's on display again here. From playful stabs at Letterboxd trolls and insufferable film students to pertinent observations on the disinformation and targeted bullying that permeates social media, James Vanderbilt and Guy Busick's script radiates with sharp writing that explores the overarching theme of trauma in ways we've never seen from this franchise. They're also wise to include organic character growth for our quartet which only further strengthens our bond with them.

There are some quibbles to be made of the rather grandiose finale which pushes the boundaries of absurdity and believability a touch too far, but never into the fatal territory of dreadful horror films of the past. This is another major home run for Bettinelli-Olpin and Gillet, whose deep adoration for this franchise flows through every single frame. They have done the unthinkable and proven themselves worthy of the late Wes Craven's mantle. A terrific slasher film that's as frightening as it is thrilling, Scream VI defies the curse of the horror genre and proves the sixth time can indeed be the charm. Bring on round seven.





Distributor: Paramount Picture
Cast: Melissa Barrera, Jasmin Savoy Brown, Jack Champion, Henry Czerny, Mason Gooding, Roger L. Jackson, Liana Liberato, Dermot Mulroney, Devyn Nekoda, Jenna Ortega, Tony Revolori, Josh Segarra, Samara Weaving, Hayden Panettiere, Courtney Cox
Directors: Matt Bettinelli-Olpin, Tyler Gillet
Producers: William Sherak, James Vanderbilt, Paul Neinstein
Screenplay: James Vanderbilt, Guy Busick
Cinematography: Brett Jutkiewicz
Production Design: Michele Laliberte
Costume Design: Sammy Sheldon
Music: Sven Faulconer, Brian Tyler
Editor: Jay Prychidny
Running Time: 123 minutes
Release Date: 9th March 2023 (Australia)