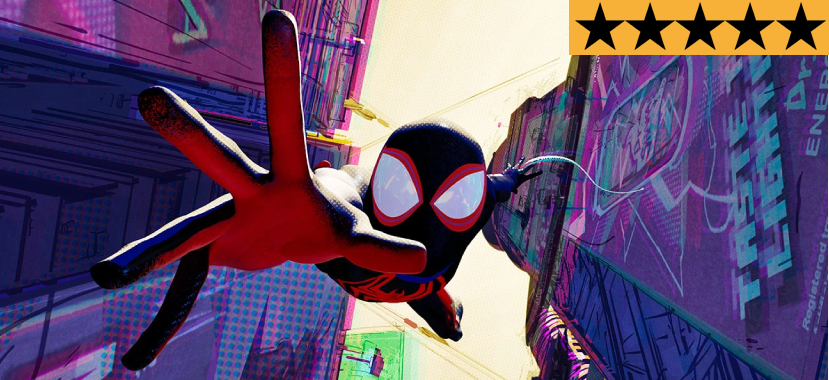 02 Jun

REVIEW – 'Spider-Man: Across the Spider-Verse' is a masterpiece of animation and cinema in general

The term "game-changer" gets thrown around a lot these days, but it's an entirely apt description for something as genuinely groundbreaking as 2018's Oscar-winning epic Spider-Man: Into the Spider-Verse. The film announced Sony Pictures Animation as a major force to be reckoned with and stood tall as one of the most exhilarating and staggeringly original animated films in literally decades. The bar was set so impossibly high that many (including myself) presumed a follow-up could never reach the same level. We were wrong. So very wrong.

A stunning film that takes its place alongside The Empire Fights Back and The Godfather: Part II as one of the greatest sequels ever made, Spider-Man: Across the Spider-Verse is a masterpiece of animation and cinema in general. A rare piece of cinema that proves you can occasionally capture lightning in a bottle twice, this follow-up not only equals everything offered in its predecessor but somehow surpasses it. Astonishingly animated and deliriously entertaining, it's a monumental achievement.

Set roughly a year after the events of the first film, Across the Spider-Verse finds Miles Morales (Shameik Moore) and Gwen Stacy (Hailee Steinfeld) still separated in their different factions of the Multiverse. Both are struggling to balance their dual lives as regular teenage kids and secret superheroes. While Miles is somehow still maintaining excellent grades, he's constantly absent from key family events, much to the chagrin of his beleaguered parents, Jefferson (Brian Tyree Henry) and Rio (Luna Lauren Vélez). Meanwhile, Gwen is grappling with her police captain father, George (Shea Whigham) and his crusade to unmask the vigilante Spider-Woman.

After an alternate medieval version of the nefarious Vulture (Jorma Taccone) lands in Gwen's universe, she joins forces with Miguel O'Hara aka Spider-Man 2099 (Oscar Isaac) and Jessica Drew aka Spider-Woman (Issa Rae), the leaders of a secret Spider-Society who travel the Multiverse and clean up any anomalies that threaten the timeline balance. Back in Miles' universe, he's dealing with the emergence of The Spot (Jason Schwartzman), a seemingly bumbling "villain of the week" whose quest for vengeance and ever-growing portal-travelling powers could threaten the existence of time itself.

Naturally, the activities of The Spot arouse the attention of the Spider-Society, leading to Gwen and crew journeying to Mile's universe and an unexpected reunion neither Miles nor Gwen thought was possible. While Miles is keen to join Gwen's new crew, Miguel is suspiciously unsure. But as The Spot grows more powerful, Miguel has no choice but to align with Miles and call for backup in the form of Hobie Brown aka Spider-Punk (Daniel Kaluuya), Pavitr Prabhakar aka Spider-Man India (Karan Soni), Margo Kess aka Spider-Byte (Amandla Stenberg), and Miles' former mentor, Peter B. Parker aka Spider-Man (Jake Johnson).

As you can tell, there's a whole lot going on here, but it's a credit to screenwriters Phil Lord, Christopher Miller, and David Callaham that the narrative somehow doesn't buckle under its own hefty weight. At no stage did I ever think this complex storyline was biting off more than it could easily chew. It probably helps that numerous films have dabbled in the concept of multiple universes in the five years since the first film (including this year's Best Picture Oscar winner). Audiences are now more adept at following alternate timelines and characters without their heads imploding.

That being said, the plot leans towards the complex end of the scale and it's best to remain steadfast in paying attention in the first act where Lord, Miller, and Callaham take their time to explain the inner workings of the dizzying narrative they've cooked up. There's a richer emotional resonance to the narrative, namely courtesy of Miles and Gwen both facing empathetic familial drama that's best left unspoiled. And, naturally, their will-they/won't-they romance flourishes further in organic and charming ways that deepen their endearing connection to each other. And, of course, it's all loaded with that trademark Lord/Miller humour that delivers dozens of genuine laughs.

But a great animated screenplay is nothing without an impeccable voice cast to bring it all to life. Much like the previous film, there's not a weak link in the chain here. As our wildly loveable titular protagonist, Moore is terrific as a hero whose confidence is growing but still has the vulnerability and self-doubt of any ordinary teenager. Miles is caught between blazing his own path and remaining loyal to his family, allowing Moore to expertly convey the emotions of a youngster's complicated journey in writing their own story.

As always, Steinfeld absolutely shines and this is undoubtedly Gwen's film as much as it is Miles'. There's a concerted effort to flesh out Gwen's backstory (the entire first 10 minutes belong exclusively to her universe) and allow the audience to understand how her past is just as difficult and traumatic as every other incarnation of Spider-Man. Gwen's fractured relationship with her father fuels her quest for escapism, but it's clear she can't outrun her problems no matter how many universes she travels between.

The bevvy of new additions to the cast all pilfer focus whenever they can. Isaac is the perfect choice for the no-nonsense, grizzled Spider-Man 2099 who carries the heavy burden of keeping the entire multiverse in check. Schwartzman deftly plays with light and shade as he gleefully takes The Spot from a bumbling dolt to something far more sinister and complex. Rae grounds the film as the moral compass stuck between her obligation to Miguel and her growing connection with Gwen. Soni's Indian take on Spider-Man delivers plenty of levity into the piece, particularly a running gag regarding "chai tea." And Kaluuya all but steals the film as the effortlessly cool anti-establishment Spidey whose punk attitude is the total juxtaposition to everyone surrounding him.

And then there are the breathtaking visuals. Honestly, one could write hundreds, if not thousands of words on every single frame of this mind-blowingly crafted animated wonder. A fusion of multiple animation styles and bursting with every colour imaginable, it's truly a work of art. You could pause the film at practically any moment and it would be a piece worthy of hanging on your wall (or, at the very least, your laptop wallpaper). It's an eye-popping visual spectacle that will not be outdone in 2023.

Every Spider-Man universe has its own distinctive design and colour palette, allowing directors Joaquim Dos Santos, Kemp Powers, and Justin K. Thompson to create evocative worlds that convey the mood and tone of each universe through mixed-media styles that all practically leap off the screen. The design of Gwen's Earth-65 is particularly impressive. It explodes with gorgeous watercolour backgrounds and swirling hues that align with Gwen's emotions. There are also a few brief detours in multiverse worlds I dare not spoil, but ones that left my audience applauding with glee.

The film is littered with numerous thrilling and meticulously choreographed action set pieces that are all wonderfully complimented by Daniel Pemberton's lively score and a soundtrack of absolute bangers that drop at just the right time. Santos, Powers, and Thompson fuse music with animation in ways that would make Walt Disney proud. But what makes this sequel such a rousing success is how it never loses sight of its characters and the captivating family dynamic at the very heart of all the chaos. This is still a simple story of a young man finding his place in the world, even if it's taking place across multiple universes.

One could go on and on and on about this unbelievably brilliant film, but it's best to just find the biggest screen possible and enjoy it for yourself. Spider-Man: Across the Spider-Verse achieves the impossible and delivers a sequel that's as equally a true masterpiece as its predecessor. It honours everything that came before yet still pushes towards offering something bigger, bolder, and more emotionally effective. It entertains as much as it impresses. It makes you laugh as it makes you cry. It will take your breath away again and again and again. And it will have you yearning for more to come.





Distributor: Sony Pictures
Cast: Shameik Moore, Hailee Steinfeld, Brian Tyree Henry, Luna Lauren Velez, Jake Johnson, Jason Schwartzman, Issa Rae, Karan Soni, Daniel Kaluuya, Oscar Isaac
Directors: Joaquim Dos Santos, Kemp Powers, Justin K. Thompson
Producers: Avi Arad, Amy Pascal, Phil Lord, Christopher Miller, Christina Steinberg
Screenplay: Phil Lord, Christopher Miller, David Callaham
Production Design: Kevin Aymeric, Patrick O'Keefe
Costume Designer: Brooklyn El-Omar
Editor: Mike Andrews
Music: Daniel Pemberton
Running Time: 140 minutes
Release Date: 1st June 2023 (Australia)