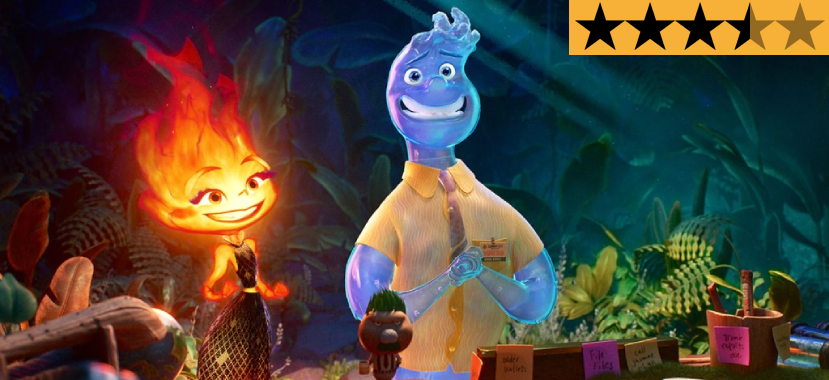 16 Jun

REVIEW – 'Elemental' is a captivating portrait of love overcoming insurmountable odds

From Snow White and the Seven Dwarfs and Cinderella to The Little Mermaid and Beauty and the Beast, love stories have been a staple of the animation genre ever since The Prince awoke Snow White with true love's kiss. However, Pixar has never been an animation studio that follows tradition. While they'd dabbled with romantic elements in films like WALL-E, Toy Story 4, Ratatouille, and, of course, the heart-shattering first ten minutes of Up, they've never delivered something one would inherently call a true romance film…until now.

While Elemental may not quite have the gravitas or poignancy of Pixar's finest works and treads similar ground to that of Zootopia, it's still a gorgeous love story likely to leave you with tears flowing freely from your eyes. A beautifully animated and undeniably pertinent parable for the immigrant experience, it's a reminder of the importance (and difficulties) of blazing your own trail and the weight of generational responsibility. But, above all things, it's a captivating portrait of love overcoming insurmountable odds.

The film is set in the fictional town of Element City; a bustling metropolis populated by the four different elements of water, air, earth, and fire. The city was founded by the first three elements, leaving the fire residents feeling like second-class citizens and relegated to living in the slum-like section of the city known as Fire Town. It's here we meet Bernie Lumen (Ronnie Del Carmen) and his wife, Cinder (Shila Ommi), who have just immigrated to Element City in search of a new life.

After Cinder gives birth to their daughter, Ember (Leah Lewis), Bernie opens a convenience store called "The Fireplace" selling all manner of fire-related products. As Ember grows, Bernie begins to teach his daughter the ways of running a shop in the hopes that one day she will inherit the family business. But as Ember reaches young adulthood and Bernie begins to yearn for retirement, her fiery temper in the face of frustrating customers suggests that she may not be ready to take over just yet.

Ember's desires for her future clearly do not involve business ownership but she feels she must obey Bernie's wishes. When one of her outbursts causes a heatwave blast to burst a pipe in the basement, water begins to rush into the shop, as does Wade Ripple (Mamoudou Athie), an overly emotional and beamingly optimistic water element working as a safety inspector who immediately starts assessing The Fireplace for defects.

When Wade has no choice but to hit Ember with a bunch of violations and the likely shutdown of her father's business, she begs him to reconsider. Taking pity on Ember's clear devotion to her ageing dad, Wade offers her the opportunity to appeal the convictions at the safety headquarters deep in the heart of Element City. As the two opposite elements head off on a journey together, an unexpected connection begins to form between this seemingly incompatible pairing.

Based on director Peter Sohn's own experiences as the child of Korean immigrant parents who opened a grocery store in the Bronx in the early 1970s, this is clearly a deeply personal project for the filmmaker. The parable is far from subtle and maybe a touch heavy-handed at times, but it's one that's arriving at a time when division and xenophobia are permeating America, so its pertinency is hard to ignore.

Working with screenwriters John Hoberg, Kat Likkel, and Brenda Hsueh, Sohn taps into the unique pressure children of immigrants feel to honour their parents' sacrifices and kowtow to the often misguided expectation that the only way to repay those sacrifices is following a path that's been set for them. That's especially true when a family business is involved. As was likely the case with Sohn, Ember sees her future in the world of art and has no idea how to tell her parents who she presumes will disapprove. But Elemental wisely highlights the follies that occur when neither party is being honest with the other.

While Sohn is confident enough to tackle heady issues like racism, classism, and xenophobia, the real heart of Elemental lies with the "opposites attract" love story of two souls who seemingly have nothing in common. The biggest obstacle in Ember and Wade's path is the inability to touch out of fear he will be instantly evaporated, allowing their relationship to grow organically through their burgeoning emotional connection rather than anything physical. What begins as an unlikely duo embarking on a forced quest together quickly becomes something deeper and rather fateful.

Naturally, it's not all smooth sailing. Wade has lived a life of privilege with openly supportive parents (the typically fabulous Catherine O'Hara is a hoot as Wade's adoring mother, Brooke) and can't help but push Ember also to follow her dreams. But, as a water element, Wade has come from a life of privilege and can't empathise with Ember's wildly different upbringing. As Wade encourages Ember to find her own voice, she's opening his eyes to the experiences of those less fortunate. Yes, it's that age-old story of a mismatched couple changing each other for the better, but it's written so eloquently.

It's pleasing to see Pixar has avoided the usual temptation of casting big-name actors in the lead roles. The relatively unknown Lewis and Athie are the perfect choices for these two incredibly lovable characters. Lewis deftly captures Ember's frustration at being caught between her loyalty to her family and her desire to find her own place in the world. Athie offers such endless warmth and positivity to Wade that makes him one of the most endearing Pixar protagonists in years. Their gorgeous chemistry is a delight and truly sells what easily could have been an uninspiring romance.

The Pixar animators really had their work cut out for them in creating two characters entirely comprised of photorealistic fire and water; both notoriously difficult substances to animate. But, as expected, they handle such a task with aplomb and the constantly flowing and evolving character designs of Ember and Wade are beautiful creations. The fact that both their internal bodies are comprised of moving materials is a herculean mission for an animation team and one that only Pixar could achieve with such flawless precision.

Sohn and the animators utilise a stunning colour palette filled with blues, greens, and oranges, creating a visual aesthetic that leaps off the screen. While the world of Element City does feel very reminiscent of the sprawling conurbation of Zootopia, it's beautifully designed with endless details in the intricacies of constructing a city purposely crafted to favour certain elements. The juxtaposition of the dark and gritty Fire Town compared to the bright and vibrant colours found in the downtown area highlights the disparity between the classes, creating something that says so much with visuals alone.

Elemental feels like Pixar is getting its groove back. This is what they do best; original storytelling that feels entirely human while existing in a world that's anything but. It's also hugely satisfying to see the animation studio challenging itself to craft its very first romantic narrative and succeed so spectacularly. There's an old-fashioned charm to this film that plays to the strengths of classic animated love stories, while also having plenty to teach along the way. Wonderfully entertaining, deceptively emotional, and beautifully crafted, it's a real winner.





Distributor: Disney
Cast: Leah Lewis, Mamoudou Athie, Ronnie Del Carmen, Shila Ommi, Wendi McLendon-Covey, Catherine O'Hara, Mason Wertheimer, Ronobir Lahiri
Director: Peter Sohn
Producer: Denise Ream
Screenplay: John Hoberg, Kat Likkel, Brenda Hsueh
Directors of Photography: David Juan Bianchi, Jean-Claude Kalache
Production Design: Don Shank
Editor: Stephen Schaffer
Music: Thomas Newman
Running Time: 102 minutes
Release Date: 15th June 2023 (Australia)