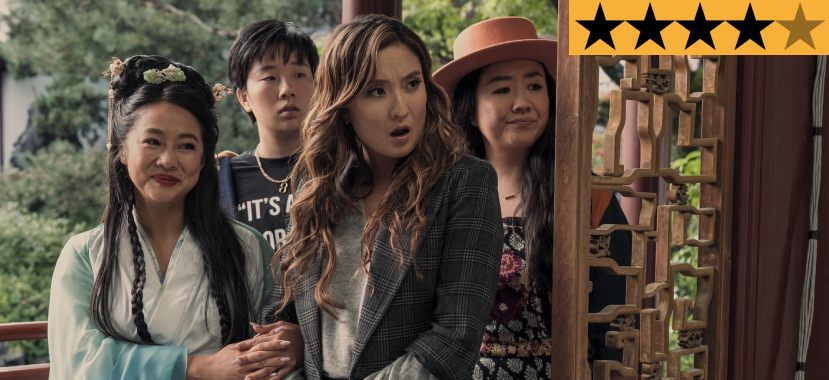 05 Jul

REVIEW – 'Joy Ride' is a raunchy, rowdy, and uproariously funny good time

After experiencing the raunchy, rowdy, and uproariously funny good time that is Joy Ride, you wish the studio had the balls to release the film under its original working title, The Joy Fuck Club. It's far more befitting of a film that truly gives zero fucks and once again proves that female-led R-rated comedies can be just as outlandish, debaucherous, and boundary-pushing as anything men can dish up.

In what may just be the funniest film of the year, you'll find all manner of wild escapades and dirty jokes but also a good dose of heart and humanity on this mad-cap voyage of self-discovery centred on four instantly loveable gal pals. Perfectly cast and crafted with the kind of "anything goes" spirit that's rather palpable, it's a film that smashes stereotypes and continues to push the long-overdue Asian representation on the big screen while offering its audience a chance to laugh their asses off.

The film centres on the yin-yang friendship duo of Audrey (Ashley Park) and Lolo (Sherry Cola), who became loyal companions after Audrey's adoptive parents Joe and Mary (David Denman and Annie Mumolo) pushed them together given they are the only two Asian kids in the aptly named White Falls, Washington. While the fastidious Audrey devoted her school years to her academic pursuits, Lolo was punching kids in the face and breaking all the rules.

Flash forward 25 years and Audrey is now a successful corporate lawyer on the verge of closing a huge deal and a possible cushy promotion, while Lolo is living in Audrey's guest house and attempting to launch a career as an experimental sculpturist with a knack for turning everyday objects into sexually suggestive pieces. After lying to her boss (Timothy Simmons) about her Mandarin fluency, Audrey enlists Lolo to accompany her on a trip to China as her "translator" to help secure the contract with rich Beijing playboy Chao (Ronny Chieng).

Despite the protestations of Audrey, Lolo has also invited her eccentric non-binary K-Pop-loving cousin, Deadeye (Sabrina Wu) to tag along for the voyage. Once the trio arrive, they meet up with Audrey's best friend from college, Kat (Stephanie Hsu), who moved to Beijing to become an actress and is now somewhat of a national icon thanks to her starring role on a local soap opera and her whirlwind romance with the show's gorgeous leading man, Clarance (Desmond Chiam).

Naturally, nothing goes according to Audrey's perfectly orchestrated plan. After a disastrous drunken nightclub incident with Chao, Audrey reluctantly agrees to track down her birth mother in a desperate bid to impress the firm's lucrative potential client. That leads this quartet on a wild road trip that will include a run-in with an American drug mule, a dalliance with a hunky basketball team, and an attempt to masquerade as a K-Pop girl group, all on Audrey's unexpected journey of discovering her roots and identity.

Much like similarly-framed "women behaving badly" films like Bridesmaids, Girls Trip, and the terribly underrated Rough Night, Joy Ride needs a fully committed ensemble to truly succeed. Director Adele Lim strikes absolute gold with the winning combination of Park, Cola, Wu, and Hsu. While each character is completely unique and wildly different from the other, their chemistry is earnest and natural, particularly Park and Cola who truly feel like they've been friends for years. The bitchy rivalry between Hsu and Cola as Audrey's duelling BFFs is a riot, feeling completely reminiscent of what Kristen Wiig and Rose Byrne crafted in Bridesmaids.

After scene-stealing supporting turns in TV shows like Emily In Paris, Beef, Girls5eva, and her upcoming spot on Only Murders in the Building, Park is finally given the leading role she deserves. It's an opportunity she doesn't waste. Audrey begins the film as the uptight "straight woman" but soon loosens up and starts to go rather wild. Park throws herself into every comedic situation with such impressive gusto, especially a hysterical sequence involving the manic consumption and, er, insertion of copious amounts of drugs. But Park is also offered the film's most poignant moments as she deftly tackles Audrey's disconnection from her Chinese heritage and the identity crisis she's clearly spent years trying to avoid.

Stand-up comedian Cola is the perfect choice for the outlandish Lolo whose sexually-liberated soul and carefree outlook on life is the perfect juxtaposition for the straight-laced Audrey. Unlike her three compatriots, Lolo knows exactly who she is and is never once pretending to be anything she's not. The same can't be said for Kat who's so desperate to uphold an image of perfection that she's lying to her deeply Christian fiance about her wild past including a tattoo in a place you'll never guess. Much like her Oscar-nominated work in Everything Everywhere All at Once, Hsu knocks it out of the park and stamps her claim as a huge star in the making.

But the real focus-stealer proves to be the sublime Wu as the painfully awkward cousin with a heart of true gold. Wu is given the film's best jokes and nails it as the terribly naïve but undeniably sweet outsider whose clearly thrilled to finally have some friends in the real world. Lim is wise to never exploit Deadeye's gender non-conformity but utilise it to highlight this endearing character's own identity journey and quest for kindred spirits who understand them.

It's best to leave this film's most outrageous moments for you to discover on your own. Suffice to say, Lim and screenwriters Cherry Chevapravatdumrong and Teresa Hsiao pull few punches in crafting some of the most debaucherous scenes we've seen in a comedy for some time. All four actors are seemingly quite adept at both verbal and physical comedy and Lee takes full advantage with plenty of slapstick humour and laugh-out-loud jokes that may not always land but you'll be too busy having a great time to notice.

Where Joy Ride truly excels is Lim's commitment to exploring the idea of cultural identity, namely Audrey's complex inner conflict that comes from being an Asian child raised by adoptive white parents in an ultra-white environment. There's a concerted effort to offer more than just silly humour and excessive set pieces by grounding the film in a subplot that will be entirely familiar to those who share Audrey's experiences.

Unapologetically uninhibited and deliciously entertaining, Joy Ride is a provocative and surprising breath of fresh air. It's terrific to see yet another Asian-led piece of Hollywood cinema break down barriers and subvert expectations to showcase why such representation matters. But, just as importantly, it's a bloody hilarious film with an intoxicating energy and a cheeky spirit that's hard to resist with a quartet of actors who all completely shine as a ragtag group of friends you'd love to travel (and party) with.





Distributor: Roadshow
Cast: Ashley Park, Sherry Cola, Stephanie Hsu, Sabrina Wu, Ronny Chieng, David Denman, Annie Mumolo, Timothy Simmons
Director: Adele Lim
Producer: Seth Rogen, Evan Goldberg, James Weaver, Josh Fagen, Cherry Chevapravatdumrong, Teresa Hsiao, Adele Lim
Screenplay: Cherry Chevapravatdumrong, Teresa Hsiao
Director of Photography: Paul Yee
Production Design: Michael Norman Wong
Costume Design: Beverley Huynh
Editor: Nena Erb
Music: Nathan Matthew David
Running Time: 95 minutes
Release Date: 6th July 2023 (Australia)