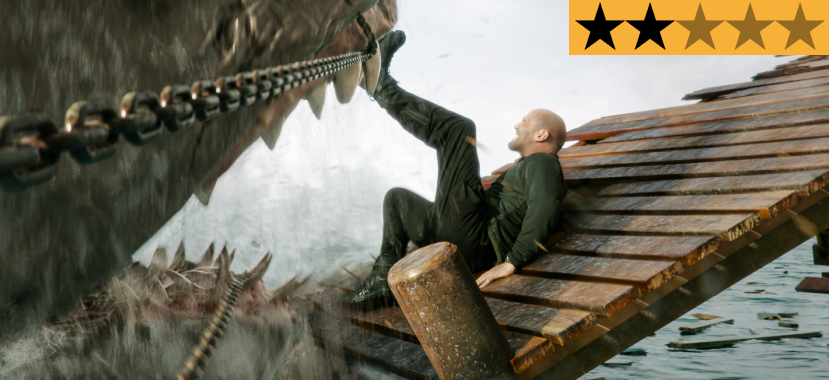 04 Aug

REVIEW – 'Meg 2: The Trench' once again fails to take advantage of its outlandish premise

If you're like me, you probably weren't aware that 2018's The Meg somehow managed to swim away with $530 million at the worldwide box office; a number barely a handful of titles manage to achieve in the post-COVID era. For a setup that held such great promise, many felt let down by the film's bizarrely serious tone and lack of bloody mayhem. Now the inevitable sequel has arrived, and, frustratingly, it's a follow-up that once again fails to take advantage of its outlandish premise.

Another strangely bloodless affair that's beset by endless exposition and a convoluted plot that takes an eternity to wade through, Meg 2: The Trench focuses far too much on the latter part of that title when all you really came for is the titular creature. While there's giddy fun to be found in its closing act, you may have already checked out by the time this film finally arrives at the big bite promised in its rather misleading trailers.

As we rejoin the grizzly Jonas Taylor (Jason Statham), it seems the rescue diver has hung up his flippers in exchange for a life as a vigilante eco-warrior intent on dishing out justice to those polluting the world's oceans. Returning to dry land on China's island province of Hainan, Jonas drops by the Oceanic Institute, the newly formed marine research corporation headed by Jiuming Zhang (Wu Jing), son of the previous film's departed Minway and uncle to the recently orphaned Meiying (Sophia Cai).

While the institute is still forging ahead with Minway's legacy of exploring the deepest sections of the Mariana Trench, Jiuming has also been raising Haiqi, the world's first megalodon in captivity whose been trained to respond to Jiuming's commands. When Jonas joins Jiuming, his crew, and a stowed-away Meiying on an exploratory dive into the trench, they uncover a secret base that appears to be mining the depths for its valuable minerals.

After an unexpected explosion at the hands of the nefarious team behind the underwater mine operation, Jonas and co. find themselves trapped 6,000 metres deep in the trench with seemingly no way back to the surface. As fate would have it, the explosion also blew a hole in the thermocline of hydrogen sulphide that prevented the trench's prehistoric monsters from entering the modern world. And now two megalodons have breached the thermocline along with a gargantuan octopus and a hoard of amphibian dinosaurs.

If you've seen the trailer, you know the ginormous sharks, their new mollusc friend, and the carnivorous lizards unleash all sorts of murderous chaos on a seaside resort fittingly named "Fun Island." Unfortunately, practically every single frame from those outrageous previews takes place in the final 20 minutes of a film that exhaustingly stretches on for almost two hours. What precedes it hasn't learnt a thing from the obvious foibles of its predecessor.

Director Ben Wheatley falls into the same trap of strangely refusing to focus on the big beasties the audience came to see. Instead, we're subjected to a narrative that gives far too much importance to the dull, one-dimensional human characters and a pointless subplot involving a moustache-twirling villain and a getaway from an underwater lair that could have been solved in mere minutes so the real fun can begin.

Much of Meg 2: The Trench feels like any other generic action flick where a group of souls are trapped in a seemingly inescapable situation. And, if that's what the movie is being marketed as, that's entirely fine But you'd be hard-pressed to find many who came to this film expecting to see an extended sequence featuring people walking along a seabed followed by a lengthy Macguyver-style escape plan to return to the dry land; something one of the villainous characters manages to achieve in literal seconds.

Throughout all of this, deadly sea creatures lurk in the murky shadows but remain completely uninterested in the tasty humans for some inexplicable reason. For what felt like a good half hour, you don't even see so much as a fine or tentacle. It's a monster movie where the monsters are bafflingly sidelined for the majority of the proceedings. It's a blessing that returning players Cliff Curtis and Page Kennedy are on hand to provide some much-needed levity throughout the bland first two acts.

That being said, the final chapter completely embraces the outrageousness of its plot when the sharks and octopus finally get to take centre stage and gulp up dozens of the hapless Fun Island vacationers. While the restriction of this franchise's insistence on sticking to a PG-13 rating stops these events from being something in the same wheelhouse as the gloriously gory Cocaine Bear, the megs devour plenty more victims than in the predecessor. Rest easy, dog lovers. One of them is not Pippin the Yorkie.

When he's given the opportunity, Wheatley knows how to craft a glorious monster mayhem sequence. You can't deny it's tremendously fun to watch the sharks swallow numerous humans in one efficient gulp. Or witness the sight of a giant cephalopod picking off one target at a time with its tentacles. And, naturally, the beasts even come to blows amongst themselves a few times. But the pièce de résistance is a POV shot from inside one of the shark's mouths, as it devours a good dozen people at once and swallows them alive. It's a chef's kiss in a film that could have used a few more similar moments of campy brilliance.

If nothing else, the final moments will send audiences out on a high, especially once Statham starts to despatch each shark with little more than his bare hands, a few harpoons, and a jetski. It's just a mighty shame it takes so damn long to get to this point before it's all hastily over until the third film that may be on the horizon if this sequel can elicit enough dollars. Maybe that one will understand its boundless potential better than this disappointingly flat sequel does.





Distributor: Warner Bros.
Cast: Jason Statham, Wu Jing, Sophia Cai, Page Kennedy, Sergio Peris-Mencheta, Skyler Samuels, Cliff Curtis
Director: Ben Wheatley
Producer: Lorenzo di Bonaventura, Belle Avery
Screenplay: Jon Hoeber, Erich Hoeber, Dean Georgaris
Cinematography: Haris Zambarloukos
Production Design: Chris Lowe
Costume Design: Lindsay Pugh
Editor: Jonathan Amos
Music: Harry Gregson-Williams
Running Time: 116 minutes
Release Date: 3rd August 2023 (Australia)