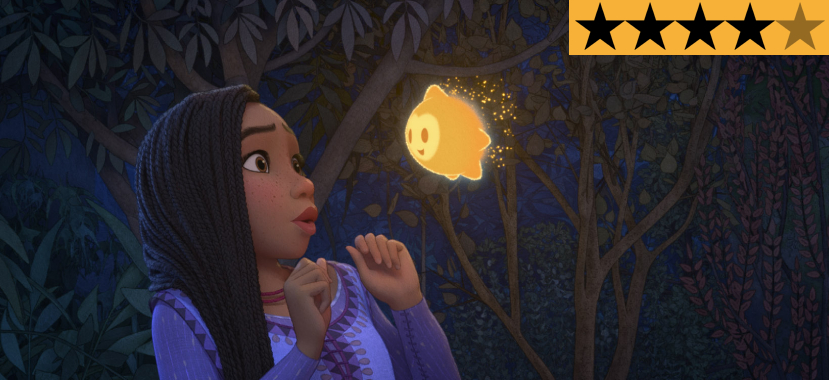 18 Nov

REVIEW – 'Wish' is the kind of animated delight that would make Walt proud

As their expansive year-long Disney 100 celebration finally begins to wind down, Walt Disney Animation Studios is set to deliver their 62nd feature-length animated feature almost nine decades after Snow White and the Seven Dwarfs began one of the most enduring legacies in the history of cinema. Standing as a loving tribute to everything that makes Disney animation so uniquely magical, Wish is a beautiful gem. A wondrous throwback to classic animated musicals of the past, this is easily the best family film of the season.

Through the use of that old Disney tradition of a lively opening musical number, we're introduced to the mythical island kingdom of Rosas, a utopian society established by the charismatic King Magnifico (Chris Pine) that welcomes lost souls from all around the world. One such inhabitant is Asha (a perfectly cast Ariana DeBose), a wide-eyed 17-year-old anxiously preparing for her interview with the king to hopefully land the coveted role as his sorcerer's apprentice. For, you see, Magnifico is no ordinary ruler.

After a dark tragedy in his youth, Magnifico learned the mystical arts to become a powerful wizard capable of granting wishes to those he deems worthy. On their 18th birthday, the citizens of Rosa each make a wish before Magnifico which vanishes from their memory into bubbles for their king to keep safe in his imposing tower. Each month, Magnifico selects one lucky resident to have their wish fulfilled. And, this month, Asha is hoping her beloved 100-year-old grandfather, Sabino (Victor Garber) will be the chosen one.

But that all changes when Asha learns the truth behind Magnifico's selection process and his true intentions for everyone's wishes. Desperate for help to overcome Magnifico's nefarious plans, Asha follows her late father's advice to "wish upon a star," leading to a magical ball of boundless energy called Star floating down to Earth. With Star's magic and the support of her trusty (and, thanks to a sprinkle of stardust, anthropomorphic) pet goat, Valentino (Alan Tudyk), Asha must find the strength to defeat Magnifco and save her beloved town.

It's entirely fitting Wish is being released in conjunction with Disney's 100th anniversary; something that has been plastered everywhere since the beginning of 2023. It's the very culmination of everything Disney and its adoring fanbase have been celebrating this year and the kind of animated delight that would make Walt proud. While that does mean it's a touch conceptionally familiar to numerous other Disney animated films, it's a golden formula that has served this studio well for several generations now. If it ain't broke, don't fix it.

That's not to suggest Wish is nothing more than a tedious nostalgia fest that does little but regurgitate the past. Far from it. Sure, it's dotted with numerous Easter eggs and references that will delight Disney aficionados. The film begins with a storybook opening its pages ala classics like Sleeping Beauty and Cinderella. The very notion of wishing upon a star is obviously a nod to Pinocchio. Asha has a group of seven friends who each share a characteristic and colour palette with Snow White's seven dwarfs. Magnifico's lair features a familiar-looking poisonous apple. And cute sidekicks, a dastardly villain, and a cavalcade of catchy original songs are the very cornerstones of every Disney classic.

Ultimately, this is how you create an homage that pays deep respect to what's come before rather than just lazily rehash it. But it's the stunning visual aesthetic of Wish that really brings back those memories of Disney animated films of yesteryear. While it's not entirely a return to traditional 2D "hand-drawn" animation, it's the closest we're going to get; something thought seemingly impossible in an age where 3D photorealistic animation dominates the industry. It's hugely refreshing to see Disney try something different after years of animated films that all looked marvellous but mostly similar in style.

By blending modern computer animation with Disney's classic watercolour art and hand-drawn style artistry, the animators have crafted something wildly unique and extremely impressive. Every frame exudes a lush storybook quality with highly detailed yet often completely static backgrounds much like the tapestry-esque work found in Sleeping Beauty. The character design is typically flawless, particularly the adorable Star and the instantly loveable Valentino. And the striking colour palette offers lashings of deep purples and greens juxtaposed with vibrant yellows and aquas. It all truly feels like something created during Disney's Silver Age of the 1950s and 60s.

Modern Disney animation has always strived to offer female protagonists who are searching for more than just a man to rescue them. Much like Elsa, Moana, and Mirabel, Asha is not on the hunt for a handsome prince to make her life complete. She's an independent soul striving to find her inner strength and purpose in life. The luminous DeBose finds Asha's big heart with a terrific voiceover turn that captures both the teenager's self-doubt and fiery determination to create a new fully-dimensional and complex Disney heroine that young ones will (and should) immediately emulate.

The always charming Pine is a wonderful choice to bring the narcissistic and arrogant King Magnifico to life. After avoiding offering a genuinely evil villain for well over a decade, it's a thrill to see Disney deliver a maniacal baddie who isn't "misunderstood" or redeemable in any way. He's bad, full stop. Pine completely runs with the task, tapping into Magnifico's smug quest for power with terrific gusto. Tudyk continues to stake his claim as the modern-day Sterling Holloway with another stellar voice creation. But it's Evan Peters who almost steals the entire film with an empathetic turn as the Sleepy-inspired, lovable giant Simon.

DeBose is blessed with several sweeping songs, written by Julia Michaels and Benjamin Rice, that take full advantage of her gorgeous voice, particularly Asha's obligatory "I Want" song, "This Wish." Pine gets in on the act with his spirited villain's song, "This Is the Thanks I Get?!" And that aforementioned bright and bouncy opening number "Welcome to Rosas" is the perfect way to introduce a whole stack of exposition in a short amount of time. It's all underscored by Dave Metzger's marvellous original score that utilises castanets, Spanish guitars, and finger cymbals that perfectly match the Mediterranean setting. Metzger also subtlety incorporates elements of Pinocchio's "When You Wish Upon a Star" into his score to match the film's nostalgic vibe.

Written by Jennifer Lee and Allison Moore, there's an undercurrent to the screenplay that lightly touches upon the pertinent notion of refugees being taken in by a sociopathic ruler who promises the world in order to fulfil his selfish goal. It's not preachy or "woke" and kids likely won't even notice, but it's inescapable this film is admirably attempting to provide some semblance of social commentary. There's naturally a familiarity to the narrative of Asha's voyage of self-discovery that echoes through many Disney films. Regardless, it's no less moving to watch this intelligent young woman find her place in the world and prove that wishes are nothing unless you have the will to make them come true yourself.

If Wish sought nothing more than to honour Disney's heritage, it achieves this goal in spades, especially a sweet stylistic choice in the closing credits you will want to stick around for. Thankfully, this animated treasure is wise enough to still stand on its own two feet as another remarkable and original achievement for a studio whose history is littered with genuine masterpieces. This is a Disney classic in the making and one that will surely stand the test of time.





Distributor: Disney
Cast: Ariana DeBose, Chris Pine, Alan Tudyk, Angelique Cabral, Victor Garber, Natasha Rothwell, Jennifer Kumiyama, Harvey Guillén, Evan Peters, Ramy Youssef, Jon Rudnitsky
Directors: Chris Buck, Fawn Veerasunthorn
Producers: Peter Del Vecho, Juan Pablo Reyes Lancaster-Jones
Screenplay: Jennifer Lee, Allison Moore
Cinematography: Rob Dressel
Production Design: Michael Giaimo
Music: Dave Metzger
Editor: Jeff Draheim
Running Time: 95 minutes
Release Date: 22nd November 2023 (US), 26th December 2023 (Australia)