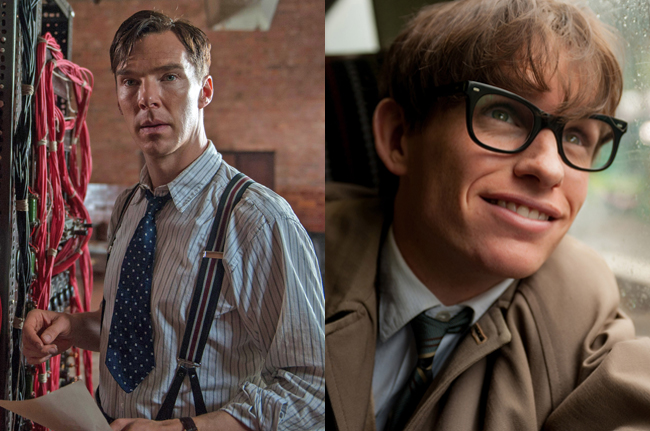 21 Feb

The case for and against 'The Imitation Game' and 'The Theory of Everything'

Now before anyone starts calling me lazy for combining these two films into one post, let me explain. As I was writing the points for both The Imitation Game and The Theory of Everything, I realised that they had almost identical reasons for why they will and won't win Best Picture. It seemed redundant to repeat myself in a separate post for each, so here we are with a combined result. Two critically acclaimed British films starring four critically acclaimed British actors. Can the Academy Awards possibly resist?

Why it could win Best Picture:

History is on their side. Biopics. The Academy Awards just can't help but love them, and they tend to fall over themselves to award them. For actors, the easiest way to win an Oscar is to portray a real-life person. In the last 11 years, Best Actor has gone to a real-life portrayal eight times and Best Actress seven times. Biographical films do just as well at nabbing Best Picture. Just a small sampling – 12 Years a Slave, The King's Speech, Argo, A Beautiful Mind, Titanic, Schindler's List, Gandhi. That statistic obviously favours the biopics in this year's race, but even more so for the two British nominees The Imitation Game and The Theory of Everything. You see, the Academy also loves to award films from across the pond. Another small sampling – The King's Speech, Slumdog Millionaire, The English Patient, Shakespeare in Love. If there is voter fatigue due to the whole Boyhood vs Birdman saga, voters could very easily fall back on an old tradition and just give it to one of these biography films. It's an easy vote, and it's one that many could choose to make.

Nominations in all the right places. There was an outpouring of love for both these films across all the major categories, and as I've said before, you just can't win Best Picture without such a thing. The Imitation Game received the second largest number of nominations this year with eight, a number bigger than Boyhood. It shocked all Oscar pundits to see its director Morten Tyldum sneak into the directing race, taking the spot of presumed nominees like Clint Eastwood or Ava DuVernay. It holds that all-important nomination for Editing, it grabbed two acting nominations, and it's highly likely to take home Adapted Screenplay0. Meanwhile, The Theory of Everything is lacking that Editing nom, but it is likely to take Score and Actor, and as we know, the winner of Picture usually nabs an acting prize as well. It's clear the voters loved both these films, and that love may just flow over into the major race for Best Picture.

The Harvey factor. Okay, this one is exclusively for The Imitation Game, and it's a big one. Harvey Weinstein is virtually a demigod of Oscar campaigning. He's the man who lead the campaign behind Shakespeare in Love and Gwyneth Paltrow's shock victories in 1999. He managed to secure a Best Picture nomination for Chocolat, despite relatively luke-warm critical response to the film. In 2003, he was involved in four of the five Best Picture nominees (Gangs of New York, Chicago, The Hours, and The Lord of the Rings: The Two Towers). And most recently, he's been behind the winning campaigns of The Artist, Silver Linings Playbook and The Iron Lady. Basically, if Harvey has your back, you have a damn good chance of claiming the prize. And just who is he backing this year? The Imitation Game. It's never wise to bet against the man who campaigns like no one else in Hollywood. In saying that, Eddie Redmayne is also campaign his ass off for The Theory of Everything, and that man is as charming as they come.

Why it won't win Best Picture:

Nothing more than a Movie of the Week. That's been the biggest criticism thrown the way of both The Imitation Game and The Theory of Everything, and a large part of the smear campaign against both films. Basically, the point trying to be made is that both these films could have been produced as mere tele-movies (which given the quality of television nowdays is hardly an insult) and aren't exactly "cinematic". Those kinds of stories being told in these two films belong somewhere like Masterpiece Theatre, not at the Oscars. There's not a lot of substance and grit to either film. The Theory of Everything can't decide if it's a romance piece about Stephen and Jane Hawking or a biography of how Hawking came to write his game-changing novel. The Imitation Game suffers a similar fate, in that it muddles about showing various stages of Alan Turing's life, but never delves quite deeply enough into any one particular time period. Neither has the gravitas of a Best Picture winner.

Acting showcases only. Let's be honest. Both films are really just about showcasing a couple of brilliant pieces of acting, and it could be ultimately said they are just there as vehicles for its stars to win the individual prizes. The Imitation Game shows us something we were already well aware of – Benedict Cumberbatch is one of the finest actors working today. It's a shame the acting race is so crowded this year. Any other year, and he'd likely be a shoe-in. The film is also a perfect showcase for the underrated talents of Keira Knightley. How that woman hasn't won an Oscar yet is beyond me. Similarly, The Theory of Everything is ultimately about one truly brilliant performance that is very likely going to walk away with Lead Actor. Yes, Felicity Jones is also quite good, but it's all about Eddie Redmayne. Are either of these films really about delivering an overall brilliant film? Aren't they really just another chance to show off how amazing British actors are, or more accurately, how amazing they are compared to their American counterparts?

No precursor wins. This is a pretty simple one. There have been no significant Picture wins by either of these films at any of the precursor awards. Sure, The Theory of Everything took out Best British Film…but once upon a time, so did a Wallace & Gromit film, so that's hardly saying much. If you want to take out the Oscar, you have to take home at least something along the way to the big night. It's not impossible, but it's fairly implausible, even for British films.

Is the tradition of big British films taking home Best Picture set to continue? Can the stellar acting performances of some of Britain's finest be enough to carry their films to the bigger prize? Am I actually predicting one of these two films to win Best Picture?