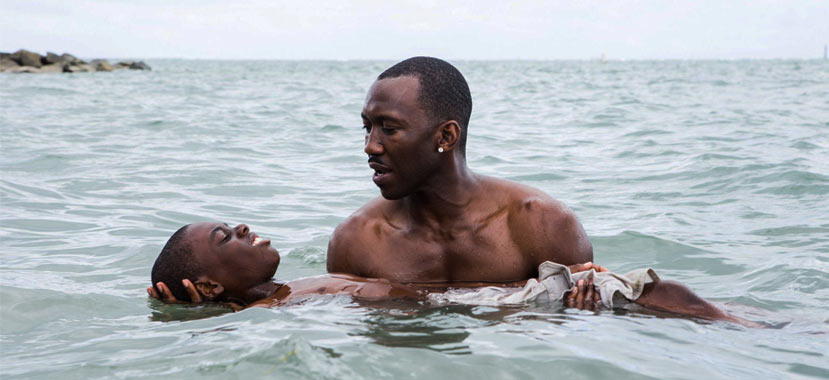 03 Mar

THE BEST PICTURE PROJECT – 'Moonlight' (2016)

In 2017, the 89th Academy Awards ceremony was held at the Dolby Theatre in Los Angeles. Honouring the films released between January 1, 2016, and December 31, 2016, the awards were held on February 26. The ceremony was hosted by late-night talk show host Jimmy Kimmel for the first time.

After two straight years of backlash over the lack of diversity in their nominations, the days of #OscarsSoWhite were at an end, with a decidedly diverse range of nominees this year. For the first time in Oscars history, each acting category featured black performers, with a record-breaking three black women nominated in the Best Supporting Actress category and three black screenwriters nominated in the Best Adapted Screenplay category. For the fourth time in Oscars history, a black filmmaker was nominated in the Best Director category, with Barry Jenkins nominated for Moonlight.

Bradford Young became the first African-American to be nominated for Best Cinematography for his work on Arrival. Joi McMillion became the first African-American woman to be nominated for Best Film Editing for her work on Moonlight. Ava DuVernay became the first African-American woman to be nominated for Best Documentary Feature for her film 13th. For the first time in Oscars history, four of the five directors nominated in the Best Documentary Feature category were black filmmakers.

With her nomination for Best Supporting Actress for Fences, Viola Davis became the first African-American actress to receive three Academy Award nominations. When she won the category, she became the first African-American performer to win the "Triple Crown of Acting" i.e. winning an Emmy, Tony and Oscar for acting. With her nomination for Best Supporting Actress for Hidden Figures, Octavia Spencer became the first African-American actress to receive an Academy Award nomination after previously winning.

With his win for Best Supporting Actor for Moonlight, Mahershala Ali became the first Muslim actor to win an Academy Award. With his win for Best Director for La La Land, at age 32, Damien Chazelle became the youngest person ever to win this category. This year also marked the first time since 1998 that all four acting winners were American-born.

In perhaps the most embarrassing and shocking moment in the history of the Academy Awards, the wrong film was announced as Best Picture. Presenters Warren Beatty and Faye Dunaway were given the backup Best Actress envelope (two envelopes for each category are made and one is kept on either side of the stage) by mistake, and when Beatty opened the envelope, he wasn't quite sure what to do. After hesitating and pausing, which many thought was an attempt at a gag to draw out the announcement, he showed the envelope to Dunaway. She glanced at it and, upon only seeing the film under Emma Stone's name, announced La La Land the winner.

There was just one small problem – Moonlight had actually won Best Picture. After more than two minutes, in which time two of the La La Land producers gave their acceptance speeches, crew members came rushing to the stage, fumbled about with the envelopes, and realised there was a mistake. It was left to La La Land producer Jordan Horowitz to step to the microphone, announcing "Guys, guys. I'm sorry. No. There's a mistake. Moonlight – you guys won Best Picture. This is not a joke."

The announcement was met with absolute shock and confusion from the audience, including the team from Moonlight, and was only confirmed when Horowitz took the correct Best Picture card from Beatty's hand and showed it to the audience (and a perfect camera shot) as absolute proof of the error. In a showing of great humility amongst what would have been bitter disappointment, Horowitz remained on-stage, embraced a stunned Barry Jenkins, and presented the Oscar statuette in his hands to Moonlight producer Jeremy Kleiner.

Leading the way this year with 14 nominations was Chazelle's musical spectacle La La Land, tying the film with All About Eve and Titanic for the most nominations in Oscars history. Despite winning six awards including Best Director for Chazelle, Best Actress for Stone and Best Cinematography, the film failed to win the big one, setting a new record for the most nominations for a film which did not win Best Picture.

The night ultimately belonged to Moonlight, which took home three Academy Awards for Best Picture, Best Supporting Actor for Ali, and Best Adapted Screenplay. With her win for producing the film, Dede Gardner became the first woman to win two Academy Awards for Best Picture, after her previous win for 12 Years a Slave. Moonlight became the first film with an all-black cast and the first LGBT-themed film to win Best Picture.

The nominees:
Arrival
Fences
Hacksaw Ridge
Hell or High Water
Hidden Figures
La La Land
Lion
Manchester by the Sea
Moonlight


The winner:
Moonlight

Based on Tarell Alvin McCraney's unproduced play In Moonlight Black Boys Look Blue, Moonlight is the coming-of-age story of one man's struggle with his sexuality and identity. A young, African-American man (played by Alex Hibbert, Ashton Sanders, and Trevante Rhodes) deals with his dysfunctional home life and comes of age in Miami during the "War on Drugs" era. The story of his struggle to find himself is told across three defining chapters in his life as he experiences the ecstasy, pain, and beauty of falling in love while grappling with his own sexuality.

Why did it win?
One year on, and it's still rather unfathomable to think the Academy Awards, the 89-year-old, pre-eminent film awards ceremony, actually announced the wrong film had won Best Picture. It's a moment that will live in infamy. A moment we Oscar watchers never dreamed we'd ever see. But the bigger moment which got lost in the chaos that ultimately should have stood as the bigger surprise was 14-time nominee La La Land losing and Moonlight winning. The unfortunate announcement mistake somewhat overtook the fact one of the most unlikely Best Picture victories in Oscars history had just occurred.

There are frontrunners, and then there's something like La La Land, which, heading into Oscars ceremony, was so far out in front, it looked entirely untouchable. Sure, a few daring Oscar pundits predicted the Moonlight upset, but, deep down, even they didn't truly think it was possible. It was really more of a wishful-thinking kind of prediction than one based on facts and precursor rules. Bar one notable exception (which we'll get to shortly), La La Land had swept the precursor season like few films ever had.

During the critics award season, La La Land was awarded Best Picture with the critics groups of New York, Washington D.C, Boston, Detroit, Houston, London, and the Broadcast Film Critics Association. But it was Moonlight which ultimately won more Best Picture critics prizes, with Los Angeles, San Francisco, Toronto, Dallas, Chicago, Austin, and the National Society of Film Critics all making Moonlight their choice.

And then the Golden Globes gave us our frontrunner when La La Land won all seven categories it was nominated for, including Best Motion Picture – Comedy/Musical, Best Director, both acting categories, and a baffling win for Best Screenplay. With its seven wins, La La Land also became the most-awarded film in Globes history, breaking the previous record of six wins set by One Flew Over the Cuckoo's Nest and Midnight Express.

When La La Land won both the PGA and DGA awards, took home five BAFTAs including Best Film, and received a record-equalling 14 Academy Award nominations, it seemed the Oscar race was over. There was one glaring problem – La La Land had failed to receive a nomination for SAG Ensemble, unlike every Best Picture winner since Braveheart. Many dismissed this as an anomaly, given the film was far from an ensemble piece. In hindsight, it was a warning sign which clearly should not have been ignored.

Then the backlash started, and La La Land became the target of a tonne of mud-slinging. Some criticised the film as being dull and uninteresting, outside its impressive technical elements. Some labelled it as an example of "white saviour syndrome," in that Ryan Gosling's Seb, a white guy, was the only one trying to save jazz, a genre of music which originated in the black community. A few called it racist, given it was a film about jazz which only starred one black person.

Some even attempted to call the film homophobic for its lack of gay characters, given it was set in Los Angeles, a city filled with gay people. Both Gosling and Stone's singing and dancing were criticised as being rather amateur. The film was demonised as plagiaristic for its many homages to other movie musicals. And, of course, the fact it was winning everything left and right didn't help either.

In another case of voter exhaustion, many in the film community simply got tired of seeing La La Land being victorious at yet another awards ceremony. After this overwhelming reaction from critics and the early awards groups, many who saw the film were left confused as to where this kind of adulation was coming from, especially if they weren't huge fans of musicals. However, strangely enough, those seven Golden Globes victories proved to be somewhat of a curse for La La Land.

When La La Land swept the Globes by winning everything it was nominated for, many people were angry. They knew it would win the Comedy/Musical categories, and were fine with Chazelle taking Best Director, but winning Best Screenplay was more than people could handle, particularly over films like Moonlight and Manchester by the Sea (the eventual Best Screenplay winners at the Oscars). That placed a target squarely on the back of La La Land that only got worse with those 14 Oscar nominations.

Once Oscar voting starting, negative La La Land articles started popping up everywhere, and it became the cool thing to bemoan about the film's awards success. Headlines like "Mediocre 'musical' La La Land does not deserve to win", "La La Land: The Most Over-Hyped Oscar Favorite Ever?" and "La La Land is a terrible film, but it will win Best Picture at the Oscars anyway" were spreading across social media. Suddenly, it was unpopular to like the popular frontrunner.

So, if the backlash was beginning to damage the Oscar campaign of the once-unstoppable La La Land, why did Moonlight ultimately become the chosen alternative? Well, there's a lot of theories as to why, and obviously we'll never know for sure. Of course, the most obvious reason is that Moonlight was a brilliant film and it ultimately deserved to win. The film received widespread critical acclaim, as evident with its success with the critics' choice awards, and was widely loved by members of the film industry. It was a modern masterpiece, and it demanded to be rewarded as such.

But as we've seen over this entire The Best Picture Project journey, being a great film is not enough to win Best Picture. You need that background narrative to push the film further, and Moonlight had the key factor of importance La La Land did not. La La Land was a dazzling and entertaining piece of cinema, but its overall message of never giving up on your dreams was rather hollow and fluffy, especially by comparison to something as compelling and daring as Moonlight. In this new age of Best Picture, important films were consistently winning over technical triumphs, and that did not bode well for La La Land. Nor did the incoming of President Donald Trump.

Strangely enough, the upset victory of Donald Trump in the U.S. presidential election may have also played a huge factor in the Oscar race. When La La Land started sweeping the precursor season, Trump had won but not yet taken office. La La Land was providing a nice piece of escapism for those in Hollywood weary after Hillary Clinton's shock defeat. By the time Oscar voting actually began, Trump was in the White House, and beginning to execute his wave of new executive orders, including his highly-controversial Muslim travel ban. The mood in Hollywood quickly shifted, and suddenly, voting for something so overwhelmingly light and positive like La La Land for Best Picture didn't seem like a great idea.

La La Land was ultimately a step into the past, whereas Moonlight was contemporary and relevant to now. With the country so bluntly divided about the backwards direction the nation seemed to be heading, awarding Best Picture to anything other than something modern didn't seem to make sense anymore. Am I honestly saying if Clinton had won the U.S. presidential election, La La Land would have won Best Picture? As silly as it sounds, it's actually highly likely.

What also boosted the Best Picture campaign of Moonlight was the Academy's new members. As mentioned in last year's article, the Academy had taken steps to diversify its membership ranks by inviting more women, young people, and minorities into their exclusive group. While the Academy was still dominated by old, white men, it now had an influx of new voters who were younger and more diverse. They were not voting for La La Land. They were voting for Moonlight. Or, at the very least, it was amongst their top picks, making it a stronger candidate under the preferential system.

La La Land received more #1 votes in the first round voting, but it simply became too divisive to win the overall preferential ballot, especially after that enormous wave of backlash. Moonlight was the more passionate choice, and its supporters were extremely vocal in the last few days of voting, pushing the film as hard as they possibly could to anyone who would listen. They knew a Moonlight victory was history-making. Its win would be more important to the film industry, the black community, and the LGBTQI community.

At the end of the day, a brilliant film won because it was a brilliant film. But behind that was a perfect cocktail of timing, relevance, industry support, and the chance to make some history. The Best Picture victory of Moonlight shattered all sorts of preconceptions about the Academy Awards. The fact a film made for only $1.5 million which only grossed $65 million at the box-office, written and directed by a black filmmaker with an all-black cast and a gay-themed narrative actually won Best Picture is genuinely revolutionary.

Has its victory changed the Oscars game forever? Perhaps. Only time will really tell. And this year will certainly be very telling. Regardless, Moonlight winning Best Picture stands as a monumental moment in the history of the Academy Awards, and not just because they messed up the announcement on live television.

Did it deserve to win?
If you know me or followed my social media journey through this particular awards season, you would know how much I loved La La Land. You can heap all the criticism and backlash on it you like. It will never change my opinion of this film. I saw it seven times in cinemas. Seven. I've now seen it countless more times. At home. At other people's homes. On planes. At the Sydney Opera House with a live symphony orchestra. It's a film which I adored more than anything I can remember in recent times. Now, I know the film is far from perfect. It has some issues, like all films do. But I don't care. I love La La Land.

I'm not here to fawn over La La Land because it didn't win and that's not what this section of the article is about. But I will say that, despite the criticism, the film is a masterpiece. It's filled with so much joy and light, such wondrous music and musical numbers, amazing performances from its two leads, gorgeous cinematography, dazzling production and costume design, and such a beautiful colour palette which leaps off the screen. Chazelle's direction is nothing short of masterful. That finale sequence is truly the stuff of cinematic miracles. And that ending. Well, perhaps you haven't seen it, but if you have, you know what I'm talking about. Such a deft choice to finish the film that way. It still gets me, every single time. What a glorious piece of cinema La La Land is, and what a great Best Picture choice it could have been.

Was I devastated to see La La Land lose Best Picture? Of course, I bloody was. You can't love and admire a film so deeply and not be disappointed when it doesn't win an Academy Award. But its unstoppable frontrunner status made its loss that much more difficult to endure. In the past, my favourite film of the year has been up for Best Picture, and every single time, it has lost. Brooklyn, Boyhood, American Hustle, Hugo, The Social Network, Up. Just a few films I declared my top film of the year. And all of them are films which lost Best Picture. You can see I'm used to disappointment. But none of them were ever "supposed" to win. La La Land was.

To see your favourite contender win at PGA, DGA, BAFTA, Golden Globes, and the BFCA fills you with unrelenting hope. You're finally going to see your favourite film of the year and the Academy's choice for Best Picture join together. So, yeah. It was crushing to not see that occur. The announcement snafu just made it even worse. For 2 minutes and 23 seconds, La La Land was indeed the winner of Best Picture. And then it was all taken away. A moment I'll never forget. Yes, there were tears. I'll admit it. But it's been a year, and it's time to move on.

Because *deep breath* at the end of the day, Moonlight did, in fact, deserve to beat La La Land and win Best Picture. There. I said it. Are you happy? Even I, the most ardent of La La Land fans, can admit the better film won. Moonlight was the better film. It was a victory so unlikely, the majority of us couldn't even fathom predicting it. Not just because of the precursor awards it didn't win, although it did become the first film in the modern era to win Best Picture without PGA, DGA or SAG wins. Its victory was so stunning because Moonlight was decidedly not the kind of film that wins Best Picture.

A small, independent film which was made for next to nothing and earned next to nothing trying to make a case for Best Picture was a tough obstacle to overcome. But The Hurt Locker and Crash proved it could be done, so that's not so shocking anymore. But when you add in the fact it was written and directed by a black filmmaker, its cast was made up of entirely black actors, and its narrative involved tough and uncomfortable subjects like homosexuality, bullying, victimisation, racial struggles, poverty, and drug addiction, that does not sound like a Best Picture winner. At all.

But this is entirely the type of film which SHOULD win Best Picture more often. The film that challenges its audience. The film which challenges the notion of the banal, typical kind of film the Academy usually reward. The film that makes the victory of something like The King's Speech or The English Patient look utterly ridiculous by comparison. The film that stands head-and-shoulders above most other Best Picture winners by being so damn different. And relevant. And powerful. And groundbreaking. And unique. And downright masterful.

You don't have to be gay to connect with Moonlight. You don't even need to be black. This is a universal story about the treacherous path we all undertake in finding our identity. Not necessarily our sexual identity, but merely the process of learning who you are, who you want to be, and how to get there. Moonlight shatters stereotypes and challenges the very representation of black men in cinema. It challenges the idea of what being a man truly means in the 21st century. It's not a film we've ever seen before, and therein lies its supreme power.

Despite its harsh narrative, Moonlight is somehow a stunningly beautiful film. It's beautifully filmed and crafted, with a sublime screenplay and a terrific ensemble cast, especially the sensational and touching performance of Mahershala Ali, who is a revelation as the kind-hearted and caring Juan. My only complaint with his performance is there's not enough of it. He leaves the film far too early, and I longed for Juan's return. Perhaps that just makes you enjoy his limited screentime that much more.

Moonlight is a film which remains with you long after the end credits roll. It's a film you will still think about for days and weeks and months after you've seen it. It is a masterpiece, in every sense of the word. As much as it hurt to see a film I loved so much lose Best Picture, it helped to know it lost to a film more deserving of that title. The Academy Award for Best Picture belonged to Moonlight, and it's still a minor miracle it actually received it, even if for 2 minutes and 23 seconds, it didn't look like it would happen.