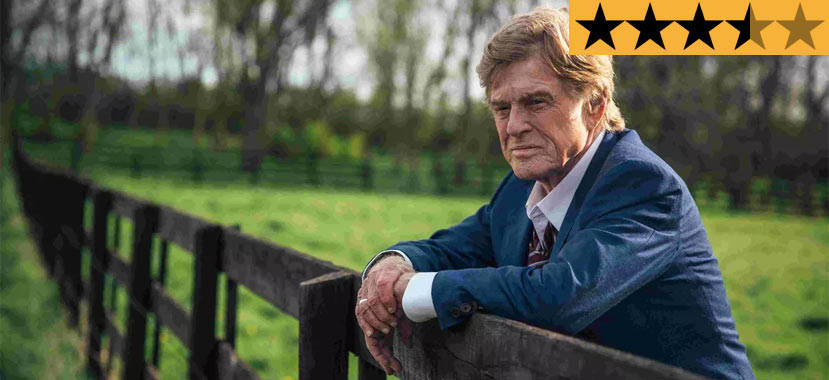 16 Oct

ADELAIDE FILM FESTIVAL REVIEW – 'The Old Man & the Gun'

It's always hard to say goodbye to a legend. When Robert Redford announced The Old Man & the Gun would be his final acting performance (although he's since slightly backed away from this comment), there were plenty who didn't want to see him go. Redford has been a stalwart of cinema for almost six decades now, and he's still giving us stellar work at the age of 82. But, if he is to stick to his word and this is to be his farewell, he's going out on a charming high.

With plenty of parallels to be drawn between Redford and the titular "old man" he's portraying, The Old Man & the Gun is a decidedly light piece of cinema, with an infectious charm that's hard to resist. A hefty dose of warm heart and an entertaining narrative provide the basis for one last charismatic turn from one of the most endearing actors of our time. This delightful swan song makes the bittersweet goodbye just a little easier to accept.

Based on the mostly true-life story of a compulsive bank robber, Redford plays Forrest Tucker, a career criminal with a penchant for escaping prison (16 times, to be exact) and an addiction to robbing banks with nothing more than a kind word and a smile. No, really. The ultimate smooth-talking gentleman, Tucker successfully robbed over 80 banks with essentially nothing more than his polite charm. Could there be a more fitting role for someone like Redford?

We meet Tucker in 1981, two years after he successfully escaped San Quentin prison in a workshop-made boat. Reuniting with his long-time cohorts Teddy (Danny Glover) and Waller (a scene-stealing Tom Waits), Tucker has fallen right back into this old ways, with the trio completing a string of bank robberies across several U.S. states. His methodology is simple; Tucker calmly approaches the teller, opens his jacket to reveal his (unloaded) gun, and politely requests all the money in the registers.

Their daring spree captures the attention of the media, who promptly nickname the trio as the "Over-the-Hill Gang," much to Tucker's chagrin. Naturally, their exploits also catch the eye of the local authorities, with detective John Hunt (Casey Affleck) becoming determined to catch the thieves, even as he begins to feel some empathy and even admiration for Tucker's brazen acts. As the film unfolds, the pair plays a cat-and-mouse game where it's never quite clear just who is playing who or if Hunt even truly wants to put an end to the uproarious fun he's having chasing the unchaseable.

Complicating matters is Tucker's burgeoning romance with horse ranch owner Jewel (Sissy Spacek, effortlessly captivating as always), a lonely widow who can't help but also be completely captured by Tucker's charm. Sensing an immediate connection, Tucker almost instantly reveals his true identity and criminal activities to his new love. But it all sounds so convoluted, Jewel mistakes Tucker's admission as playful deflections. With Hunt hot on Tucker's tail, it's only a matter of time before Jewel's eyes are opened to the truth that's been right under her nose.

It's really quite stunning to realise this is Redford and Spacek's first time on-screen together. How these two cinema icons have never found themselves in the same film is beyond me, given they have the most intoxicatingly gorgeous chemistry. Thank god it's happened before Redford hangs up his hat for good. Right from their first scene together, there is a captivating and endearing spark that only grows stronger as the film progresses. You really could watch these two converse for hours. Writer/director David Lowery knows what he has on his hands, ringing out as many beautiful moments of these two together as he possibly can. It's a perfect pairing that really is magic cinema and a casting dream.

This role fits Redford like a glove, given his long history for playing charming bad guys you can't help but adore. Even in his early 80s, he can still flash those blue eyes and that dry, devilish smile to pitch-perfect effect. The years have done nothing to lessen his charisma. He's the Sundance Kid all over again. His natural and breezy performance hits you with all the nostalgia feels, which seems only fitting for Redford's swan song. If you've forgotten what a soulful performer he is, The Old Man & the Gun will remind you. Many were hopeful Redford's potentially final performance may nab the actor another Oscar nomination, which would shockingly be only his second (!) acting nod. If the Academy fall under his spell, you'll hear no arguments from me.

Spacek's Jewel is the film's moral compass, with the gifted actress delivering a deeply layered performance. Jewel is the wholesome heart Tucker longs for, but never quite enough for him to give up his criminal ways. Spacek captures the conflict in Jewel's soul, often without a single word of dialogue. Her constantly contemplating face tells us everything we need to know. This is a woman torn, and Spacek elevates the role beyond the somewhat hollow screenplay.

Films of this nature often glamourise crime and the criminals behind them. Lowery wises counteracts this issue by highlighting just how debilitating Tucker's life of felonies was to his personal life and those connected with him. For all his moments of quiet solidarity with Jewel, Tucker is mostly portrayed as a selfish narcissist whose true love was robbing banks and little else. He cared for the thrill of the chase, with never a thought to the impact on those around him. Lowery captures this carelessness with a single scene featuring Tucker's estranged daughter (Elisabeth Moss), who never met her father, and, given his life of crime, never wants to. It's these moments of humanity that prove crime doesn't pay, even if a life of crime often leads to a feature film adaptation of your life.

Shot on Super 16 film stock by cinematographer Joe Anderson, the film has a decidedly gritty look to its imagery, which fits the era perfectly. This is no pristine digital motion picture, and nor should it be. The early 1980s production design by Scott Kuzio seems to shine that might brighter when filmed as it would have been in this time period. There's plenty of great music choices thrown in to compliment lively Daniel Hart's score, creating an impressive look and feel that only elevates this film further.

There are some issues here, namely the screenplay, which is a little too cliché for its own good. Affleck is also rather miscast, with his usual solemn, monotone performance feeling entirely out of place here. It's certainly nowhere near Redford's best film (or Lowery's, for that matter), but his enchanting performance is enough to capture your heart for (potentially) one last time. The Old Man & the Gun gifts us one final opportunity to gaze on the greatness that is Robert Redford. With a wink and a smile, it's a fond farewell indeed.





Distributor: eOne Films
Cast: Robert Redford, Casey Affleck, Danny Glover, Tika Sumpter, Isiah Whitlock Jr., John David Washington, Tom Waits, Sissy Spacek, Elisabeth Moss
Director: David Lowery
Screenplay: David Lowery
Producers: James D. Stern, Dawn Ostroff, Jeremy Steckler, Antony Mastromauro, Bill Holderman, Toby Halbrooks, James M. Johnston, Robert Redford
Cinematography: Joe Anderson
Production Design: Scott Kuzio
Music: Daniel Hart
Editor: Lisa Zeno Churgin
Running Time: 93 minutes
Release Date: 15th November 2018 (Australia)