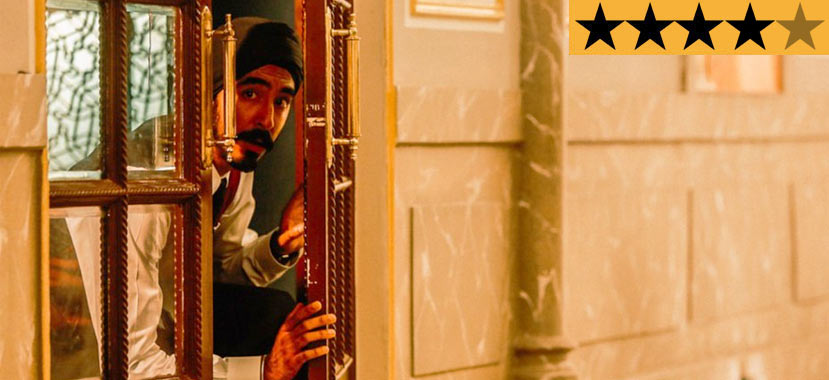 21 Oct

ADELAIDE FILM FESTIVAL REVIEW – 'Hotel Mumbai'

Whenever we're presented with a film depicting the events surrounding a true-life terrorist attack, one has to ask if there is a greater purpose in making such a piece of cinema. Is this merely exploitation or is there something more to it? Through this kind of film, we may learn of acts of heroism and sacrifice not found in the headlines covering the incident or better understand how the event itself actually unfolded. Some examples of this genre do nothing more than recreating a moment in history few would want to relive.

Undoubtedly, these films always place us right in the terrifying heart of terrorism, often creating an experience that's as far from cinematic pleasure as it gets. Such is the case with Hotel Mumbai, the debut feature-film from Australian writer/director Anthony Maras, a film that ultimately begins to become a brutal endurance test for its audience. Refusing to shy away from the most shocking of moments during the devastating terrorist siege, Hotel Mumbai is necessarily harrowing and confronting, but may leave some pondering its very existence.

On November 26 2008, ten members of Lashkar-e-Taiba, an Islamic terrorist group based in Pakistan, arrived on the shores of Mumbai by inflatable boat. Armed with an arsenal of weapons and explosive devices, the men would separate to carry out a series of 12 coordinated attacks across the city that would last four days and leave over 160 people dead and hundreds more injured. Fudging the timeline somewhat, Hotel Mumbai instead takes place over one exhaustively long night, which may damage the authenticity of this piece for those who know their history.

The first attack takes place at the Chhatrapati Shivaji Maharaj Terminus, a bustling train station crowded with unsuspecting civilians, where two of the men indiscriminately slaughter 58 people with AK-47 rifles before fleeing in a hijacked police vehicle. Shortly thereafter, the Café Leopold is chosen as their next random target, with the restaurant coming under attack from gunfire and explosions, leaving another 10 dead. Several patrons successfully the attack, and attempt to seek shelter at the nearby historic Taj Mahal Palace Hotel, better known as simply "The Taj."

Those inside the luxurious five-star hotel are initially blissfully unaware of the chaos and carnage occurring right on the hotel's doorstep. Head chef Hemant Oberoi (Anupam Kher) is busy overseeing preparations for the evening's dinner service while dealing with Arjun (a touching performance from Dev Patel), a dutiful waiter who's desperate to provide for his young family. Dining at the hotel's lavish restaurant are American architect David (Armie Hammer), his Middle Eastern wife, Zahra (Nazanin Boniadi), whose newborn baby son is in the care of their nanny, Sally (Tilda Cobham-Hervey), back in their suite upstairs, and high-roller Vasili (Jason Isaacs), a debaucherous Russian business with zero tact.

When the staff make the fatal mistake to open the front doors and allow those outside The Taj to take refuge within the hotel, they unwittingly also welcome four of the terrorists into the lobby. Almost immediately, the group unleash their assault on those now trapped within the hotel's once-peaceful walls. As the extremists move through the hotel's numerous floors and rooms, mowing down anyone they can find, and seemingly zero help arriving from the local authorities, those left alive must band together to survive and look to find their escape from this night of pure hell.

Maras presents an unflinching first-hand account of the gruesome horrors of terrorism. The violence is graphic and unsettling, with every death feeling authentically senseless and unavailing. No mercy is granted to these poor doomed souls, and, as an audience, we are forced to endure these acts in one of the most difficult films you will see this year. As uncomfortable a viewing experience as Hotel Mumbai may be, it's entirely intentional. There's no sugarcoating what happened in 2008, so why should a film of these events be presented in any other way?

On the same hand, there will be some who view this film as nothing more than exploitative and question the very need for this production's existence. With its depiction of Islamic terrorists and their motivation of slaughtering dozens of "infidels" in the name of Allah, Hotel Mumbai is unlikely to help quell Islamaphobia. But Maras makes a concerted effort to portray these young men as manipulated pawns in a bigger game. While there's no attempt at sympathy for their actions, Maras highlights how their every move had been orchestrated by their leader (an unseen phone voice known only as Brother Bull), there's a clear suggestion of religious and financial brainwashing behind those responsible for the attacks.

With its refreshing portrayal of the barbaric but naïve villains behind such devastation, Hotel Mumbai dismisses the stereotypical representation of a terrorist so often seen on film. These young men were corrupted by a highly-intelligent terrorist cell who prayed on both their deep faith and crippling poverty. We see one of the terrorists call his family, desperately asking if a large sum of promised funds has been deposited into their account from Brother Bull. But the money was a lie, leading to the realisation these young men have been used.

With a narrative featuring half a dozen or so subplots, Maras and co-writer John Collee deftly manage to keep each moving at a rapid pace, with each beginning to interweave with each other. No storyline ever feels unfinished or rushed, creating an entirely cohesive piece that proves completely engaging. While some of their characters do unfortunately fall into farcical stereotypes (the detestable Russian, the racist old socialite, the selfless staff member), none are ever so fatal as to destroy the entire film.

Patel is given the meatiest role, with Arjun proving to be the film's beating heart. Torn between his duty to protect the hotel guests and his longing for escape to return to his anxious wife and child, Arjun becomes the unlikely hero of the attacks. His fear and terror are consistently shelved when his selfless nature takes over, providing the terrified victims with an anchor of support and guidance they so desperately need. Patel's empathetic and moving performance is matched by that of Boniadi, whose portrayal of a mother separated from her child is rather devastating to behold. Sadly, the film all but wastes the talents of Hammer, whose thankless one-note character barely lands any impact.

Adding to the film's shocking violence is an unrelenting level of tension that barely fades once the attacks begin. Several sequences will likely have you holding your breath, particularly a gripping scene featuring a terrified Sally, who's forced to hide inside a wardrobe with the young restless baby in her care, while the gunmen prowl her room. This unshakable sense of anxiety only makes the film feel that much more voyeuristic, giving the audience an almost fly-on-the-wall experience to a terrorist attack. The tension is thankfully cut a few times by some rather out-of-place humour that works surprisingly well. Perhaps we're all so desperate for some levity, we'd take any ray of light in so much darkness.

It's really quite startling to realise Hotel Mumbai was filmed in Adelaide, minus a few necessary establishing exterior shots of the actual The Taj. The hotel has been meticulously brought to life on an Australian soundstage, with Steven Jones-Evans delivering terrific production design work on the hotel's many dazzling interiors. The film is beautifully framed and shot by Nick Remy Matthews, who juxtaposes the calm serenity of the film's opening with frenetic camera work when the chaos takes hold. The final product feels so authentic, when Maras and co-editor Peter McNulty splice in actual news footage of the real Mumbai attacks, it blends completely seamlessly into the fictional production.

At the end of the day, Hotel Mumbai is far from an enjoyable watch, but it's clearly not meant to be. It's a bleak, brutal experience that's truly hard to view, given its true-life inspiration. Maras has faithfully recreated a dark moment of India's history with harrowing accuracy, and that has to be admired. There's little exploration of deeper themes, which may disappoint some. But if Maras' intention was purely to highlight the callous reality that was (and still is) terrorism, he succeeds in spades.





Distributor: Icon Film Distribution
Cast: Armie Hammer, Dev Patel, Nazanin Bondiadi, Tilda Cobham-Hervey, Anupam Kher, Jason Isaacs
Director: Anthony Maras
Screenplay: John Collee, Anthony Maras
Producers: Gary Hamilton, Mike Gabrawy, Julie Ryan, Andrew Ogilvie, Jomon Thomas
Cinematography: Nick Remy Matthews
Production Design: Steven Jones-Evans
Music: Volker Bertelmann
Editors: Peter McNulty, Anthony Maras
Running Time: 125 minutes
Release Date: 11th April 2019 (Australia)